Review: Taurus Raging Hunter 10″ 460
In 2019, Taurus Intl. Mfg. Inc. introduced a successful series of big-bore double-action revolvers dubbed the Raging Hunters (RH). Initially chambered in .357 Mag. and .44 Mag., that evolution of the Raging Bull line garnered a coveted NRA Publications' Golden Bullseye Award for Handgun Of The Year from American Hunter, and the series has since grown to include variants chambered in .454 Casull, .460 S&W Mag. and .500 S&W Mag. At SHOT Show 2023, the company announced the arrival of the subject of this review, a new version of the Raging Hunter chambered in .460 S&W Mag. that is outfitted with a 10"-long compensated barrel.
Like other members of the Raging Hunter series, the 10"-barreled version is a double-action/single-action revolver purpose-built as a hunting handgun. Manufactured in Brazil by Taurus Armas, this model's frame has been enlarged to house an unfluted cylinder measuring 2.35" in length to accommodate .460 S&W cartridges. The cylinder's capacity has been reduced from six to five rounds in order to safely manage this cartridge's impressively high pressure levels (65,000 p.s.i. max).
The revolver ships with an enhanced fiber-optic sighting system. The pinned front sight is fitted with an orange light pipe, while the fully adjustable, square-notch rear sight has two round dots illuminated by green light pipes. A 5.125"-long barrel shroud is machined from 7075-T6 aluminum and treated with a matte-black hard-anodized finish. The top of this shroud features an integral 4.75"-long, 11-slot Picatinny optics rail. This allows for the mounting of either magnified handgun scopes or red-dot optics closer to the bore axis without any additional modifications to the gun. A removable 2.5", six-slot Picatinny rail is also mounted to the shroud's underlug to support folding bipods, lights or other accessories. A deep cutout in the underlug serves to house and protect the ejector rod.
This dual-tone model has a frame made of satin-finished 410 stainless steel. The cylinder is a matte-black carbon-steel alloy finished to match the barrel shroud. The portion of the 10" stainless-steel barrel visible past the front end of the shroud is polished and fluted for added rigidity. The muzzle is fitted with a compensator with six top-side ports positioned to reduce muzzle rise and eight angled side ports to mitigate felt recoil. This device successfully reduces the impressive felt recoil generated by .460 S&W Mag. ammunition to levels comparable to a large-frame .44 Mag. revolver loaded with full-power ammunition.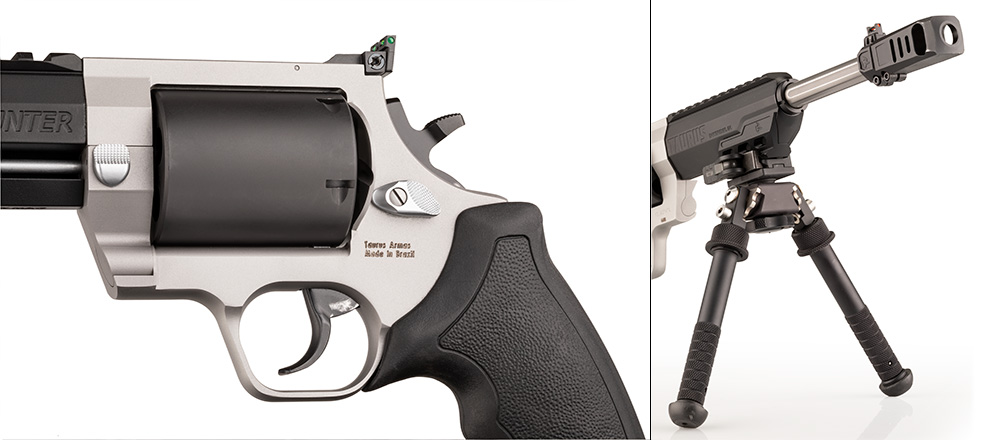 A checkered spur facilitates cocking the Raging Hunter's hammer for single-action fire. A somewhat trapezoidal trigger guard houses a smooth-faced steel trigger. The smooth double-action trigger pull weighed in at 11 lbs., 14 ozs., using a Wheeler Engineering digital trigger gauge. Cocking the hammer for single-action fire significantly reduced the trigger's arc of travel for a crisp break at 4 lbs., 5 ozs., of pressure. An unusual but effective design feature of the RH series is the inclusion of two cylinder releases. A Dan Wesson-style press-down release is located atop the cylinder yoke to provide positive cylinder lockup. The other release is situated on the left side of the frame behind the cylinder; this wedge-shaped slider is pressed forward, toward the muzzle, in traditional Smith & Wesson fashion. Both release buttons must be disengaged simultaneously in order to open the cylinder. The hand-filling soft rubber grip features finger grooves, lightly textured side panels and a recoil-absorbing strap along the back edge.
Unloaded, the 10" RH weighs in at 74 ozs. Although its weight works in favor of managing felt recoil, it does make this revolver a handful when shooting from a standing position. Using the accessory rail to mount an adjustable bipod is a useful option for prone or bench-rested shooting. The gun proved to be utterly reliable throughout the course of testing, without any mechanical- or ammunition-related issues. This included the muzzle device, which was still locked firmly in place without any signs of loosening following the range tests.
Formal accuracy testing was conducted at 25 yards using a Swampfox Liberator II red-dot with a 2-m.o.a. reticle using the optic's provided low-profile mount. The barrel's compensator delivered on the manufacturer's promise of significantly reduced felt recoil; this long-barrel model was fired side-by-side with the ported 5.12"-barreled version using the same .460 S&W ammunition—the reduction in recoil was easily 30 percent, if not more. Although felt recoil is subjective to some degree, this compensator works to make the performance of the .460 S&W Mag. cartridge accessible to those who might not otherwise be able to tolerate its substantial kick—and, of course, like other .460s, the revolver can safely chamber and fire less-punishing .45 Colt and .454 Casull cartridges.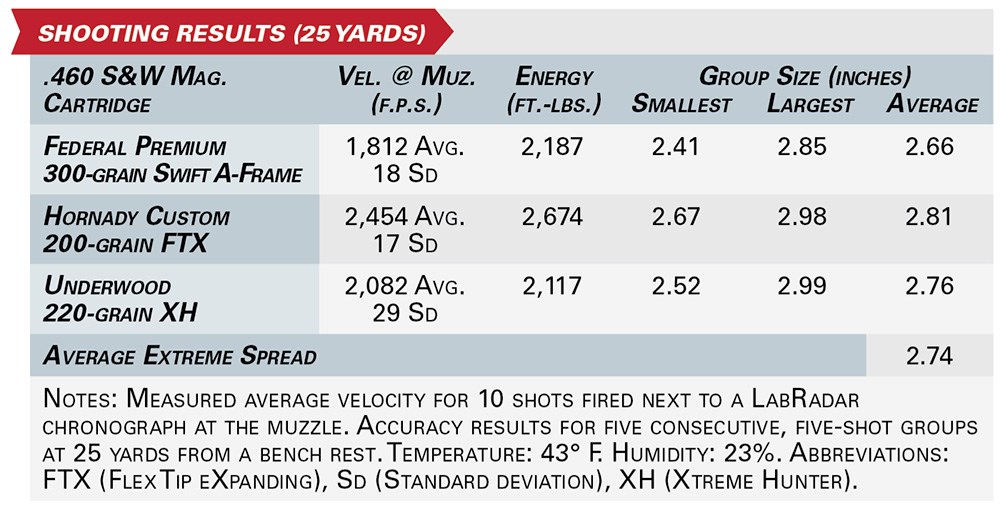 It's not uncommon for handguns to generate lower muzzle velocities than those printed on ammunition boxes, as listed velocities are often produced under laboratory conditions using longer-than-typical barrel lengths, and a revolver's cylinder gap also contributes to some degree of pressure loss. With this in mind, it's worth noting that all three loads shot through the 10"-barreled RH chronographed as faster than listed on their boxes. The Federal and Underwood loads gained 62 f.p.s. and 82 f.p.s., respectively—however, the relatively light 200-grain Hornady bullet picked up an incredible 254 f.p.s. when launched from the 10" barrel.
The Taurus Raging Hunter 10" 460 successfully harnesses the performance potential of the high-pressure .460 S&W Mag. cartridge while effectively curbing its daunting felt recoil. It's appropriately over-built for the ammunition it fires with clean fitting and finish throughout, and features that can sometimes shake loose on magnum-power revolvers—including the compensator, fiber-optic sights and grip—proved to be properly fitted and sturdy enough for this platform. The rails incorporated into the barrel shroud make the revolver compatible with a diverse selection of optics and accessories, and while the accuracy demonstrated during testing was not superb, it would be adequate for the close-range hunting of big game.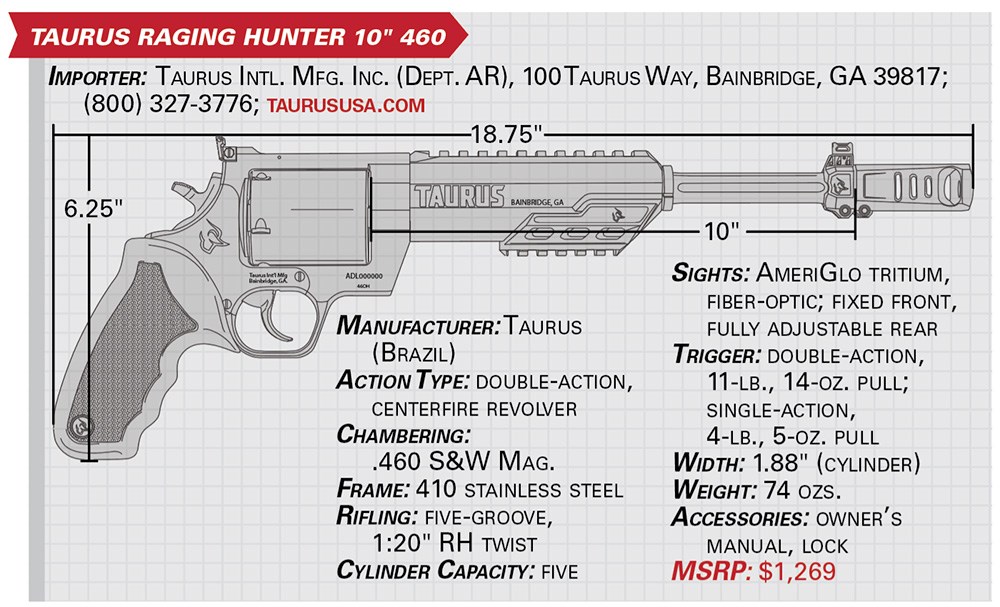 Article by AMERICAN RIFLEMAN STAFF
Don't forget to like us on Facebook and follow us on Twitter.