Review: Winchester Model 70 Extreme VSX MB
Few designs are as recognizable and time-honored as the Winchester Model 70. Introduced in 1936, this rifle has been on nearly every continent in pursuit of game and has even seen a bit of combat during World War II and the Korean War. For a firearm to see such widespread use, it has to be versatile at its core, which the ol' Model 70 certainly is in spades. While it serves as an all-purpose rifle quite well, modern technology is available to elevate this blank canvas into extraordinary task-specific firearms. This is starkly illustrated in the Winchester Model 70 Extreme VSX MB, a rifle explicitly built for rough weather and harsh hunting terrain.
Winchester made the M70 Extreme VSX MB in its true image by building it with a pre '64 action, returning to the glory days of bolt perfection in many enthusiasts' eyes. In 1964, Winchester redesigned the Model 70 to simplify it and reduce costs; it wasn't well received. The return to the original design brings back the classic Mauser-style claw enabling a controlled-round-feed action.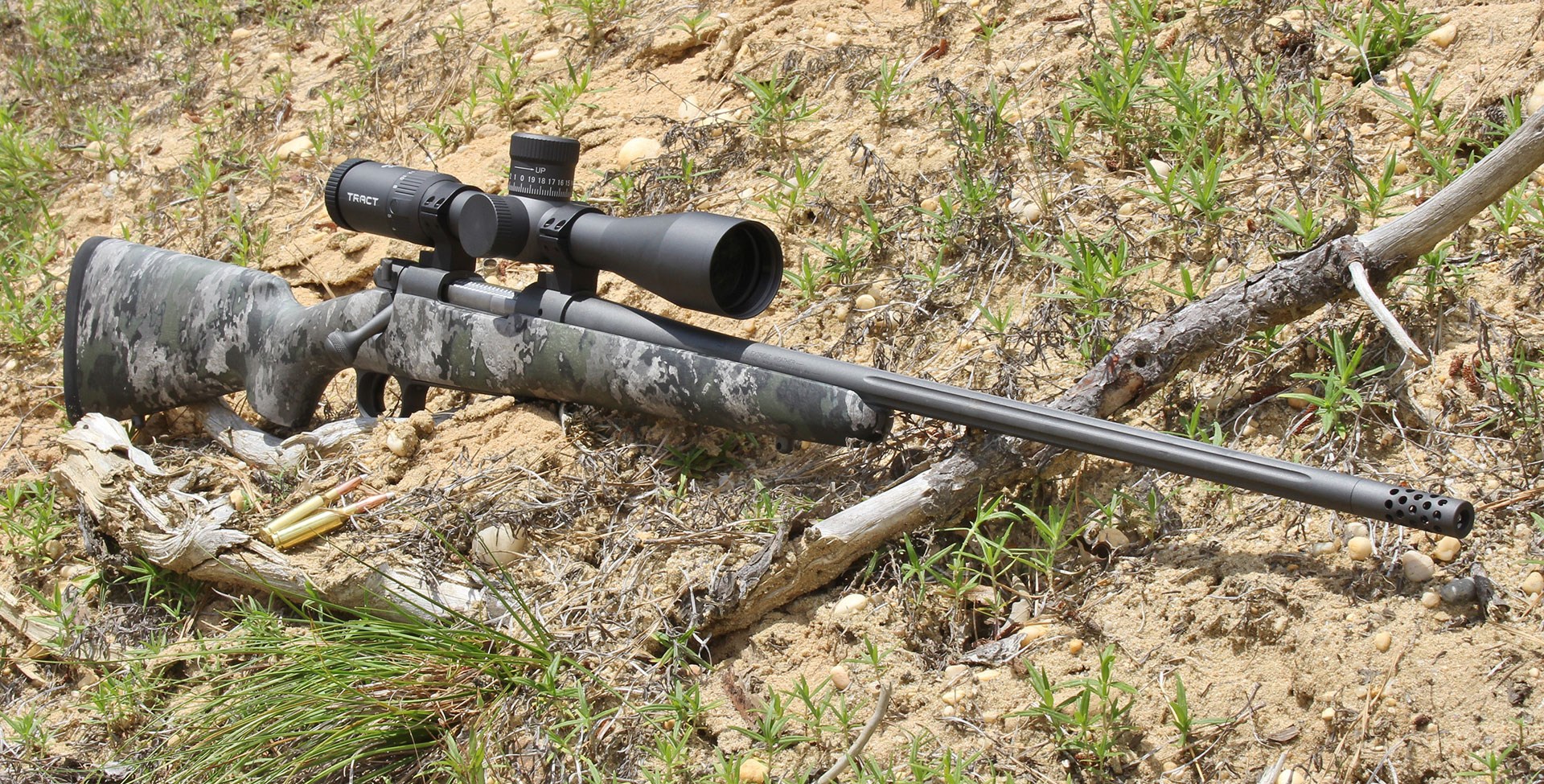 As opposed to a push-feed system, this action grabs hold of each cartridge and gently places it into the chamber, sidestepping any potential for tip deformation. The added gripping surface also spreads extraction tension across a larger area, thus making the overall design more robust. The bolt is built with a dual lug configuration that yields a 90-degree lift and the associated throw. Although this ends up a little higher over the receiver, it clears most scope bells through a carefully designed one-piece bolt handle.
What I love most about this Model 70 is its blend of proven technology and modern advancements. If we start with the barrel, we can see this through the deep fluting that reduces weight and accelerates cooling. While a lightweight barrel can mean a more perceivable recoil if left untreated, Winchester threads them and attaches a radial muzzle brake to alleviate this effect.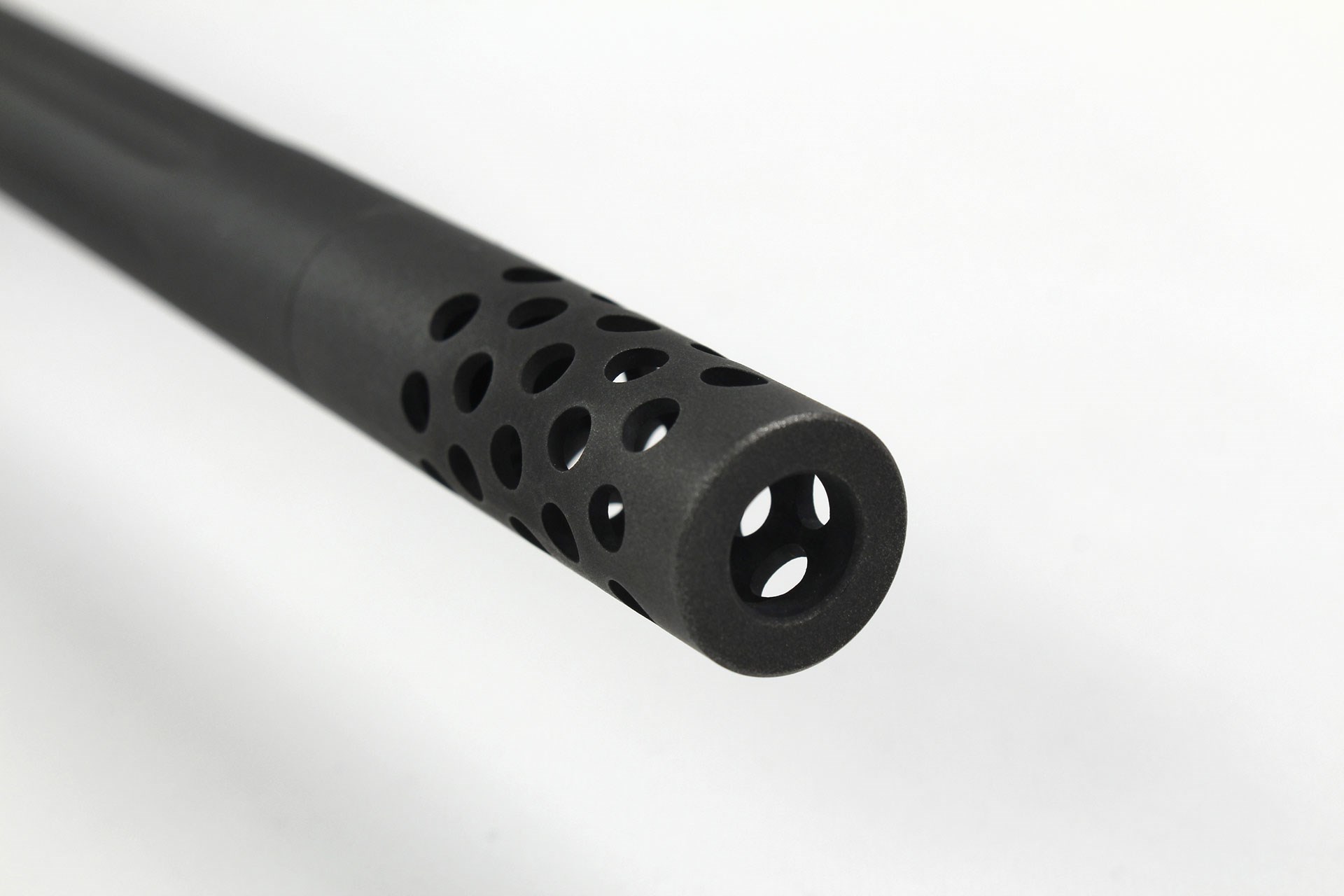 Lastly, the entire assembly gets hit with a thick layer of Tungsten Cerakote to protect it from elements and eliminate any glare that can spook game that you are observing in the distance. This finish is also applied to the receiver, bottom metal and much of the bolt assembly to create a seamless effect. At the time of this writing, Winchester is chambering this model to 14 different cartridges, so barrel length will vary between 22″ and 26″, depending on what you select.
Among all of the components, I can safely say that stocks have seen the most significant improvements since the Model 70 was introduced. In those days, all that was realistically available were wooden variants of the same general design. Today, we have modern composites, and stock maker, Bell and Carlson excel in using this material. For this reason, Winchester sources the stock of the Extreme VSX MB from these folks.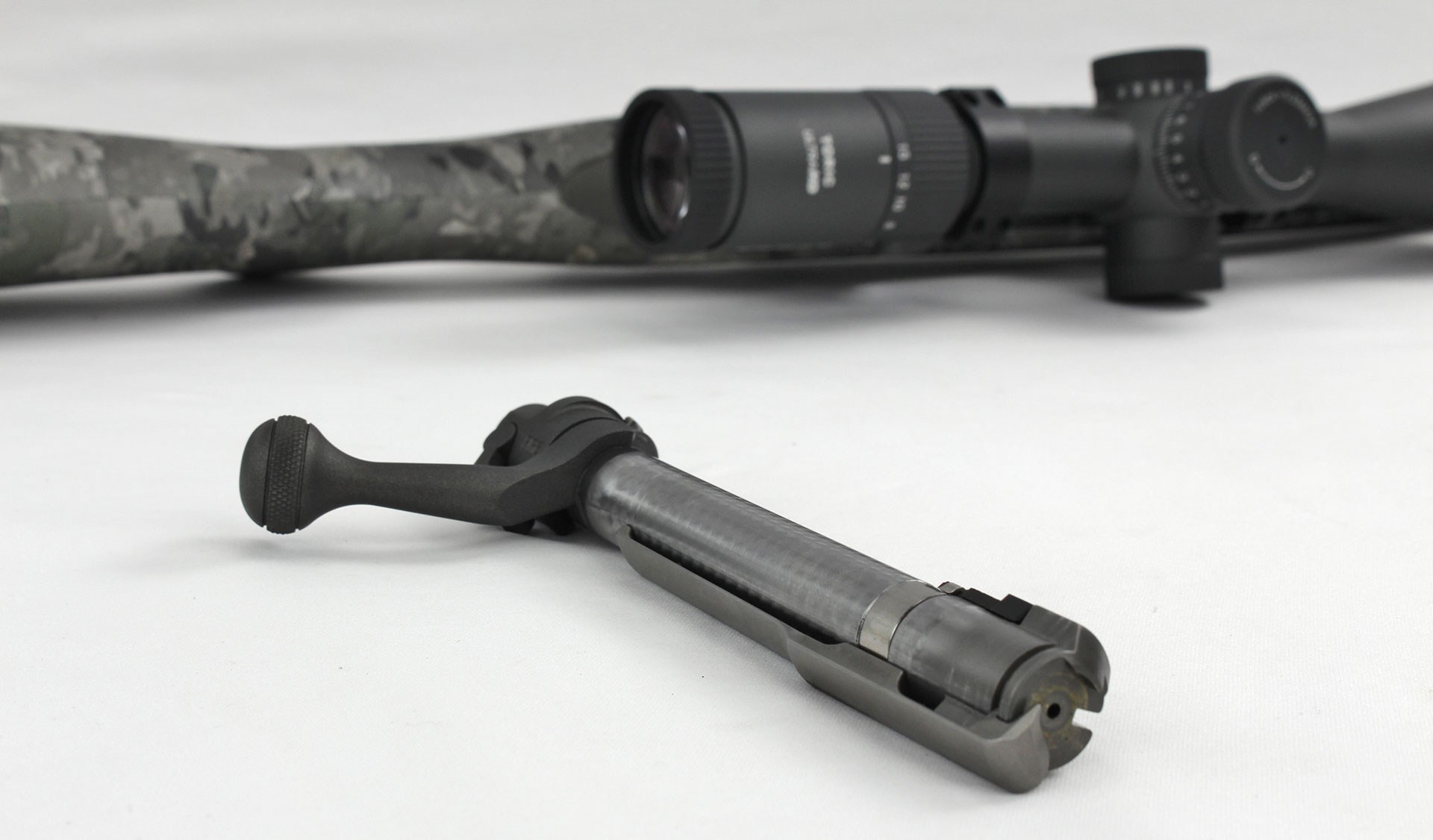 Its proprietary material resists the elements and won't swell or shrink with the weather. This ensures consistent tension between the action and the stock that will not unexpectedly deviate. This stock also features creature comforts like a Pachmayr Decelerator recoil pad, a cheek piece, and a pair of sling swivels to attach a sling or bipod. Lastly, it is finished in TrueTimber VSX camouflage to help break up its outline and help it melt into a variety of backdrops.
The Model 70 Extreme VSX MB comes drilled and tapped from the factory to accept common bases or rails made for this rifle. To that end, I installed a pair of integrated rings from Winchester to mount a Tract Toric Ultra HD Hunting Scope. I chose this model for its German Schott glass, which excels in low-light transmission and happens to be when most hunting shots take place. This model features a first-focal plane reticle clad with m.o.a. hash marks. As my test sample was chambered in 6.5 mm Creedmoor, it is easily up to the task of an ethical long-range harvest. These markings allow for a hasty holdover instead of having to dial in an adjustment, which isn't realistic in a hunting scenario. With the rifle ready for use, I headed to the range for some long-awaited live-fire testing.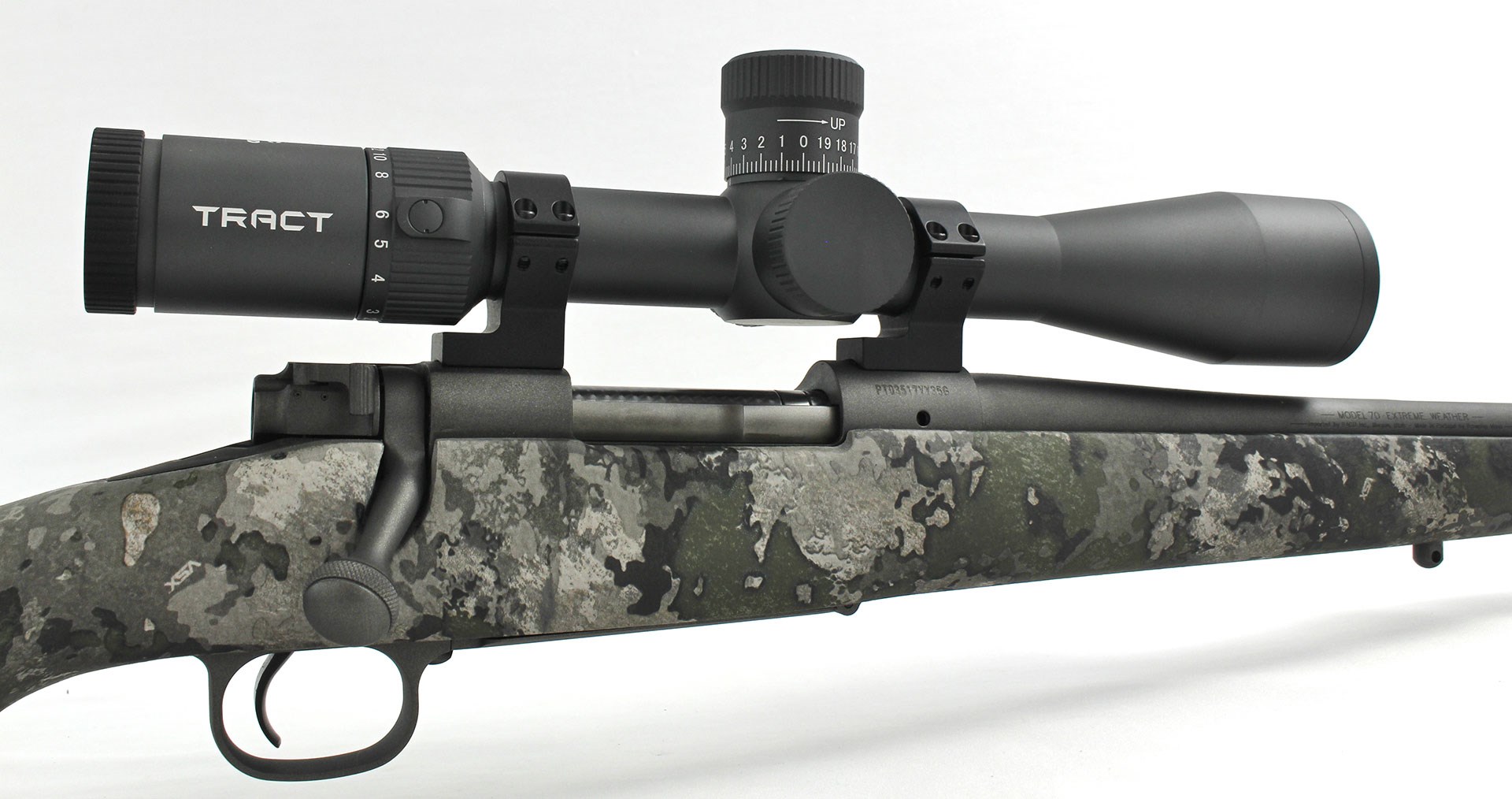 My range day forced me to endure sweltering conditions, the norm for a July afternoon on Long Island. The mercury read 87 degrees with a relative humidity of 93 percent; it was just plain nasty. I started by zeroing out my optic before punching five five-shot groups with two different types of ammunition. Among them were Federal's 130-grain Gold Medal Match load, which featured Berger's open-tip match bullet, and Nosler's 140-grain AccuBond fodder.
The results were impressive, particularly with the Federal rounds, producing groups as small as 1.15″. The Nosler Accubond wasn't far behind, with its smallest results measuring 1.23″. I attribute much of this consistency to Winchester's m.o.a. trigger, which broke at a measured 4 lbs., 6 ozs. This trigger is advertised as being adjustable. However, the presence of epoxy over the required screws told me it's best to leave that to a gunsmith.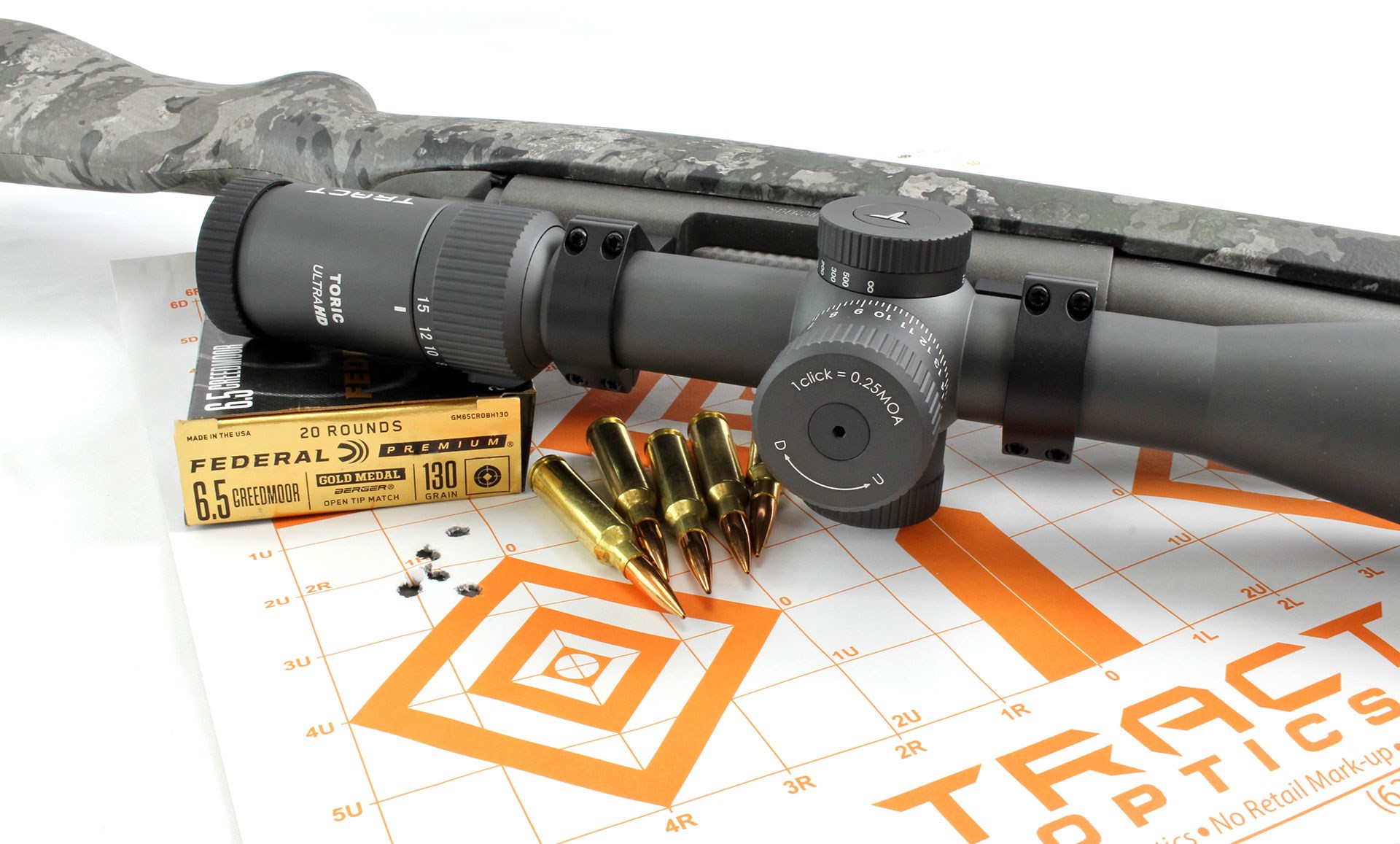 I finished my range day by pounding steel targets out to and including 500 yards using both brands of ammunition from a few different forms of improvised support. As long as I did my part, the rifle connected each and every time. The overall recoil was mild and truly demonstrated the value of the included brake. I finished things off with a bit of offhand shooting, allowing me to experience the rifle's balance. Again, I was impressed with the results. The weight of the stock and the optic combined with the slimline barrel put the balance point directly over the magazine, alleviating the dreaded muzzle-heavy condition that follows many hunting rifles.
Winchester's new Model 70 was a joy to shoot and displayed exceptional accuracy with both target and hunting ammunition. I always like it when this happens because if a hunting rifle doesn't show a bit of target utility, it will seldom see life beyond the safe between seasons. Even though the Extreme VSX MB was built for use in the field, there shouldn't be anything stopping you from taking it out to ding some steel from time to time. I guess when it comes down to it, this rifle will always have sheer utility going for it. For more information, visit winchesterguns.com.
Specifications:
Chambering: 6.5 Creedmoor
Magazine Capacity: 4
Overall Length: 42 1/4″
Weight: 6 lbs. 12 ozs.
Barrel Length: 22″
Barrel Material: Steel
Twist Rate: 1:8″
Barrel Finish: Tungsten Cerakote
Receiver Material: Steel
Receiver Finish: Tungsten Cerakote
Stock Material: Composite
Stock Finish: TrueTimber VSX
Length of Pull: 13 3/4″
Drop at Heel: 1/2″
Drop at Comb: 1/2″
MSRP $1,769.99
Article by FRANK MELLONI
Don't forget to like us on Facebook and follow us on Twitter.