Shotgun Light Roundup
While the debate may rage for decades (it already has) about what is the best home defense gun, many people have chosen to protect their families with a shotgun. For the ones who go this route, it's important that they see the bump in the night that alerts them something might be amiss. One good option for identifying a potential threat in the middle of the night is a light on your shotgun that you can activate to illuminate the target. But, of course, you can't shoot what you can't see. And you want to be sure the "threat" is not a member of your household or a family pet.
To shed light (ha!) on the various weapon-mounted lights for shotguns, here are several that we think are worth considering, listed in alphabetical order:
Adaptive Tactical EX Performance Tactical Light Forend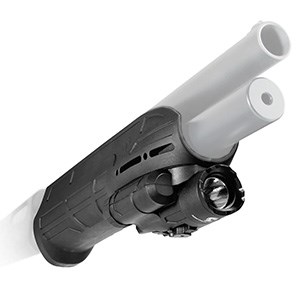 Designed for Remington and Mossberg shotguns, the Adaptive Tactical EX Performance Tactical Light Forend offers 300 lumens of light with a run time of up to 3 hours on 2 AA batteries and three modes: constant on, momentary, and strobe. The on/off switch is ambidextrous for easy operation with either hand. The body is aluminum and polymer and is waterproof. The light attaches via Picatinny mount with a built-in quick detach button. The company recommends this light for Remington 870 in 12 gauge and the Mossberg 500, 88, 590 and 590M 12 gauge pump-action shotguns. MSRP is $108.99 for Mossberg fit and $116.79 for Remington fit.
Axeon Shotlight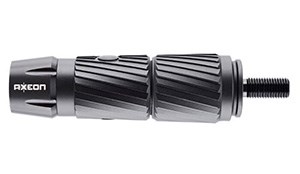 While the Axeon Shotlight might not be the brightest bulb in the box (sorry, couldn't resist) at 120 lumens, it's safe to say that in a home defense scenario where the bad guy is in your living room, this may be all the light you need to see clearly. Rather than mounting to the barrel, the Axeon Shotlight replaces the magazine-tube end cap, so this shotgun light becomes a permanent fixture on the firearm. Axeon also includes all the tools for easy installation. The light is powered by a single lithium CR123 battery, the same as most tactical flashlights. MSRP is $59.99.
Streamlight TL-Racker Shotgun Forend Light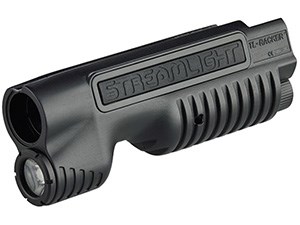 If your shotgun is a pump action gun, the Streamlight TL-Racker Shotgun Forend Light is an excellent illumination choice. This sleek light secures to the shotgun's fore-end, shines brightly with a concentrated 1,000 lumens out to nearly 300 meters, and features an ambidextrous switch with momentary and constant modes. It's also impact-resistant, thanks to a strong nylon body, and is IPX7 waterproof rated. Streamlight says this light works well with Remington 870, Mossberg 500/590, or Tac-14 pump-action shotguns. All this for an MSRP of $159.99.
SureFire 623LMG B-Shotgun Forend Weapon Light
You knew there would be at least one SureFire on this shotgun light list. The Surefire 623LMG B-Shotgun Forend Weapon Light is compatible with Mossberg 500 and 590 pump-action shotguns right out of the box and some others with non-manufacturer adaptors. The light features a total internal reflector lens (TIR) for an ultra-bright 1,000-lumen beam perfectly suited for home defense and some longer-range applications. The body is Nitrolon polymer/aluminum with a mil-spec hard anodized finish for durability. MSRP is $599.
Elzetta ZSM Shotgun Flashlight Mount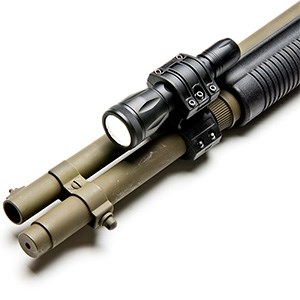 Okay, so it's not a flashlight, but it's a mount for a flashlight, and you can buy the flashlight separately or bring your own to the party. The ZSM Shotgun Flashlight Mount works with Remington 870/1100, Mossberg 500/590, Benelli M4 (except SuperNova), and Winchester 1200/1300/Defender scatterguns to give you an offset holder for the shotgun light of your choice, so long as it's 0.70 to 1.05 inches in diameter. The mount is made from glass-filled polymer right here in the USA and can be mounted on either left or right side of the barrel. MSRP is $43.95.
Article by DAVID WORKMAN
Don't forget to like us on Facebook and follow us on Twitter.