10 More Low-Recoil Defensive Handguns
Today's polymer-frame, striker-fired 9 mm pistols are the go-to option for those in uniform and civilians alike. Compact, sub-compact, and the even smaller micro-compact sizes are popular because they provide a useful balance of ammunition capacity and performance. They can also be more comfortable to shoot than larger handgun calibers.
However, concealed-carry-style 9 mm Luger pistols are not a good fit for everyone. Despite this cartridge's more moderate shooting characteristics, there's still a substantial demand for handguns that generate even less recoil. This may be due to the self defender's age, injuries that impede physical mobility or a limited level of shooting sports experience. Whatever the reason may be, reducing handgun recoil means turning to smaller cartridges launching lighter bullets.
The following is a round-up of handguns chambered in cartridges ranging in size from .22 LR to .380 ACP, which follows up an earlier article American Rifleman did on the subject back in 2016. Although some of these chamberings are not optimal defense options, they can be pressed into service when recoil is a concern. Because limited hand strength is usually a determining factor in selection a low-recoil handgun, we've included models designed with ease-of-operation features where possible.
.22 LR: Ruger Mark IV 22/45 Lite
Some readers may think it a bit out of character to include Ruger's Mark IV series of sporting .22 LR pistols on this list, especially when the company offers more compact .22 LR rimfire models, including the SR22 and the pocket-sized LCP II Lite Rack. But the 22/45 Lite model's particular set of features allows it to comfortably straddle sporting and low-recoil defensive roles.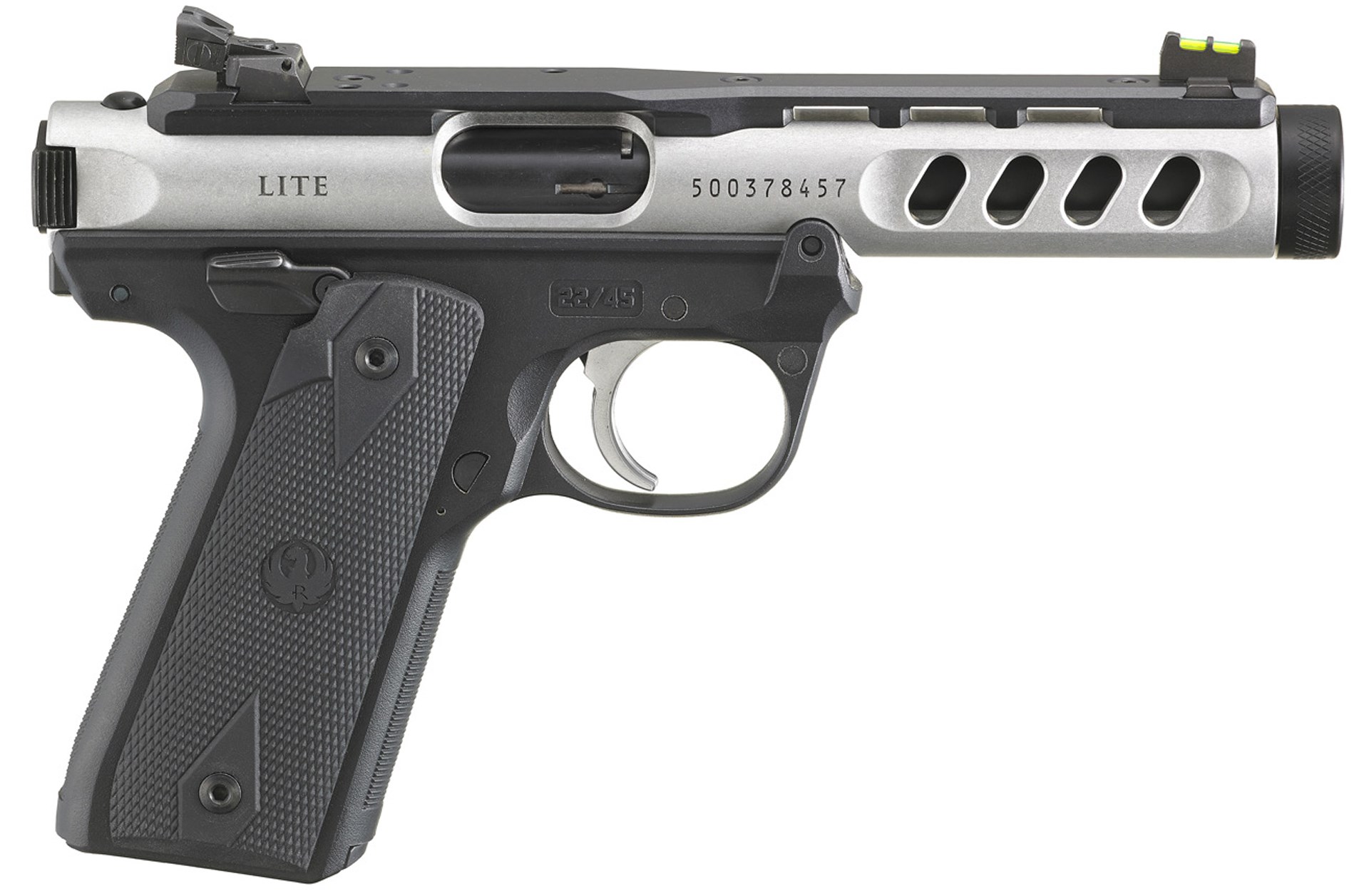 The Mark IV series benefits from nearly 75 years of Ruger Standard Pistol development and history. This contributes to a well-earned reputation for durability, reliability and accuracy. The lightweight polymer frame has a grip and control layout that mimics those of the venerable 1911 semi-automatic pistol. The single-action trigger breaks cleanly and felt recoil is mild. With the press of a button, the Mark IV-style, ported-aluminum barrel assembly swings up and off of the frame for easy cleaning and lubrication. Many models ship with bright fiber-optic sights and an optics rail that supports a variety of micro-red-dot optics. You can learn more about it from this Gun Of The Week video.
MSRP: $719
.22 LR: Taurus TX22 Compact
In 2019, Taurus's leadership ushered in a renewed focus on innovative handgun design and quality control. A benchmark product release for that year was the TX22 series of rimfire pistols. They have proven to be well-made, reliable with a wide variety of .22 LR ammunition and the slide is easy to cycle manually. These features have contributed to some recoil-sensitive defenders adopting the TX22 as a primary defensive handgun instead of just using it as an understudy at the shooting range.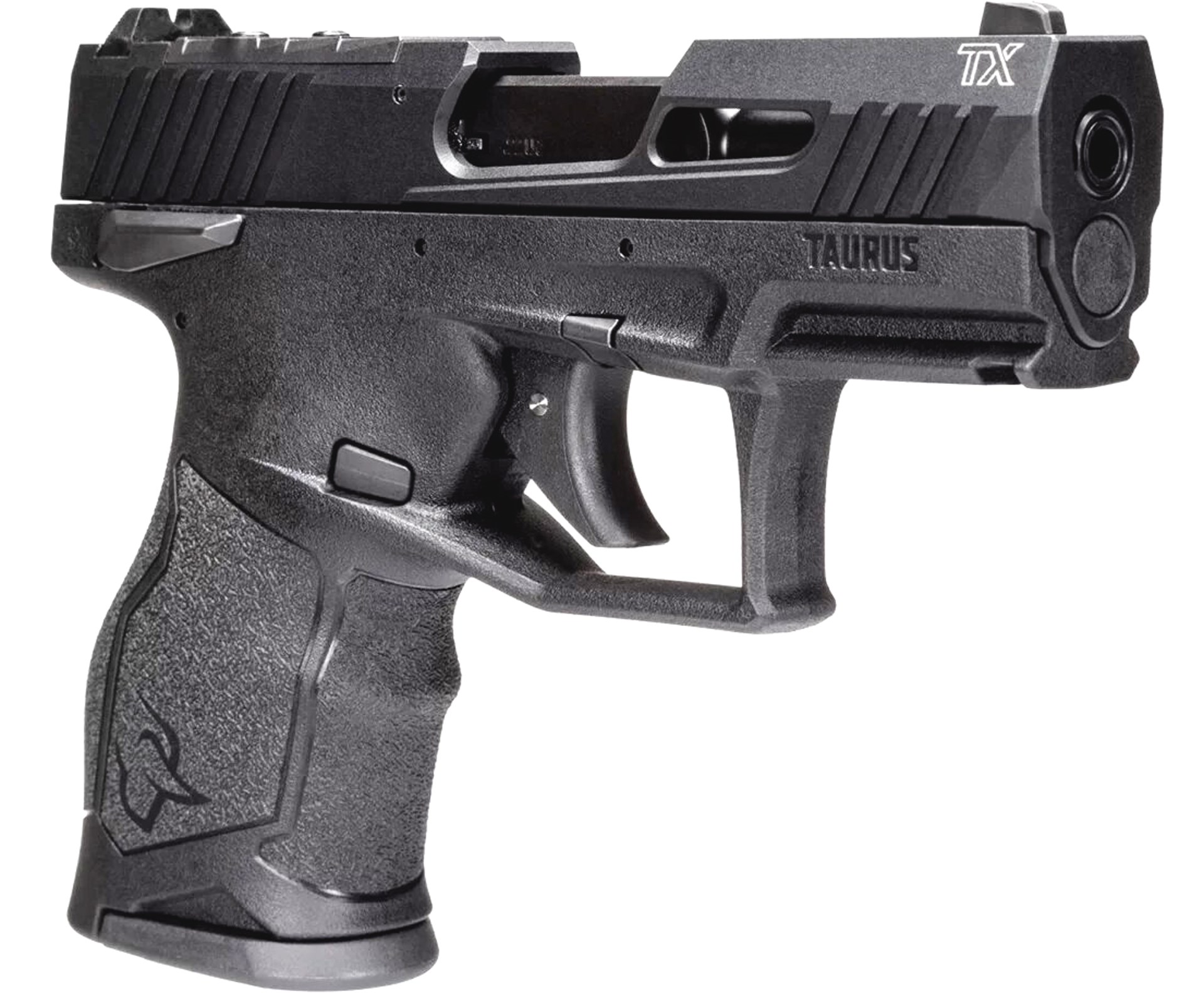 For 2023, the company added the TX22 Compact version to the lineup featuring a micro, red-dot optic-ready slide. Like its predecessors, this TX22 is lightweight, thanks to its vented-aluminum slide and polymer frame. It's styled to emulate the grip, controls and trigger pull of popular striker-fired 9 mm pistols, which makes it more intuitive to use and comfortable to shoot for extended practice sessions.
Its stagger-stack magazine holds 13 rounds, and the pistol will accept the standard-length 16-round magazines. The option of mounting a red-dot optic can be a boon for those who rely on corrective lenses to see more clearly and for use in low-light situations.
MSRP: $399.99
.22 WMR: KelTec PMR30
The KelTec PMR30 semi-automatic rimfire pistol has been the subject of low-recoil, defensive-handgun conversations since it arrived on the market in 2011. It's a unique rimfire option for two key reasons: Instead of being yet another .22 LR semi-automatic, it's chambered in the more potent .22 WMR cartridge, more commonly known as .22 Mag. Although there's not as much of a performance gain compared to .22 LR when firing .22 WMR from snub-nose revolvers, the PMR30's 4.3″ barrel provides a notable increase in muzzle velocity and energy.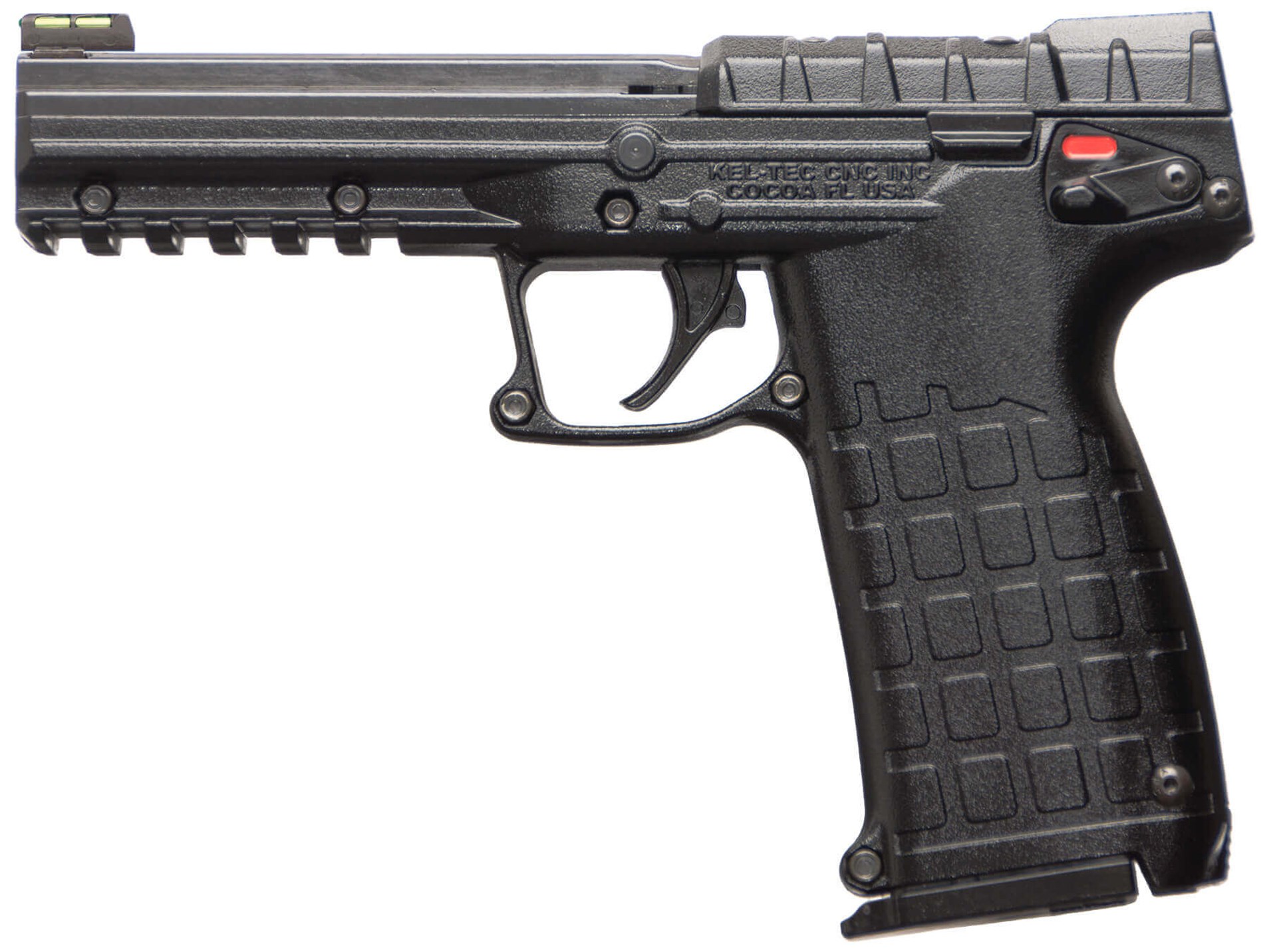 The other most notable design feature is a pie-wedge-shaped, double-stack magazine, which holds 30-rounds of ammunition. This is an impressive number of rounds, especially since the magazine is flush-fit to the grip. Additional features include fiber-optic sights, an optic-ready slide that is easy to cycle manually, a smooth single-action trigger and an unloaded weight of just 15.2 ozs. You can see the PMR30 in action in this Gun Of The Week video.
MSRP: $495
.22 WMR: Walther WMP
It had been more than a decade since the last polymer-framed, semi-automatic pistol chambered in .22 WMR arrived on the market when Walther Arms opted to break into this niche of the handgun market with the release of its first rimfire pistol in 2022. Dubbed the WMP (Walther Magnum Pistol), this pistol is relatively light weight (28 ozs., unloaded) yet it is not a small handgun. At 8.2″ long and 5.66″ tall, its profile is comparable to Walther's full-size duty pistols. But the hammer-fired WMP's size clearly works in its favor when pulling the trigger.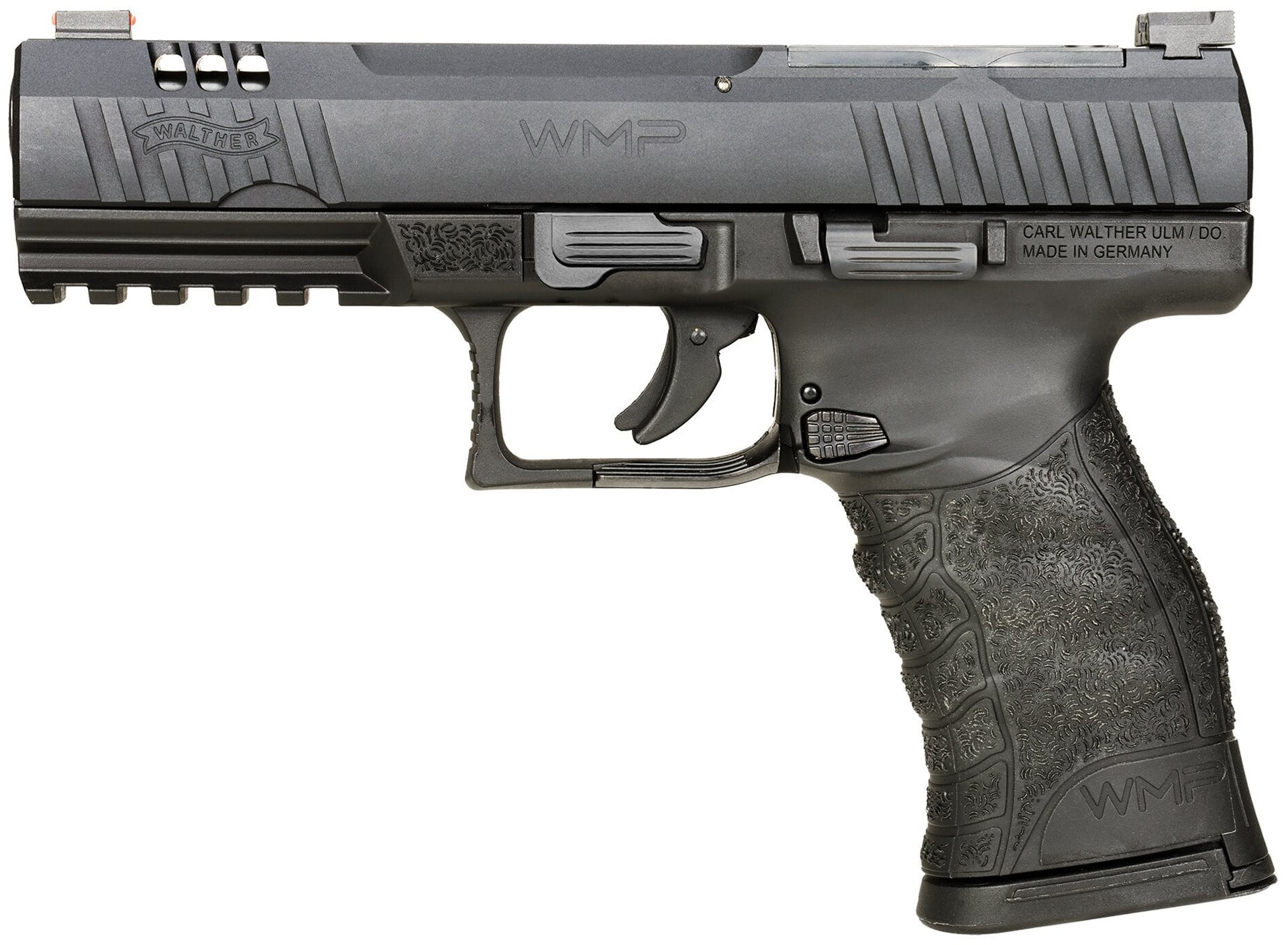 When test firing this gun, I found the felt recoil to be tame, even by rimfire standards. Although the muzzle flash and noise clearly indicated the use of the more potent .22 WMR cartridge, this gun was easier to keep on target than some .22 LR pistols I've worked with. The wider slide provides enough room for larger RMR-size red-dot optics, which opens up the field of view nicely. The slide and magazines both proved to be easy to work with since the lighter springs do not require as much hand strength to operate. This pistol ships with two 15-round magazines and a pair of optic mounting plates. Walther provides an up-to-date list of recommended .22 WMR ammunition on the company's website.
MSRP: $549
5.7x28mm: Ruger-5.7
In 1990, Fabrique Nationale Herstal (FN) launched the 5.7×28 mm FN bottle-neck cartridge along with a pair of guns to shoot it, including the P90 PDW and Five-Seven pistol. All three products were developed in response to NATO requests for a cartridge and gun combination to replace the 9×19 mm Parabellum. The 5.7x28mm cartridge is topped with lightweight .224-cal. bullets (23 grains to 45 grains) that launch at velocities somewhere between 2,300 f.p.s. to 3,000 f.p.s. from the P90. When fired from the Five-Seven pistol, this ammunition reduces felt recoil by approximately 30 percent when compared to similarly sized handguns. NATO's failure to adopt the cartridge, and the relatively high cost of the FN Five-Seven pistol (MSRP: $1,409), kept this particular low-recoil chambering from flourishing until recently.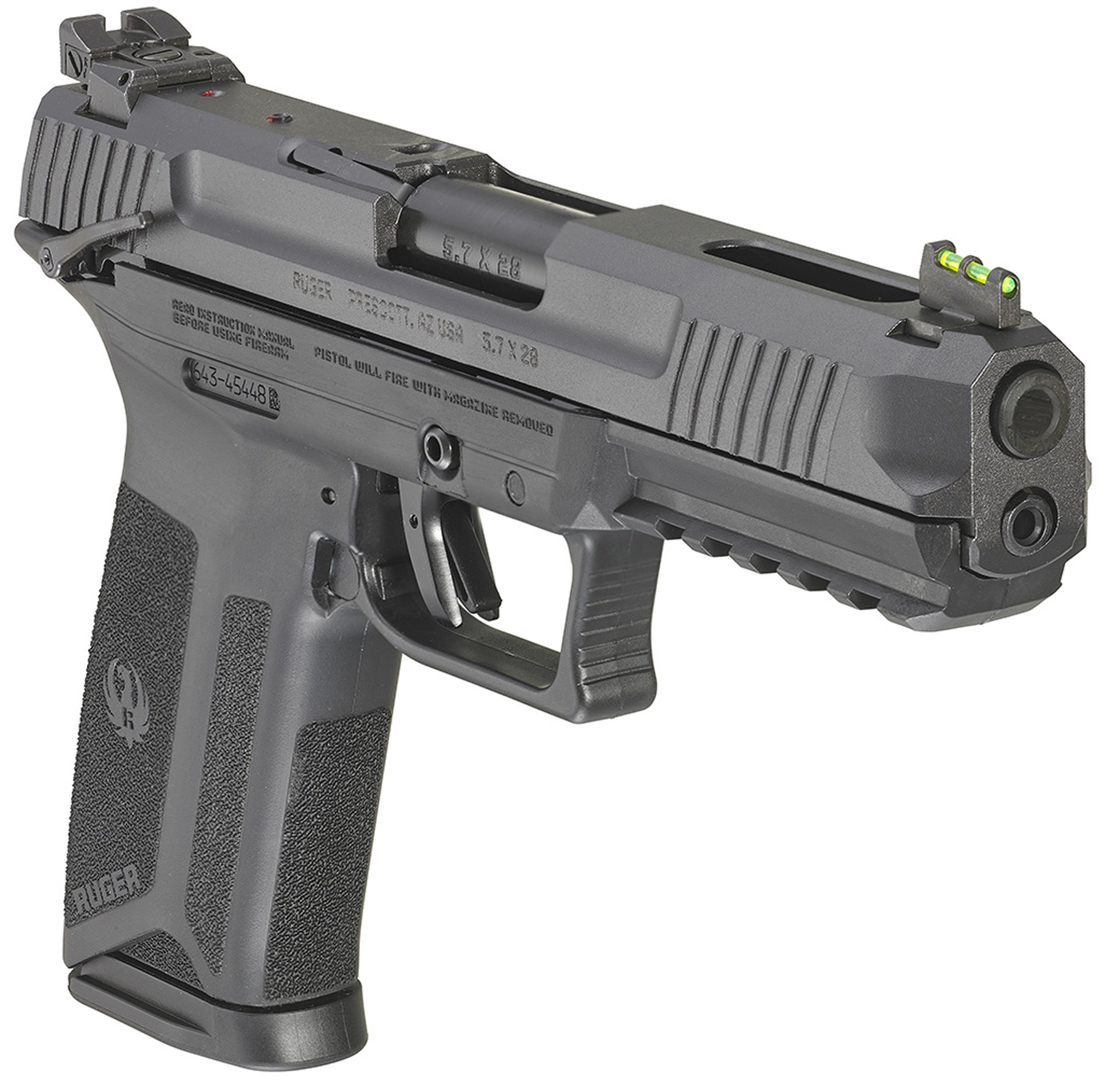 This fast flying .22-cal. cartridge received a second chance in the U.S. market when Sturm, Ruger & Co. released the Ruger-5.7 pistol in 2019. This full-size, semi-automatic pistol maintains the bullet velocity, moderate recoil and 20+1 ammunition capacity favored in the original FN offering. However, the controls have been modified to match more modern defensive pistol expectations and the price has been reduced by $500. Other useful defensive features include adjustable fiber-optic sights, an optic-ready slide and an integral accessory rail. This pistol was so well liked by our staff that it garnered the American Rifleman Handgun of the Year Award in 2021. Watch this Gun Of The Week video to learn more.
MSRP: $899
.32 ACP: KelTec P32
Some readers will recognize this .32 ACP KelTec semi-automatic from the smallest handguns gallery we posted recently. The Model P32 is included here because it is an unusually comfortable centerfire pocket pistol to shoot. Years ago I had the opportunity to test fire the 7.7-oz. KelTec P3AT, chambered in .380 ACP, side-by-side with the 7-oz. P32. Although the P3AT handled well enough, like most pocketable .380s, time spent at the shooting range practicing with it had more to do with endurance than enjoyment.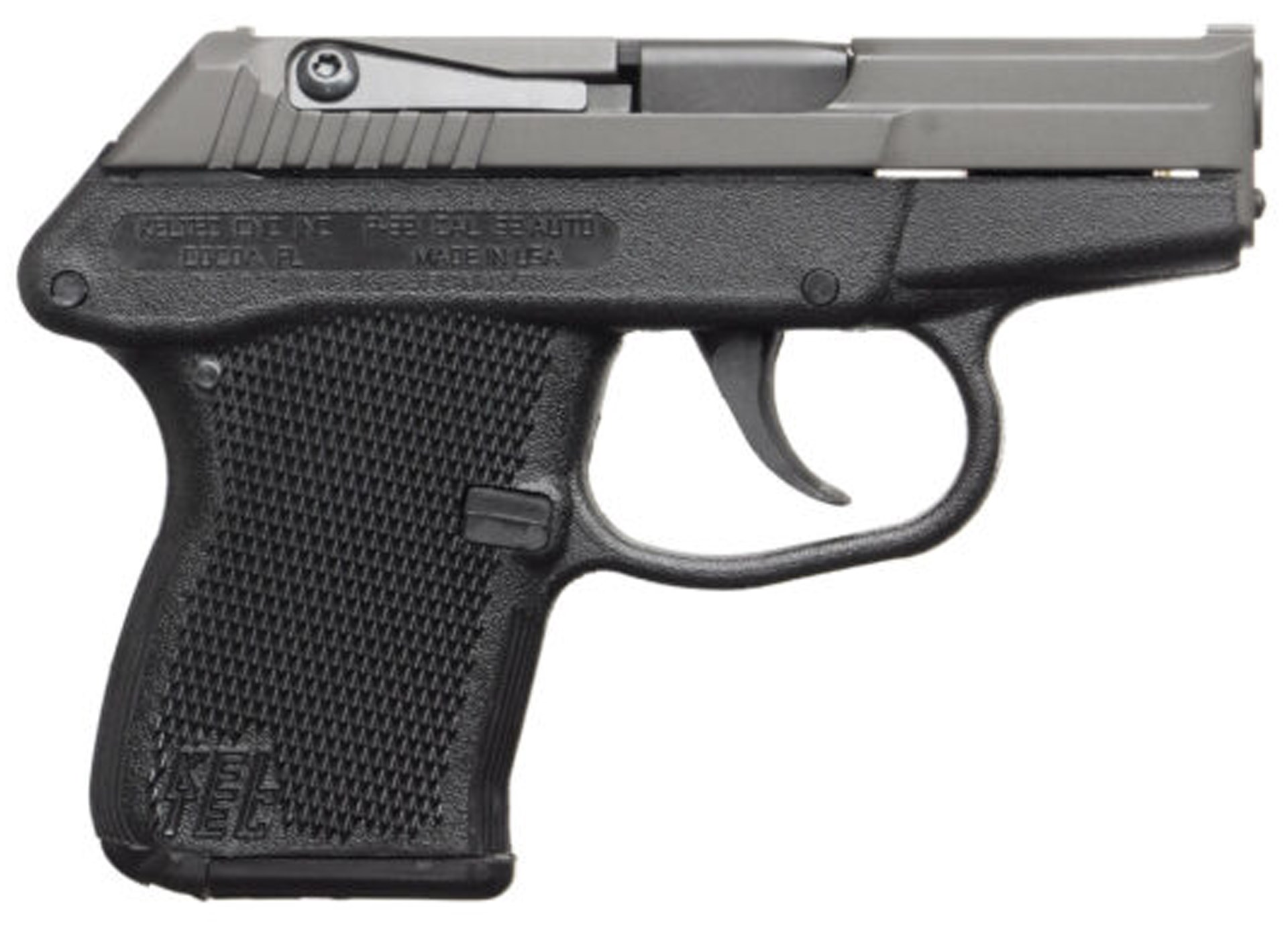 I found the P32 to be much softer shooting, especially in such a small, slim, lightweight platform. This in turn contributed to more consistent shot placement and a greater willingness to practice. Although the .32 ACP has never been a powerhouse round, it offers a useful felt-recoil middle ground for those who want to avoid the snappy feel of pocket .380s but are looking for something with more punch and greater reliability than a diminutive .22 LR. I would like to see the .32 ACP make a comeback as a low-recoil defensive option. For now, the P32 is almost the only game in town, but a good one at that.
MSRP: $360
.327 Fed. Mag.: Taurus 327
Some readers may well be wondering how a Taurus snub-nose revolver chambered in .327 Fed. Mag. could possibly make its way onto a low-recoil handgun list. It's true that snub guns stoked with full power loads in this chambering can come close to kicking like a .357 Mag.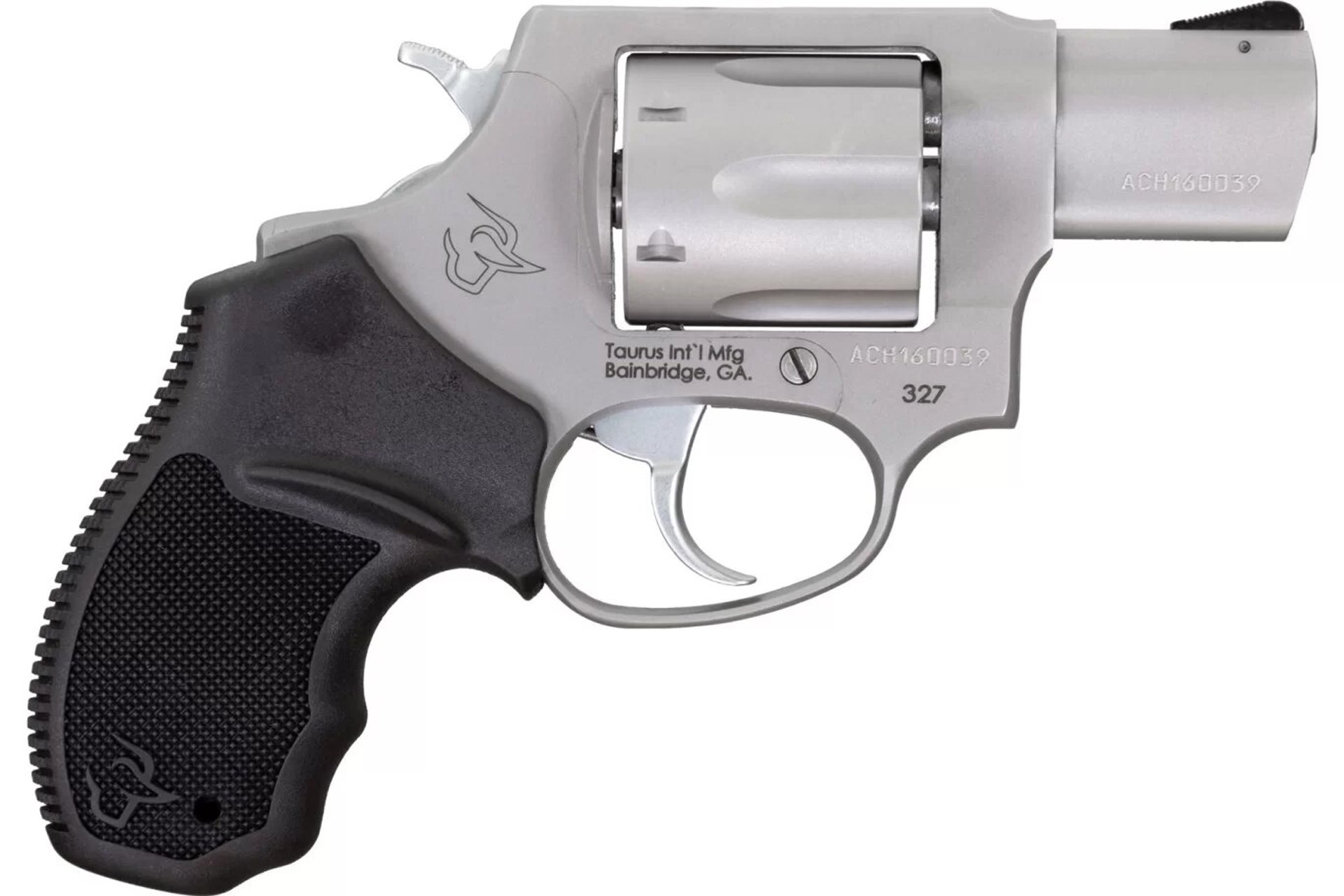 But it's actually the parent cartridge, the .32 H&R Mag., which makes the Taurus 327 a reduced recoil option. Just as the .357 Mag. is a longer and more powerful version of a .38 Spl., the .327 Fed. Mag. evolved from the softer shooting, .32 H&R Mag. cartridge. When fired from the same size revolver, the performance of .32 H&R Mag. can come close to that of standard-pressure .38 Spl. loads, but with significantly less recoil.
New production revolvers chambered specifically for .32 H&R Mag. are all but extinct these days. But it's not too hard to find .327 Fed. Mag. double-action wheelguns like the Taurus Model 327, which was released in 2022. This revolver's all-stainless-steel construction gives it an unloaded weight of 22.8 ozs., which works in favor of recoil reduction, while the slimmer .32-cal. cartridge profile allows enough room in the small-frame cylinder for six rounds instead of five. Like other Taurus revolvers in this class, the Model 327 is affordably priced in stainless-steel or matte-blued finishes.
MSRP: $399.99
.380 ACP: Ruger Security-380
So often, it seems that pistols chambered in .380 ACP lack the just-right factor that seems to be relatively easy to find in other defensive handguns. The sub-compacts are easy to carry but produce snappy levels of recoil. The larger compact models are easier to shoot, but they can often be old-fashioned with fairly heavy triggers and single-stack magazines.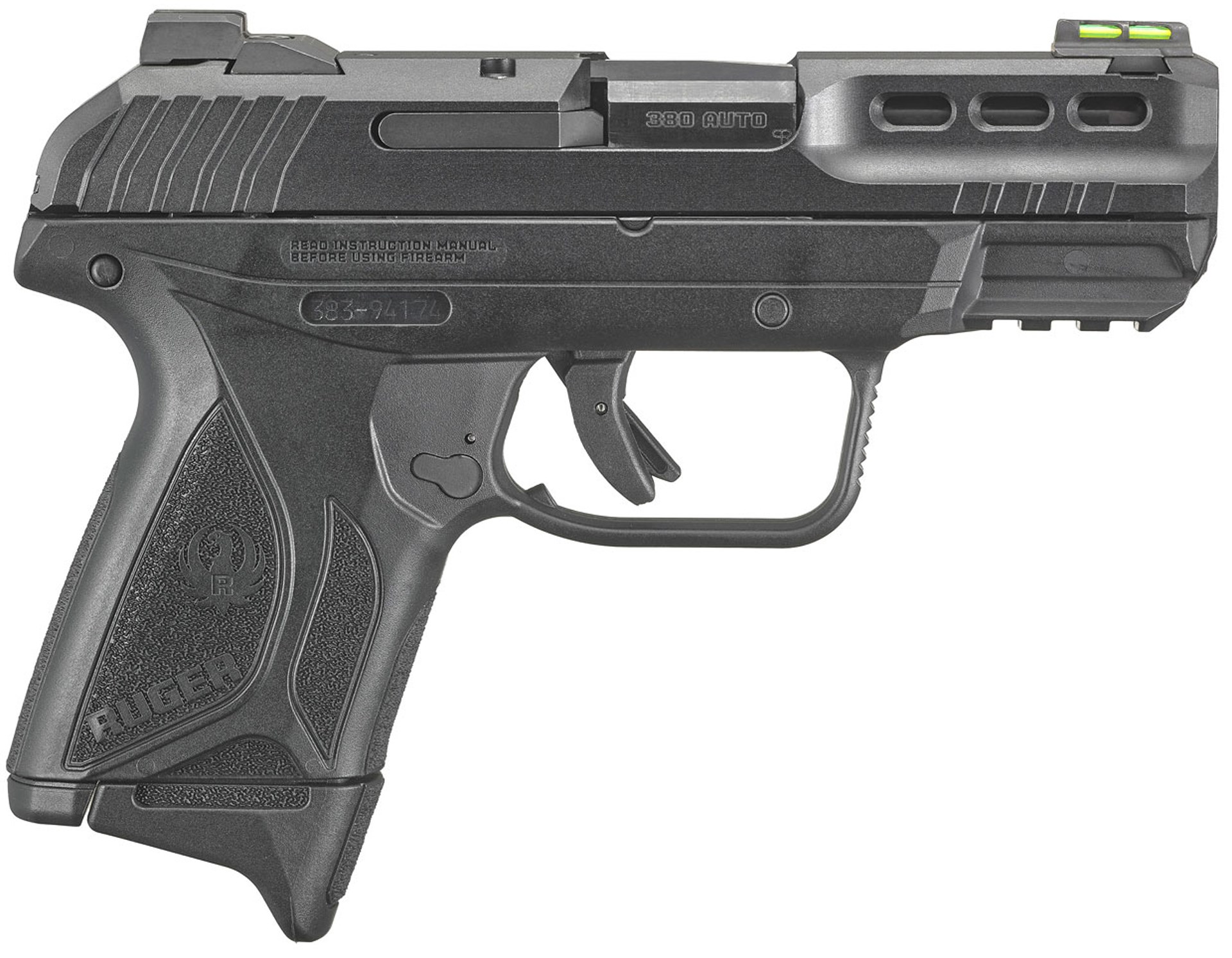 This is why one of Ruger's latest offerings, the Security-380, is among the most well-balanced pistols in this chambering currently available. Based on the compact version of the company's Security-9, this pistol has a bright fiber-optic sight system and weight-reduced slide outfitted with the Ruger Lite Rack system to make it easy to manipulate. The textured compact-size grip frame is hand-filling and accepts flush-fit 10-round or extended 15-round magazines. The trigger pull is light and clean with felt recoil levels generated by standard pressure ammunition proving to be modest and comfortable to work with.
MSRP: $369
.380 ACP: SCCY CPX-3
One of the more affordably priced double-stack .380 ACP pistols available is manufactured by SCCY Industries in Daytona Beach, Fla. The CPX-3 is a double-action only, hammer-fired semi-automatic with a longer trigger pull reminiscent of a snub-nose revolver. Although the design of this pistol is drawn from the company's 9 mm pistols, this gun was redesigned around the .380 ACP cartridge. Changes included reducing the grip frame's size, front-to-back, making it more comfortable for smaller hands while still being a good fit for larger mitts.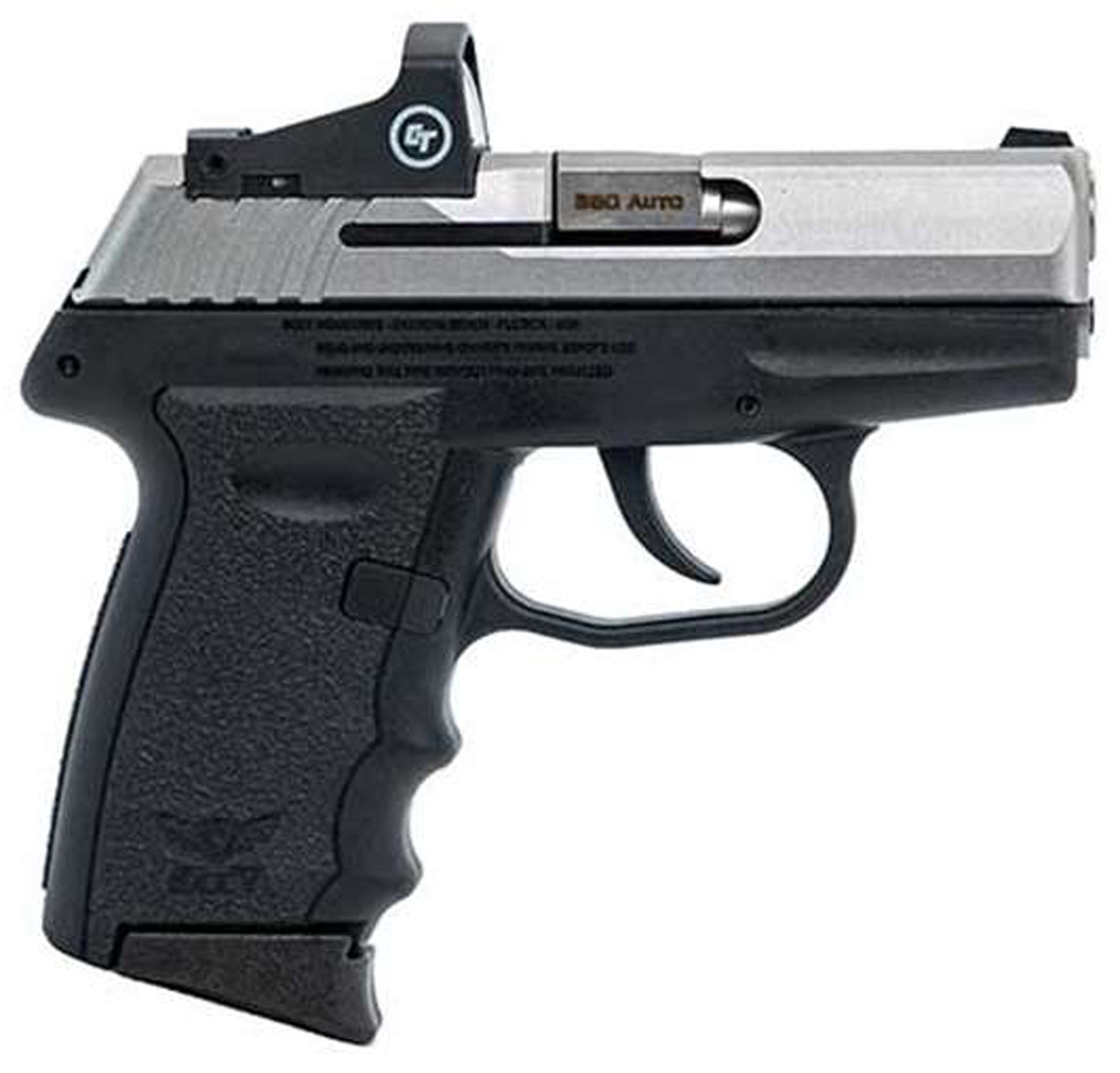 This company offers a diverse selection of frame colors, including brighter options in lime green, orange and purple. All CPX series pistols ship with stainless-steel slides that are available in natural-silver or matte-black finishes. Upgrading from a standard slide to an optics-ready slide only costs $10 more. For those who prefer to have a .380 with an external thumb safety lever, SCCY offers the CPX-4.
MSRP: $239.99 to $259.99
.380 ACP: Smith & Wesson Shield EZ
Smith & Wesson introduced the M&P Shield series of semi-automatic, concealed-carry pistols in 2012. Originally chambered in 9 mm Luger and .40 S&W, they provide the features of the popular M&P polymer-frame duty guns but in a more compact and easier-to-carry package. Using single-stack magazines gives the pistols a slim grip profile which makes them a better fit for smaller hands.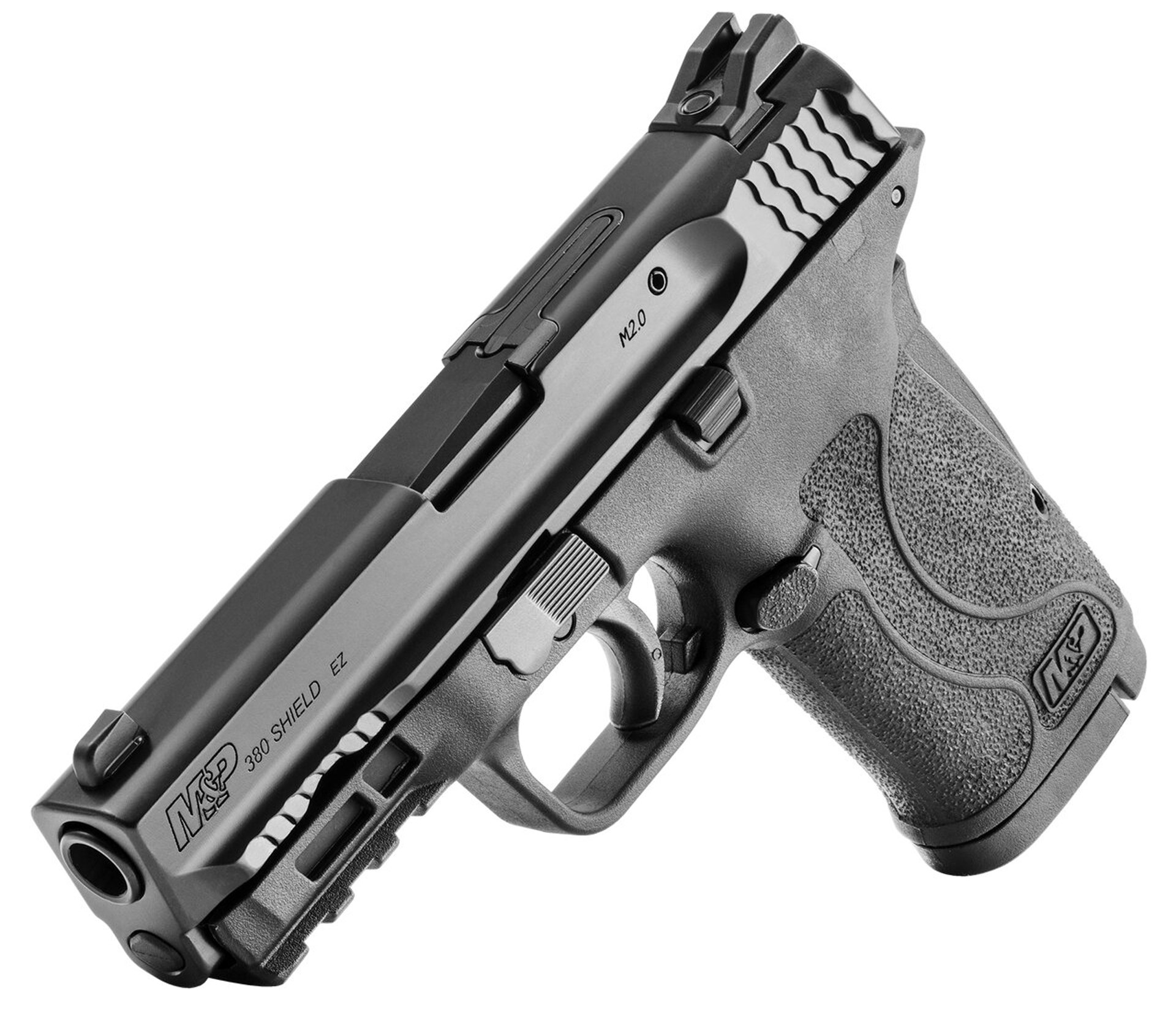 In 2018, the company answered customer requests for a more manageable version of this pistol with the release of the M&P 380 Shield EZ . In addition to chambering this gun for the softer-shooting .380 ACP cartridge, the company reworked some other features to reduce the amount of pressure needed to load and unload the pistol. The EZ in the name indicates that this version of the Shield employs easy-to-load magazines and an easy-to-rack slide. This pistol is available with, or without, an external thumb safety lever along with tricked out Performance Center editions.
MSRP: $454 to $564
Article by B. GIL HORMAN
Don't forget to like us on Facebook and follow us on Twitter.