2023 New Optics Guide: Low Power Variable Optics
The appeal of an LPVO (low power variable optic) is easy to understand. With just a twist of a dial or the throw of a lever, you go from 1 power out to 6 power or much higher. It's one optic on top of your rifle that lets engage targets from up close and personal out to 500 yards and beyond. Here's what's new in the LPVO market for 2023.
---

Crimson Trace | Hardline 1-10×28
Higher-magnification low-power, variable optic scopes are all the rage, and the Hardline 1-10×28 mm offers an illuminated second-focal-plane reticle, a 34 mm main tube, IPX7 waterproof rating and zero-reset turrets. A fast-throw magnification lever and lens caps are also included, and an MOA version is also available.
Magnification: 1-10X
Objective Lens Diameter: 28 mm
Reticle: Illuminated TR1-MIL
Length: 10.9 inches
Weight: 18 ounces
MSRP: $480
(800) 442-2406; crimsontrace.com
---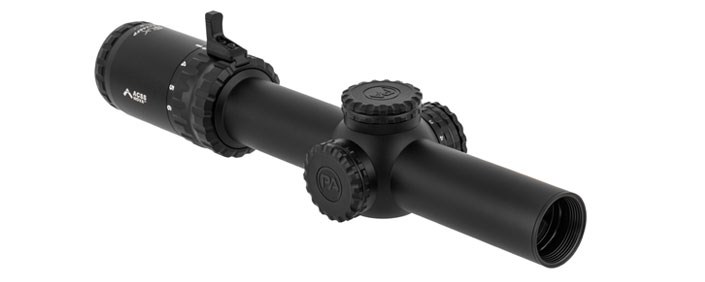 Primary Arms | SLx 1-6 NOVA
This LPVO features Primary Arms' new ACSS NOVA reticle, which is purpose-built to leverage a high-efficiency fiber-optic wire for bright illumination. It also has mil-based ranging capability and moving target leads, making it ideal for engaging targets from close quarters to long range.
Magnification: 1-6X
Objective Lens Diameter: 24 mm
Reticle: ACSS NOVA
Length: 10.4 inches
Weight: 17.9 ounces
MSRP: $340
(713) 344-9600; primaryarms.com
---

Riton | 5 TACTIX 1-10×24
The patent-pending Dual Throw Lever System of the 5 TACTIX 1-10×24 mm LPVO lets you easily switch between magnification levels, while the capped, zero-resettable turrets are adjustable in .1-MRAD increments. The scope also has six levels of red illumination, featuring on/off between each level. This first-focal-plane optic also has a "Christmas tree" reticle with windage and elevation information displayed directly through the eyepiece.
Magnification: 1-10X
Objective Lens Diameter: 24 mm
Reticle: 30T
Length: 11.25 inches
Weight: 26 ounces
MSRP: $959
(855) 397-4866; ritonoptics.com
---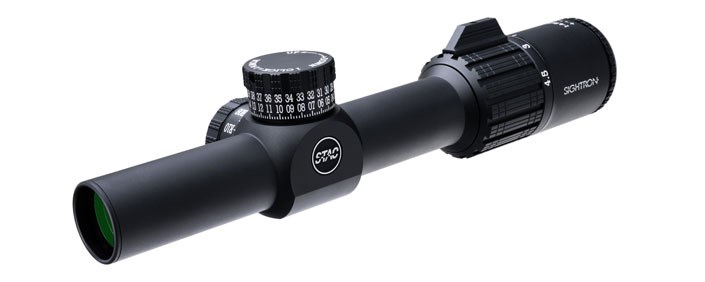 Sightron | S-TAC 1-4.5×24 SR1
Sightron's latest riflescope offers a new optical design touted to provide crisp, clear, sharp images throughout the magnification range. The ExacTrack erector tube system claims to provide consistent, reliable and repeatable adjustments. There is 100 MOA of elevation travel and 60 MOA of windage travel in .25-MOA clicks.
Magnification: 1-4.5X
Objective Lens Diameter: 24 mm
Reticle: SR1
Length: 10.3 inches
Weight: 20.8 ounces
MSRP: $499
(800) 867-7512; sightron.com
---

Steiner | T6Xi
Designed in collaboration with Jon "Mochabear" Dufresne from Kinetic Consulting, the T6Xi 1-6×24 mm riflescope features an all-new KC-1 reticle, designed for quick target acquisition at 1X and the ability to deliver precision accuracy and positive identification of potential threats at greater distances.
Magnification: 1-6X
Objective Lens Diameter: 24 mm
Reticle: KC-1 MIL
Length: 10.4 inches
Weight: 20 ounces
MSRP: $1,955
(888) 550-6255; steiner-optics.com
---

Swampfox | Raider Warhorse
Designed for CQB use, the Swampfox Warhorse 1-6×24 mm FFP riflescope balances adaptability, precision and speed in a variable-power optic. It offers true 1X magnification for shooting with both eyes open and 6X zoom for engaging distant targets. A generous field-of-view makes it ideal for quick acquisition.
Magnification: 1-6X
Objective Lens Diameter: 24 mm
Reticle: Dragoon FFP
Length: 10 inches
Weight: 23.3 ounces
MSRP: $639
(720) 389-6719; swampfoxoptics.com
Article by SHOOTING ILLUSTRATED STAFF
Don't forget to like us on Facebook and follow us on Twitter.