Australia's Lee-Enfield 'Jungle Rifles'
This article appeared originally in the March 2007 issue of American Rifleman. To subscribe to the magazine, visit the NRA membership page and select American Rifleman as your member magazine.
---
During World War II, Australia's small-arms factory at Lithgow in New South Wales built a number of prototype and trials rifles specially modified for jungle warfare. Many shooters and collectors are familiar with Britain's No. 5 "Jungle Carbine" based on the standard No. 4 rifle in .303 British, but comparatively few are aware of Australia's jungle rifles and carbines derived from the No. 1, Mk. III* Short, Magazine Lee-Enfield (SMLE) chambered in .303 British.
In 1942, World War II came to Australia's back yard. The treacherous attack on U.S. forces at Pearl Harbor on Dec. 7, 1941, realized long-held Australian fears of Japanese aggression. From late 1941, the ill-fated 8th Division of the 2nd Australian Imperial Force was in action against Japanese forces in Malaya and, soon after, more Aussie units fought against the Japanese on Timor and then in New Guinea.
Australia's early World War II battles has taken place in the deserts of North Africa and the southern European terrain of Greece and Crete. Under these conditions, the No. 1, Mk. III* was still an effective infantry rifle, but the jungles of Southeast Asia were to prove quite another matter. It was during the struggle to save Port Moresby from the Japanese in 1942 that Australian forces first requested a shorter and lighter rifle, and it is not difficult to understand the reasons why. Much of the fighting in New Guinea occurred on the infamous Kokoda Trail, where poorly fed soldiers had to battle their way up steep and slippery trails. Monsoon rains made conditions even worse by soaking all their equipment.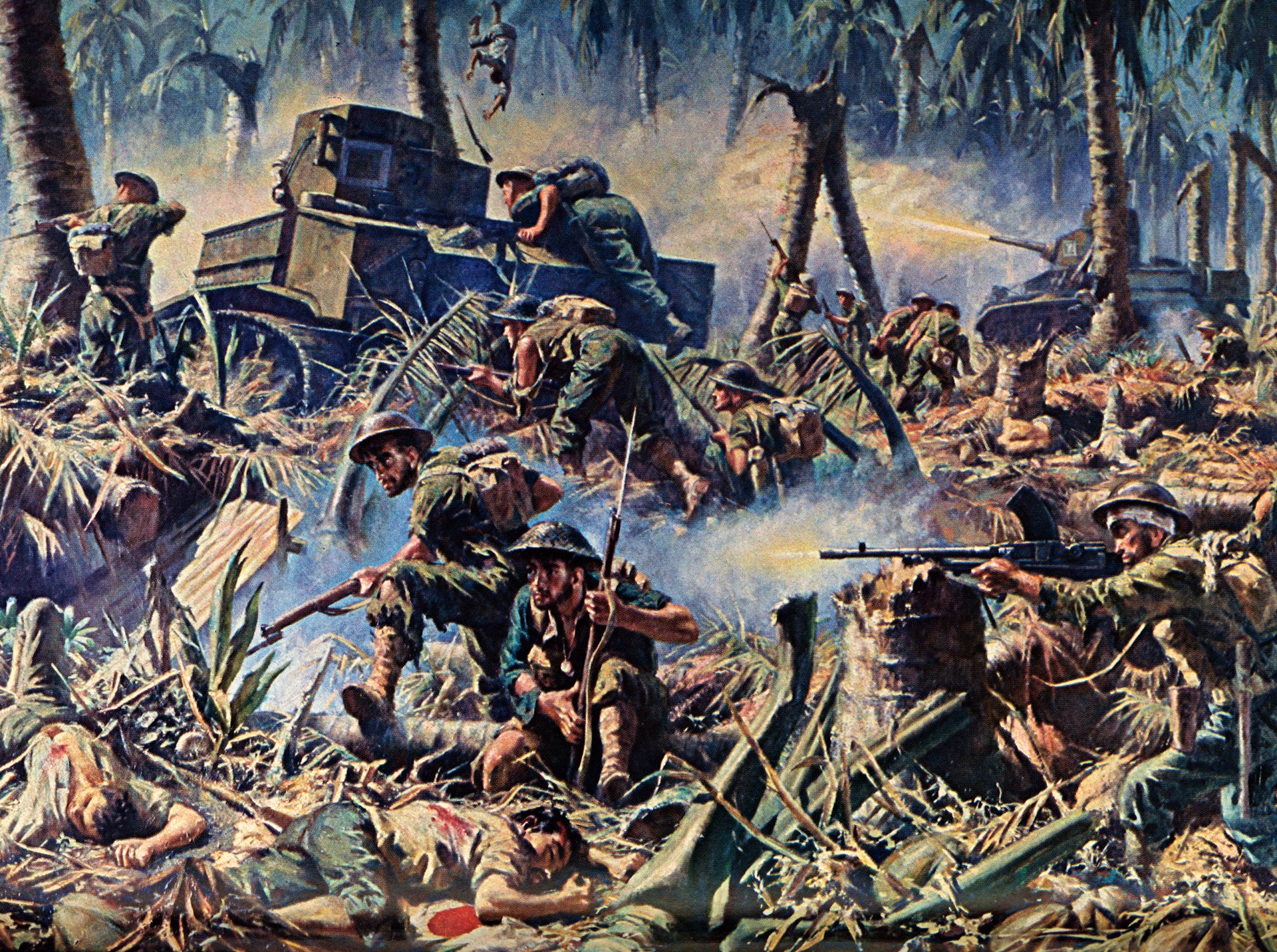 "Australian Action at Buna" by Geoffrey Mainwaring, oil on canvas, 274 cm x 237 cm, Australian War Memorial (ART27547). Used with permission of the AWM.
In Peter Brune's book on the New Guinea campaign, Those Ragged Bloody Heroes, the Kokoda Trail is referred to as the "Devil's design" and "the ultimate military obstacle course." Brune graphically describes the backbreaking ascent up the Golden Stairs by soldiers carrying packs weighing 60 to 70 lbs., in addition to their rifles, only to reach the summit and find that a whole series of valleys and steep climbs awaited them.
The request for a shorter, lighter rifle was certainly reasonable, but Australia was in no position to address it at that time. The fall of Singapore in February 1942, which entailed the loss of the entire 8th Division (about 15,000 men), was followed quickly by the bombing of Darwin in northern Australia, the invasion of Timor and a series of other military disasters. In those days, fear of a Japanese invasion of mainland Australia was all too real. Although Australia had been converting its industry onto a war footing since 1939, the country still lacked the means for effective self-defense.
In fact, wartime pressure on the small-arms factory at Lithgow was such that it was early 1944 before there was anything to show for the requests for a shorter, lighter rifle. Two basic designs with several variations were produced in small batches as either prototypes or trials guns. One followed the pattern of the fully stocked SMLE but was considerably shorter than the standard rifle. The other closely resembled that of the half-stocked British "Jungle Carbine" but was based on the No. 1 action, as Lithgow never converted from No. 1 production to the No. 4.

The Australian "No. 6" rifle was based on the Lithgow-made No. 1, Mk. III* action but otherwise resembles the British No. 5 "Jungle Carbine." It has a flip-up aperture rear sight at the rear of the receiver. There were only 200 No. 6s produced in two marks, Mk. I and Mk. I/I. This Mk. I example was made in May 1945.
First to the "shortened and lightened" rifles, as they are known. The early prototypes were built in two different lengths, referred to as "short" and "intermediate" and had either fixed or very basic adjustable aperture sights fitted to the charger bridge instead of the conventional ramp rear sight mounted on the barrel. Given the much-reduced length of these rifles, mounting the aperture sight farther to the rear was the only way a decent sight radius could be achieved. Also, the simplified aperture sight was far easier to manufacture than the ramp sight.
The shortened and lightened rifle was exactly that; a shorter version of the No. 1, Mk. III* with a different sight. The only other differences were the shorter upper rear handguard and grooves in the fore-end for improved grip. The intermediate rifle was 39.3″ long, had a 20.2″ barrel and weighed 8 lbs., 11 ozs. The short rifle had an 18.2″ barrel and was, thus, 2″ shorter overall. It was only marginally lighter than its longer cousin. A batch of 100 of the intermediate-length rifles was ordered for trials and was completed in March 1944. Each was supplied with a bayonet that was essentially the standard Pattern of 1907 but with a 10″ blade instead of the full 17″.
These rifles were numbered XP1 to XP100, but confusion can arise, as some prototype rifles also received XP serial numbers within the lower end of that range. Some of the photographs accompanying this article are of rifles XP1 and XP2, which are part of the Royal Australian Infantry Corps Museum's collection at Singleton in New South Wales. Singleton's XP1 and XP2 are prototypes—one of intermediate and one of short length—that feature two different versions of the charger-bridge-mounted aperture rear sight.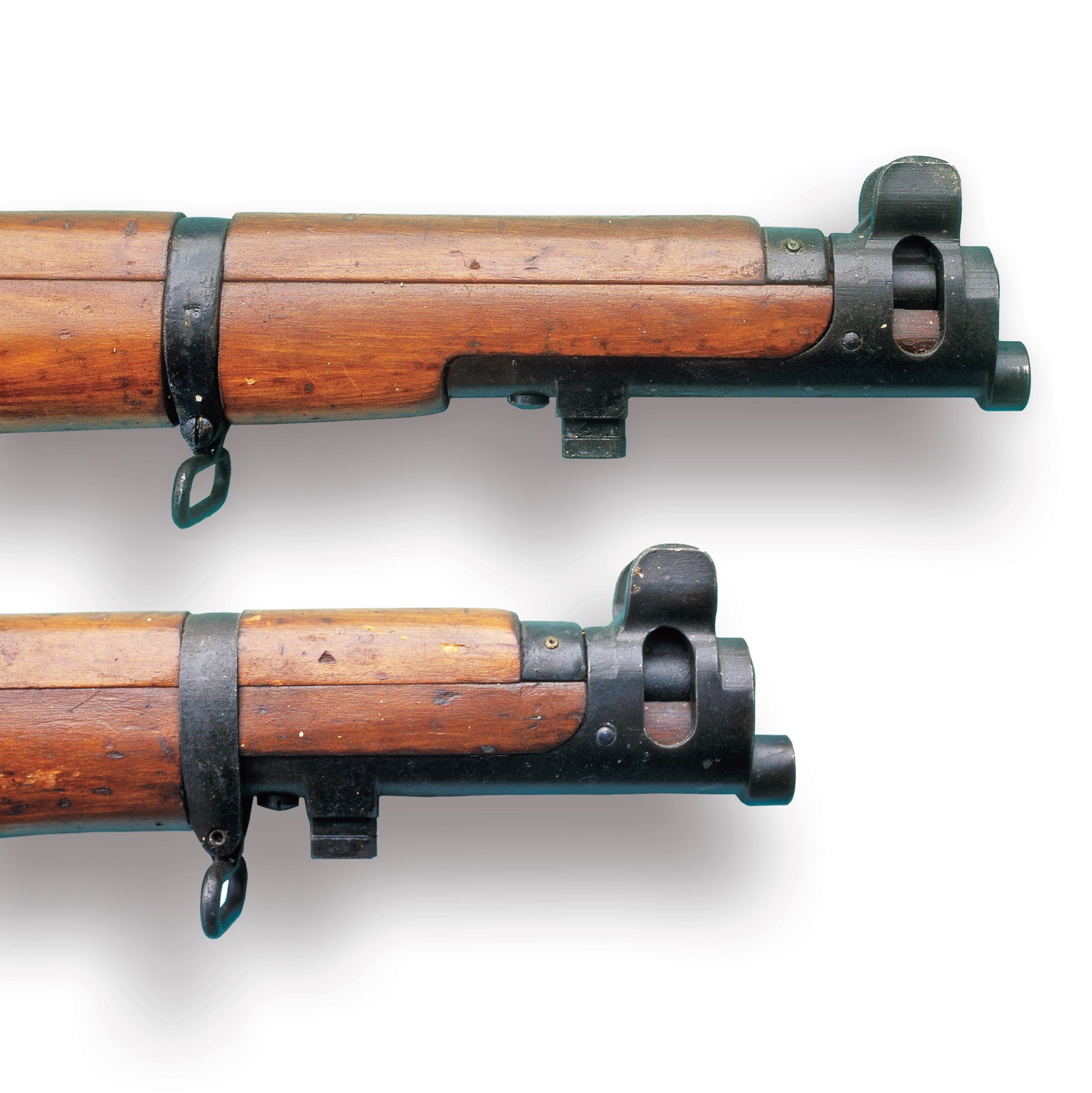 No. 1, Mk. III* "intermediate rifle" fore-end, nosecap and bayonet lug shown above No. 1, Mk. III* "shortened rifle" fore-end, nosecap and bayonet lug.
Given that a standard No. 1, Mk. III* rifle has a nominal weight of 8 lbs., 15 ozs. against the intermediate shortened and lightened rifle's weight of 8 lbs., 11 ozs., it is questionable whether the development of this pattern was worthwhile if saving weight was the main criteria. Excessive muzzle flash and recoil were also points against the design, and production did not proceed past the few prototype and trials rifles.
The other Lithgow experimental rifle designed for jungle fighting became known as the No. 6, and was essentially an Australian version of the British No. 5 based on the No. 1 action. Four prototype carbines were tested at the Williamstown rifle range in Victoria in September 1944. These had four different sighting arrangements, which were: standard No. 1, Mk. III ramp sight; the charger-bridge aperture sight as on the shortened and lightened rifle; a flip-up ladder sight; and a commercial aperture sight of the type used in rifle clubs. The best results were obtained with an aperture sight mounted close to the shooter's eye, followed by the ramp sight, but its performance dropped off in low light conditions. The charger-bridge-mounted aperture was found to give poor definition, as it was too far from the firer's eye.
As a result of these trials, just over 200 No. 6 carbines were manufactured for trials in two primary versions; the No. 6, Mk. I and the No. 6, Mk. I/I. Approximately 100 of each mark were produced, with about 50 of each version having a different butt configuration. The sights varied between the standard No. 1, Mk. III ramp sight on the No. 6, Mk. I— albeit with different protector ears and mounted further toward the knox form—and a flip-up aperture sight on the No. 6, Mk. I/I, similar to that on the No. 5. It was, in fact, a new design based the British No. 1, Mk. V SMLE trials rifle from the 1920s. The butts varied between that of the standard rifle with its brass butt plate, and one fitted with a rubber recoil pad.

No. 1, Mk. III* "intermediate length shortened and lightened" rifle, serial number XP23.
The trials batch of No. 6s was ordered in July 1944, and the first of four lots was completed by March 1945. Three subsequent batches representing the various sight and butt configurations outlined above were delivered between February and August 1945. The designation "No. 6" does not appear on the rifles, and aside from the XP serial numbers, in the range of XP 101 to XP 296, only the standard Lithgow No. 1, Mk. III rifle production markings are visible.
The No. 6 had a shortened fore-end and upper handguard, both of which were grooved. It was also fitted with a flash hider similar in appearance to that on the British No. 5 but with some differences that mainly concerned the bayonet lug and height of the foresight block. The ramp-and-ladder-sight version required different foresight block height while the bayonet lug is the same as on a standard No. 1.
Significant effort was expended to lighten the various versions of the No. 6, with barrel weight reduced by machining at the knox form and milling the bolt handle and trigger guard. The receiver was modified (on the ladder-sight version), as was the charger guide, butt, stock bolt, sear, trigger guard and backsight bed (on the open-sight model). It weighed 7 lbs., 7 ozs., and represented a useful reduction over the standard rifle.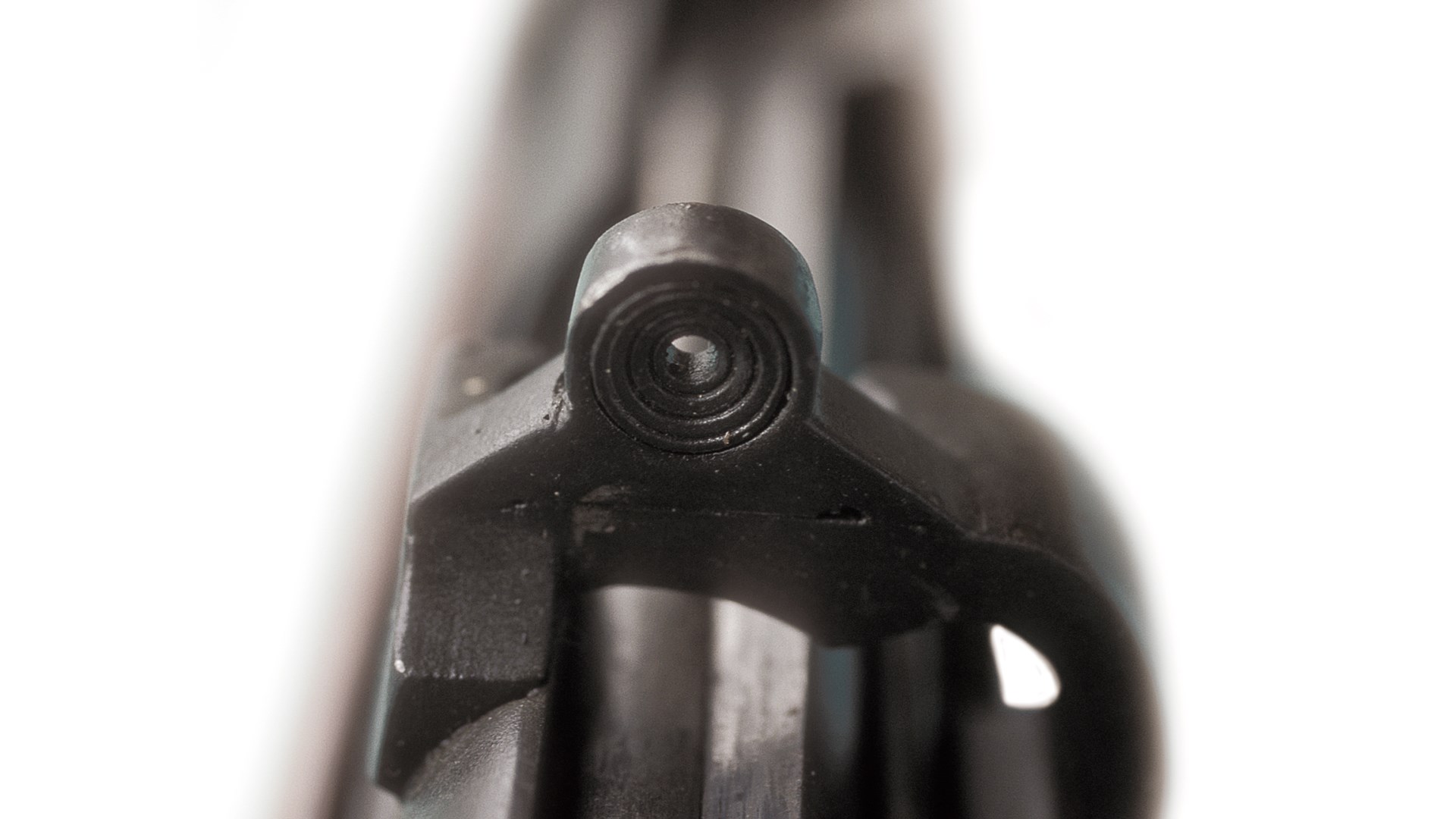 Several different sighting arrangements were tried. The charger-bridge aperture sight on intermediate rifle XP2 had settings for 200 or 500 yards.
An order for 40,000 No. 6s was raised, but the type was declared obsolete before any production began. World War II ended in August 1945 with the surrender of Japan, and the need for specialized jungle rifles had vanished for the moment. Those trials rifles that had been produced were returned to store and years later were sold off through Australian rifle clubs. It may be urban myth, but there are stories of fortunate people at Australian gun shows not many years ago buying an "unusual looking sporter" or "a suspect copy of a No. 5" only to find they had snapped up a genuinely rare collector's item at a bargain price.
A total of only about 300 trials versions of the No. 6 and the shortened and lightened rifle were produced along with a few prototypes. Many of these now reside in various museums or have been sold around the world to various collectors (including some in the United States). High prices caused by scarcity almost inevitably mean that some less-than-ethical operator will try to produce fakes and pass them off as originals in search of large profits, and there are a number of fraudulent pieces around. A good reference book, such as Ian Skennerton's Lee Enfield Story, is a must; and consulting an experienced collector with specific knowledge in this area is a good idea.
The development of Australia's jungle rifles is a curious footnote in the history of that country's involvement in World War II. They symbolize the hardship endured by Australian soldiers in jungle fighting as they battled both the terrain and a ruthless enemy, weighed down by the infantryman's inescapable burden.
Article by DANIEL COTTERILL
Don't forget to like us on Facebook and follow us on Twitter.