Beretta 92X Performance Pistol Review
I first laid eyes on the Beretta 92X Performance at the 2019 NRA Annual Meetings conference in Indianapolis, IN. It was a featured attraction at the Beretta booth, and as a self-confessed Beretta enthusiast, I could not wait to see it in-person. There are two reasons why the 92X Performance's launch was significant. First, before the pistol's arrival Beretta 92 pistols with all-steel construction and frame-mounted safeties were rarities or extremely limited-release items that only seemingly changed hands between serious collectors. The 92X Performance's release curtailed this phenomenon, as these new pistols are easier to source and retailed for less money. The second reason is that these guns are outfitted to go directly from the gun shop to a match like a USPSA or IPSC event. Beretta also started shipping an IDPA-legal variant of this pistol called the 92X Performance Defensive in late 2021. In the past, Beretta built pistols like the 92 Stock or 92 Combat for IPSC competition. However, these models are also extremely rare, coveted and hard to find. The Stock or Combat versions were only released intermittently, and production numbers were low, unlike these new competition pistols.
The heavier all-steel construction of the 92X is great for absorbing felt recoil, especially in the context of competitive shooting. The Beretta Brigadier slide was originally fielded on Beretta 96, chambered in .40 S&W. The slide was meant to reduce felt recoil and increase reliability by keeping extra material around the slide's critical areas. Beretta 92 pistols with Brigadier slides are sought both by serious collectors and shooters. Shooters love them because these slides are cut with front and rear sight dovetails, allowing sights to be swapped out. Collectors favor them for their exclusivity and rarity. Compared to a standard frame, the 92X Performance frame features an internally beveled magazine well. Reloading and inserting mags is subtly easier with this pistol.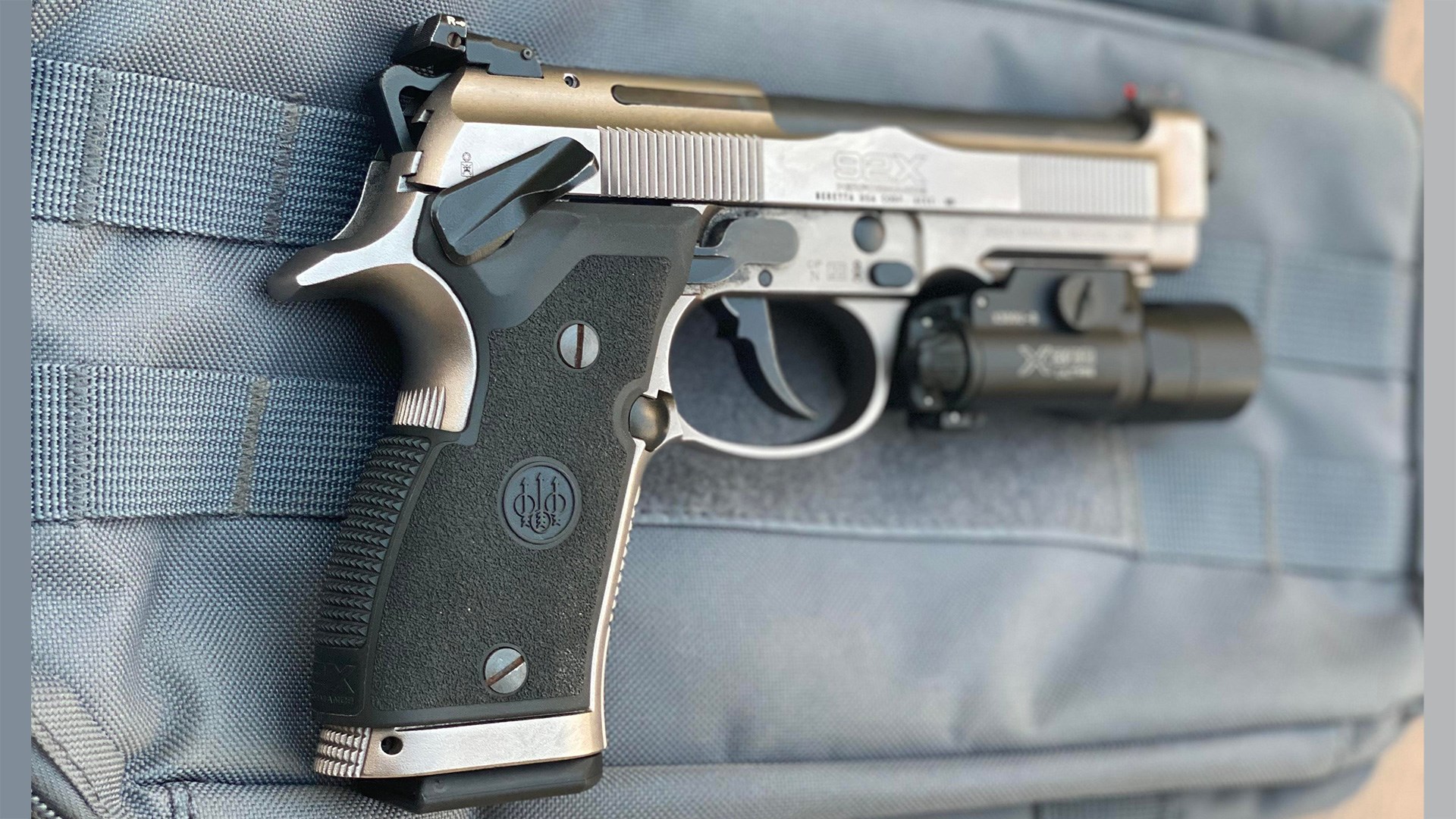 The 92X Performance has an excellent sight picture, which is one of my favorite aspects about this pistol. Picking up steel plates, poppers and paper targets is quite easy with the red fiber-optic front sight and the horizontally serrated LPA rear sight, which is fully adjustable for windage and elevation and has a generous wide square notch. Though the 92X Performance is a traditional double-action pistol, it comes with ambidextrous oversized "competition" style frame-mounted thumb safeties, not the standard slide-mounted safety/decocker found on most Beretta 92s. However, this pistol must be manually decocked by carefully and deliberately pinching the hammer with the thumb and index finger and holding it tightly until the hammer rests against the back of the slide. This can get tricky, but it is important as decocking is required in certain divisions in the action shooting sports. The takedown lever on the left side of the frame has an extended ledge (aka a "gas pedal") where right-handed shooters can rest their left thumb for a little more recoil control. 92X Performance barrels come in the traditional Beretta 92 profile and length of 4.9 inches. The pistol includes a steel guide rod, adding mass towards the front of the frame helping to mitigate muzzle flip.
The 92X Performance's "Xtreme-S" trigger system is optimized for competition from the factory. All "Xtreme-S" critical trigger components have a diamond-like coating that reduces friction and protects parts from wear. The trigger itself has vertical grooves reminiscent of Smith & Wesson wide revolver target triggers of old, and the trigger is adjustable for overtravel. The first time I dry-fired this gun, both its double and single action pulls were noticeably smoother compared to a stock Beretta 92 trigger. The pistol also has a Beretta Elite 2 skeletonized hammer and a competition-weight mainspring. Like the Brigadier slide, the Elite 2 hammer is a Beretta 92 icon and somewhat of a status symbol, which is why these hammers are commonly found on specialized Beretta 92 models. Similarly, the oversized magazine catch found on the 92X Performance pistol originates from the Beretta 92 Billenium, another highly coveted and collectible all-steel model. The Billenium style mag catch works very well and its inclusion as a standard part in the 92X Performance is a great idea.
I have been shooting my personally owned 92X Performance since late 2020. Though the "Xtreme-S" system is touted for competition use, I find the pistol's ignition system to be wholly reliable after shooting a myriad of factory 9mm options in addition to my own handloads that are loaded with primers of varying hardness. I have shot my pistol at several USPSA matches, various range trips and one high-round count weekend training class. At this point, I estimate that I have probably fired over 3,000 rounds of handloads and factory ammo. The 92X Performance, like any other Beretta 92 in good mechanical condition, has been highly reliable in my experience. Shooters just need to ensure that the slide, locking block and lugs are properly lubricated and the design advantages inherent to the Beretta 92 will take care of the rest.
Accuracy-wise, the 92X Performance has plenty to offer and I admit I will not be outshooting this pistol any time soon. I shot some NRA-B8 repair centers, freestyle, at a distance of 25-yards with a double action first shot. I used three different 9mm loads: 115gr Blazer Aluminum, 124gr Federal Syntech and my own 147gr subsonic handloads loaded with 3.3grs of HP38. I fired 10 rounds at each target for score.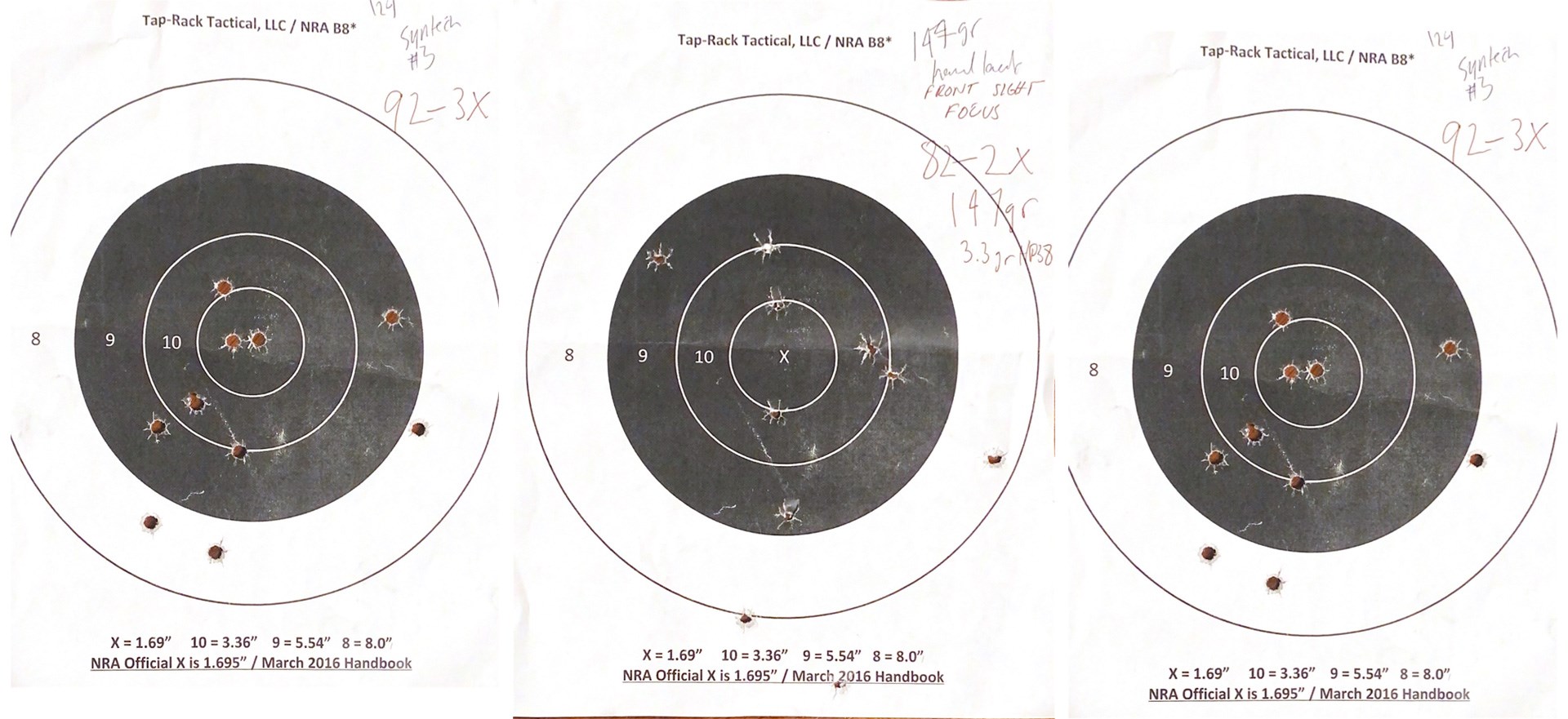 | | |
| --- | --- |
| Blazer Al 115 | 95-2X |
| Fed Synth 124 | 92-3X |
| SBHandLd 147 | 82-2X |
The attractive Nistan finish found on this pistol's frame and slide contrasts handsomely with the rest of the black metal parts. However this finish can be susceptible to corrosion, so 92X Performance shooters would do well to wipe their pistols after shooting them to avoid blemishes, especially during the hot and humid summer match months. Because I am left handed and use my trigger finger to fire the gun, release magazines and actuate the slide release, I would have preferred more neutrally sized safeties out of the box as these oversized parts can make pistol manipulations feel clunky. For me, the size of the safeties is large enough to somewhat crowd out the ledge of the slide release. This can also be a concern for right-handed shooters with shorter thumbs. Since the 92X Performance has a Vertec frame, it also ships with an optional full-size grip insert. My own pistol wears this insert, but it does not fully mimic the natural curvature of traditional full-size Beretta 92 backstrap. The 92X Performance's beavertail has a downward beak-like shape, and I think the standard beavertail would have suited this pistol just fine. One of the stronger shooters who competes with this pistol at local matches told me this beavertail shape clashed with his drawstroke and had to shift his hands accordingly.
Since its launch in 2019, there is an ever-growing number of accessories being released for the 92X Performance. Not only do I keep seeing them for sale at more gun shops nowadays, but I also notice them in other match participants' holsters. As a hobbyist level competition shooter and all-around Beretta 92 enthusiast, I can say that a pistol like the 92X Performance with its excellent trigger, useful sights, great accuracy, strong reliability and match ready configuration is a welcome addition to the selection of available metal framed competition pistols.
Article by P. E. FITCH
Don't forget to like us on Facebook and follow us on Twitter.