Different, But Oh So Familiar: FN's 21st Century High Power
There can be a tendency to think of the High Power as a platform more or less stuck in time, because its principal design remains relatively unchanged since 1934, and its evolution has been pretty static for the past few decades—and was seemingly outright dead there for a bit recently. Nonetheless, there are plenty of examples of Fabrique Nationale (FN) shaking up its nearly-90-year-old design every now and again (as FN has never really stopped tinkering with Dieudonné Saive's brainchild behind the scenes), and the company apparently felt that not only was it that time again, but that we were due for a big one. Within just a few months of Springfield and EAA entering the market with their own clone renditions of the pistol that deviate in only minor ways from the long-established template, FN announced the launch of a new genuine-article High Power that differs from its legacy product in multiple, much more substantial respects.

This is no mere M1911A1-style tweak or subtle refinement. Despite largely retaining the classic High Power's iconic aesthetic, the 2022 re-introduction departs so significantly, both externally and within, from its predecessor that they share no parts interchangeability or commonality at all. The new guns are longer, taller and heavier than their precursors (arguably enough so to bump them up into an entirely different weight class), feature a contemporary new action with a revamped and streamlined takedown procedure, employ different sights and higher-capacity magazines, and possess additional controls that represent the platform's first real attempt to offer a left-hand-friendly control scheme. They embody a full-on re-interpretation and modernization of the High Power—think less paint job and more pushing out a few walls to create an open floorplan.
But, if well planned and executed, home renovations typically result in a functional improvement and/or an increase in value—can FN claim the same with its new-again High Powers? Having now had a chance to put several hundred rounds through two different examples of the 2022 pistols, my conclusion is this: It depends entirely on what you as the user want to get out of your High Power experience. Those looking for a trip down memory lane with a svelte, elegant gun may struggle with this new version on a conceptual level—but those who can divorce themselves from the nostalgia, who are simply looking for a heck of a sweet-shooting, all-steel 9 mm, will love it.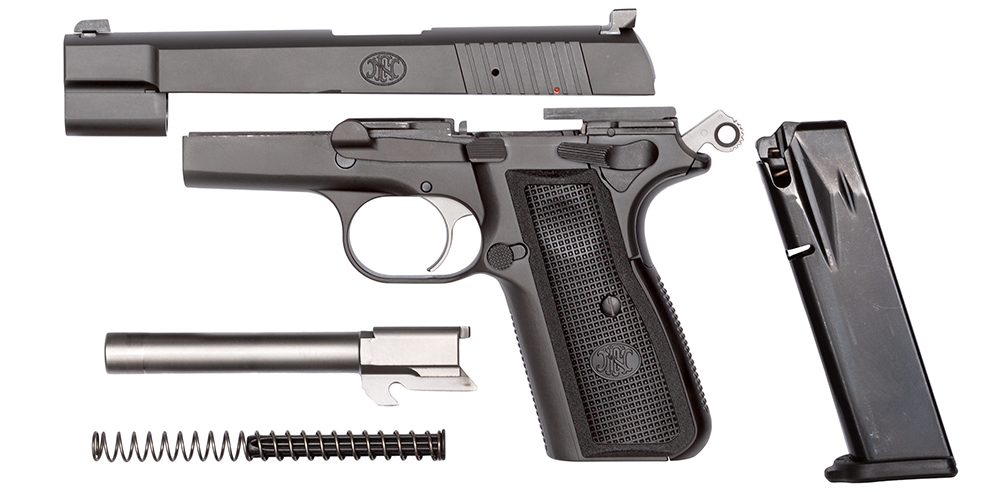 Now before anyone tries to make the contention that FN's newest variants are too large or too different to be "true" High Powers, let's take a deep breath and remember that John Moses Browning's original 1922 prototypes were not only behemoths that had to be shrunk down considerably to placate the French Ministry of War, but they were also striker-fired. Over the years, the manufacturer has also offered double-action/single-action High Powers (the HP-DA), Vigilante models with an aluminum frame as an option, the long-barreled GP Competition, models with decockers, and slightly beefed-up and modified .40 S&W-chambered High Powers—so the precedent for significant experimentation has long been established. And that's not even taking into account the many prototypes that FN never brought to market (including a compact double-action variant) or the voluminous minor tweaks made to the platform in the early years of chasing individual military tenders.
I view the new pistols as FN's attempt to create an updated 21st century High Power that better appeals to a whole new generation of shooters. This endeavor is both admirable and wise—as our community has added several million new members to the roster in recent years—and this massive influx of first-time shooters is unencumbered by the emotional attachment to the original High Power that many of the rest of us have. As we run down the new guns' features and note the changes made to the platform, you'll see that they mostly center around improving its ergonomics, increasing its reliability and versatility, and maximizing its ease of use—you know, the kinds of things that new shooters are much more interested in than fidelity to a design that made its debut a full four score and seven years ago.
The vintage High Power stands roughly 5″ tall and 7¾" in length, with a 4 5⁄8″ barrel, and weighs in at 32 ozs.—and has always been a closer analog, dimensionally, to the Commander-size M1911 than to the larger 5″-barreled guns. The new pistol measures 5 5⁄8″ in height and 8″ in length, with a 4 5⁄8″ barrel (company literature says 4.75″, but this is measured from the tip of the feed ramp and not the chamber), with an empty weight of 38 ozs., resulting in what is essentially a "Government Model" version of the High Power. Most of the pistol's 6-oz. weight increase can be attributed to its larger size, but the addition of two new steel controls also plays a role. The 0.25″ longer slide also affords the new pistol a 0.25″ longer sight radius, a not-inconsiderable difference that translates into greater accuracy potential.
Six SKUs in total are being offered at launch, all of which make use of a stainless-steel slide and barrel (a rare quality within the High Power realm) over a cast alloy-steel frame, with a physical-vapor-deposition (PVD) finish applied to all three components for enhanced durability and lubricity. Customers have their choice of three presentations—a black slide/frame with matching black controls, matte-stainless-finished with matching stainless controls or flat dark earth-finished with contrasting black controls—as well as low-capacity versions of all three for those in freedom-impaired states. Each version ships from the factory with two sets of textured polymer stock panels with FN's logo molded into them: the black pistol with black and orange/brown stocks, the stainless with black and gray, and the FDE with tan and green. Even more options are being offered aftermarket by FN, including wood and G10 stock sets, so customization options abound.

Unlike late-model, FN-marked Browning Hi-Powers, which were made in Belgium and assembled in Portugal, the resurrected High Power is being manufactured entirely stateside at the company's factory in Columbia, S.C. Despite its many changes, the pistol is still a single-action, recoil-operated, semi-automatic 9 mm Luger, even if the characteristic lock-up of the traditional High Power is now gone.
Rather than a pair of dorsal recoil lugs integral to the barrel that nest within two mortises cut into the interior of the slide to effect lockup, the new pistols instead utilize the now-prevalent SIG-style design whereby a squared barrel hood locks into the slide's ejection port. As distinctive as the original High Power's setup was, it has never been particularly robust—as it was developed around the 9 mm loadings of its day—which is why few previous iterations of the platform have been rated for use with +P ammunition, and this new one is.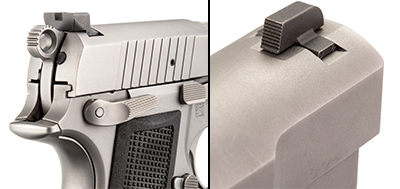 One of FN's design priorities from the get-go on the new gun was that it feature a modern takedown procedure not reliant on the traditional platform's removable slide stop in order to fieldstrip the pistol, and the recoil assembly has been changed somewhat to help facilitate this. The flat end of a plastic recoil spring guide is held against the front of the linkless barrel cam by the spring tension of an uncaptured, round-wire coil spring. This differs from the design of the traditional High Power, in which the metal guide ends in a hollow ring through which the transverse slide stop pin is inserted when the gun is assembled.
While it can be debated whether the original High Power's procedure for disassembly was so onerous as to require replacement, it is inarguable that the new process is much faster and easier—with no potential for accidentally "idiot scratching" your frame with the slide stop. It is now as simple as showing the gun clear, locking the slide back, rotating the pistol's added right-side takedown lever 90 degrees counterclockwise and holding it there, and then pulling back slightly on the slide to release it from the stop. At this point, the slide can be pressed forward off its rails without pulling the trigger.
The new High Power's slide isn't a drastic departure from previous designs, but there are numerous subtle differences. The general flat-sided and round-topped shape remains chiefly untouched, with the width of the slide tapering inward by about 1/4″ near its front to both cut weight and aid in re-holstering, however, this transition now occurs much closer to the muzzle on the new guns—giving them more of a pug-nosed appearance. With the slide removed, we can see that the length of the downward-extending nose, where the recoil assembly is housed, has also been shortened internally (and the frame's dustcover lengthened) by 1/2″ as a result of this change.
Unlike the original's slide, which featured a blind hole against which the recoil spring rebounded, the 2022 High Power's top end is drilled with a through hole that allows the guide to protrude from the front of the slide when the action cycles. FN has also cut a slight relief into a small section of the slide's right face, at the spot that corresponds with the frame-mounted takedown lever when the action is locked open, for the purpose of granting easier access to that control. One change that yields both more contemporary looks and improved ergonomics is the replacement of the 20th century High Power's tightly packed cocking serrations with a set of deeper, more widely spaced grooves that make slide manipulation easy and comfortable.

Early High Powers employed an internal extractor that was moved to the exterior of the pistol in the late 1950s/early '60s, and FN has now migrated it back inside the ejection port with the new design. This tweak simplifies the machining and assembly of the gun, and (in my opinion, at least) provides a cleaner look to the slide. The internal part's large claw is also positively brawny compared to that of the external versions, which should be an asset to both reliability and ammunition compatibility. As a consequence of the revised action, the ejection port has been greatly enlarged compared to previous models and now wraps around to the top of the slide, significantly increasing clearance for exiting cases—which should likewise help promote reliable functioning.
Dovetailed atop the slide via the same pattern that FN uses on its 509 series of pistols are a set of drift-adjustable steel sights that provide a simple black-on-black sight picture. The U-notch rear has a tactical ledge that allows for one-handed charging of the gun on a solid surface, and the front blade is serrated to help reduce glare. The decision to use 509 sights is a fairly limiting choice, as aftermarket options are quite sparse, but I found the stock factory set to be functional enough for the range—although, if I were to press the gun into defensive service, I would want to upgrade to a set with a contrasting front sight.
After undergoing the changes necessary to make it compatible with the new action, the updated High Power's barrel looks downright conventional. It is hammer-forged from stainless steel, and the chamber and feed ramp are polished at the factory to help ensure consistent feeding. Its six-groove, 1:10″ right-handed rifling should serve it well across the gamut of common 9 mm Luger projectile weights, and a recessed target crown imparts a modicum of protection against accuracy-stealing damage to the muzzle.
The most objectively beneficial byproduct of increasing the High Power's height by more than 1/2″ was that it made room for larger magazines holding 17 rounds—ironically finally getting the platform that popularized double-stack magazines up to the current industry standard for full-size 9 mms. FN is shipping two of the magazines with its pistols, and the steel bodies have witness holes along their rear faces and dual notches to accommodate a reversible magazine release. Magazines from previous iterations are not long enough to be used with the taller new guns, and the 17-rounders can't even be fully inserted into older High Powers.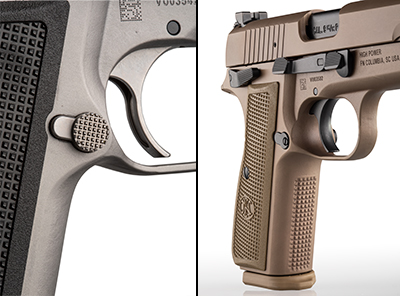 Enhanced purchase is another benefit of the revamped handgun. Previous versions of the High Power have had smooth backstraps and frontstraps—relying solely on the patterning cut into the stock panels to help keep the gun in place under recoil. FN has now added sections of small raised pyramids to both the front and rear of the grip to supplement similar shapes molded into both stocks, and it all works together well to effectively anchor the new gun in place.
It is to the right side of the frame that FN has made the most changes. Mirroring the standard left-side control is now a right-side slide stop lever for left-handed use, and just forward of that is the new takedown lever. My short fingers found the slide lever to be a tad too far for me to easily reach without twisting the gun around in my hand, but shooters with longer fingers will likely have better mileage. However, in what was probably more of a happy accident than an intentional design choice, as a left-handed shooter, I found the takedown lever to be perfectly placed for use as a finger rest by my support-hand thumb when adopting a thumb-forward grip—something obviously not applicable to righties.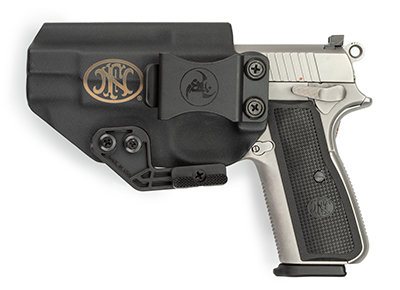 Bilateral thumb safeties were first introduced to the High Power in 1982 with the launch of the Mark II, and the new FN features the largest and longest pair that I've ever encountered—which makes finding and flicking them on and off almost effortless. However, unlike previous variants—which employed a spur on the left-side paddle that engaged a notch in the slide to physically prevent its movement when activated—the new levers do not employ a mechanical stop. This allows the slide to be racked (and the gun to be loaded or unloaded) while the safety is engaged—something never possible before. In addition to its manual safeties, the gun also incorporates a pair of passive safeguards into its firing mechanism: a firing pin block and a trigger disconnect safety.
Although some clone versions of the High Power have incorporated reversible magazine-release buttons into their designs, this pistol marks the first time FN has included such a feature. With the assistance of a small screwdriver, the round, textured control can be removed from the frame in about five literal seconds and then re-installed in the opposite direction in another five.
In the hand, the grip of the new High Power feels remarkable similar to that of the legacy guns, which is why I was quite surprised when my calipers revealed differences in both the length and width measurements. Whereas previous versions measure 2″ from front to back and 1.3″ from side to side, the 2022 introduction measures 2.1″ long and 1.25″ wide. The grip angle remains the same, and, despite my smallish hands, the new dimensions feel as good as or better than the old ones.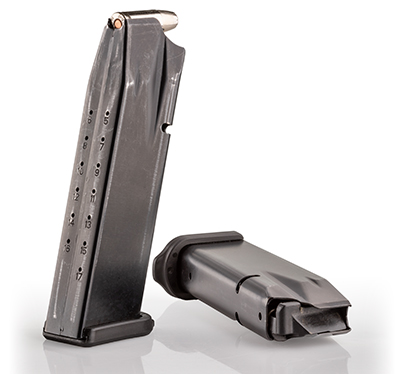 FN included a rowel hammer on the re-launched design, and while a true extended beavertail on a production High Power is now 87 years overdue, the company did add a bit of extra material back there to increase the clearance between the hammer and the softest part of your hand. I put approximately 600 rounds through the updated design and don't recall being bitten a single time.
One component removed from the reboot is its antediluvian magazine-disconnect safety, meaning that the hammer can be dropped and the gun fired with its magazine removed. As a result, you are no longer holding a brick should your magazine become accidentally dislodged or should you need to fire the pistol mid-reload. Also, because the High Power's magazine disconnect interacts with the pistol's internal trigger parts, it has always helped contribute to the platform's comparatively unimpressive single-action break—so it makes sense that the new gun has the lightest and crispest trigger I've ever experienced in the platform. On my range sample, there's roughly 1/8″ of take-up before the wall, with the trigger breaking cleanly on average at 4 lbs., 9 ozs., of pressure.
I had the opportunity to run about 200 rounds through an FDE version of the new gun at a media event in March and then put an additional 400 rounds through a stainless model during subsequent function and accuracy testing once back at headquarters; neither gun experienced a single stoppage in that time. FN touts the new pistol's compatibility with a broad spectrum of 9 mm ammunition, and I did my best to put that to the test, as I headed to the range with seven loads of differing weights, shapes and pressure ratings—from 65-grain NovX +P ARXs to 147-grain Hornady Subsonics. It digested them all without issue.
Three defensive loads from Remington, SIG and Winchester were also shot to help gauge the updated High Power's accuracy, and the firearm managed a sub-3″ average across all 15 five-shot groups at 25 yards—a fine result better than would be needed for competition, defensive use or casual plinking. Also, I am far from a superb handgun shooter, so I have no doubts that, in the hands of a true pistol marksman, these guns are capable of even more.
The vintage High Power is renowned for being a joy to shoot—the new gun's extra weight, a good portion of which has been added to the nose of the slide, just dials that virtue up to 11. It is about as flat- and soft-shooting as a handgun capable of serious defensive work can be, without the firearm itself being too heavy to be comfortably employed for that purpose. While the fit of my test sample was excellent throughout, there were a few obvious casting blemishes visible on its frame, more so than should be expected on a firearm in this price range.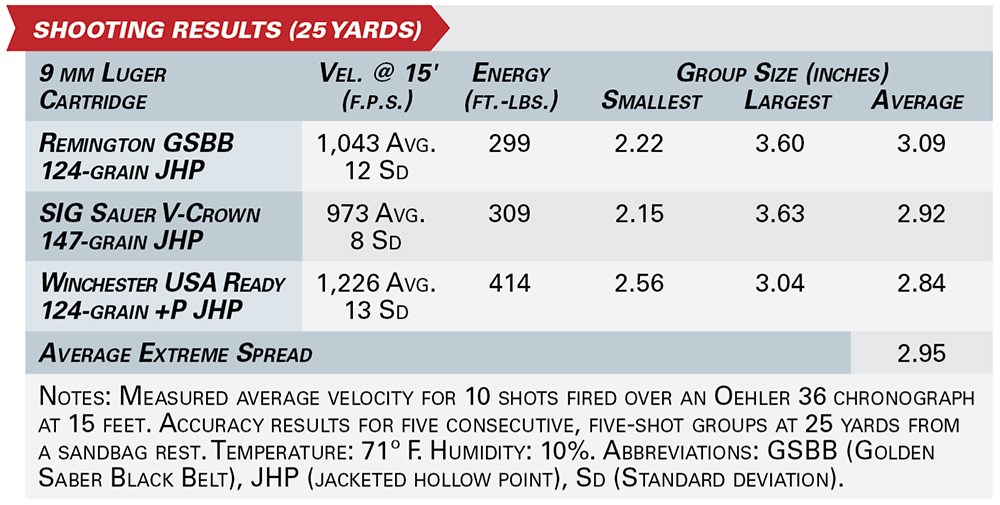 So, in the final analysis, where does FN's new pistol stand? Let me go ahead and get the southpaws out of the way, as this will be brief and unnuanced. For the needs of a left-handed shooter, this is the best High Power ever made by a sizable margin. Unlike anything offered during the previous 87 years, all the necessary controls are either bilateral or reversible—and the right-side takedown lever is arguably even better positioned for our use than it is for theirs. If you're a leftie interested in a High Power, this is it. Just pick your favorite color and go.
And now for the rest of you: I've noticed that some High Power diehards have a knee-jerk dislike for this gun (including some professional gun writers) despite most never even touching one, because it is just too different for them. I've also now seen a single range session with the revamped pistol pull a full 180 on four such skeptics, as actually firing the thing removes all doubt as to its lineage. I personally think the new FN pretty effectively manages to pay homage to one of the company's most successful and influential firearms without being slavishly bound to those aspects of its design that had not aged well.
Yes, FN has taken a bold risk by so thoroughly evolving its pistol, but what would the value to the gun community have been if it instead had chosen to stand pat with a firearm more or less identical to all that have come before it? Thanks to Springfield and EAA, shooters who want to go that route already have great options available to them—and the original design's fan base is large enough that guns of that type will likely always have allure. But there is even more demand for accurate, controllable, high-capacity 9 mms that even newcomers to our ranks can use well—and, if absolutely nothing else, the 21st century High Power succeeds admirably in ticking each of those boxes.
And when has having options ever been a bad thing?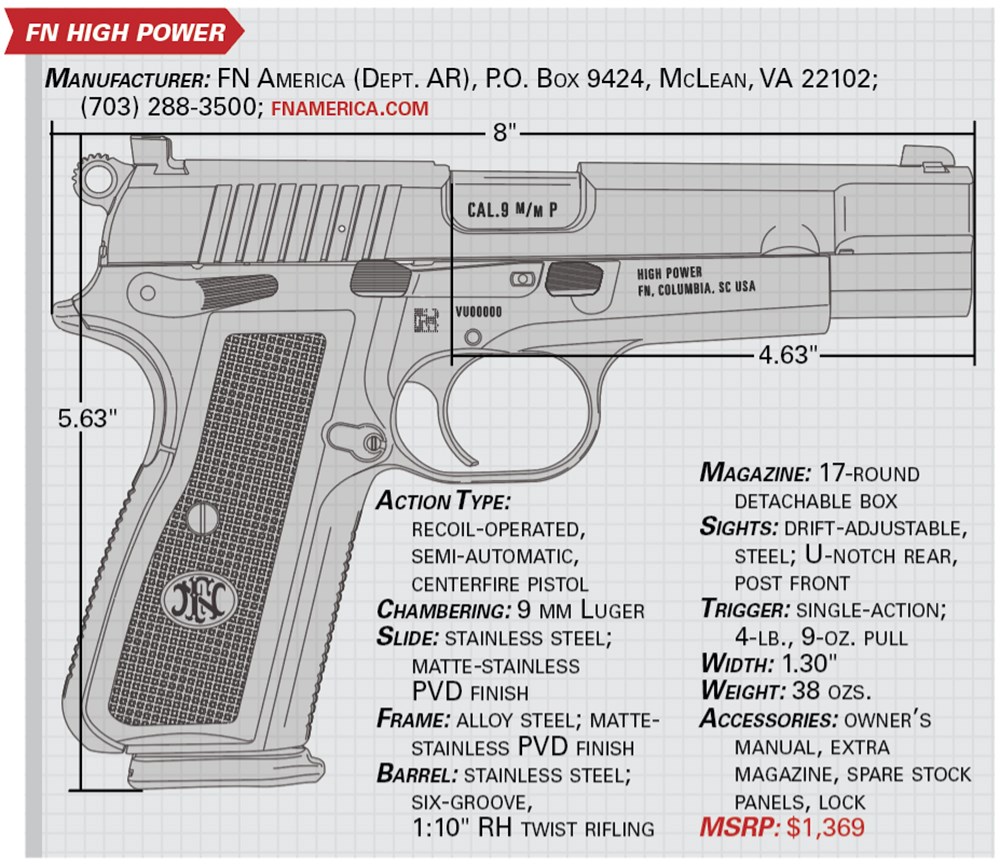 Article by KELLY YOUNG, SENIOR EXECUTIVE EDITOR
Don't forget to like us on Facebook and follow us on Twitter.