First Look: Vortex Razor HD 13-39x56mm Spotting Scope
Vortex has released its Razor HD 13-39x56mm spotting scope, aimed squarely at ounce-conscious backcountry hunters on long backcountry hunts, where the terrain and elements can make each step a slog. At just 10.4-inches long and 28.6-ounces heavy for the angled model (11.1 inches and 29.5 ounces for the straight), the Razor HD 13-39x56mm fits most pack sizes and configurations. Rapid deployment is easy thanks to a compact, snag-free design highlighted by a helical focus wheel, yielding total control over this spotter's wide field of view.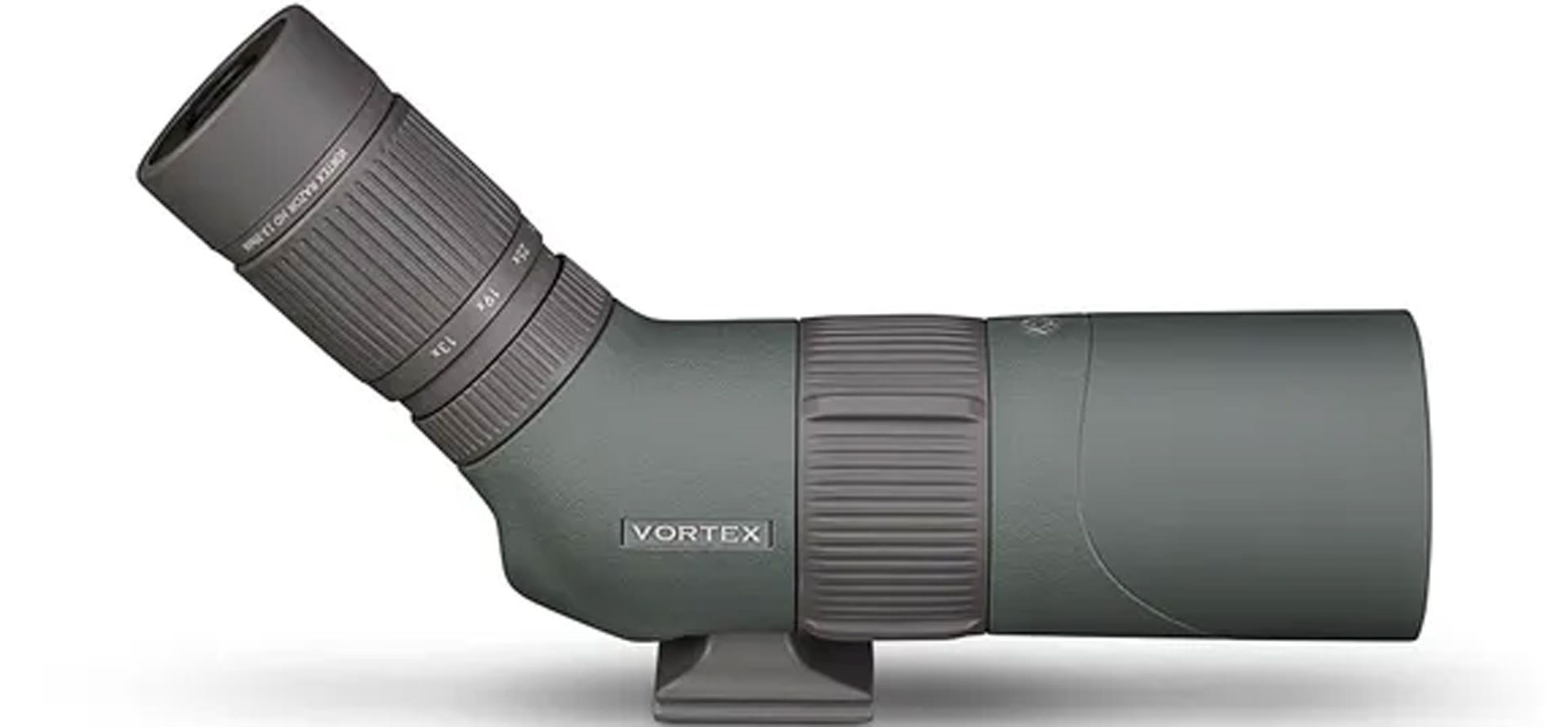 The Razor HD 13-39x56mm is also augmented by XR Plus lens coatings, providing maximal light transmission for clarity and low-light performance. These combine with dielectric prism coatings, a phase-corrected roof coating and an apochromatic, index-matched color-correcting lens, for high-resolution, high-contrast, color-accurate images, with low chromatic aberration. On the lenses' exteriors, Armortek coatings protect against scratches, oil and dirt. To keep the optic waterproof and fog-proof, the tub is gas-purged with Argon and sealed with an O-ring. All of the above is protected by a rugged, rubberized armor to stand up to the bumps and bruises of backcountry hunts. Whether in a saddle bag, in a pack, or bouncing around a truck, this optic promises to stand up to the rigors of the hunt without flinching, and deliver results when an animal in in view.

Features
HD Optical System: Designed to deliver edge-to-edge color and clarity in all light conditions.
Compact Design Packable without sacrificing optical performance.
Helical Focus Snag-free for faster, easier packing and mounting.
Arca-Swiss Compatibility Fits most tripods out-of-the-box for mount-and-go convenience.
Wide Field of View Designed to cover vast landscapes.
For more information on the straight or angled Razor HD 13-39x56mm, from Vortex, please visit vortexoptics.com. Razor HD 13-39×56 Spotting Scope Angled MSRP: $1,299.99; Razor HD 13-39×56 Spotting Scope Straight MSRP: $1,299.99
Article by DAVID HERMAN
Don't forget to like us on Facebook and follow us on Twitter.