Hardware: Maven B1.2 Binocular
Good binoculars, like fine whiskey, art and cars, cost money. But in optics (also like whiskey, art and cars) you get what you pay for. If you buy cheap field glasses at the local hardware store and stare through them seven to 12 hours day after day, you will pay a different kind of price. Your optical nerves will take a fierce beating while trying to cope with poor clarity, bad focus and distortion. Headaches become high on your new list of fun activities, accompanied by sore eye muscles and temporary blurry vision. Conversely, if you buy good (expensive) binoculars, your pocketbook will take a beating. But it'll heal, and meanwhile you'll be looking at big game through new eyes. Literally.
When I was just a kid of 17 I started saving money. Not for a fast car, not for college, not even for a ring to give to a high school sweetheart. Nope. I was saving for the best binocular money could buy. Even at that young age I knew, as a hunter and guide, that top-end field glasses would play a big part in my life. A year and a half of saving later, I walked into a big sporting goods store to compare the best binoculars made by the world's top optics manufacturers. Through that glass I read tiny lettering hundreds of feet away. I compared contrast and clarity. I took them outside and looked at distance. I investigated their low-light capabilities. Hours later, I walked out the door knowing which was the best of the best. That was nigh 30 years ago, and I still have that binocular today. I've used it from Alaska to Tennessee, and it has never let me down. The glass is still superb, and the quality beyond reproach.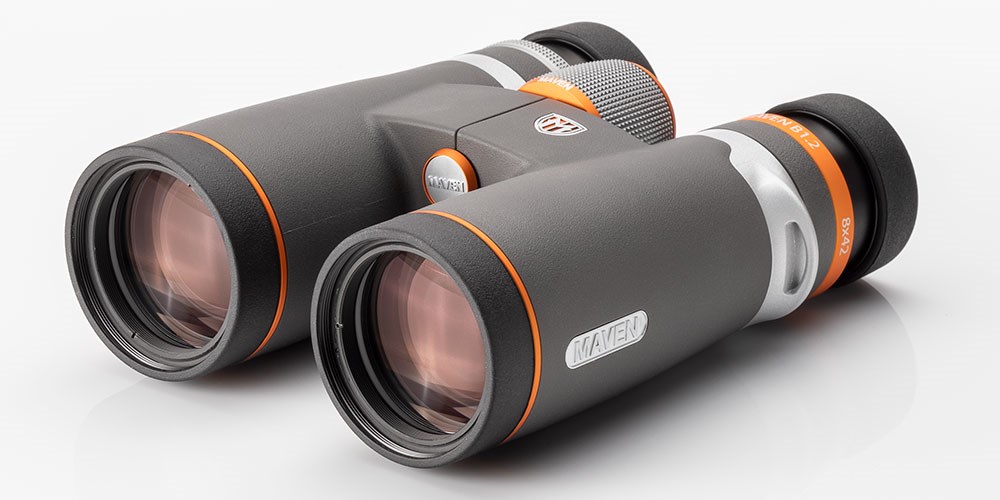 That said, it was 30 years ago. Three decades have passed, during which time engineers have been busy designing better glass, better coatings and better components. These days, binoculars are lighter weight, sport better contrast and color fidelity, and feature exceptional components and mechanics. Problem is, the best ones also sport price tags akin to the cost of a used SUV. For most of us, purchasing one isn't going to be an impulse buy.
Which brings us to Maven optics. Maven is a Wyoming-based company that sells directly to consumers—you and me. That means no middleman and no retail markup. In theory, it means that we get great optics at a significantly lower price. I was skeptical at first. I'm a bit of an optic-snob, and wasn't really interested in a binocular unless it came from Swarovski, Zeiss or Leica. But last fall one of my buddies used a Maven binocular during a backcountry Coues deer hunt, and I was impressed with his ability to spot the little "Grey Ghost" deer with them. I decided to take another look at Maven optics.
When the new B1.2 was announced I immediately ordered a 10×42 model. The package arrived, and I carried the binocular outside and introduced it to my eyebrows. I can honestly say that I was startled at the clarity. Sure, it was brand new and the lenses were perfectly clean, but that's not all I saw. The optical clarity of the B1.2 is very, very good. Color and contrast are excellent as well. Is it better than Swarovski? No, it's not. But it is very good, and available at a third of the price, thanks to Maven's direct-to-consumer sales strategy.
After my initial surprise at the optical quality of the B1.2, I examined them curiously. Their appearance is snappy, especially in the orange-accented model I got. (Maven offers a wide variety of color combinations through their online "Custom Builder" optics shop.)  The frame is lightweight magnesium, with the strap attachment-points gracefully milled in. This makes them impossible to break. The focus wheel and diopter wheel are smooth and precise to rotate and sport a checkered texture that makes them feel almost tacky to the touch.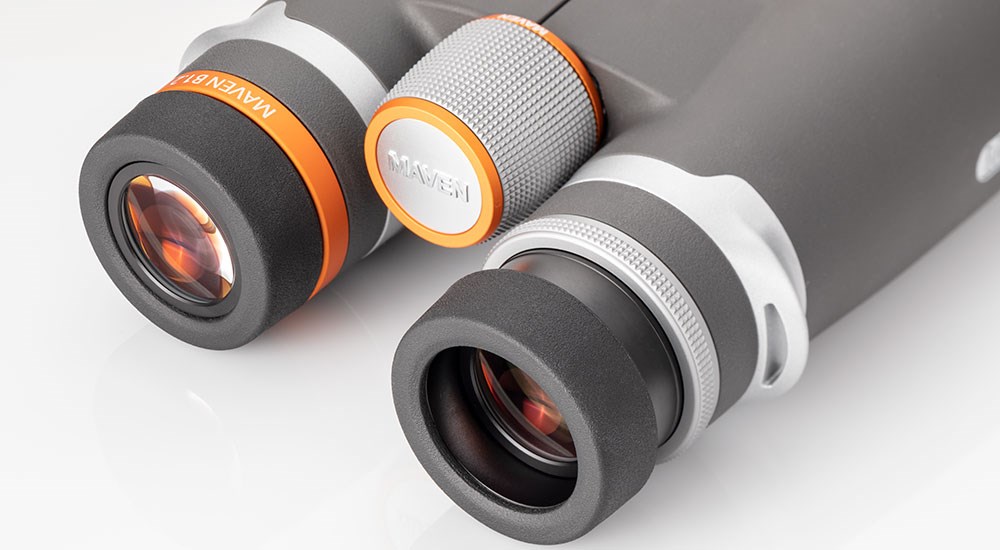 The binocular feels great in the hands, with just the right amount of tack to the surface of the rubber armoring to provide a good grip. The center hinge moves smoothly and, while I would prefer a bit more stiffness, holds firmly in whatever position you set it. The eyecups click into any of three different extended positions with a gentle twist, or settle nicely into their flush position for eyeglass users. The unit is waterproof, tested for 30 minutes at 1 meter (IPX7). Balance of the binocular is excellent.
The innards of the B1.2 are impressive as well, boasting 94.5 percent light transmission via features like extra-low dispersion (ED) Glass, wide angle Schmidt-Pechan type prisms with dielectric coating and nitrogen purging. The exterior lenses sport a scratch- and oil-resistant coating, adding an extra layer of protection. Speaking of protection, Maven's warranty program is stellar, boasting unconditional coverage for defects or damage, for life, no matter where or when you purchased your optic.
My examination complete, I went back outside to double check and see if the optics were actually as good as my first impression had led me to believe. Sitting on the porch steps I propped my elbows on my knees and glassed a boulder pile 400 yards distant, a brush patch 240 yards away and a tall cactus on a mile-out mountainside. Again, I was impressed. Field-of-view, color and clarity were superb.
Conclusion
While I don't yet have years of experience with the new Maven B1.2 binocular, by my initial observation it is very good. The B1.2 is lightweight, well balanced, water- and fog-proof, and the optical clarity is outstanding. It is tripod adaptable and versatile, and it comes with a lifetime warranty, which, I suspect, you will never need.
Technical Specifications
• Type: roof-prism binocular
• Magnification: 10X
• Objective Lens Diameter: 42mm
• Focusing Range: 4.9′-infinity
• Eye Relief: 17.8mm
• Exit Pupil: 4.2mm
• Field of View @ 1,000 Yards: 362′
• Coatings: fully multi-coated lenses; dielectric-coated prisms
• Construction: magnesium chassis w/ armor coating; ED glass; wide angle Schmidt-Pechan prisms; nitrogen purged; waterproof; fog-proof
• Dimensions: 5.7″H x 5.2″W
• Weight: 26.8 ozs.
• Accessories: neoprene neck strap, lens caps, microfiber storage bag
• MSRP: $1,000; mavenbuilt.com
Article by ARAM VON BENEDIKT
Don't forget to like us on Facebook and follow us on Twitter.