Hardware: TenPoint Nitro 505
Today's crossbow technology is advancing at a rate that we have never seen before, with lighter, more powerful options hitting dealer shelves every day. Advancements in limbs, strings, risers and even flight grooves are yielding slicker designs that are sending arrows at speeds the industry never believed possible. At the time of this writing, the holy grail of velocity was 500 fps, and in early 2022 TenPoint smashed through this barrier with its Nitro 505 crossbow.
The 505 taps more power from its split-limb design than conventional compound or recurve crossbows through reverse-draw technology. Additionally, this configuration presents a more compact package with a balance point that remains farther rearward. All of this is accomplished while still retaining an exceptionally manageable draw weight. The 505's signature RX8 cam system powers the operation through 404 degrees of rotation, giving it the longest power stroke on the market at 17 inches. A beefed-up string and cable system make minimal contact with the 20-inch micro-trac barrel to complete a package that generates, you guessed it, 505 fps of velocity with TenPoint's Pro Elite 400-grain carbon arrows.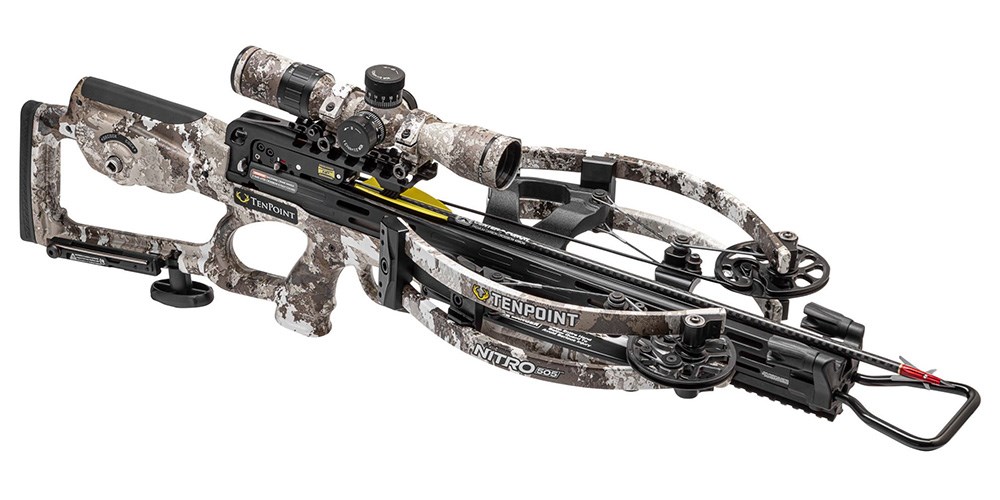 The Nitro 505 features the company's hit ACUslide cocking system that eliminates many of the dangers associated with crossbow cocking and is extraordinarily easy to use. This system prevents the string from slipping during not only cocking, but de-cocking as well. Additionally, the user can stop anytime during the draw by solely letting go of the crank handle. This feature is handy if you need to take a break to ensure you haven't missed any steps during the loading process. Turning the crank the other way is essentially all that is required to de-cock the crossbow should you need to. Should the user's hand slip during de-cocking, there is no risk of injury as the crank system is under control and won't spin independently. Once the crossbow is brought to full cock, the crank handle is simply removed and stowed away in the stock.
We zeroed our sample from a distance of 20 yards, as prescribed by the central subtension on the included EVO-X Marksman Elite Scope. This scope features arrow drop compensation that is based on the scope's magnification, the same way a second focal plane BDC riflescope can be adjusted for different loads. For the Nitro with its 500-plus fps velocity, these stadia line up at 8X when the central crosshair is zeroed at 20 yards. The reticle contains additional markings for distances out to 100 yards and can be illuminated in either red or green via the dial on the left-hand side.
After letting off our initial arrow, our first impression was with respect to the trigger, which broke cleanly at 3.5 pounds. This level of refinement is another benefit of reverse-draw technology as it puts less tension on the trigger, which therefore has less force to overcome to release. Our second observation was the complete absence of any noise or recoil, which is best attributed to the included string dampening system. We broke the advertised velocity by 2 fps out of the gate as recorded by our Caldwell G2 chronograph. This wasn't a fluke either, as we followed this up with nine more shots and gathered an average velocity of 512 fps. For those familiar with TenPoint, this isn't the first time it understated a product's expected velocity. (One might wonder if this is done on purpose, ensuring as much as possible that its products don't disappoint.) From here, we moved back to the 30-yard line to shoot five, three-shot groups and, of course, check the reticle's compensation calibration.

At this distance, we struggled to produce a group that was wider than 2 inches with the Pro Elite 400 Carbon Arrows. Impressively, these aren't even the company's straightest offering as they come in at +/- .003 inch, compared to some of their others that boast a paltry +/- .001 tolerance. Our best group of the day measured 1.25 inches leaving us with an average accuracy of 1.86 inches at this distance. We finished the test by walking back in 10-yard increments and confirming the rest of the holdovers. We found them to be true enough for practical application up to and including the 100-yard line.
We only experienced one issue during the entire procedure but can attribute it to a loading error. As warned in the manual, if the trigger box isn't pressed entirely into the string before starting the cocking process, the crossbow will not fire. This stoppage is part of its dry-fire inhibitor system that protects both the shooter and the hardware against this dangerous scenario. Luckily, the 505 de-cocks simply. All we had to do was lower the assembly and re-seat the string.
The TenPoint Nitro 505 proved to indeed be the company's most potent offering to date, and we found its operation to be simplistic regardless of skill level. Everybody found shooting the 505 to be enjoyable and devoid of any physical stressor, and most felt it was just as accurate as a rifle within the distances tested.
Technical Specifications
• Type: reverse-limb compound crossbow
• Riser: forged 7075 aluminum
• Limbs: split
• Stock: injected molded polymer composite
• Axle-to-Axle Width: 12″ uncocked, 6.5″ cocked
• Draw Weight: 300 lbs.
• Power Stroke: 17″
• IBO Speed Rating: 505 fps
• Overall Weight: 7.9 lbs.
• Overall Length: 30.5" (w/o foot stirrup)
• Length Of Pull: 14.5"
• Trigger: two-stage; 3.5-lb. pull weight
• Safety: two-position toggle, automatic
• Finish: Veil Alpine camo (pictured), Moss Green
• Accessories: ACUslide Cocking and De-Cocking System; multi-range reticle scope w/rings; Six EVO-X CenterPunch Premium Carbon 445-grain crossbow arrows; Six-Arrow Tech Quiver
• MSRP: $3,149.99; tenpointcrossbows.com
Article by FRANK MELLONI
Don't forget to like us on Facebook and follow us on Twitter.