Hoppe's Celebrates 120 Years
Hoppe's, the industry's oldest gun-cleaning-supply brand—and still one of the top choices among enthusiasts—is celebrating its 120th anniversary this year. It was 1903 when Philadelphia native Frank August Hoppe combined nine chemicals in just the right mix to create the famous Hoppe's No. 9 gun cleaning solution. His invention was far from an accident.
He was an officer in the Pennsylvania National Guard, competitive shooter and all too familiar with the tedious chore of gun cleaning. There were no easy solutions at the time, and with his two decades of paint industry knowledge, he developed a concoction that reduced the time his troops spent pushing brushes, rods and mops through their rifles.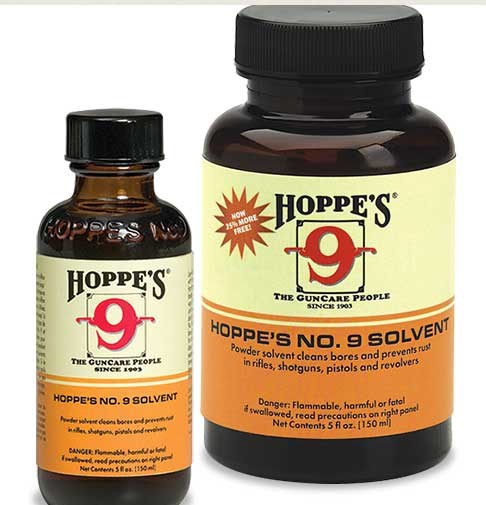 His timing was perfect, too, because the U.S. Army was fielding the first Springfield M1903s. Those early models were chambered in .30-'03, which used an early smokeless powder mix more corrosive than expected. The .30-'06 Sprg, (introduced in 1906) was light-years ahead in minimizing bore and barrel erosion without tedious maintenance, but during that three-year period, the Hoppe's solution gained momentum.
It also removed metal and lead fouling and protected the bore. That made it ideal for newer, cleaner-burning propellants. In 1907, Hoppe finally trademarked his "Nitro Power Solvent No. 9," better known today as simply Hoppe's No. 9.
Since then, the brand has grown and expanded from gun-cleaning solvents to oils, tools and other supplies. Some of Hoppe's most popular products today include the quick-and-easy BoreSnake, GunMedic and a variety of all-in-one cleaning kits.
"Hoppe's has been at the forefront of gun care for a long time, and everyone on the team is proud to continue this legacy that began 120 years ago," said Laurie Kokoruda, Hoppe's senior product manager. "We strive to honor our history with tried-and-true solutions like Hoppe's No. 9, while also pushing ahead to develop new products that make gun care faster, easier and more effective."
Article by GUY J. SAGI
Don't forget to like us on Facebook and follow us on Twitter.