I Have This Old Gun: Colt 'Baby Dragoon' 1848 Pocket Pistol
In the mid-19th century—just as in today's world—citizens were clamoring for a concealable, reliable and affordable handgun. Ironically, inspired by the acceptance of his massive .44-cal. 1847 Walker and First Model 1848 Dragoon, the enterprising Sam Colt sensed an opportunity.
Using his 4-lb., 8-oz., Dragoon as a starting point, he scaled down the horse pistol dramatically until it became a 22-oz., .31-cal., five-shot revolver that could easily be tucked into a gentleman's sash or a frontiersman's belt. The gun came with a blued barrel and cylinder and a color-casehardened frame and hammer—with silver-plated brass backstrap and trigger guard—and one-piece varnished walnut stocks. Its 3″, 4″, 5″ or 6″ octagonal barrel and square-backed trigger guard have subsequently inspired collectors to call this diminutive revolver the Baby Dragoon. In fact, cylinders of early guns sported the Texas Ranger and Comanche Indian fight scene originally designed by W.L. Ormsby for the Dragoon. This was changed to a stagecoach-holdup scene around Serial No. 11100.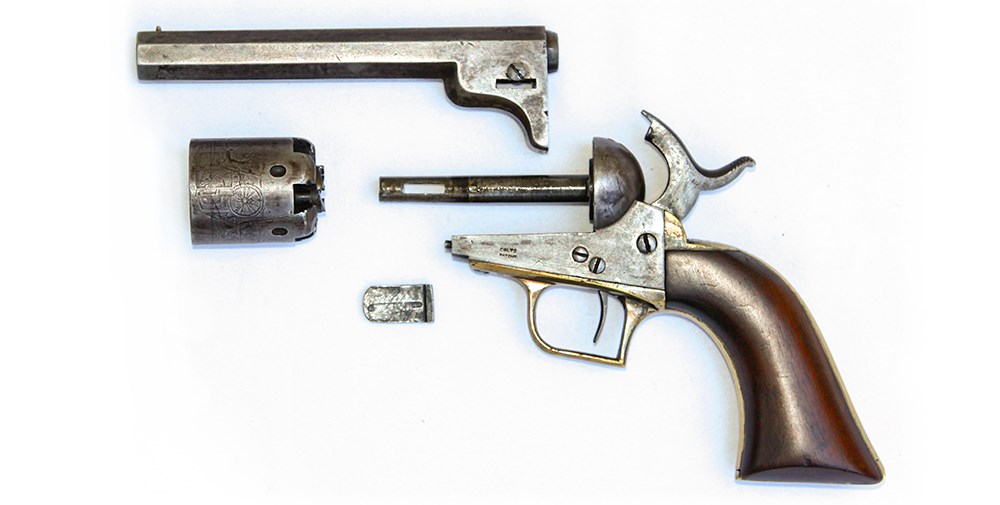 Adding to the gun's compactness, the loading rammer was omitted. Instead, the end of the cylinder base pin, which was affixed to the frame, was concave so as to be used to press each ball into the charged chambers of the removed cylinder in a slow, cumbersome process. It was surmised, however, that the mere presentation of this five-shot revolver, in spite of its size, would be enough to circumvent any violence without a need for reloading. In fact, the 1848 Pocket Pistol was often referred to as "a gambler's fifth Ace."
Concurrently with the Baby Dragoon, the Model 1849 Pocket Pistol began production with a five- or six-shot cylinder, rounded trigger guard and a loading lever. Approximately 4,000 Model 1849s made with 3″ barrels and without loading levers are incorrectly called Wells Fargo models, despite there being no evidence that they were ever purchased by the express company.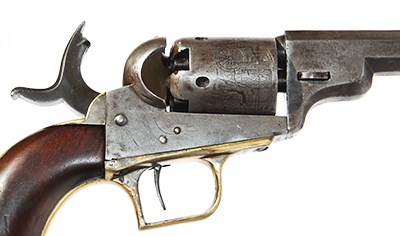 Both the Baby Dragoon and the Model 1849 were immensely popular during the California Gold Rush and the Civil War. In fact, they became the most prolific of all Colt cap-and-ball revolvers, with 15,000 Baby Dragoons produced before being discontinued in 1850, plus 340,000 Model 1849s, which were made until 1873.
The above Type III Baby Dragoon, with later stagecoach-holdup scene and in 10-percent condition, still retains traces of silver plating on its backstrap and trigger guard, has legible stampings and displays a surprisingly pristine bore. As such, it is worth $3,500 to $3,750.
—By Rick Hacker, Field Editor
Gun: Colt "Baby Dragoon" 1848 Pocket Pistol
Serial No.: 114XX
Caliber: .31
Manufactured: 1850
Condition: NRA Good-Very Good (Antique Gun Standards)
Value: $3,500 to $3,750
Article by RICK HACKER
Don't forget to like us on Facebook and follow us on Twitter.