New For 2022: Savage Arms 1911
The last time Savage Arms focused on the M1911 design, the company was on the opposite side of it during the 1907 U.S. Army Pistol Trials, where the company's Model 1907 Savage pistol, chambered in .45 ACP, underwent a thorough test against what was then the Model 1907 designed by John Browning and produced by Colt. Ultimately, Colt's design won out, receiving the official designation as the Model of 1911. The M1911 went on to become one of the preeminent handgun designs of the 20th century, and now, Savage Arms is officially another major manufacturer producing this iconic handgun with the introduction of the Savage Arms 1911.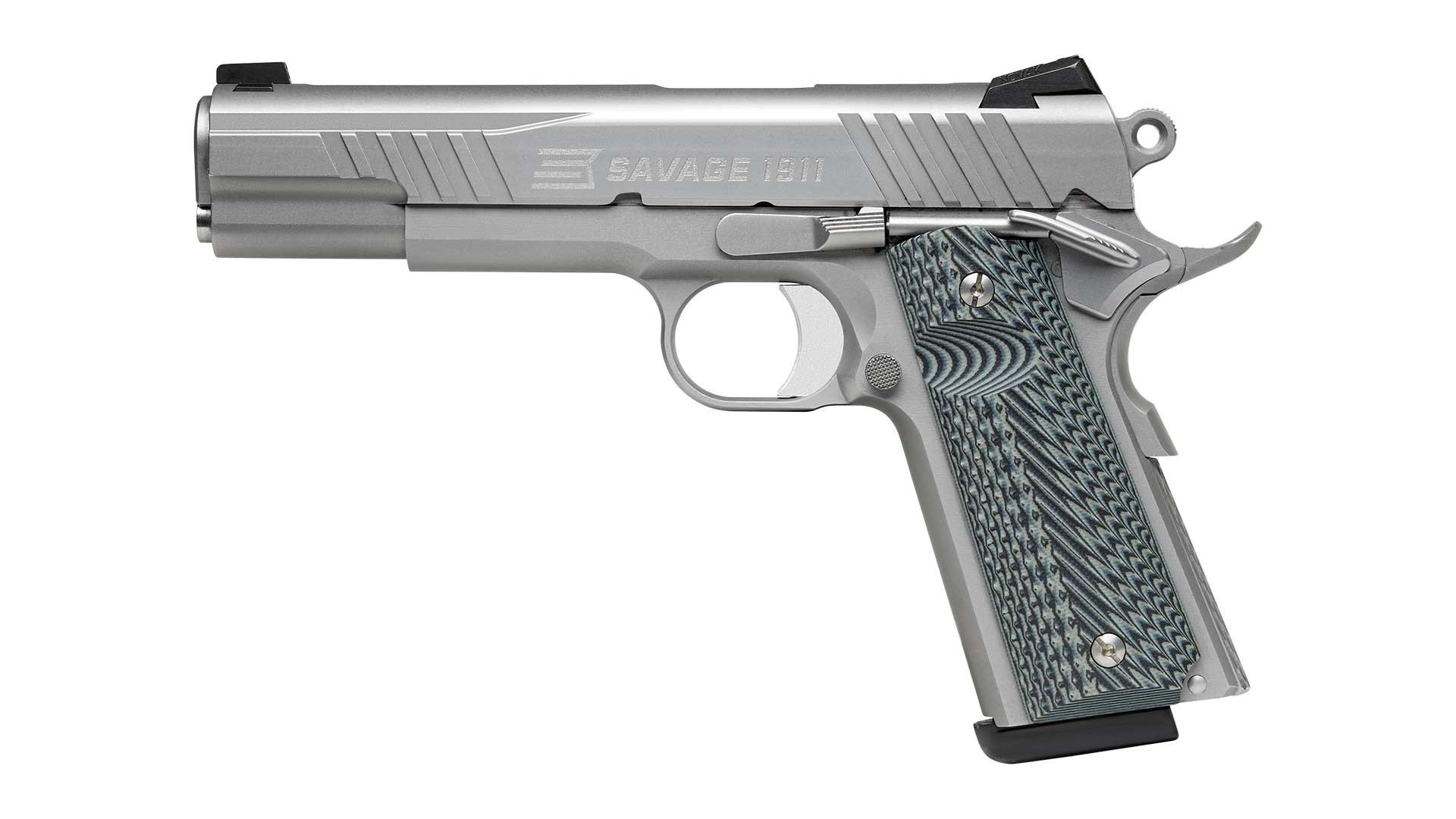 Each pistol is cut with front and rear slide serrations, and the left side of the slide is rollmarked with the "Savage 1911" brand name. Note the traditional push-button magazine release and slide-stop lever.
At launch, the Savage 1911 is available in six different configurations, all outfitted with a full-size, forged-steel frame and slide and a 5″ barrel. Enthusiasts can choose from a black Melonite-treated, all-stainless or two-tone handgun outfitted with either a traditional dust cover or a three-slot Picatinny accessory rail. Each model is also available in either .45 ACP or 9 mm Luger. The Savage 1911s are built with stainless-steel barrels machined from billet and topped with an 11-degree target crown. Inside, consumers will find a dual recoil spring, along with a fully machined sear and hammer, as well as a nitride-treated titanium firing pin.
Outside the gun, there's a lowered and flared ejection port, and at the top of the slide, Savage includes a tritium-illuminated Novak Lo-Mount adjustable rear sight and a tritium-illuminated Mega Dot Glow Dome yellow front sight on the railed and two-tone models. On non-railed stainless-steel and black Melonite models, there's a Novak Lo-Mount black rear sight paired with a white-dot front sight. On the frame, there's an ambidextrous thumb safety, as well as a generous beavertail grip safety, a rowel hammer, solid-body trigger and VZ G10 grips.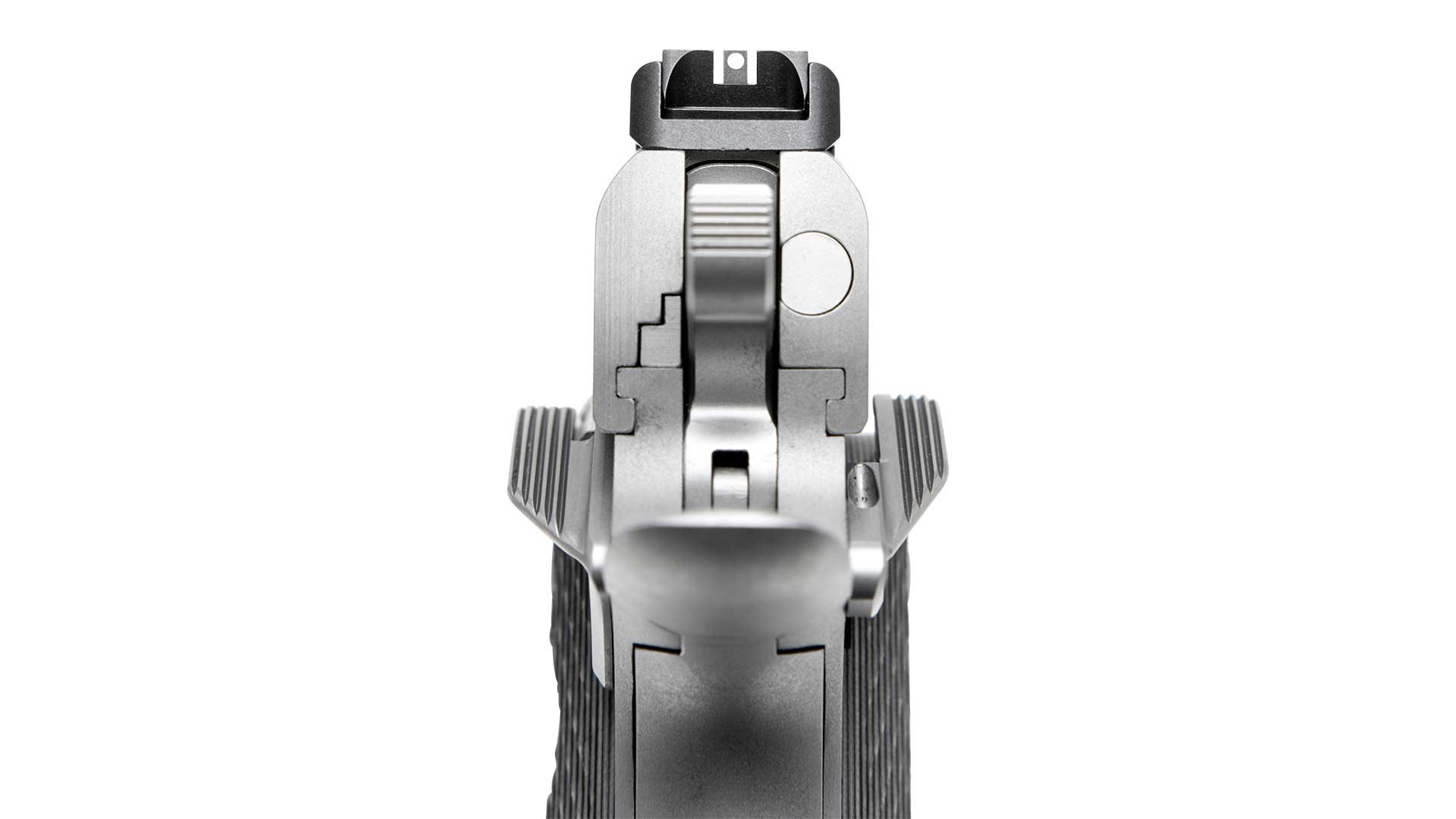 The mirrored thumb safeties not only make the Savage 1911 more accessible to lefties, it also allows right-handed users to manipulate the gun with their non-dominant hand. Note the Novak Lo-Mount rear sight and white-dot front sight on this particular stainless-steel model.
Each Savage Arms 1911 measures in at 8.45″ long and weighs between 2.36 and 2.41 lbs., depending on the addition of an accessory rail. The .45 ACP-chambered guns come with an eight-round magazine, while the 9mm Luger-chambered models ship with a 10-round magazine. Suggested retail pricing on the Savage 1911 starts at $1,350 for the all-black, non-railed models and tops out at $1,500 for the all-black and stainless-steel railed models. For more information on the new Savage 1911, visit savagearms.com.
Article by AMERICAN RIFLEMAN STAFF
Don't forget to like us on Facebook and follow us on Twitter.