Hardware: Leica Geovid Pro 32
Two of the most useful tools a hunter can carry are a binocular and a laser rangefinder. Mix those into one package, add atmospheric capability and stir in a ballistic calculator and you possess an almost magical instrument. Now, this strategy is not entirely new; several optic companies, Leica among them, have produced such a unit for years. But those units have universally been somewhat large and heavy. That's all changed with the new Leica Geovid Pro 32 compact rangefinding binocular.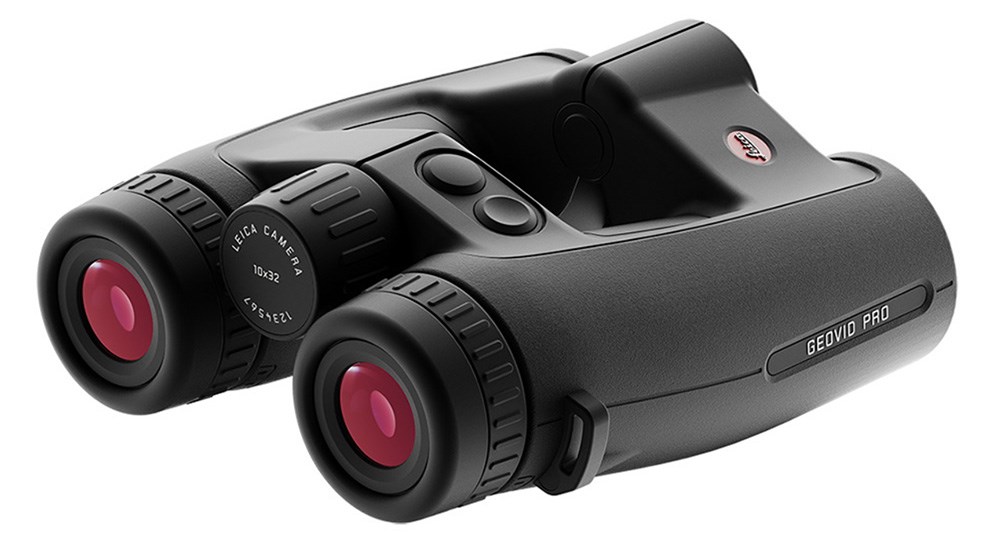 Available in 8×32 or 10×32 iterations, the Pro 32 is roughly two-thirds the size of previous Leica Geovid rangefinding binos. It's a significant difference. Will it fit in your shirt pocket? No, it won't. But it is similar in size to a standard binocular, and handles accordingly—a marked improvement. There's always a compromise of course, and you do relinquish a bit of light-gathering capability by going from the standard 42mm to the compact 32mm objective lens, but the glass is so clear that the loss is hardly noticeable.
I recently had the opportunity to carry the new 10×32 model while hunting axis deer in Hawaii. The terrain was steep and rough, visibility was often challenging, and it was torrid hot climbing those volcanic ridges on a humid day. Deer were plentiful but I wanted a mature old buck, so I hunted hard. Late one morning I'd just finished struggling through a guava thicket on my hands and knees to a vantage overlooking a steep gulch. Deer passed through and across the gulch, including one pretty nice buck. Then a large group of does scampered out of the thicket atop the far side, followed by a buck. It only took one look through the Pro 32 to see that this buck was a shooter. He was far across the ravine and steeply downhill from me. With the press of a button I had the range, complete with a dial-to solution, angle and atmospherics already factored in. No need to lower my binocular, dig out a rangefinder, peer through the viewfinder till I located the animal and then hit the button. No need to consult a ballistic calculator or range card. I simply rested my rifle across my backpack, pressed the trigger, and put meat in the freezer and a tall pair of axis antlers on the wall. The Leica Geovid Pro 32 is an awesome piece of equipment that renders you faster and more capable as a hunter.
When it comes to analyzing a binocular, priority No. 1 for me is superb glass. The Pro 32 has that, as expected. The unit feels good in the hands, with a firm, grippy armor over a nitrogen-filled magnesium housing. The center hinge is a two-part affair, with an open bridge between. It functions smoothly and with just the right amount of resistance to keep the barrel width set for your eyes. The laser eye is located at the center of the front hinge. The unit is powered by a lithium-type CR2 battery, which is housed between the front hinge and right-side barrel.
Focusing, via a wheel located at the center of the rearward hinge, is fast, smooth and precise. A diopter focus ring is located just fore of the left eyecup, and another ring just fore of the right eyecup serves to focus the LED display. Both are tactile and easy to adjust.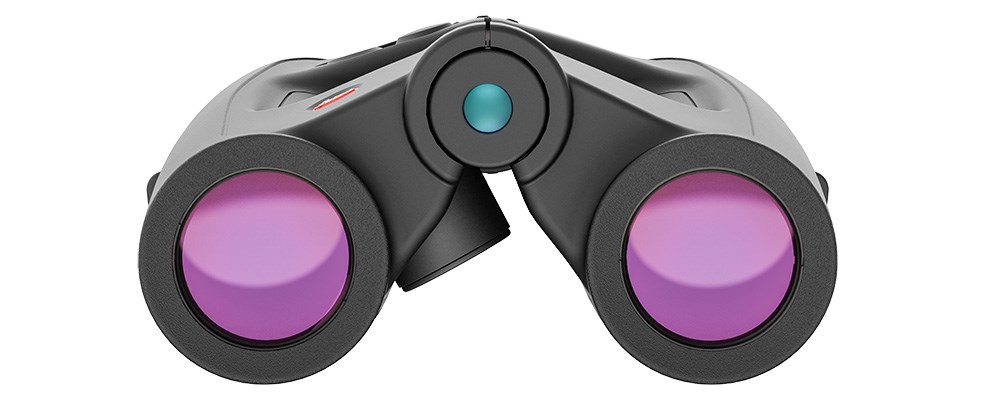 Electronic controls are located on the right rear center-hinge strut. There are two buttons. The top, or left button has a slight dome to it, the lower, or right button is slightly concave. This enables the user to instantly determine which button his finger is on without looking. The left button is the "Range" button, and also serves to power up the unit and as the "Select" button. The right-hand button is the menu button. They are well located; the right forefinger of the user naturally falls into position to operate them.
The Pro 32 sports a mind-boggling array of technological capabilities, some of which fly unimpeded over my tech-challenged head. Here, though, are some of the more impressive acrobatics the unit is capable of:
Ranging capability from 10 yards to 2,500 yards, with angle compensation (equivalent horizontal range) calculated out to about 1,200 yards.
Atmospherics, including temperature, elevation, pressure, angle and more are automatically calculated inside the Pro 32. These numbers are stirred together with the ballistics from your personal rifle. The unit first displays the yardage, followed by your dial-to number. (This is repeated, in case you missed either number.) Just crank the dial on your riflescope to the equivalent number and place your crosshairs dead on target.
The Pro 32 can be set to calculate and display in either MIL or MOA format, and you can easily input your custom ballistic profiles via Bluetooth, using the Leica Ballistics app, which is available free of charge. The Pro 32 will also display wind corrections, based on in-the-moment inputs that you add via your two control buttons, or by connecting the unit to a nearby Kestrel device via Bluetooth. This capability is a first in the world of ballistic-capable rangefinding binoculars, and in my opinion is a masterstroke of ingenuity. And, while we're on the subject of tech-magic, the Pro 32 can also send a waypoint to your phone, detailing the location of the object you just lasered.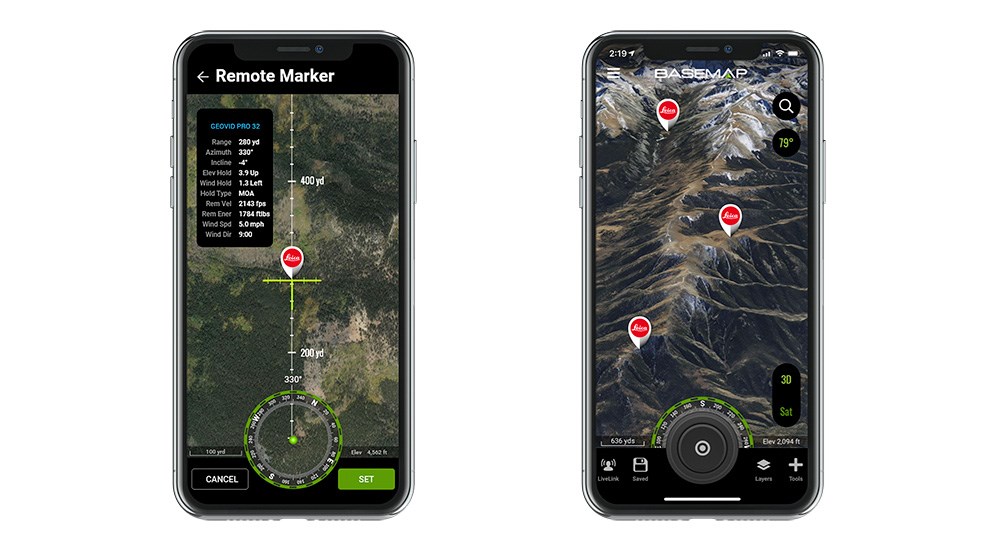 Phone apps routinely frustrate me, however I was rather pleased with how straightforward the Leica app is to use. I was able to Bluetooth connect to the Pro 32 without problem, input, utilize and switch between multiple rifles and their ballistic profiles, and lots more. To date, this has been the most intuitive app-to-combo system I've used.
I've put the Leica Geovid Pro 32 through its paces for three months of continued use. It has proven to be capable, versatile, comfortable and reliable. Leica products are top-shelf, and the Pro 32 lives up to that reputation. There are only two small elements that I didn't enjoy about the unit. First, the laser function seems slightly slow to power up. I grew accustomed to pressing the button early, so the unit would be ready to range when I was. Secondly, Leica installed the Applied Ballistics Ultralight program, which functions to a maximum of 875 yards. While I've never shot at game beyond that distance, I routinely shoot beyond those ranges at steel. It was frustrating to be limited. I contacted Leica and spoke with an engineer. He was most helpful and informed me that if the user wishes to shoot beyond 875 yards he can upgrade in-app to Applied Ballistics Elite, which costs $150 and will greatly enhance the input data and accuracy for truly long corrections.
All things considered, the Pro 32 is astonishingly capable, offers breathtaking optical clarity and will serve any hardcore hunter with panache and steadfast reliability.
Technical Specifications
• Type: laser-rangefinding binocular
• Magnification: 8X, 10X (tested)
• Objective Lens Diameter: 32mm
• Focusing Range: 16'–infinity
• Max Range Distance: 2,500 yards
• Eye Relief: 16mm
• Exit Pupil: 3.2mm
• Field of View @ 1,000 Yards: 345′
• Coatings: fully multi-coated; HDC multilayer; AquaDura
• Construction: magnesium housing; rubber armor; HD glass, Perger-Porro prisms; nitrogen filled; waterproof; shockproof
• Dimensions: length 6″, width 4.6″, height 2.8″
• Weight: 28.9 ozs.
• Accessories: neoprene carrying strap, front lens cover, eyepiece caps, cordura case, battery
• MSRP: $3,099; leicacamerausa.com
Article by ARAM VON BENEDIKT
Don't forget to like us on Facebook and follow us on Twitter.