New For 2022: Walther Arms PDP F-Series
Walther Arms introduced its all-new PDP F-Series handgun with an eye toward the growing market of women gun owners, crafting what it calls the "first pistol ever engineered for [the] female hand structure." This all-new design is built around a grip frame that's tailored to the size, shape and contour of a woman's hand. Combined with these improved ergonomics, Walther also engineered a new, patented operating system that requires less force to rack the handgun slide. Both of these elements are mated to the features already found in the company's Performance Duty Pistol series.
"The PDP F-Series is the result of a revolutionary approach to creating a pistol with female shooters in mind," said Gabby Franco, a Walther Shooting team member, Olympian and firearm instructor. Walther Arms took the difficult task of developing a mid-sized frame handgun that offers high ammo capacity with a smaller grip, shorter trigger and excellent ergonomics like no other. The F-Series is the best tool in the market for self-defense, law enforcement, target shooting, and competitive shooting. It makes me proud to be part of a project to bring a pistol that contributes to many women's quests to become better shooters!"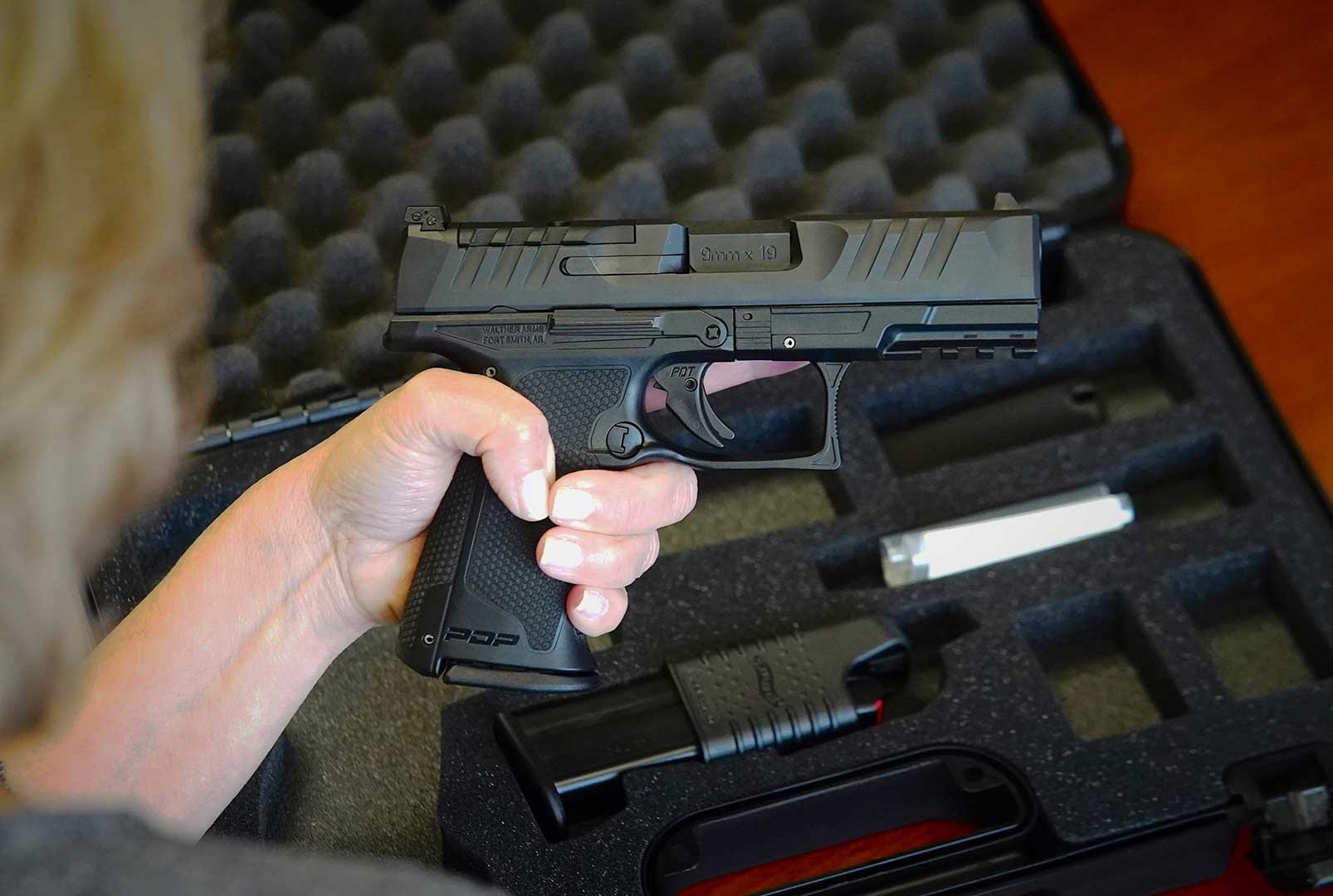 Besides the smaller grip circumference, shorter trigger reach and less effort required to rack the slide, the Walther PDP F-Series includes features like superterrain slide serrations, which provide greater purchase for slide manipulation, as well as Walther's Performance Duty texturing on the frame. Each F-Series pistol includes a milled section of slide that's compatible with red-dot optics, and they're also compatible with all Walther PDP Compact magazines and holsters. The F-Series guns will also fit full-size Walther PDP holsters, too.
Two guns are available in the Walther Arms PDP F-Series at launch, a 3.5″ or 4″ barreled model, and both guns are chambered in 9 mm Luger with a 15-round magazine capacity. Two magazines are included with each gun, and the suggested retail price on the pistols is $699. For more information, visit waltherarms.com.
Article by AMERICAN RIFLEMAN STAFF
Don't forget to like us on Facebook and follow us on Twitter.