New: Steiner T6Xi Tactical Riflescopes
New from Steiner is the T6Xi series of tactical riflescopes. Including four models, the company said they cover the "full spectrum of tactical shooting needs."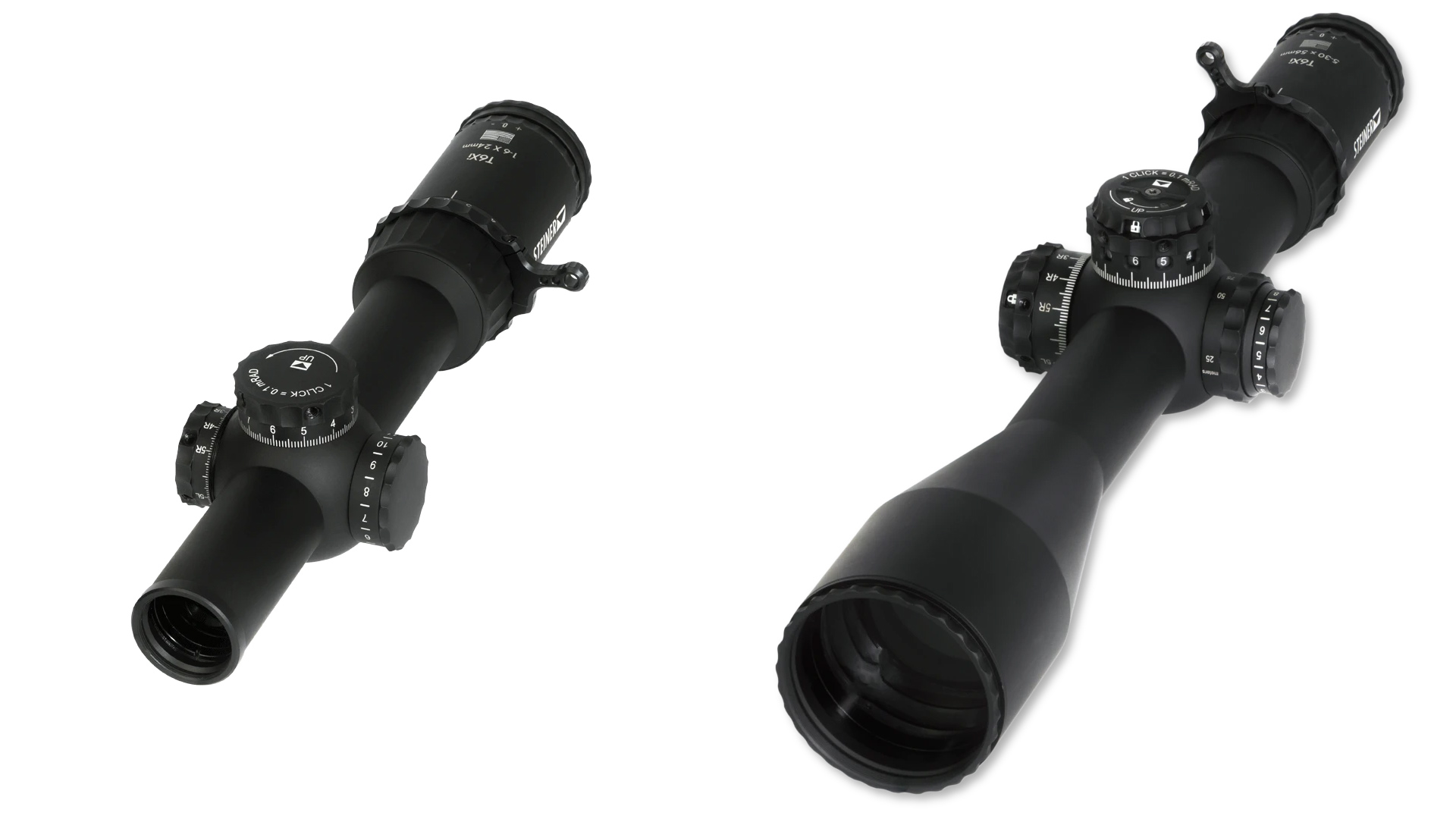 Here are the four models that comprise the new Steiner Optics T6Xi series of riflescopes:
T6Xi 5-30X 56 mm (MSRP: $2,874.99)
T6Xi 3-18X 56 mm (MSRP: $2,414.99)
T6Xi 2.5-15X 50 mm (MSRP: $2,184.99)
T6Xi 1-6X 24 mm (MSRP: $1,954.99)
All four models in the T6Xi series incorporate the latest in Steiner glass and lens coating technology for brighter and clearer views in all light and field conditions. Built on CNC-machined extruded aluminum housings, T6Xi series optics are fog proof and waterproof down to 33 feet. Low-profile Never-Lost turrets include windage and elevation locks, plus a second rotation indicator simplifies adjustments. As for the Never-Lost system, it shows each MIL of elevation through the indication window on the elevation turret. After the first revolution, the MIL numbers on the scale change automatically, preventing the shooter from getting lost on the dial.
Additional features of the 6X zoom riflescope series include four night and seven day illumination levels, a locking diopter ring to prevent losing reticle focus, and a throw lever for quick magnification adjustment.
Three first focal plane reticles are offered across the T6Xi line. The T6Xi 1-6X 24 mm comes with the all-new Steiner KC-1 reticle, which was developed in collaboration with Jon Dufresne of Kinetic Consulting. This reticle presents a large aiming circle at low magnification for quick sight acquisition in close quarters and a detailed reticle view at 6X magnification for precision shooting. The three higher-magnification T6Xi models are available with Steiner's MSR2 Multipurpose Sniper Reticle or the SCR Special Competition Reticle—both are geared towards precision long-range shooters.
Learn more at steiner-optics.com.
Article by SSUSA STAFF
Don't forget to like us on Facebook and follow us on Twitter.