Preview: Savior Equipment Pro S.E.M.A. Competition Backpack
At SHOT Show 2023 in Las Vegas, Nevada, this past January, I had some downtime between meetings and wandered into the Savior Equipment booth because I saw the company's display of a rifle in a guitar case, which are two things that I like.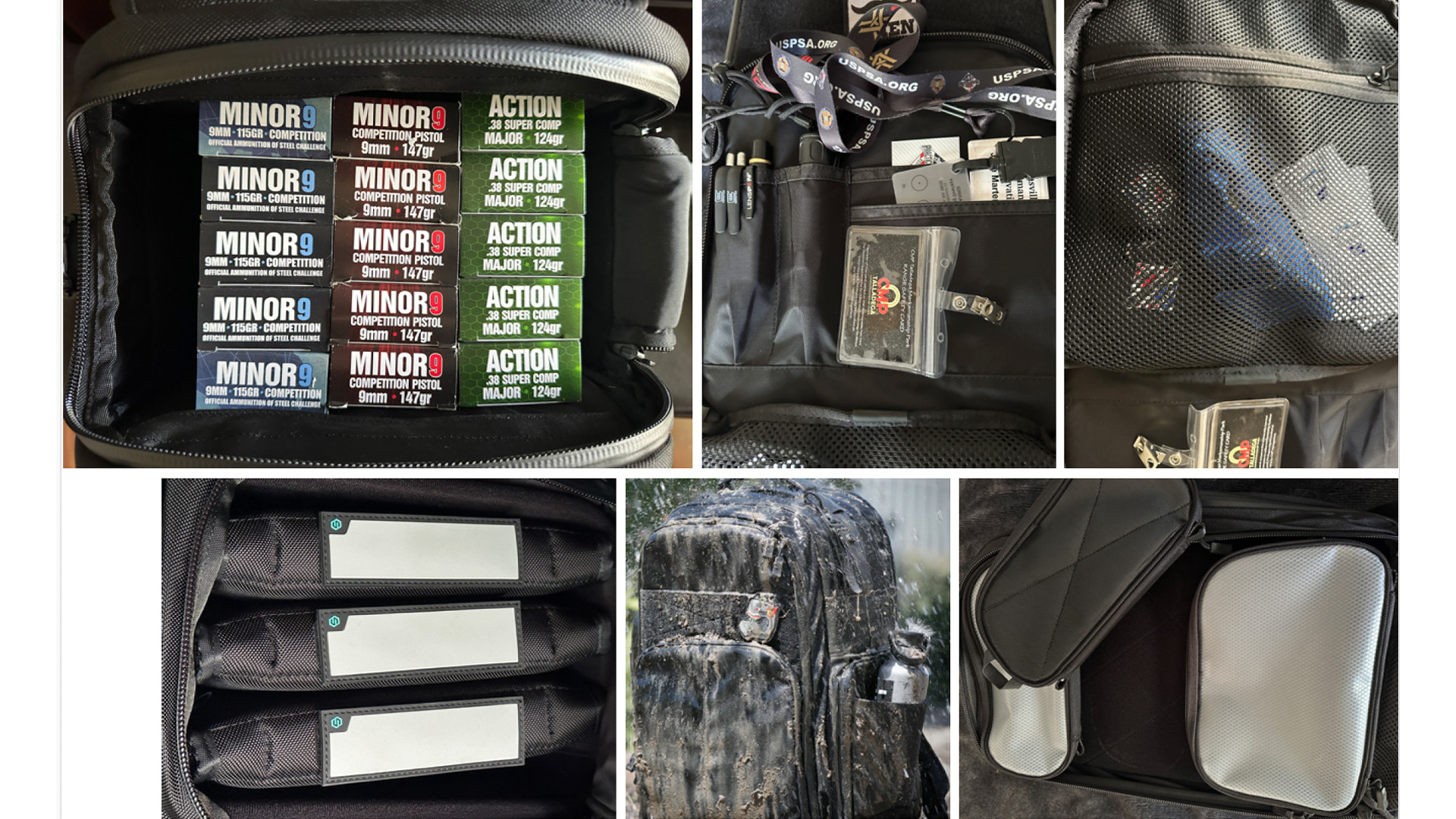 Also in that display was a backpack that I didn't see anywhere else on display in their booth. Instead of just reaching over the glass and grabbing it like normal, I found Chris Yang, chief procurement officer for Savior. That worked out nicely because I needed him to procure it so I could check it out.
Chris went over all the features of the backpack and explained that it was still under development, but that Savior has spent some time examining range backpacks, what was desirable, where they failed, and what they could do differently. I don't often get excited about range bags, but having tried different backpacks over the years and now seeing this one as it was being developed was intriguing.
After covering the rifle cases and the mini range bag back in March, I was impressed by the quality of those items. So when I got the email and shipping notification from Chris that the backpack was on its way, I was excited to check it out.
Savior Equipment is a company that specializes in designing and manufacturing high-quality equipment for firearm transportation solutions. Based in Walnut, California, the company's mission is to provide reliable and durable gear that can withstand even the toughest environments and situations. Savior achieve this by using high-quality materials, as well as rigorous testing to ensure that products meet the company's high standards. The company offers a wide range of products, including bags, cases, backpacks, and other accessories for outdoor activities specific to range use.
With a strong reputation for quality and customer service, many customers' reviews praise the durability and reliability of Savior products. The company also offers a lifetime warranty on all products.
From the Savior Equipment website: "With more than two years of designing, countless retooling, and a massive amount of feedback from our competition shooting friends, we're excited to finally present our Pro S.E.M.A competition backpack. Inspired by the professionals, we've turned it up to 11 by jam-packing it with features to shorten your set-up time. This pack has everything else covered so you can focus on what actually matters."
At the heart of this backpack is a lightweight, yet sturdy polymer frame. Whereas most other backpacks tend to fail when their support structure fails; the Savior Equipment Pro S.E.M.A competition backpack addresses this problem with the heavy-duty lightweight frame.
In the front of the backpack you will find a smaller zippered compartment with admin panel for pens, flashlight, card holders, etc., along with a large mesh zippered pocket. Behind that is the large center front panel storage section with two large mesh pockets, plus three zippered CORE Pouches, two 10×5-inch and one 11×7-inch, all three removeable. The top center compartment fully opens for unhindered access. This compartment can easily support 20 pounds. There is a small mesh pocket on the flap and the compartment is lockable. On the right side of the backpack is a large center section that holds the three supplied padded pistol sleeves. The sleeves are individually lockable, can accommodate frame-mounted optics and side-charging handles on full-size USPSA Open division handguns.
You can store plenty of gear in this backpack, from tools to ammunition, magazines and spare parts. With the ability to store three handguns, hearing and eye protection and everything you would need for a full-day match or extended range trip, you will find plenty of space on the Savior Equipment S.E.M.A. Competition Backpack for anything you throw at it. Additionally, the backpack is weather resistant, especially wet conditions. The Savior team dragged it through all sorts of range conditions and would hose it down repeatedly afterwards.
The backpack is about the right size, not too big or too small. In comparison to other offerings, I would call this a Large.
I am looking forward to dragging this backpack around and testing it out. So far, I am impressed with the size, the overall capability and storage offered in a well-built, all-weather range backpack. You will want to check the Savior Equipment website and get signed up for notifications for when these are available to ship. The MSRP price listed is $249.99, which includes the three pistol sleeves and three CORE pouches. You can see the entire lineup of Savior Equipment and range solutions at saviorequipment.com.
Article from the September/October 2023 issue of USPSA's magazine.
Article by JAKE MARTENS
Don't forget to like us on Facebook and follow us on Twitter.