Review: Bushmaster 450 Bravo Zulu
Founded in 1978 in Windham, Maine, Bushmaster Firearms was one of the first U.S. gun companies to manufacture AR-pattern rifles and carbines outside of the auspices of Colt's Mfg. Co. Built up from the remnants of Gwinn Arms, Bushmaster has produced a variety of AR configurations for military, law-enforcement and civilian applications over the years, and while the company has changed hands a few times along the way, as of August 2021, Bushmaster was back in business. Nevada-based Franklin Armory successfully placed the highest bid for the Bushmaster brand during the sale of Remington Outdoor's assets in 2020. For 2022, the company is expanding its Bravo Zulu lineup, which includes the subject of this review, a 16"-barreled carbine chambered in .450 Bushmaster.
Bushmaster's Bravo Zulu series takes its name from the congratulatory naval signal that means "well done." Like the company's other offerings, this is a direct-gas-impingement, semi-automatic, AR-15-pattern rifle composed primarily of mil-spec-compatible components. With its unloaded weight of 6 lbs., 12 ozs., compact barrel and upgraded trigger, this particular "thumper" is configured to be a handy hunting carbine and brush gun.
The upper and lower receivers are forged from 7075-T6 aluminum with a matte-black Type III hardcoat-anodized finish. The flat-top upper receiver features an integral 13-slot Picatinny optics rail and a charging handle in a typical mil-spec configuration. On the right side of the upper is a traditional, spring-actuated ejection port dustcover and a forward assist. The Bushmaster's bolt carrier group (BCG) is rated for full-automatic fire, treated with a salt-bath-nitride finish and topped off with a bolt assembly that is magnetic-particle-inspected.
The rifle's 16" barrel is constructed from 4150 high-carbon alloy steel and treated with a phosphate finish. The bore features a chrome lining that extends the barrel's service life and resists corrosion. The muzzle is threaded 11/16×24 TPI to accept a variety of big-bore muzzle devices, including flash hiders, compensators and sound suppressors. This rifle arrives with a new Bushmaster Snake Charmer dual-chamber muzzle brake installed. It is designed to tame the recoil the .450 Bushmaster produces, especially in lighter carbines such as this one.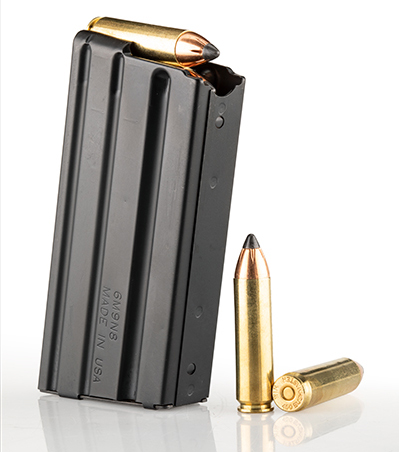 A carbine-length gas tube is supported by a non-adjustable, low-profile gas block that fits under the 13.5"-long free-float aluminum handguard. The eight-sided handguard's top is a full-length optics rail; the other seven sides feature seven M-Lok accessory slots each. On the left and right sides, just in front of the barrel nut, are sets of canted grooves reminiscent of semi-automatic pistol slide cocking serrations; in front of these markings are a set of QD sling cups.
The lower receiver's magazine release, bolt catch and left-side safety selector are all mil-spec. Although this rifle has a two-position safety, the markings for a third position (full-auto) are still engraved next to the selector. The trigger guard is an enlarged polymer upgrade that provides more room for gloved fingers.
This rifle has been upgraded with the Bushmaster Dedicated Marksman 2-Stage (DM2S) trigger group—a multi-purpose design intended for use in competition, hunting or self-defense applications. The curved, smooth-faced trigger has a slight take-up before a clean break wholly free of the gritty or mushy feel some mil-spec triggers exhibit. Pull weight on our sample was 3 lbs., 14 ozs., right out of the box.
The carbine-length buffer tube is of the six-position, collapsible-stock variety fitted with a typical castle nut and a plain endplate. The lightweight black polymer furniture, including the shoulder stock and pistol grip, is manufactured in the United States by Thril; the Combat Competition Stock has a flared buffer tube port that provides a more natural cheek weld.
Slings can be mounted to the stock via three sling slots or by using a pair of bilateral QD sling mounts. The stock's adjustment lever is recessed to reduce snagging and allows the rifle's length of pull to be adjusted to between 11.25" and 14.5". The Thril Rugged Tactical Grip provides a 19.5-degree grip angle and a rounded, hand-filling profile; its gripping surface has four panels of aggressive, laser-engraved texturing useful in hostile weather conditions or when the shooter's hands are wet or cold.
The 450 Bravo Zulu ships with an aluminum, cartridge-specific, five-round magazine manufactured by C-Products Defense. This magazine body could hold up to six or seven rounds of .45-cal. ammunition but is purposefully limited to five rounds in order to meet certain state-mandated hunting regulations. Some companies pin or dimple their magazine bodies to limit the ammunition capacity; Bushmaster opted to install an extended magazine spring with a permanently compressed section at the base to restrict the follower.
At the shooting range, the test 450 Bravo Zulu was put through its paces using a mix of .450 Bushmaster hunting loads. The rifle proved to be mechanically reliable, with all of the controls working smoothly, and no malfunctions were experienced. The DM2S trigger was a pleasure to work with. Although the Snake Charmer muzzle brake, textured pistol grip and rubber buttpad contributed to improved control for off-the-bench shots, it should come as no surprise that the felt recoil produced by this cartridge and carbine configuration was on the stout side of the AR-15 scale. Although not unpleasant to work with, new shooters will need some practice to get the feel for it before heading out into the field.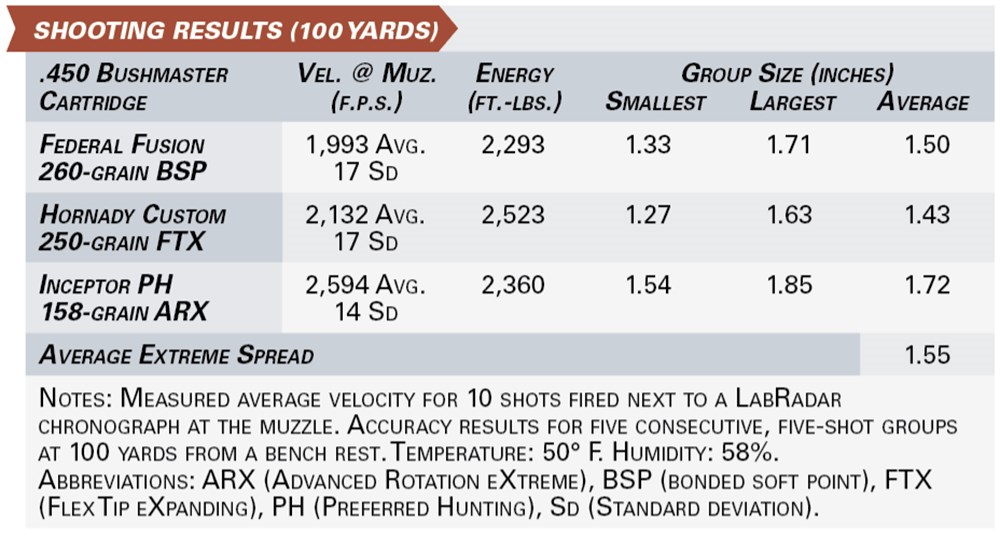 Bushmaster is among the most long-lived and well-recognized brands in the shooting sports industry. The new owners of the brand, Franklin Armory, understand the AR-15 platform and the American enthusiasts who buy them. The 450 Bravo Zulu is a solid, reliable carbine that offers thumper-level performance with useful upgrades at a fair price. It may be too soon to say how Bushmaster will fare under its new management, but the results of this evaluation point to a promising future.

Article by AMERICAN RIFLEMAN STAFF
Don't forget to like us on Facebook and follow us on Twitter.