Review: CMMG Banshee Mk10 Pistol
Glock-magazine-compatible ARs continue to be hot sellers with many models to choose from, yet despite this crowded market, nearly all of them use the simple blowback operating system to cycle the action. Missouri-based CMMG, however, is a rare exception because its Banshee product line instead uses radial delayed blowback (RDB) designs. The RDB action is unique to CMMG, and it is technically superior to the simple blowback system for two claimed reasons: less weight and less perceived recoil.
RDB bolt carrier groups are lighter than comparable caliber blow back carriers, and RDB spreads the recoil impulse over a longer time period, resulting in less perceived recoil. Though the recoil difference between simple blowback and RDB-operated arms is purely subjective and may not be significant in 9 mm Luger semi-autos, I found it very apparent when firing full-autos. Competitive shooters who value every bit of recoil management to make sight recovery sooner may also notice the difference more than casual shooters (for a detailed explanation of the mechanical differences, read the end note to this article).
In this article, we will take a closer look at the Banshee Mk10, an AR-style pistol chambered in 10 mm Auto, which is a caliber that far overshadows the 9 mm Luger for home defense when using the correct loads. I'll also address the added velocity the Mk10 generates from its 8" barrel, compared to a Glock 20 with a 4.6" barrel. The results may surprise you.
How RDB Works:
With simple blowback operation, the bolt and recoil spring keep the breech closed long enough so that the chamber's gas pressure is reduced to a level that allows extraction of an empty cartridge case without risk of rupturing or excess gas spewing outward from the ejection port. The bolt does not mechanically engage or lock with the barrel. Instead, it relies on a heavy bolt and recoil spring to resist moving rearward.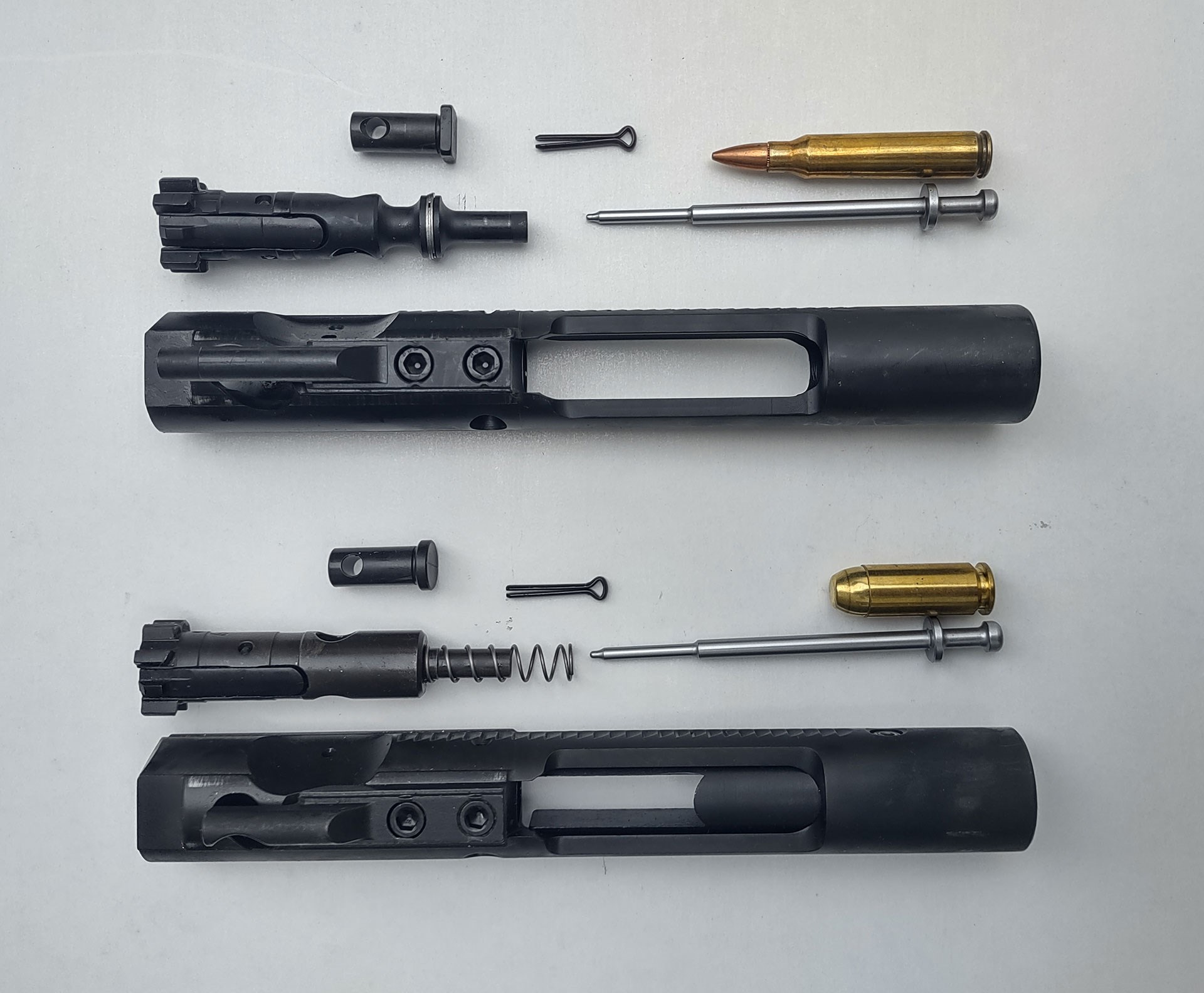 In contrast, CMMG's radial delayed blowback design uses a slightly modified AR-15 bolt and bolt carrier. Like with standard AR-15s, the Banshee's bolt has seven lugs that rotate counter-clockwise to engage recesses in the barrel extension after the cartridge is chambered. However, unlike the AR, the Banshee's bolt does not lock closed because the surfaces of its lugs are cut at a 45-degree angle, not at 90 degrees. These angular lugs allow the bolt to rotate clockwise as gas pressure pushes the cartridge case rearward against the bolt face. The Banshee's bolt also has a spring that tensions it into the open position when not pressed into battery by the bolt carrier. "Radial delay" refers to the time elapsed as the bolt turns prior to the action beginning to open. This delay and the energy used to rotate the bolt lessens perceived recoil.
Details:
CMMG only makes the 10 mm as a pistol or a short-barreled rifle (SBR), and does not offer it in a 16″ carbine version. The Banshee Mk10's upper and lower receivers are made from 7075-T6 aluminum forgings, with a choice of six colors of Cerakote applied over an anodized finish. It comes with two 30-round SGM Tactical magazines and is covered by a lifetime warranty that transfers with ownership of the firearm. The original Banshee Mk10 was supplanted earlier this year by an updated version (see comparison photo).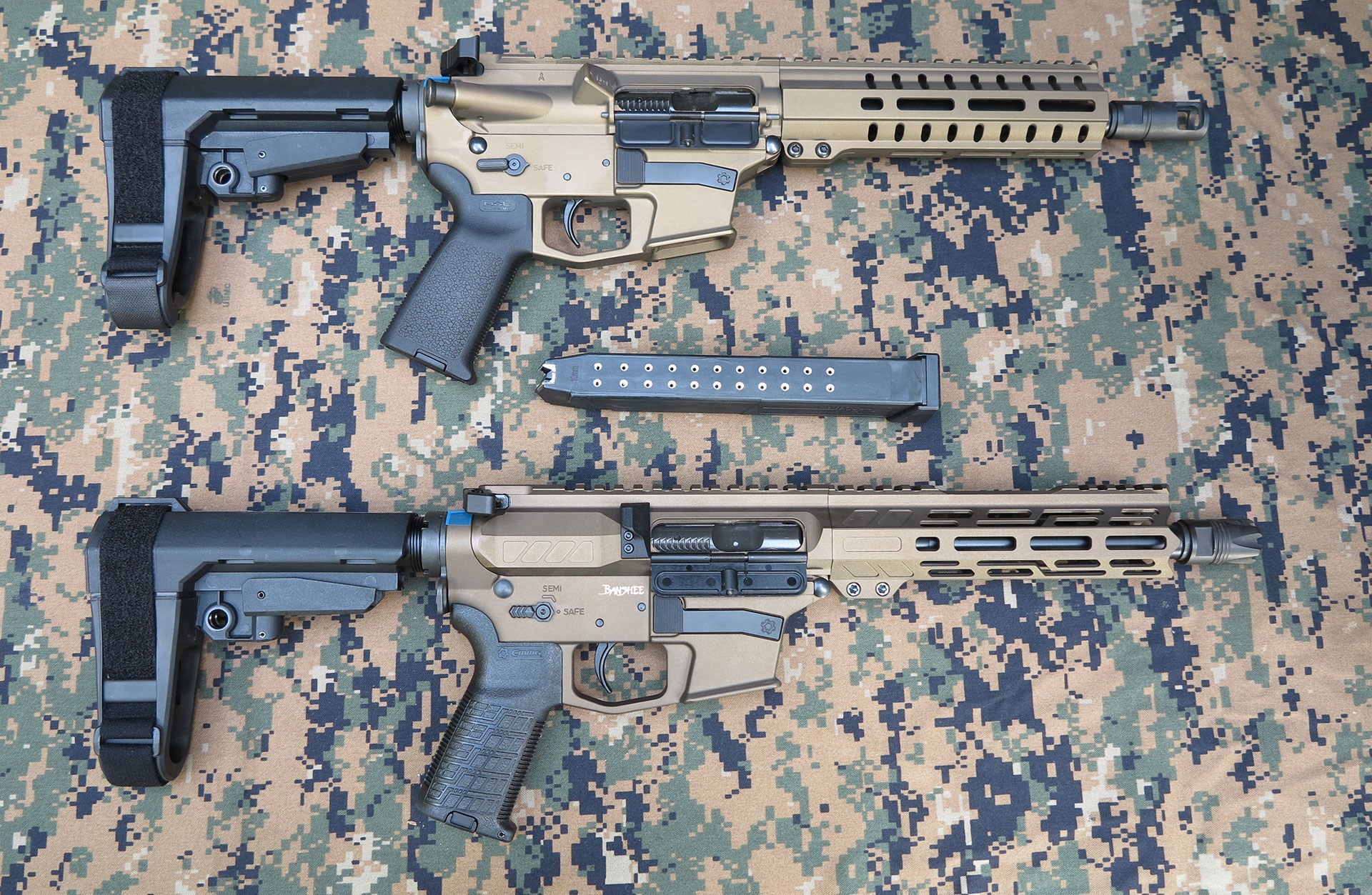 The Mk10 functions like an AR-15 where the bolt locks open automatically on an empty magazine or by depressing the dual function bolt catch and release. The original Mk10 had a forward assist to remedy minor out of battery stoppages, but the new version does not. It uses an M-16 style bolt carrier, but has a pinned-in weight and a solid key instead of the gas key used on the AR-15. Also like the AR-15, the bolt shares a similar extractor and plunger style ejector and has seven lugs that rotate to engage corresponding recesses in the barrel extension as the action closes.
The Mk10 has an overall length of 23.8" to 27", depending on the setting of the SBA3 arm brace, and weighs 5.5 lbs., unloaded. The barrel is 8" long, .72" in diameter and is made from 4140 chrome-moly steel. It uses CMMG's linear compensator that redirects muzzle blast forward.
The Mk10 is well made with several features and quality indicators that set it apart from the ever expanding milieu of Glock-mag ARs. The 7.25" handguard has M-Lok slots on three sides with a Picatinny rail on top that is interrupted near its front to allow a more comfortable "C-clamp" style support hand grasp. The grip has a hinged stowage compartment for batteries or small parts. The charging handle's ambidextrous levers are wide and prominent enough to be quickly accessible, even in darkness.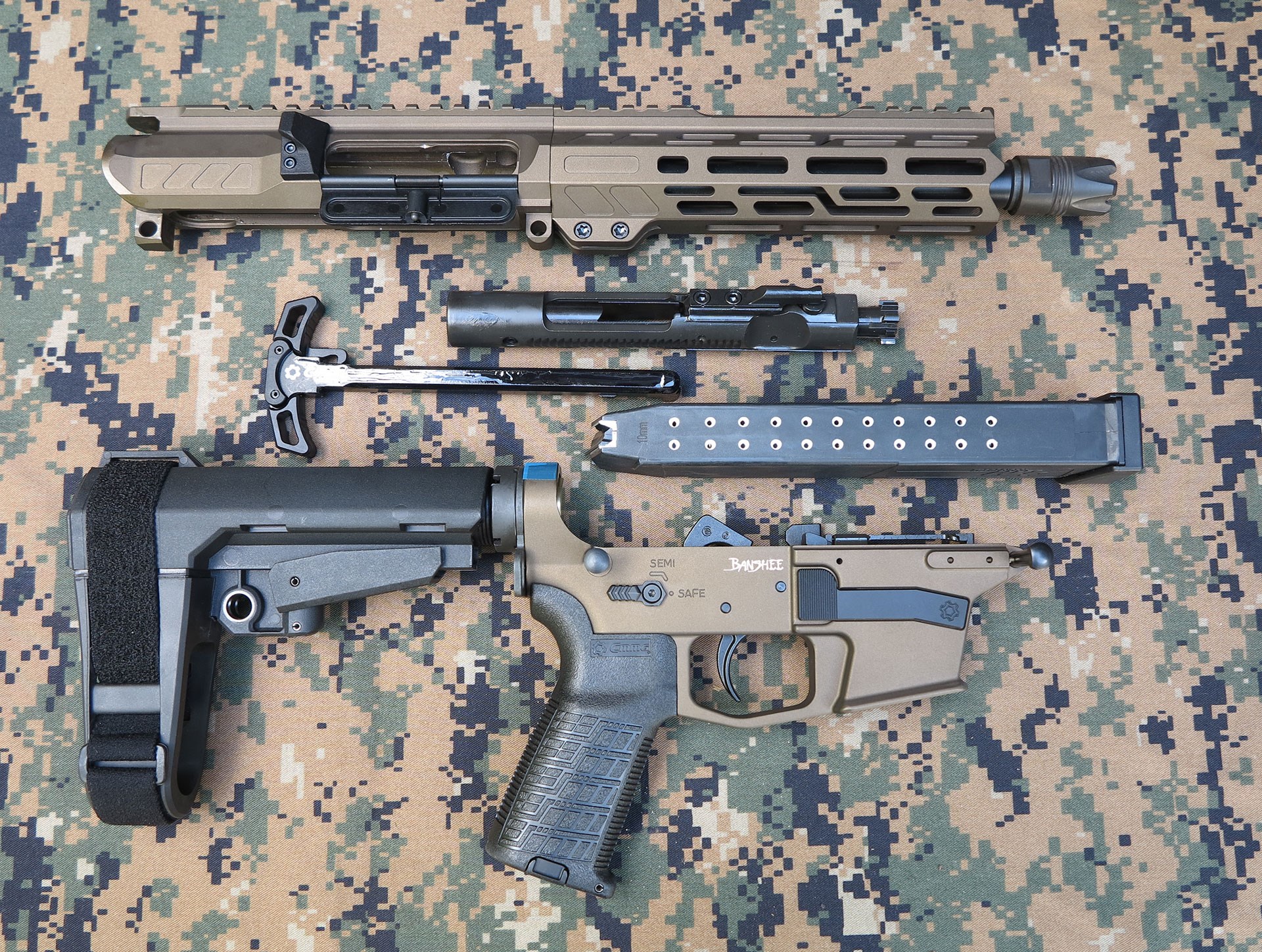 The bilateral safety levers have a short 60-degree throw and can be set to pivot 90 degrees if desired. The magazine release is large and ergonomically designed with a finely serrated texture. The bolt catch is also better than what you'll find on competitive pistols with enlarged, grooved surfaces for quicker manipulation. Both takedown pins also evince subtle yet useful improvements, because they have dimples to keep whatever punch you use to remove them from sliding off and scratching the surface of the receiver. Even the dust cover and shell deflector show design cues not bound by conventional thinking, because both are made of polymer to protect the Cerakote finish on the receivers from being damaged by ejecting brass or from the dust cover snapping open. Finally, the arm brace uses CMMG's "Rip Brace" design, where the retracted brace can be quickly extended to one of six pre-set points by pulling it rearward without needing to depress a lever.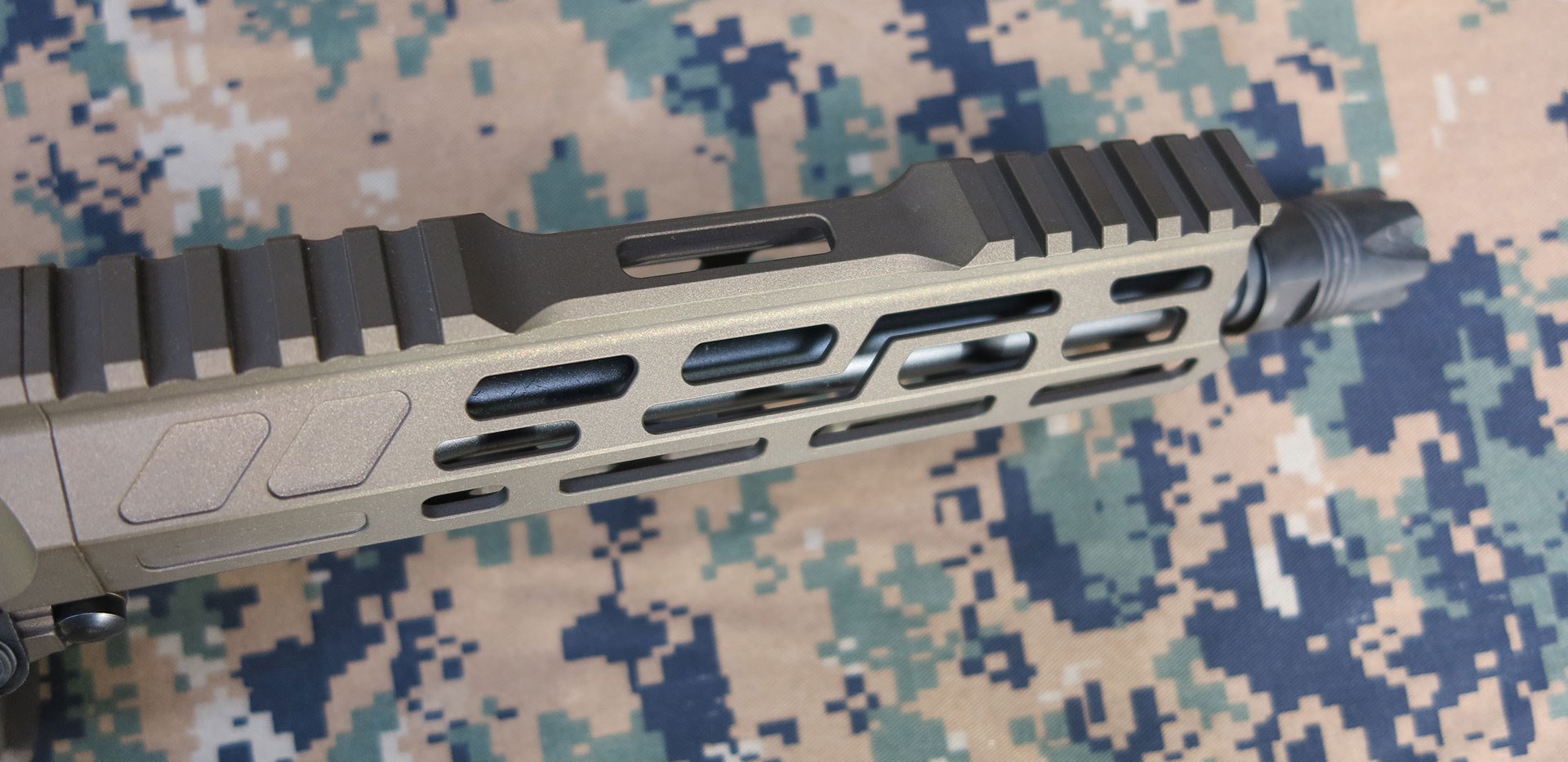 The receivers fit tightly together without wobble or gaps and have an evenly applied and perfectly matched finish. My sample Mk10 is finished with midnight bronze, which I think has the best aesthetic of the choices offered because it is metallic and sparkles in the light. The internal fire control parts are nitride-finished and follow the AR-15's conventional design. The single-stage trigger breaks after a bit of creep at a relatively heavy 5 lbs., 11 ozs. according to my Lyman electronic scale, but it has smooth, grit-free travel and no overtravel. The internal linkage connecting the bolt catch with the magazine follower, something that is critical to consistently holding the bolt open after the last round is fired, is sturdier than some competitive designs. The Mk10 can be slung from the QD socket on the arm brace or from the two eyelet mounts on the receiver's backplate.
Range Handling:
The original Mk10 was tested for precision and reliability using 200 rounds. Four defensive and one practice load were used. Precision was assessed by equipping the Mk10 with a Simmons 6.5-20X scope and firing it at 50-yard targets from a Caldwell Precision Turret rest anchored to the shooting bench by a sandbag.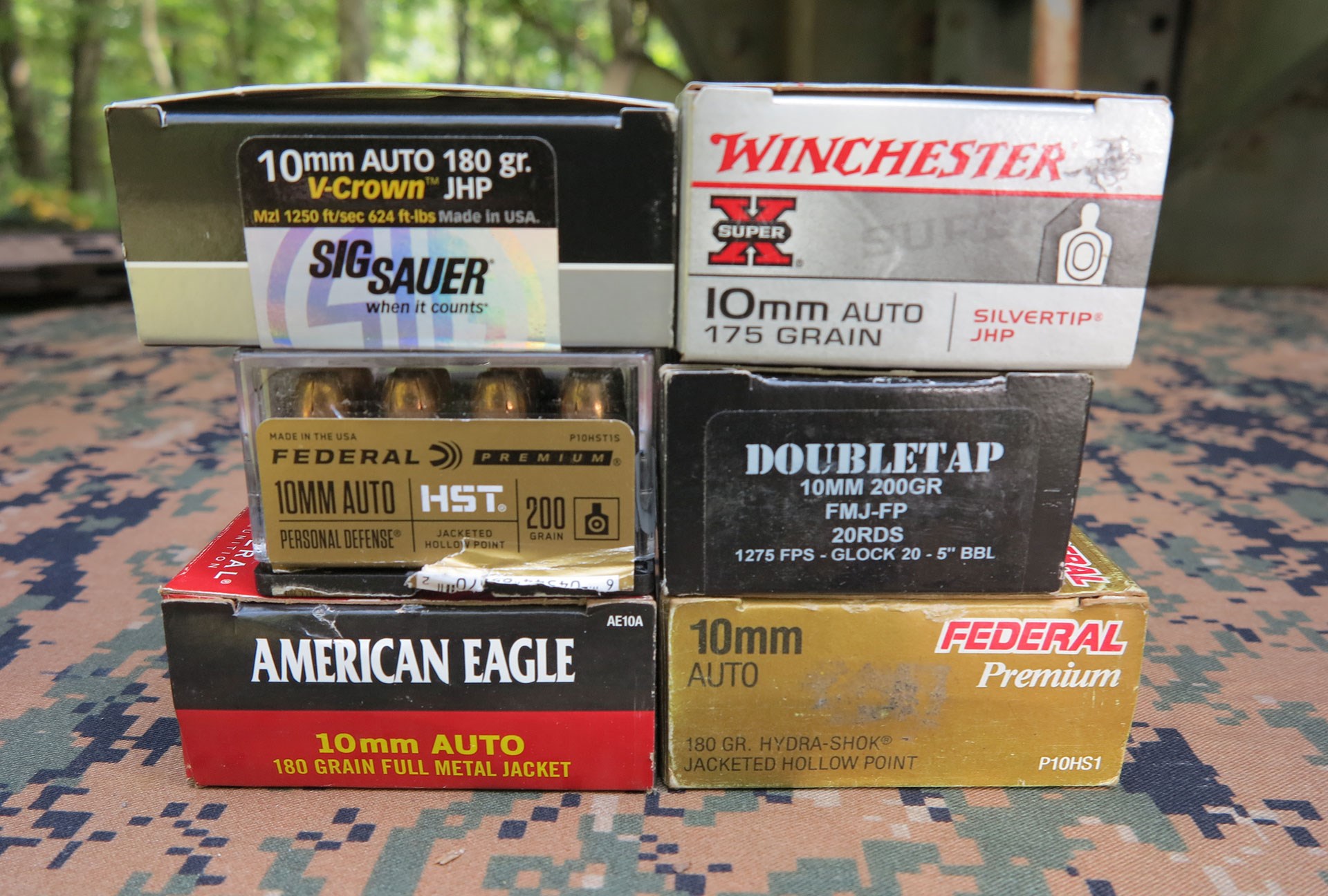 The Mk10 preferred certain brands of premium defensive ammunition over the Federal's American Eagle practice load. The best average five-shot groups of 1.54" and 1.75" came from Federal HST and SIG Sauer V-Core, respectively, while American Eagle measured 3.64". The single tightest group of .97" was scored using the SIG Sauer V-Core, but Federal HST created one remarkable group with four rounds grouping into only 9/16", with three of them landing in nearly the same hole, and an unexplained fifth round flier opening the group size to 1.51". I intended to test Double Tap's 200 grain FMJ for accuracy, but deteriorating weather on my outdoor range allowed only one five-shot group, which measured 1.78".
| | | | |
| --- | --- | --- | --- |
| Load: | Smallest Group: | Largest Group: | Mean Accuracy: |
| American Eagle 180-Grain FMJ | 2.50" | 4.33" | 3.64" |
| Federal Hydra-Shok 180-Grain JHP | 1.06" | 3.25" | 2.14" |
| Federal HST 200-Grain JHP | 1.18" | 2.10" | 1.54" |
| SIG Sauer 180-Grain V-Crown | .97" | 2.28" | 1.75" |
| Winchester Super X 175-Grain JHP | 2.88" | 4.50" | 3.33" |
The newer Mk10 arrived after this test using the original model, but because 10 mm ammo is still woefully short in supply, I couldn't re-shoot this test. The original and new Mk10 pistols share the same barrel, but the muzzle device is different, so it's possible that the results may differ between them, but not likely drastically at 50 yards. There were no stoppages, aside from five failures to feed the first round from the magazine using the American Eagle load.
Buffer Weights
The recoil buffer serves an important role in reliably cycling the AR-15. For blowback- and RDB-operated arms, it also affects shooter safety because too light a buffer will enable the breech to open prematurely before gas pressure has adequately subsided, possibly leading to a ruptured case. Too heavy a buffer, however, can cause sluggish cycling and stoppages.
Recognizing the wide variety of 10 mm factory loads, CMMG includes an extra buffer with the Mk10 to use when shooting light power loads, and an 8-oz. buffer is available for heavy loads. Instructions included with the pistol show how to calculate the power factor of your load and the recommended buffer. These recommendations are only guidelines, however, and it's important to always inspect your brass because ruptured cases are a function of buffer weight and case strength. For instance, Federal HST has a power factor of 228, which CMMG's chart indicates is borderline acceptable using the factory-installed buffer, but HST brass was consistently bulged while Winchester Super-X brass with a higher power factor of 232 was not.
10 mm Power Bands
Factory-loaded 10 mm ammo can be grouped into four "power bands" based on muzzle energy. My tests covered the first three power bands starting with the mildest load which was Federal's 180-grain Hydro Shock, also known as the "FBI Lite" load. This load generated 424 ft.-lbs. of energy, which is practically equal to the .40 S&W.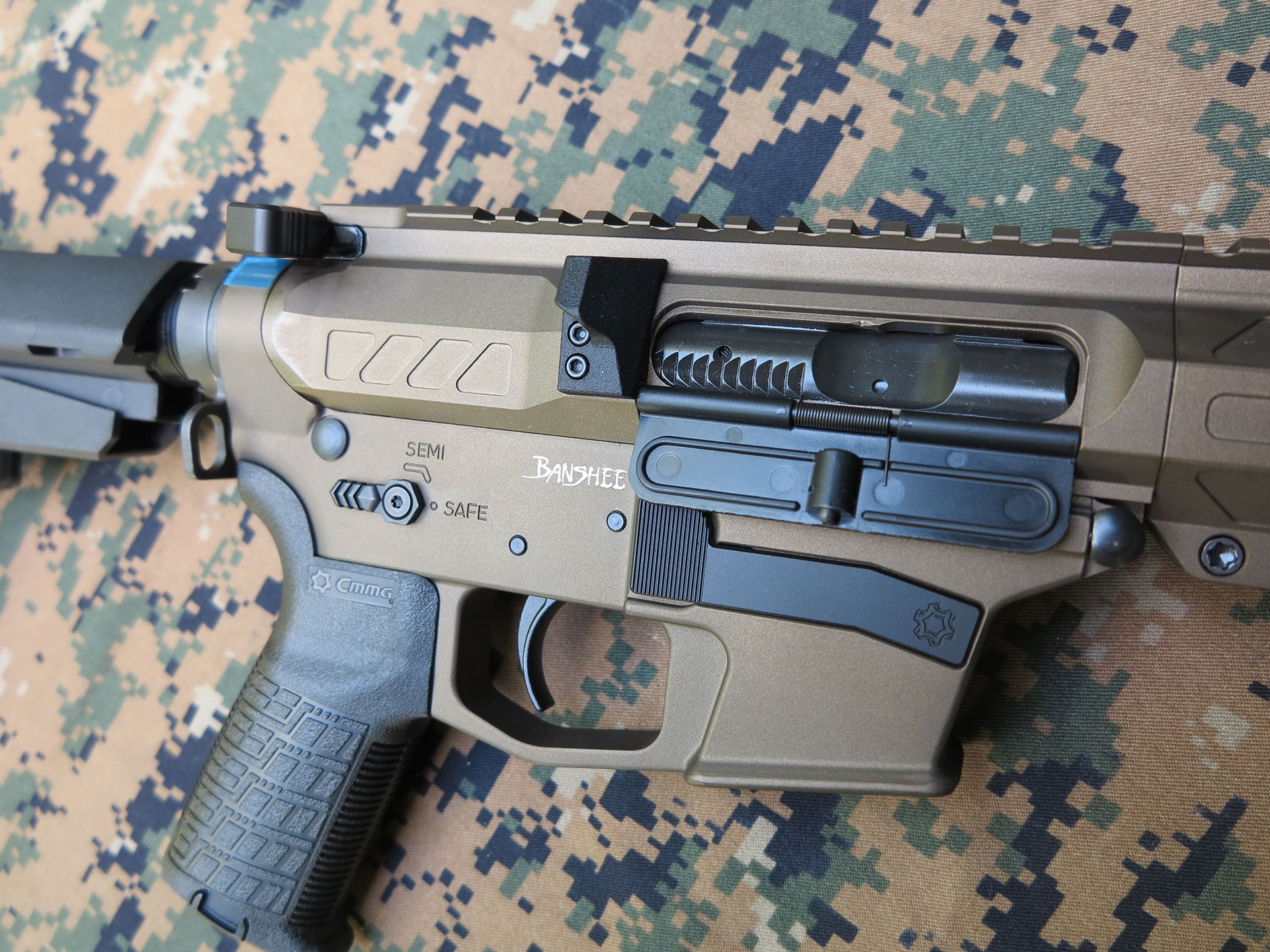 Next were the nearly equivalent Federal HST and Double Tap loads with energy of 577 and 581 ft.-lbs. SIG Sauer's 180 grain V-Crown at 671 ft.-lbs. and Winchester's Super-X 175 grain load at 685 ft.-lbs. occupied the third power band and exceeded the original 10 mm load from Norma which specified a 200-grain bullet driven at 1,200 f.p.s. to yield 639 ft-lbs. Black Hills' Honey Badger load, not tested here, also sits within that band with a 115 grain copper bullet driven at 1,600 f.p.s. to generate 654 ft.-lbs. of energy. The fourth band includes two loads from Buffalo Bore, which the company states have an energy of 703 and 728 ft.-lbs. Unhappily, these loads were not available to test.
8" Barrel Banshee Vs. 4.6" Barrel Glock 20:
The velocity gained by an additional 3.4" of barrel on the Mk10 ranged from 3 to 13 percent. The largest increase of 13 percent (155 f.p.s.) came from the Winchester load followed by an eight percent (93 f.p.s.) from the SIG Sauer. Federal's HXC added only 3 percent (31 f.p.s.).
| | | |
| --- | --- | --- |
| Load: | Velocity Increase | Percent Increase |
| Winchester Super-X 175-Grain JHP | 155 f.p.s. | 13% |
| SIG Sauer 180-Grain V-Crown | 93 f.p.s. | 8% |
| American Eagle 180-Grain FMJ | 84 f.p.s. | 8% |
| Double Tap 200-Grain FMJ | 55 f.p.s. | 5% |
| Federal Hydra-Shok 180-Grain JHP | 38 f.p.s. | 4% |
| Federal HST 200-Grain JHP | 31 f.p.s. | 3% |
Conclusion:
Though it's pricier than many Glock-mag ARs, the Banshee Mk10 is a well-made, full-featured pistol that is accurate with several defensive loads I tested and chambered in a ballistically superior caliber than the 9 mm Luger. My only qualm with this pistol is the safety levers could be wider and thus easier to manipulate. Though a standard mil-spec AR-15 trigger may seem inadequate for a firearm in this price range, the Mk10 is a defensive gun chambered in a defensive caliber, not a plinker or a competition pistol where a better trigger is required. For more information, visit cmmg.com.
Specifications:
Caliber: 10 mm Auto
Magazine capacity: 30
OA Length: 23.8" to 27"
Weight: 5.5 lbs.
Barrel: 8" , 1:16" RH twist
Arm Brace: SB Tactical SBA3
Sights: N/A
Action: Semi-automatic, radial-delayed blowback
Finish: Cerakote over hardcoat anodized
Accessories: Extra magazine, extra buffer, lock
MSRP: $1,750
Article by ANDY MASSIMILIAN
Don't forget to like us on Facebook and follow us on Twitter.