Review: Franchi Momentum Elite Varmint
Franchi proved back in 2018 that it was more than just a shotgun manufacturer with its original Momentum rifle, and now the company is expanding the line with souped-up "Elite" versions of the initial gun. This includes a variant designed specifically around the precision practice of varmint hunting and chambered in either .223 Rem., .224 Valkyrie or .22-250 Rem. Our sample for this evaluation fired the newer Valkyrie cartridge.
The Franchi Momentum Elite Varmint is a centerfire, push-feed, bolt-action repeating rifle that feeds from either a four- or seven-round detachable box magazine. The bolt of the Momentum Elite Varmint is unchanged from the original and retains the enlarged, three-lug design that made it such a hit. Just like its predecessor, it is treated with spiral fluting and a hard-chrome finish that resists the elements and provides natural lubricity. It rides within a chromium-molybdenum steel receiver that is mated to a 24″ heavy-fluted barrel before both are Cerakoted Midnight Bronze.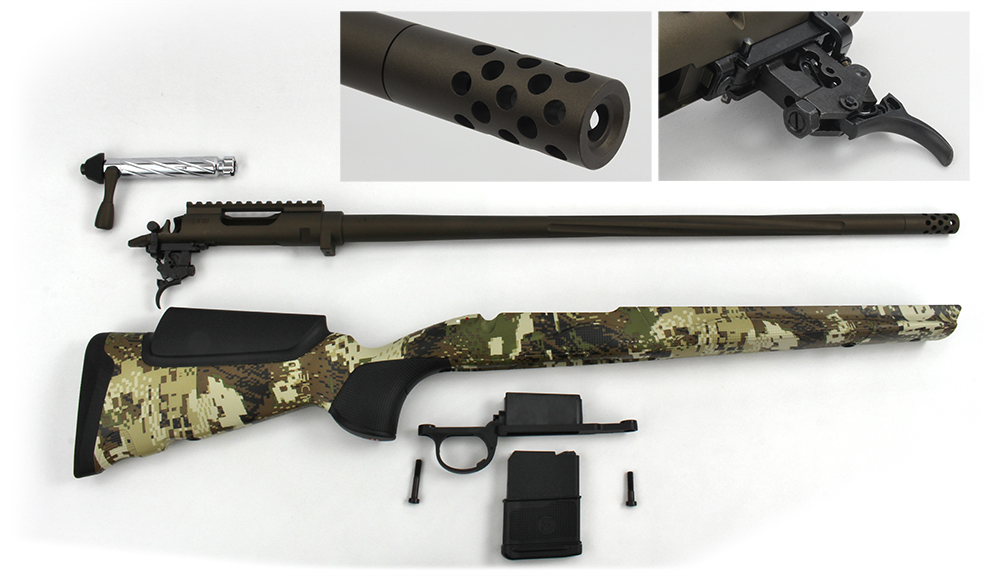 The Momentum Elite Varmint's three-lug bolt affords the rifle a short 60-degree bolt throw that won't interfere with most mounted optics. Using the receiver's pre-installed 13-slot Picatinny rail, we mounted an EOTech Vudu 8-32X scope via a pair of MDT Premier rings. We chose this optic because its high magnification, 1/8-m.o.a. adjustments and fine reticle are exactly what it takes to place a well-aimed shot on tiny targets such as prairie dogs and other varmints. Between the rifle's cheek riser and the ability to use rings that were just the right height, most shooters found the setup to be extraordinarily comfortable, even before putting a single round through it.
The flattened fore-end of the synthetic stock rides a rest exceptionally well and also lends itself nicely to the employment of a bipod, should you wish to attach the included sling swivel. If it's just a sling point that you seek, this rifle comes from the factory with flush-fit QD sling sockets both fore and aft. Checkering on the fore-end and grip make it easy for the shooter to achieve solid purchase during offhand engagements.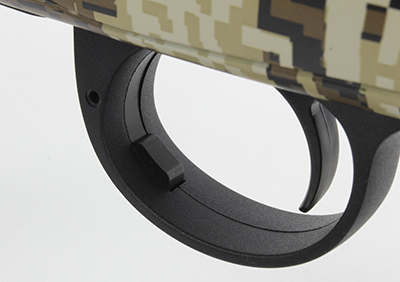 Each Momentum Elite rifle comes standard with Franchi's RELIA Trigger that is advertised as being adjustable from 2 lbs. to 4 lbs. We found ours to be considerably lighter, as it arrived from the factory with a pull weight of just 1 lb., 10 ozs., as confirmed by our Lyman Digital Trigger Gauge.
As non-Federal .224 Valkyrie ammunition is still pretty hard to come by, our testing was limited to three loads from Federal Premium. Firing the Momentum Elite Varmint was an altogether pleasurable experience, as there was almost no recoil, thanks to the included radial brake and the docile nature of its chambering. This let us spot impacts on the target as they occurred, which is invaluable in a hunting application.
The short-throw bolt provided lightning-fast cycling, and each fired case ejected flawlessly. A small lever located inside of the trigger guard serves as the magazine release, and we found it to function reliably while staying out of the way during general manipulations of the bolt. The same can be said for the forward-to-fire safety located on the right, rear of the receiver.
Franchi includes an accuracy certificate that guarantees one m.o.a. or better consistencies across a three-shot group with a prescribed ammunition—in this case, Federal's 80.5-grain Berger load. We were able to repeatedly meet this claim in most of our three-shot groups, however, adding the two extra rounds needed for our accuracy protocol typically opened these groups up beyond the one-m.o.a. threshold. And, as you can see in the nearby accuracy table, our gun did not care for the 90-grain Sierra MatchKing-topped load.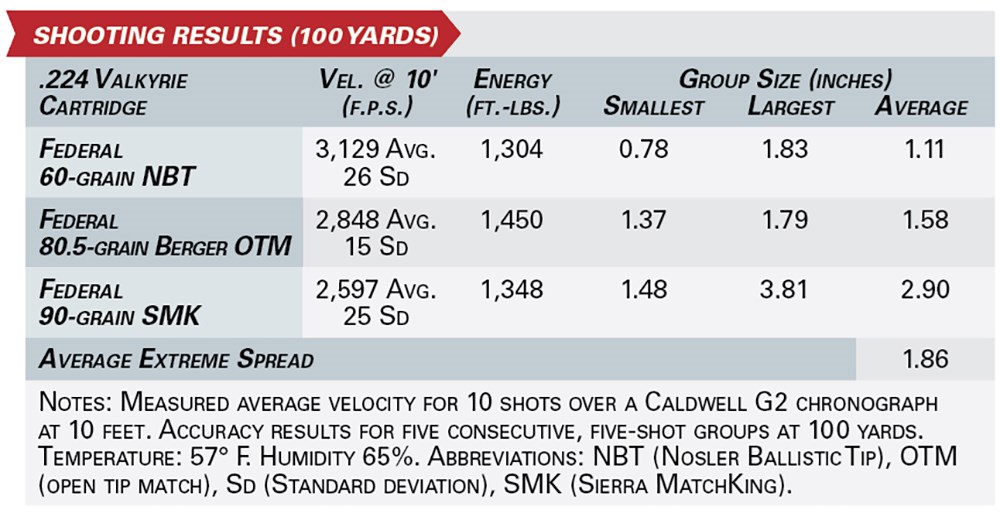 Maintenance of the Franchi Momentum Elite Varmint is far from complicated. Removing the bolt requires nothing more than ensuring the gun is unloaded and then depressing the receiver-mounted release while pulling the bolt out through the rear. To remove the stock, all that needs to be loosened are two action screws, after which the "bottom metal" can be removed and the barreled action lifted out. Reassembly took only a few minutes and involved torquing the action screws down to 53 in.-lbs. to ensure proper mating.
Franchi's new addition to its Momentum line was a hit among all our testers. Coupled with a capable optic, this rifle is begging to spend a long weekend on a prairie overrun with critters that need to be removed. If hunting isn't your game but low-recoil, long-range shooting is, the .224 Valkryie's high-ballistic-coefficient loads can reach out to 1,000 yards with ease.

Article by AMERICAN RIFLEMAN STAFF
Don't forget to like us on Facebook and follow us on Twitter.