Review: Henry Big Boy X Model .357 Mag.
Some efforts to update classic firearm features to better suit the tastes of modern-day shooting sports enthusiasts have proven to be less than aesthetically successful. Take the venerable lever-action rifle, for example. In an effort to make this platform more tactical or handy for self defense, it has at times been outfitted with AR-15 style hand-guards and six-position adjustable shoulder stocks. Although the utility of these AR-inspired modifications are self evident, they are nevertheless hard on the eyes. It's too much like hanging aluminum siding on one wall of a log cabin.
Fortunately, Henry Repeating Arms' took a more conservative approach to developing the X Model series of rifles and shotguns, including the revolver cartridge firing Big Boy carbines. They successfully incorporated a set of popular 21st-century features, while being careful not to disrupt the lever gun's traditional profile any more than necessary to get the job done. With Big Boy models available chambered in .45 Colt, .44 Mag. and .357 Mag., I opted to test drive the flexible and enjoyable .357 Mag. version.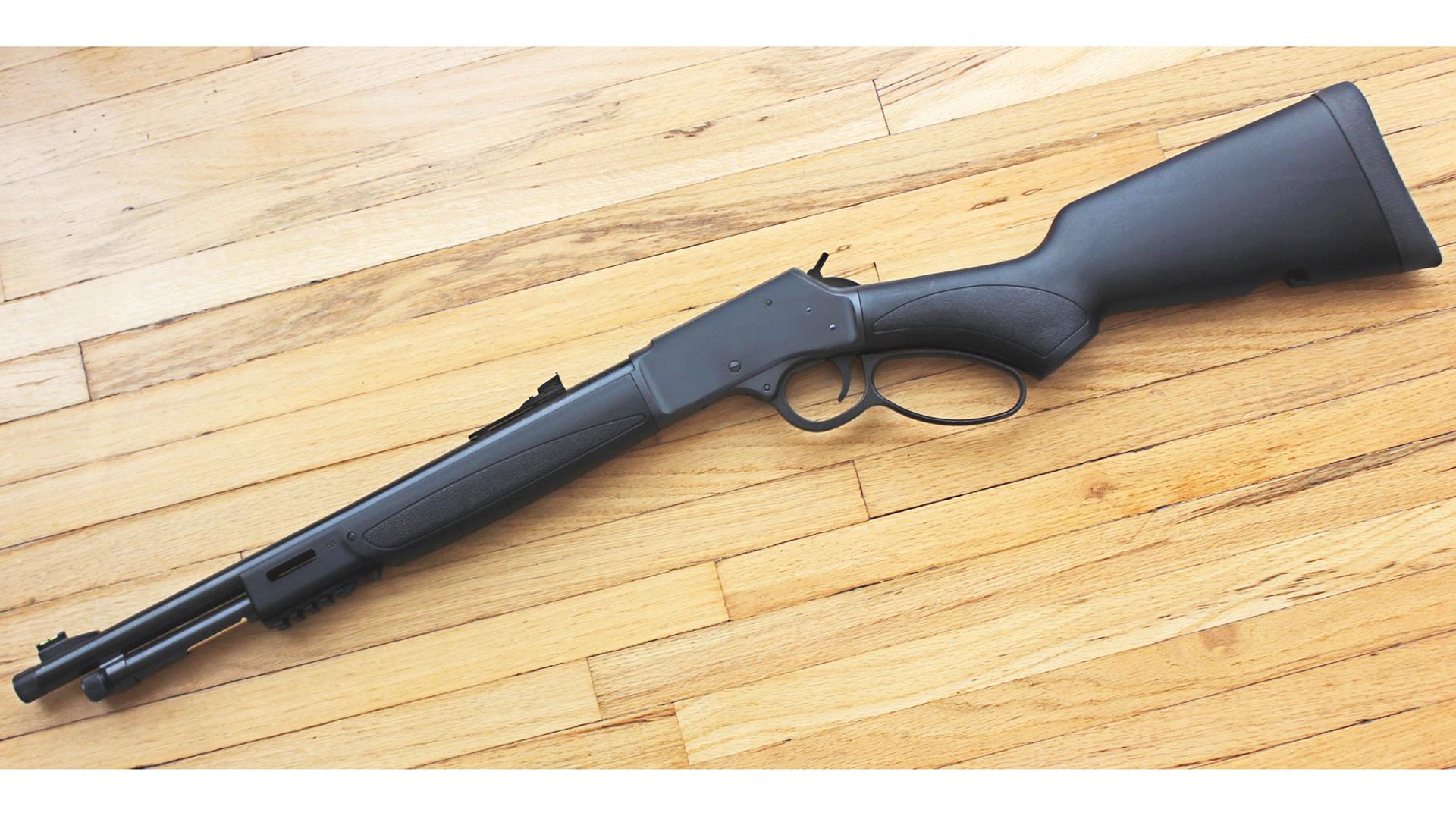 A left-side view of the Henry Repeating Arms Big Boy X Model in .357 Mag.
At the heart of the Big Boy X Model is a durable carbon-steel receiver with a right-side loading gate. The top of the receiver is drilled and tapped to accept either Weaver or Picatinny compatible scope mounts. The receiver and other steel components are treated with a matte blue finish.
The round-profile barrel is 17.4″ long. The muzzle features 0.5″ worth of 5/8×24 TPI threading in order to accommodate the use of sound suppressors and other muzzle devices. A knurled thread protector comes installed from the factory. The buckhorn sights found on Henry's transitional lever guns have been replaced with a fiber-optic set. A single bright-green light pipe up front lines up with two red pipes on either side of a square notch at the rear. The rear sight is drift adjustable for windage, and also has a height-adjustment screw.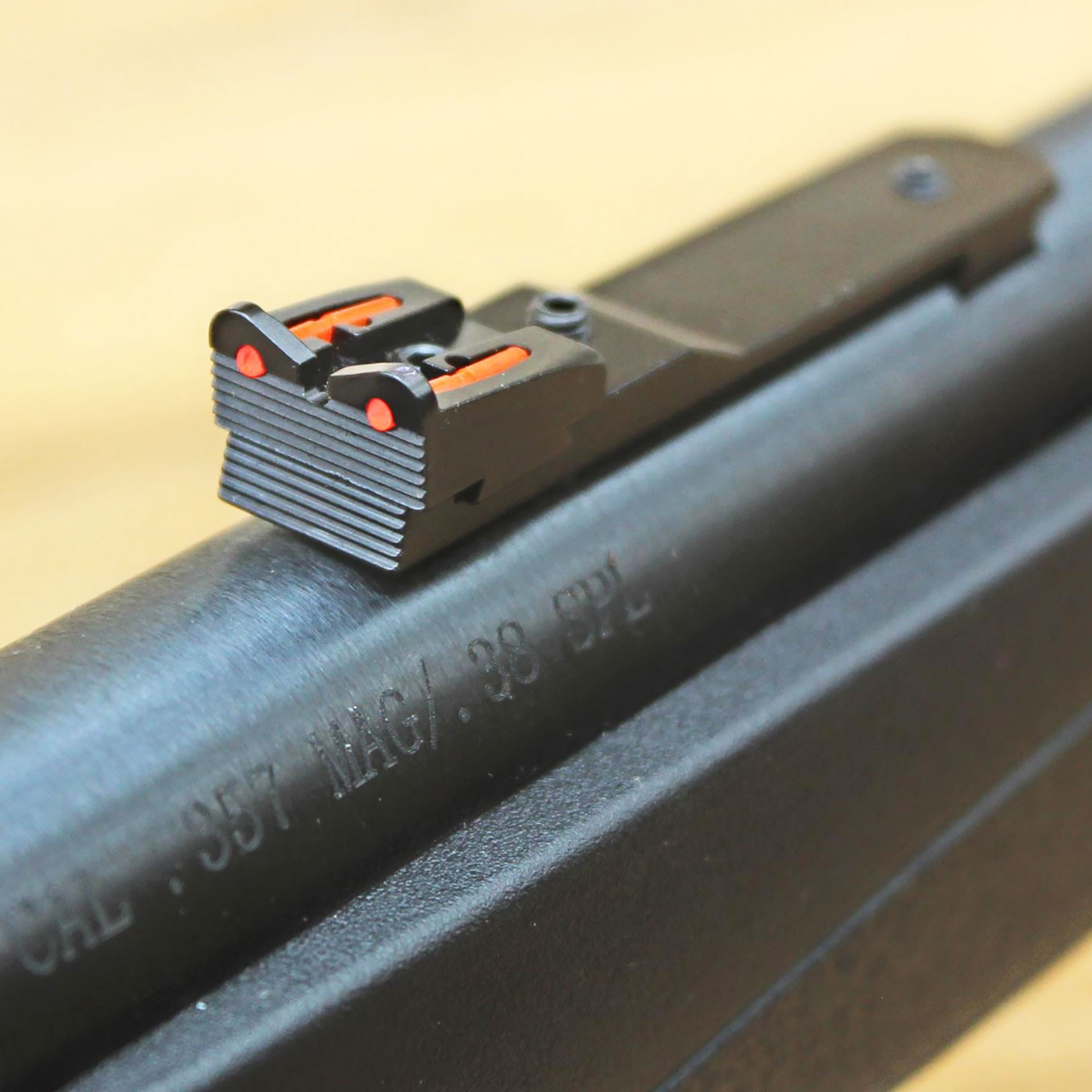 A close-up view of the red fiber-optic inserts on the rear sight of the Henry Big Boy X Model.
Before Henry introduced models with side-loading gates in 2019, their lever guns were loaded through a cartridge-shaped port cut into the tubular magazine. The port is accessed by twisting the knurled knob atop the magazine liner and pulling it out most of the way. When loading gates were added to the receivers, Henry wisely left the loading port and removable magazine liner in place. Folks who want to use the magazine port can, while the side gate allows for a quick magazine top-off without having to pull out the magazine liner. However, the removable liner is still helpful for cleaning, clearing a short-stroke induced jam or for dumping the ammunition out of the magazine without having to cycle each and every round through the action.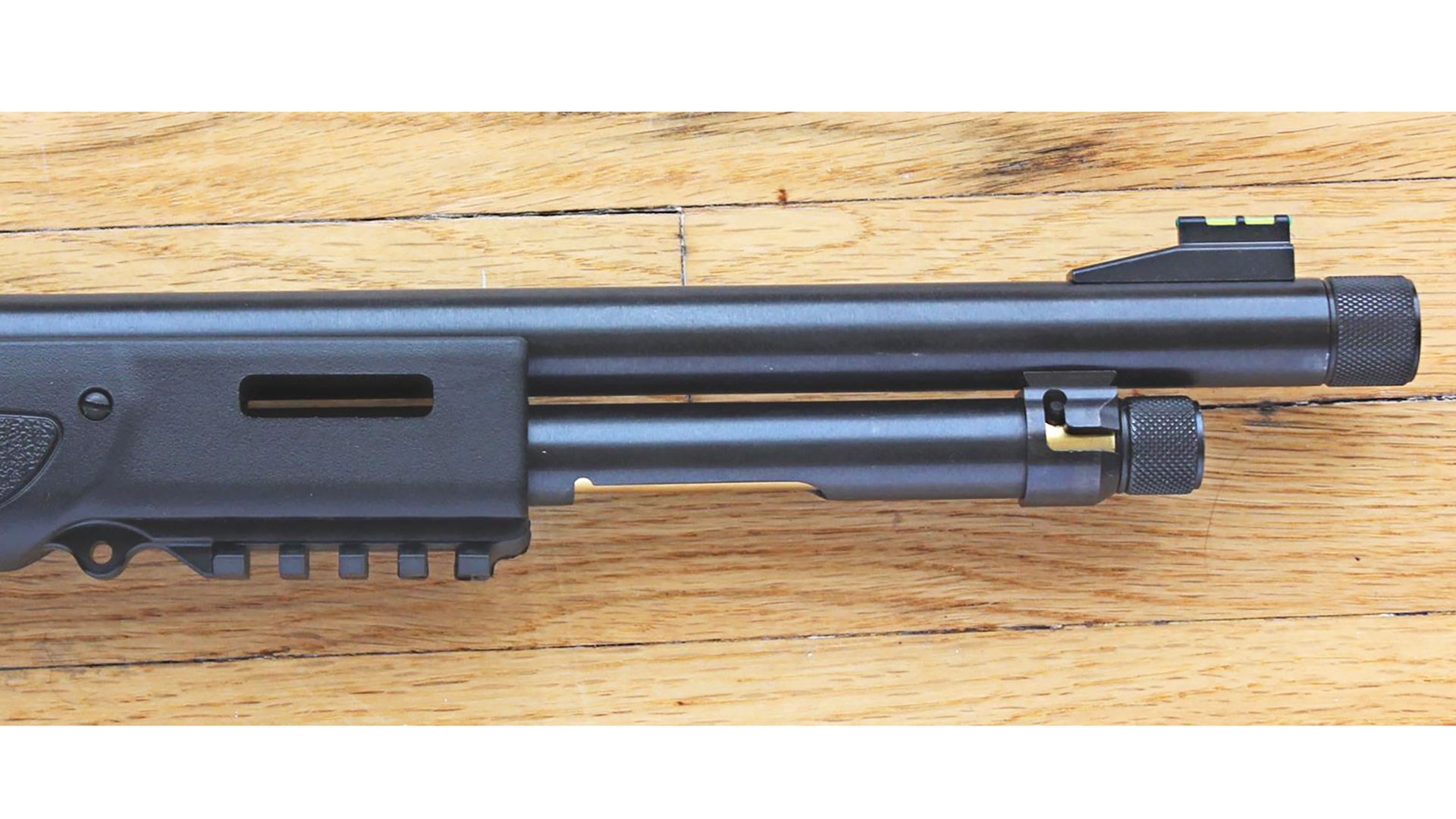 A close-up view of the front of the fore-end, loading tube, and barrel of the Henry Big Boy X Model.
The black polymer fore-end has a familiar rounded profile, but does not have a barrel ring. Instead, it's secured at the muzzle end by a pair of small screws. This fore-end is longer than the walnut version, so as to accommodate a 1.85″ four-slot Picatinny accessory rail. This rail can be used to support a variety of accessories including bipods, flashlights and laser sights. Rather than spoil the lines of the fore-end with three-o'clock and six-o'clock rails, the designers opted for MLOK compatible slots. Behind the accessory rail is a molded-in, sling-swivel mount with its mate located on the shoulder stock near the recoil pad.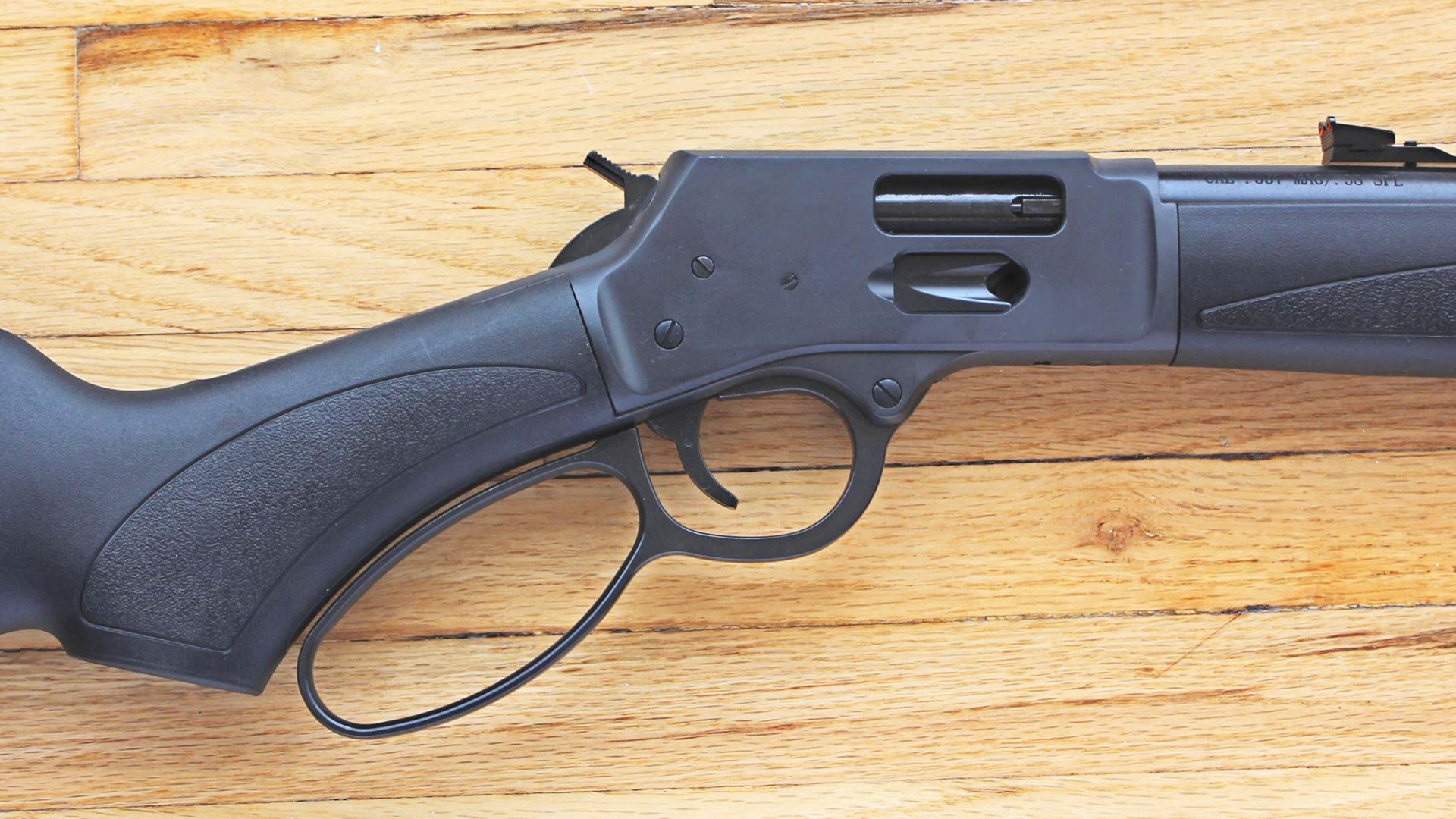 A close-up view of the right side of the front of the action on the Henry Big Boy X Model.
The serrated hammer spur is grooved to accept an optional hammer extension. This makes it much easier to manually cock the hammer when a magnified hunting scope is installed. Inside the hammer face is a transfer-bar safety. This bar drops down to prevent the rifle from firing, unless the hammer is fully cocked and the trigger pressed.
The smooth-faced, single-stage aluminum trigger exhibited no take-up before breaking cleanly with 5-lbs. 9-oz. of trigger pull. The steel lever is a just-right size. It's larger than the company's standard loops, but not so large as to stick out too far from the sloped pistol grip of the shoulder stock. There's more room for gloved fingers, and it's kinder to bare knuckles. The polymer stock provides a fixed, rounded cheek rest and a 14″ length-of-pull. The carbine is capped with a textured black rubber recoil pad.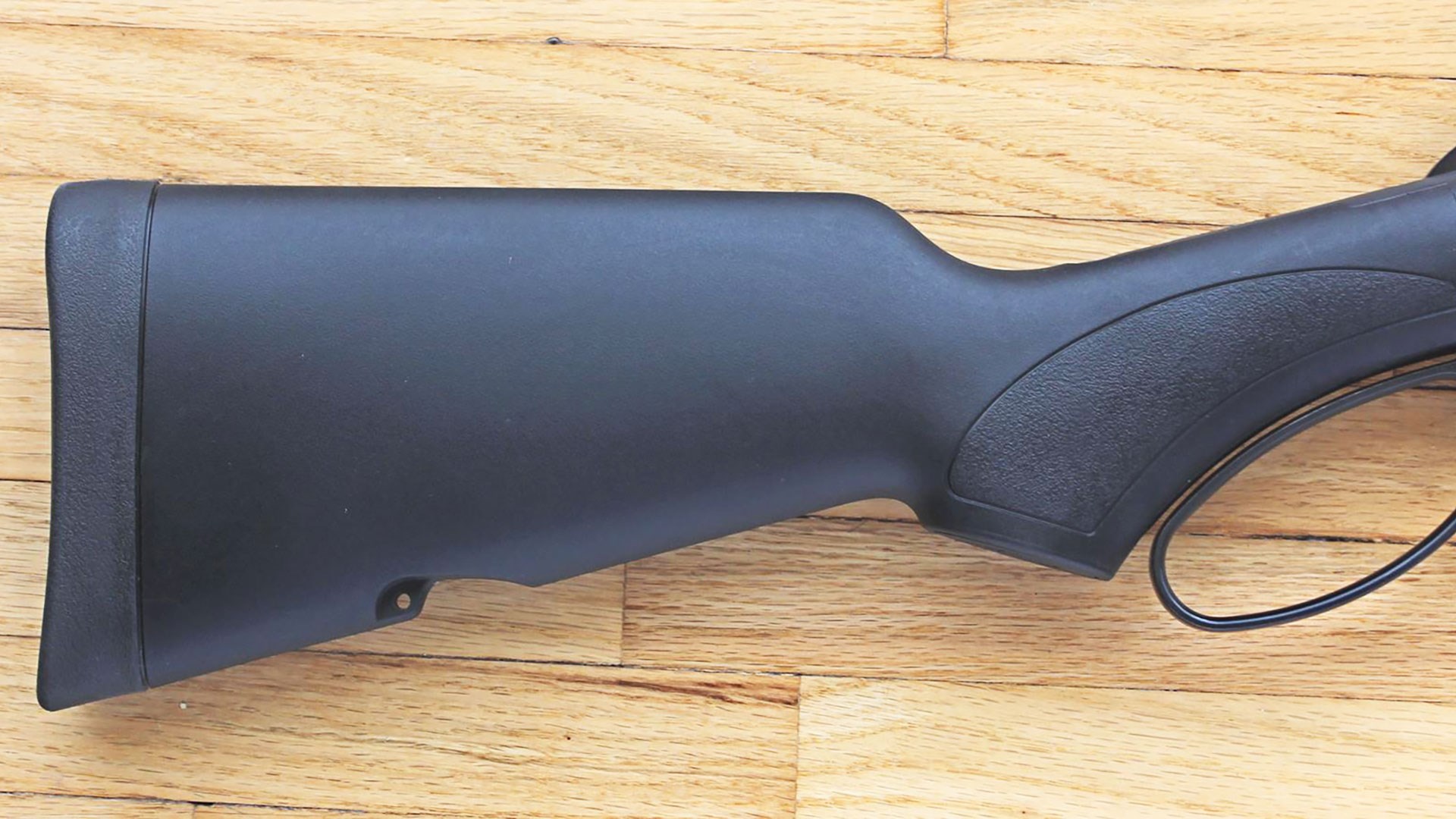 A close-up view of the synthetic stock and recoil pad on the Henry Big Boy X Model.
As part of the company's Provide & Protect line-up, the Henry X-Model Big Boy is intended to be a multi-purpose carbine. Chambered in .357 Mag., it has a 7+1 capacity. It can be loaded down with softer shooting .38 Spl. loads for casual plinking and small game hunting. Thanks to a wide variety of .38 Spl. +P and .357 Magnum defensive hollow points, it can be staged for home defense. And full power .357 Mag. hunting loads can be used for brush hunting and protection from dangerous game at close range.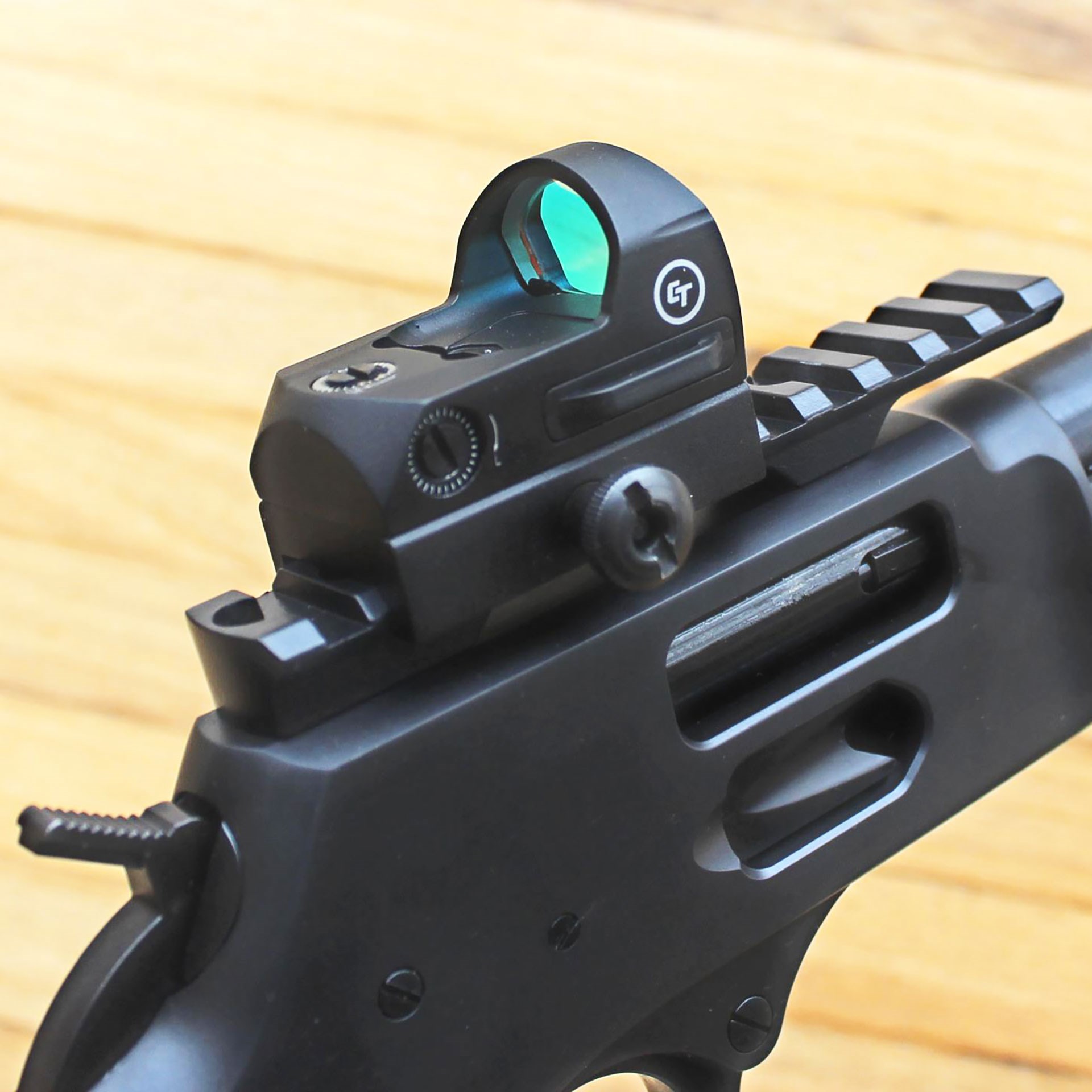 A close-up view of the Crimson Trace CTS-1400 reflex sight mounted to the Henry Big Boy X Model.
The receiver was topped off with one of Henry's 11-slot H006/H012 Picatinny scope mounts (BB-RSMP) which in turn supported a Crimson Trace CTS-1400 open-reflex sight. A more compact optic complements this rifle's quick handling characteristics at closer ranges. Weighing in at just 2.8-oz., and projecting a bright 3.25 m.o.a. aiming point, this particular red dot is designed for use with rifles and shot guns. It turned out to be a great fit for bench rested and standing shots.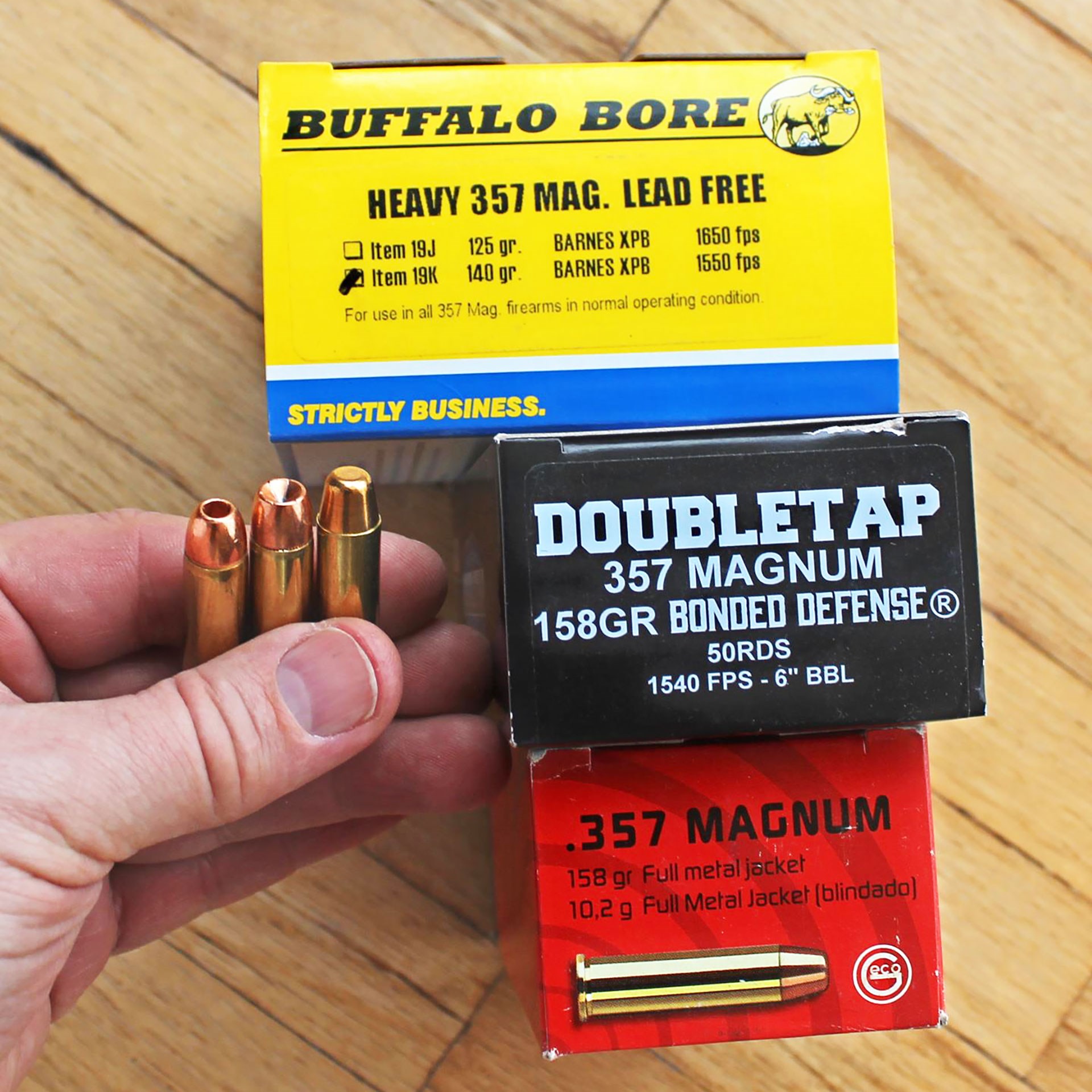 The .357 Mag. ammunition selection used in testing the Henry Big Boy X Model.
At the test range the Big Boy X Model exhibited the positive qualities that folks have come to expect from Henry lever actions. The action was smooth and utterly reliable with all of the ammunition tested. Although I have yet to feel inconvenienced working with just the magazine tube loading port of earlier closed receiver Henry models, I appreciate the speedier reloads made possible by this gun's right side loading gate. For home defense it is definitely a plus. Much like a pump action shotgun, this rifle's magazine tube can be quickly topped off as circumstances allow.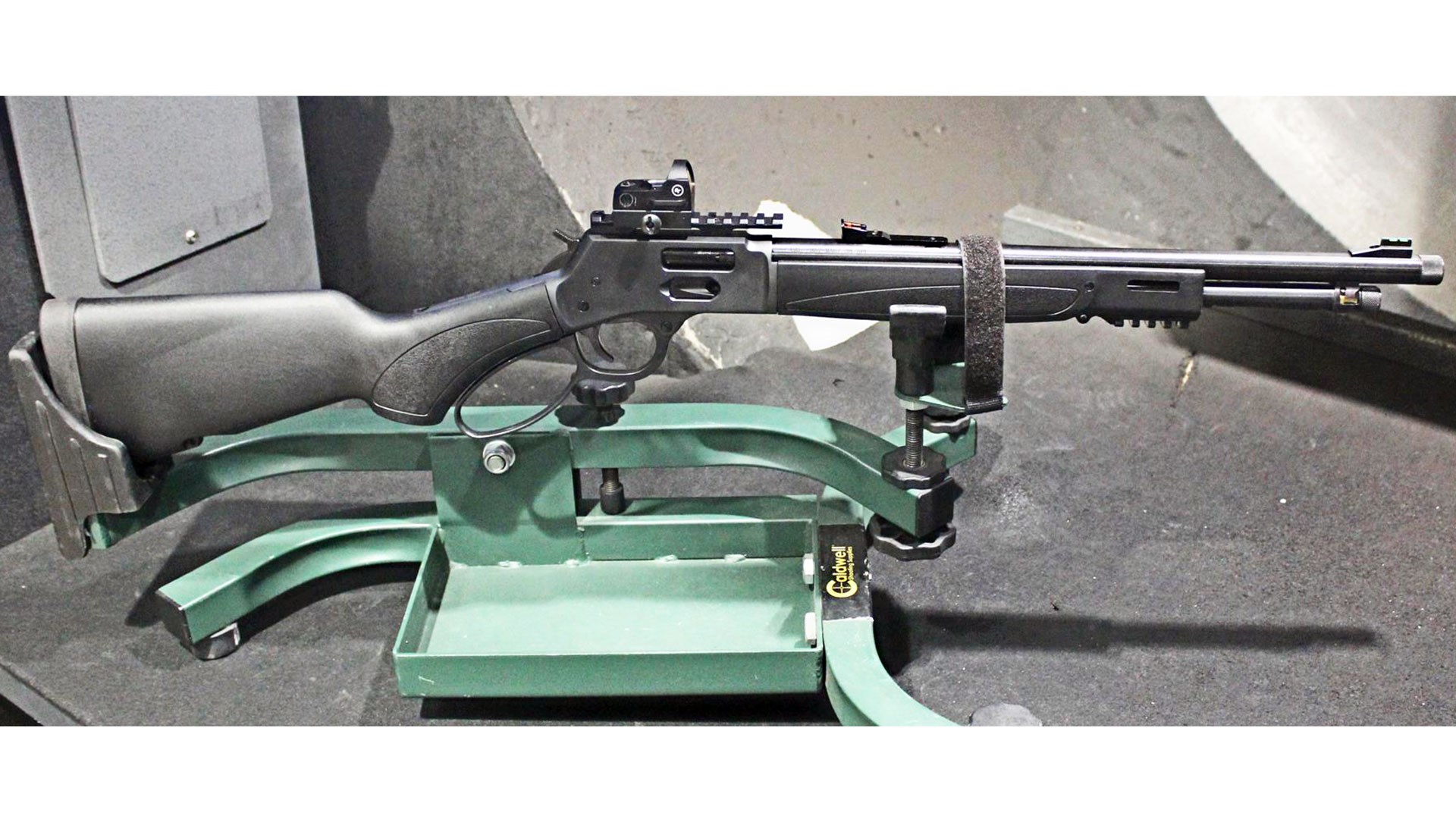 The Henry Big Boy X Model at the range.
The .357 Mag. cartridge is well suited for use in carbine-length barrels which usually provide a noticeable boost in downrange performance. Formal bench-rested accuracy testing was conducted at 50-yards by firing five, five-shot groups for each of three loads into paper targets. Bullet velocity was measured for 10 consecutive rounds fired next to a Lab Radar chronograph. Geco's 158-grain full-metal jacket practice-grade load was the softest shooting of the test set. It launched at an average muzzle velocity of 1,489 f.p.s. for 778-ft.-lbs. of energy and tapped out a best single five-shot group of 1.30″ with a five group average of 1.41″.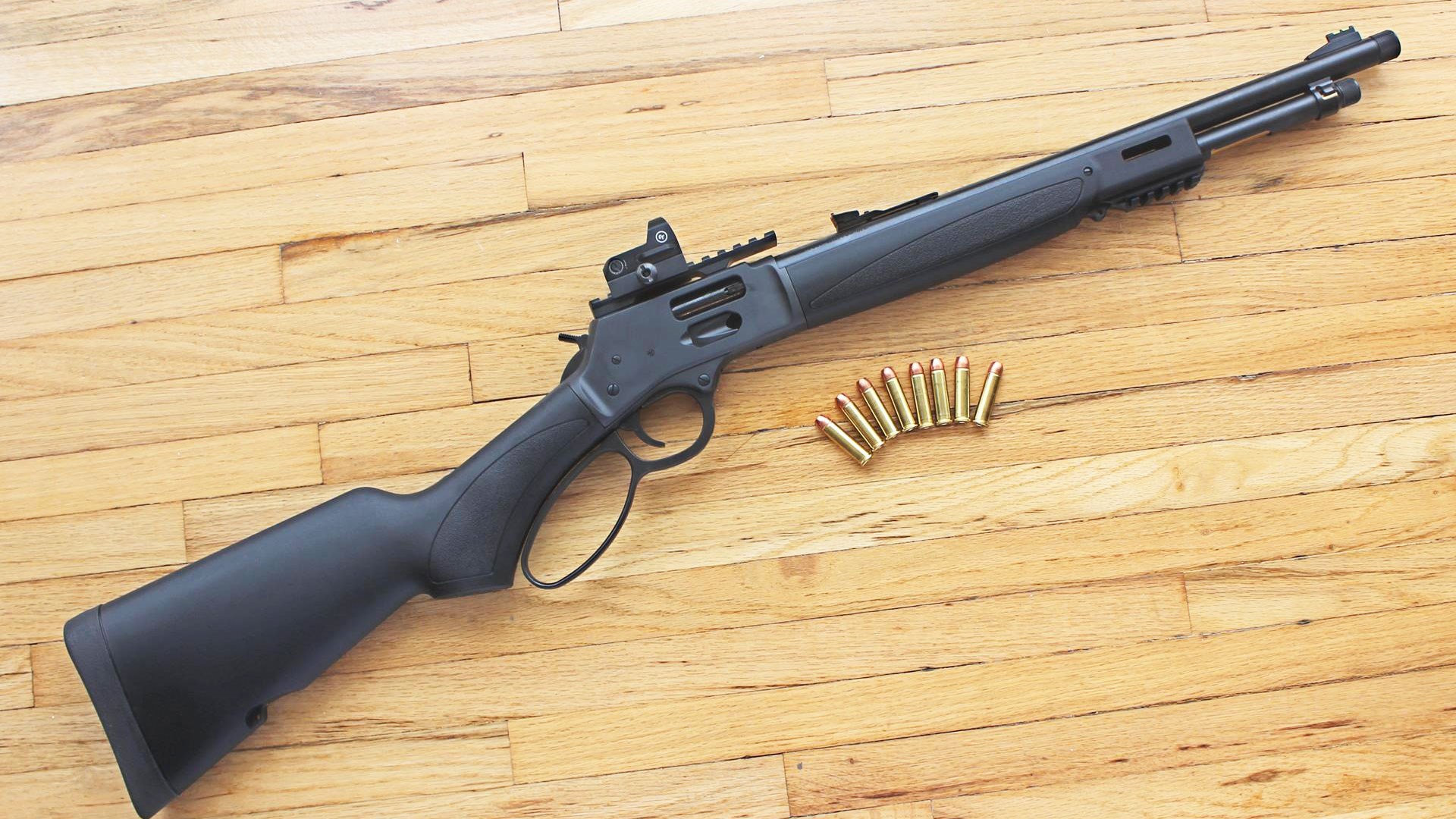 Double Tap Ammunition's 158-gr. bonded jacketed hollow point generated 1,783 f.p.s. of muzzle velocity for 1116-ft.-lbs. of energy. It yielded a best group of 1.07″ with an average of 1.18″. The hottest cartridge of the test set proved to be Buffalo Bore's 140-gr. Barnes XPB all-copper hollow point. It flew right along at 1,931 f.p.s. for 1159-ft.-lbs. of energy. It produced a best group of 1.05″ with an average of 1.15″.
For those lever gun purists who prefer the fine look and feel of checkered walnut stocks paired with the gleam of a brass bead front sight, never fear. Henry's classic lever guns are still in production for those who want them. But for those of us who are looking for a reliable and more up-to-date option that can fill a variety of roles, Henry's X Models are a great fit. This series offers popular 21st century features without sacrificing the sleek familiar profile many of us prefer. If a pistol caliber X Model is not quite what you're looking for, Henry offers additional X Model options including rifles chambered in .30-30 Win. and .45-70 Gov't along with a handy .410 Bore shotgun.
Specifications:
Manufacturer: Henry Repeating Arms
Model: H012MX
Action Type: Lever Action
Caliber: .357 Mag. and .38 Spl.
Receiver: Blued Carbon Steel with Right-Side Loading Gate
Optic Mount: Drilled and Tapped for BB-RSM Mount (Sold Separately)
Barrel: 17.4″ Round Profile with Threaded Muzzle
Muzzle: 5/8×24 TPI, Knurled Thread Protector Provided
Rear Sight: Fully Adjustable Fiber Optic
Front Sight: Fiber Optic
Magazine: 7-Round Tubular with Loading Gate and Removable Liner
Forend: Black Textured Synthetic, One 1.85″ 4-Slot Picatinny Rail, Two MLOK Accessory Slots
Shoulder Stock: Pistol Grip, Black Textured Synthetic with Rubber Recoil Pad
Sling Swivel Mounts: Yes
Safety: Hammer-Mounted Transfer Bar
Reversible Hammer Spur Extension: Available (Sold Separately)
Trigger Pull: 5 lbs. 9 oz. (As Tested)
Safety: Hammer Mounted Transfer Bar
Overall Length: 36.3″
Length of Pull (LOP): 14″
Weight: 7lbs. 5 oz.
Capacity: 7 + 1
Twist: 1:16" RH
Rifle Grooves: 6
Accessories: Lock, Owner's Manual
MSRP: $1,000
Scope Mount: Henry 11-Slot Picatinny Rail H006/H012 (BB-RSMP) $27.50
Optic: Crimson Trace CTS-1400 Open Reflex Sight, 3.25 MOA Red Dot, 2.8-oz. $499.99
Article by B. GIL HORMAN
Don't forget to like us on Facebook and follow us on Twitter.