Review: Hi-Point YC9 Yeet Cannon
For more than three decades now, Hi-Point Firearms has endeared itself to the shooting sports community by offering reliable, American-made pistols and pistol-caliber carbines at bargain basement prices. They've also had a good sense of humor about embracing the sometimes harsh critiques of their products for being relatively heavy, clunky or less than elegant in their execution. Although other budget gun companies with sleeker cosmetics have faded away over the years, Hi-Point is still here and going strong.
This company has never been apologetic about its approach to gun production. However, it has been listening to customer requests for models outfitted with the same popular features found on other manufacturers' semi-automatics. It's taken a while but Hi-Point has answered these requests with the launch of the new compact YC9 series of 9 mm pistols.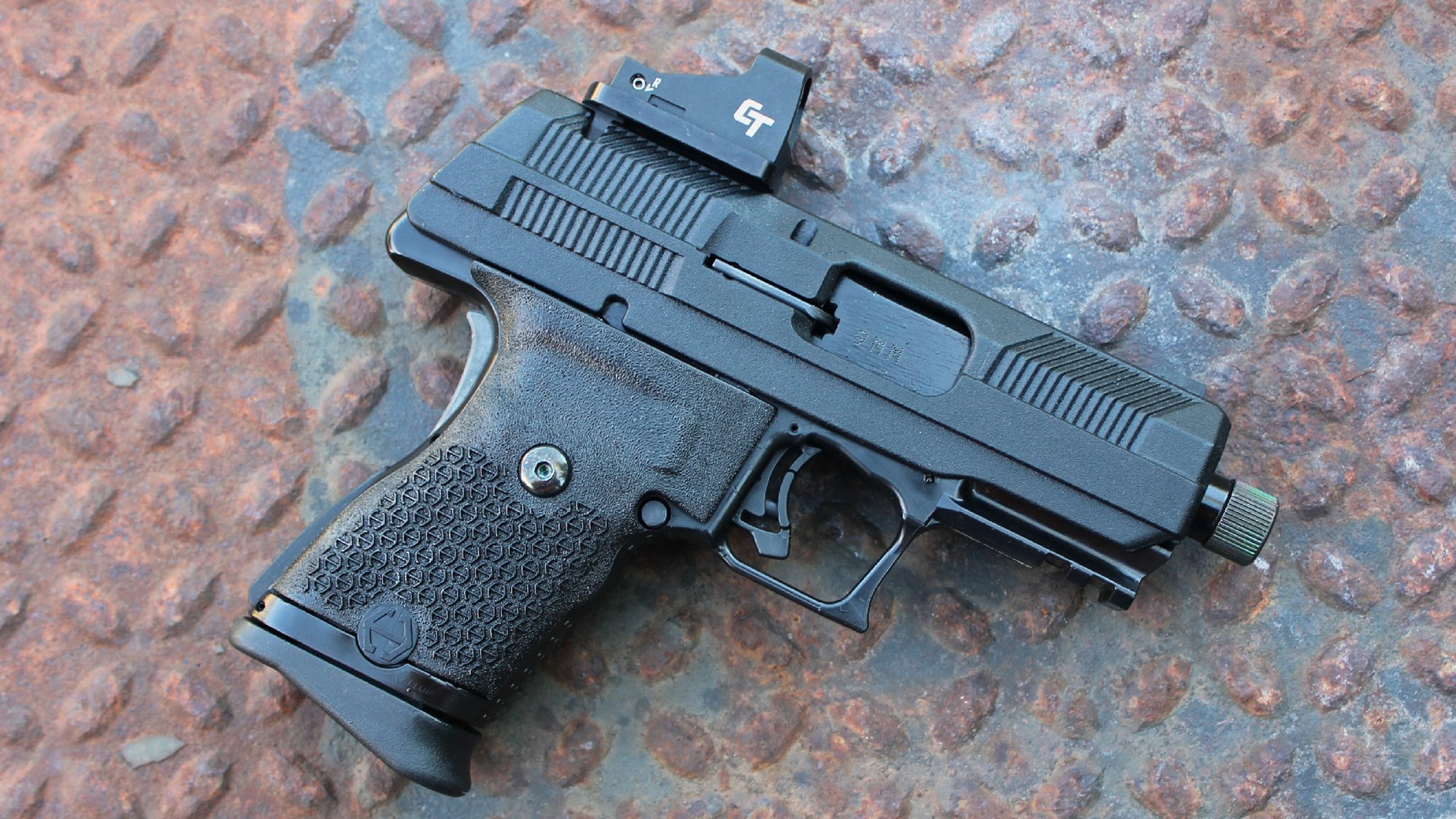 The YC9 has an updated profile and features not available with previous compact models.
Four models are part of the initial launch. The YC9 features a 4.12″ threaded barrel and standard slide markings for a suggested retail price of $229. The YC9 YEET is the same gun but with "YEET CANNON" boldly emblazoned on the slide for $10 more. The YC9 RDCT ships with a polymer Crimson Trace CTS-1500 3-m.o.a. red-dot optic installed using an aluminum plate that replaces the adjustable rear sight assembly. This version lists for $325. Last, but not least, the YC9 NTB sports a non-threaded, flush-fit barrel for $229. For this evaluation, I opted to work with the YC9 RDCT configuration.
Like the C9 model upon which it is based, the YC9 is a straight-blowback-operated semi-automatic pistol. This means that the action has no lock-up mechanism to keep the chamber closed until the bullet leaves the barrel. Instead, it relies on the mass of the slide and the resistance of the recoil assembly to hold the action closed until pressure levels have dropped enough for the spent cartridge case to be ejected safely. In many cases, blowback-operated pistols are chambered for lower pressure cartridges including .22 LR, .32 ACP and .380 ACP, which allows the slides to be kept relatively slim and light.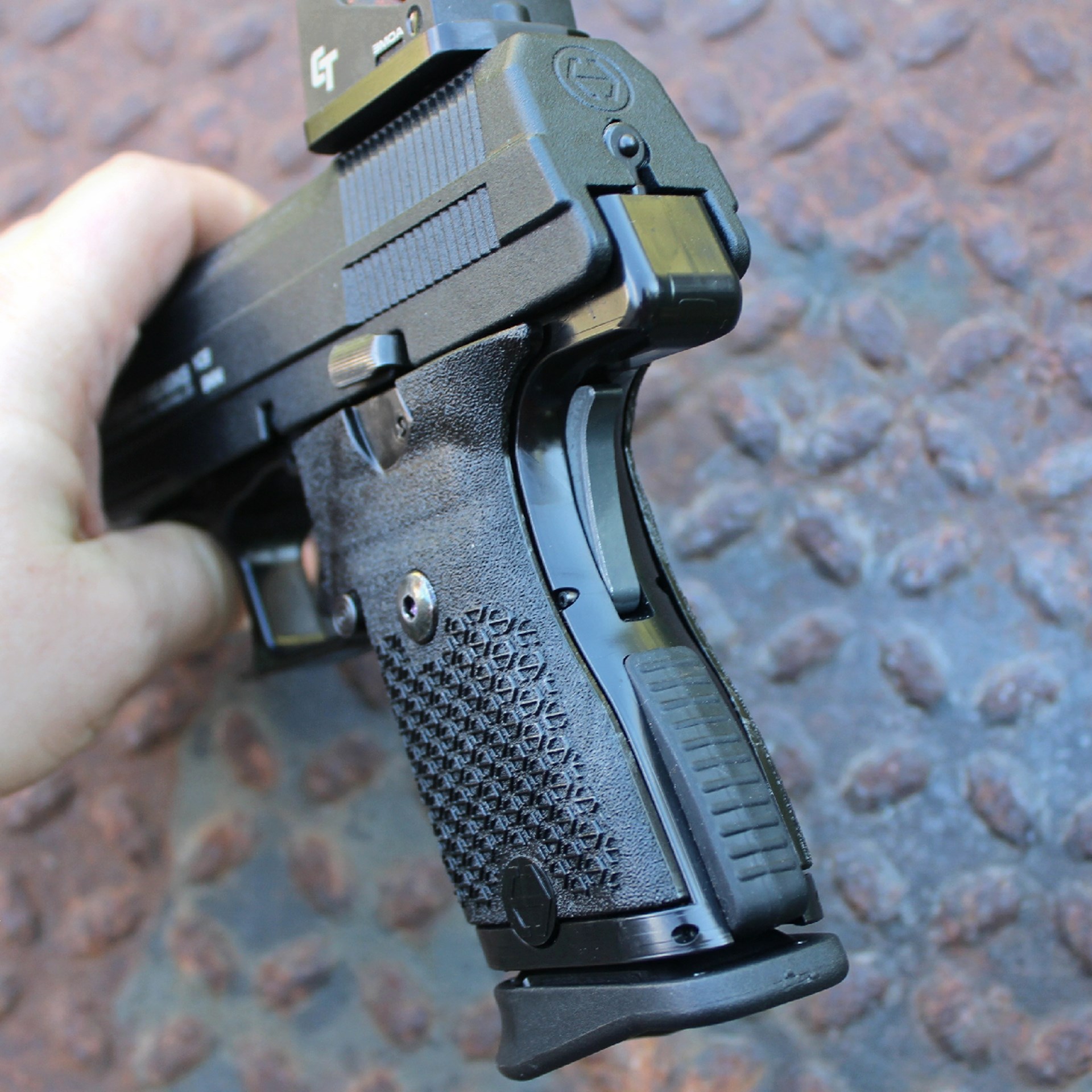 The YC9 frame is enhanced with a grip safety and a reversible rubber pad within its backstrap.
However, to handle higher pressure cartridges like the 9 mm Luger, .40 S&W, .45 ACP and 10 mm Auto, the slide has to be more massive in order to slow its rearward movement when firing. This is why Hi-Point slides are so big and heavy. The trade-off for this added mass is a simple, robust design that ticks right along with a variety of ammunition.
The slide is die-cast from a zinc alloy which makes it both hefty and less expensive to produce. In the case of the YC9, the slide has been updated with a beveled profile along with front and rear cocking serrations. The fixed, polymer front sight is painted yellow for improved visibility. It's Glock compatible, which makes it easy to swap out for those who prefer a fiber-optic or night sight. The fully adjustable rear sight has two bright orange dots.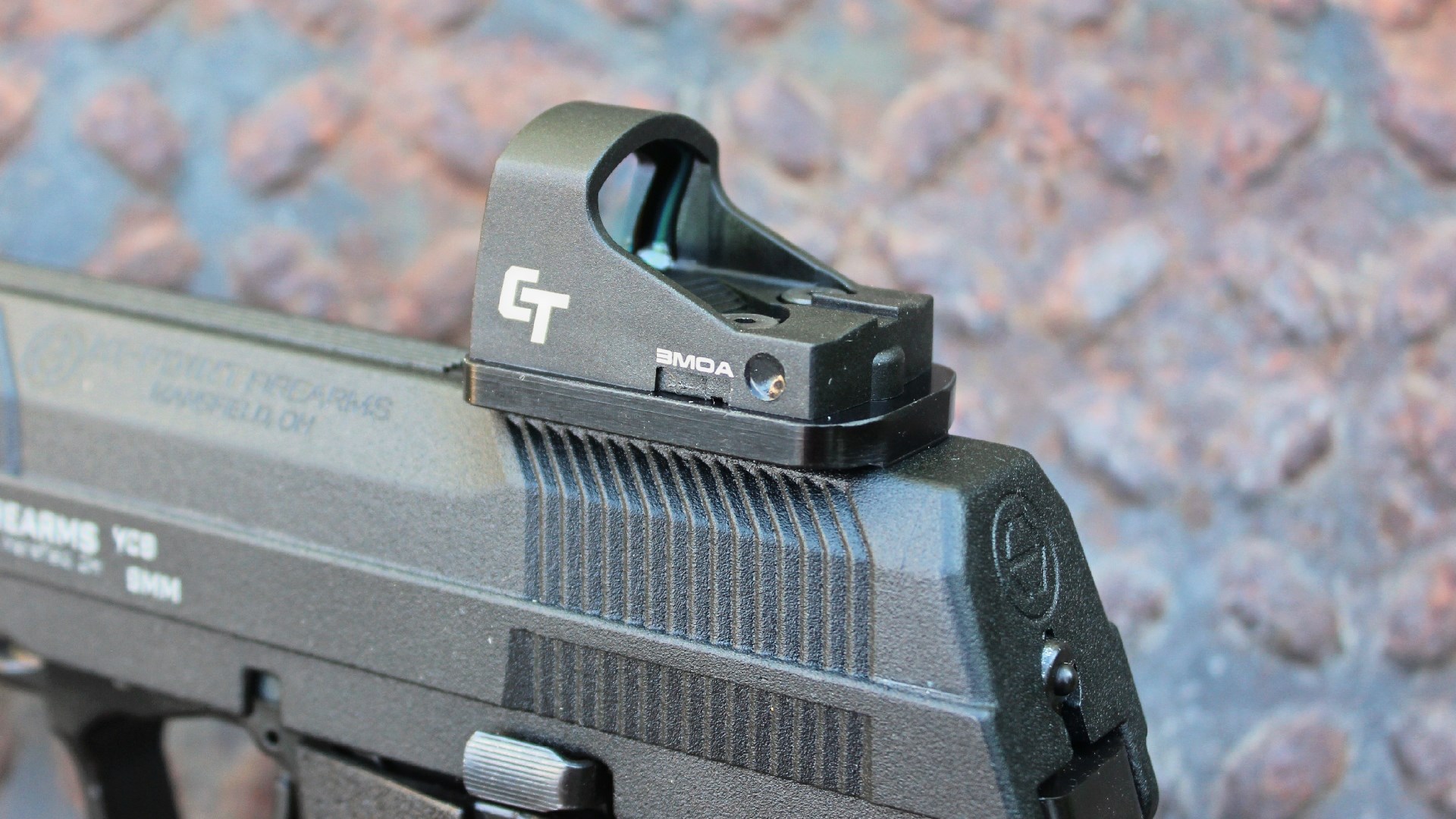 This Crimson Trace CTS-1500 optic is supported by a proprietary aluminum plate, which takes the place of the rear sight assembly.
The pistol evaluated here was shipped in the YC9 configuration, meaning it had the factory-installed iron sights described above. It arrived with two red-dot-optic mounting kits. One was a 2.15″-long, aluminum six-slot Picatinny rail suitable for a variety of optics fitted with rail clamps. The other was a heavy-duty aluminum plate designed to support a Crimson Trace CT-1500 optic.
I opted for the Crimson Trace combo that matches the YC9 RDCT factory configuration; it proved to be easy to install. The rear sight assembly is secured to the slide by two screws that, when loosened, allow the assembly to be lifted out of the slide as a single unit. The slide is drilled-and-tapped to accept either optics mount; simply drop into place and secure it using two or three screws, depending on the mount. The CT-1500 mount proved to be a tight, rock-solid fit that remained snugly fit to the slide and the optic throughout the course of testing. Quite frankly, it's among the sturdiest mounting systems I've worked with.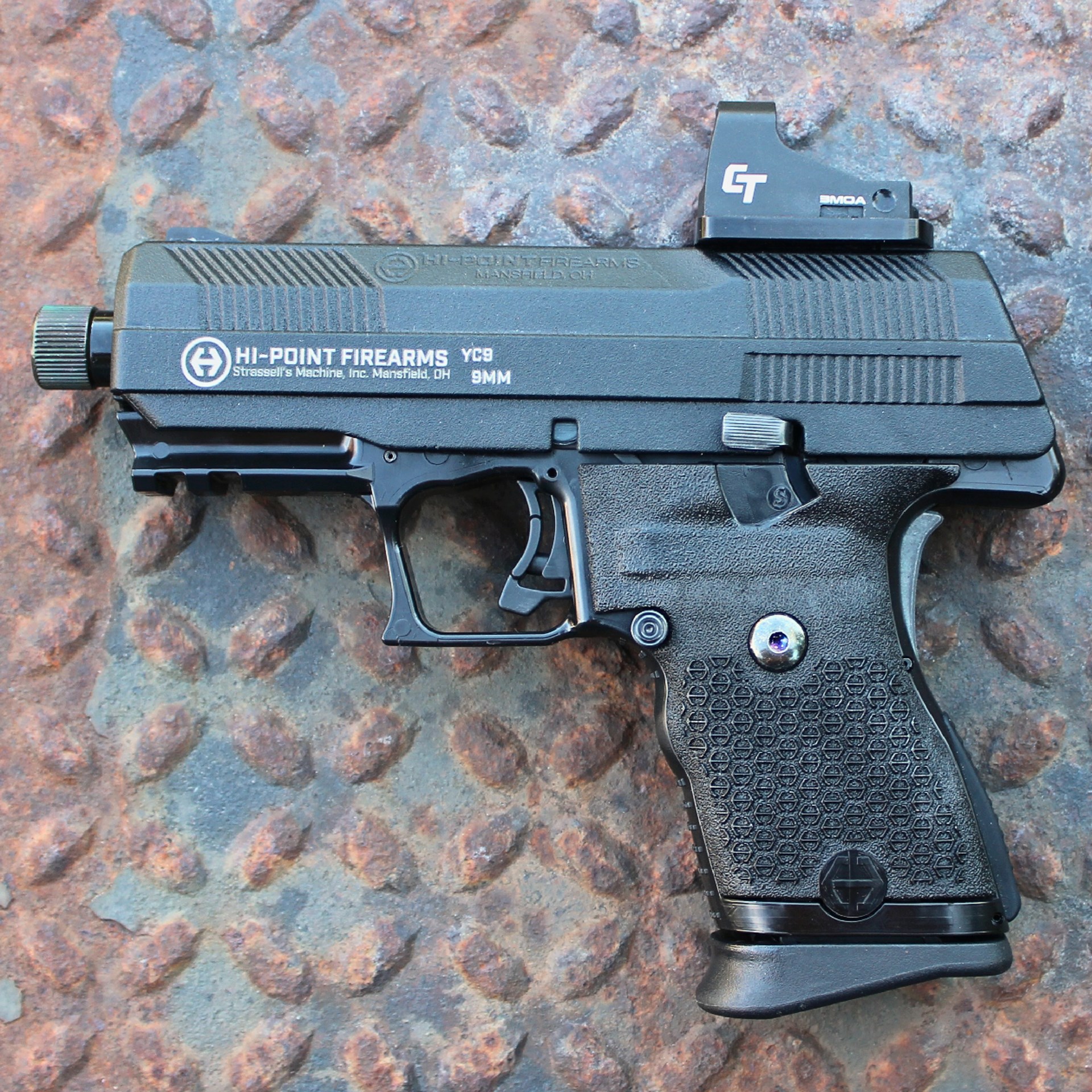 The left-side thumb safety is show here in the 'SAFE' position.
The muzzle of the 4.12″ extended barrel is threaded at 1/2×28 TPI to accommodate muzzle devices including brakes, compensators and sound suppressors. In fact, the YC9 may be one of the least-expensive suppressor hosts available. Removing the slide reveals that the barrel is fixed to the frame like other blowback-operated pistol designs, including the Walther PPK and Sig Sauer P232. The recoil assembly consists of a single round-wire spring with a short, polymer guide rod located below the barrel.
The company has made several notable changes to the YC9's frame. The dust cover now sports a 1.6″ two-slot accessory rail to accommodate light and laser modules. The trigger guard has retained the finger rest, front edge and still houses a skeletonized polymer trigger. The left-side, round-button magazine release and thumb safety lever remain essentially the same.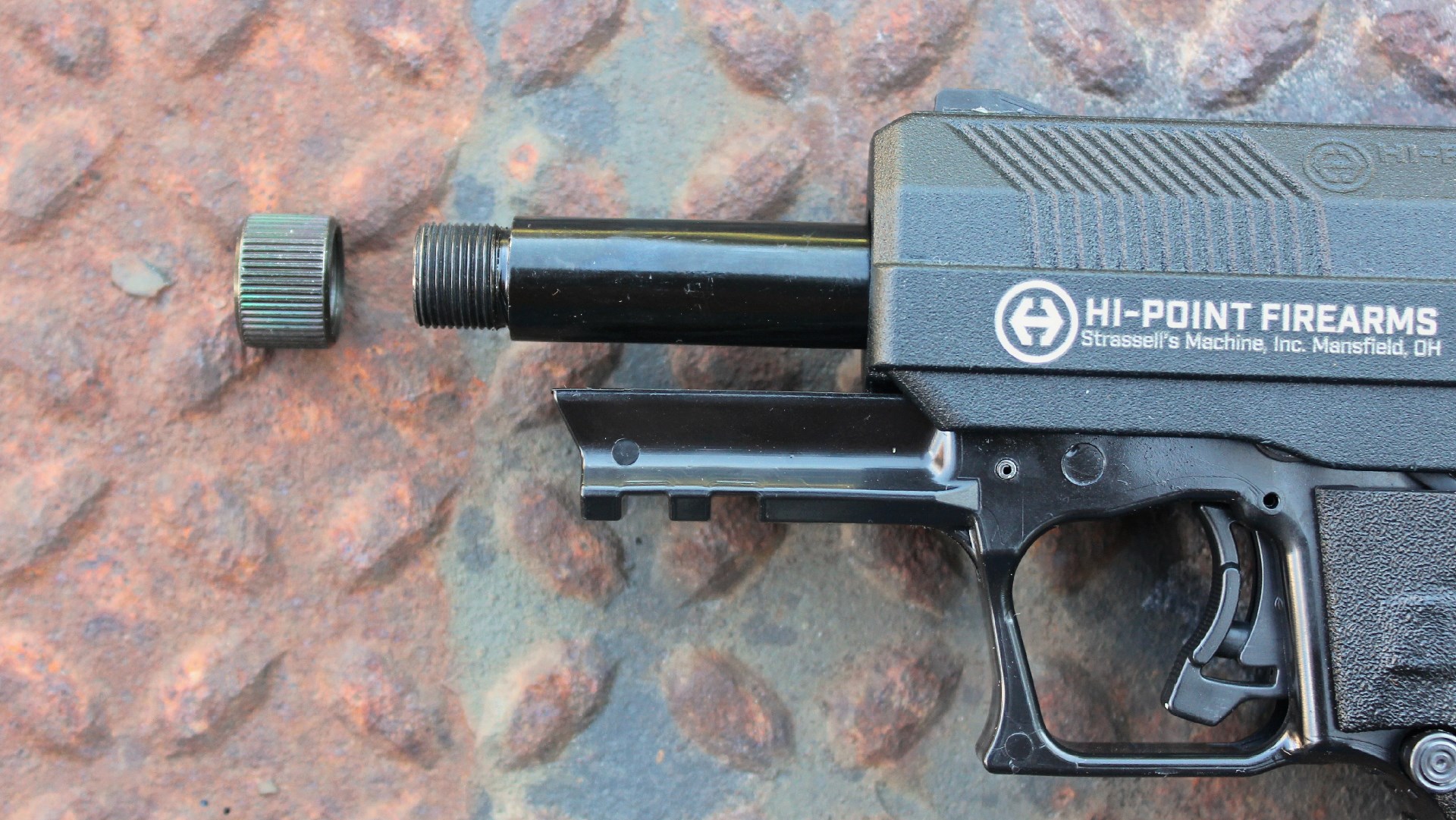 The muzzle is threaded to host a variety of popular 9 mm compatible muzzle devices.
However, the frame's backstrap now features a metallic grip-safety lever, which must be fully engaged by the shooting hand in order for the gun to fire. A textured-rubber backstrap pad has also been added that can be removed and reversed to provide either a straight or curved grip profile. The removable polymer stock panels now have more pronounced and effective texturing, which is a welcome improvement.
Perhaps the most significant change to the YC9 is the new 'bottleneck' magazine configuration. With angled vents along both sides, this magazine has a single-stack profile for the first three rounds or so and then widens into a double-stack magazine. They will accommodate 10 rounds of ammunition instead of the C9 single-stackmagazine's eight-round capacity. This is definitely an improvement, but hopefully the company will offer some 12- or 15-round magazines in the future.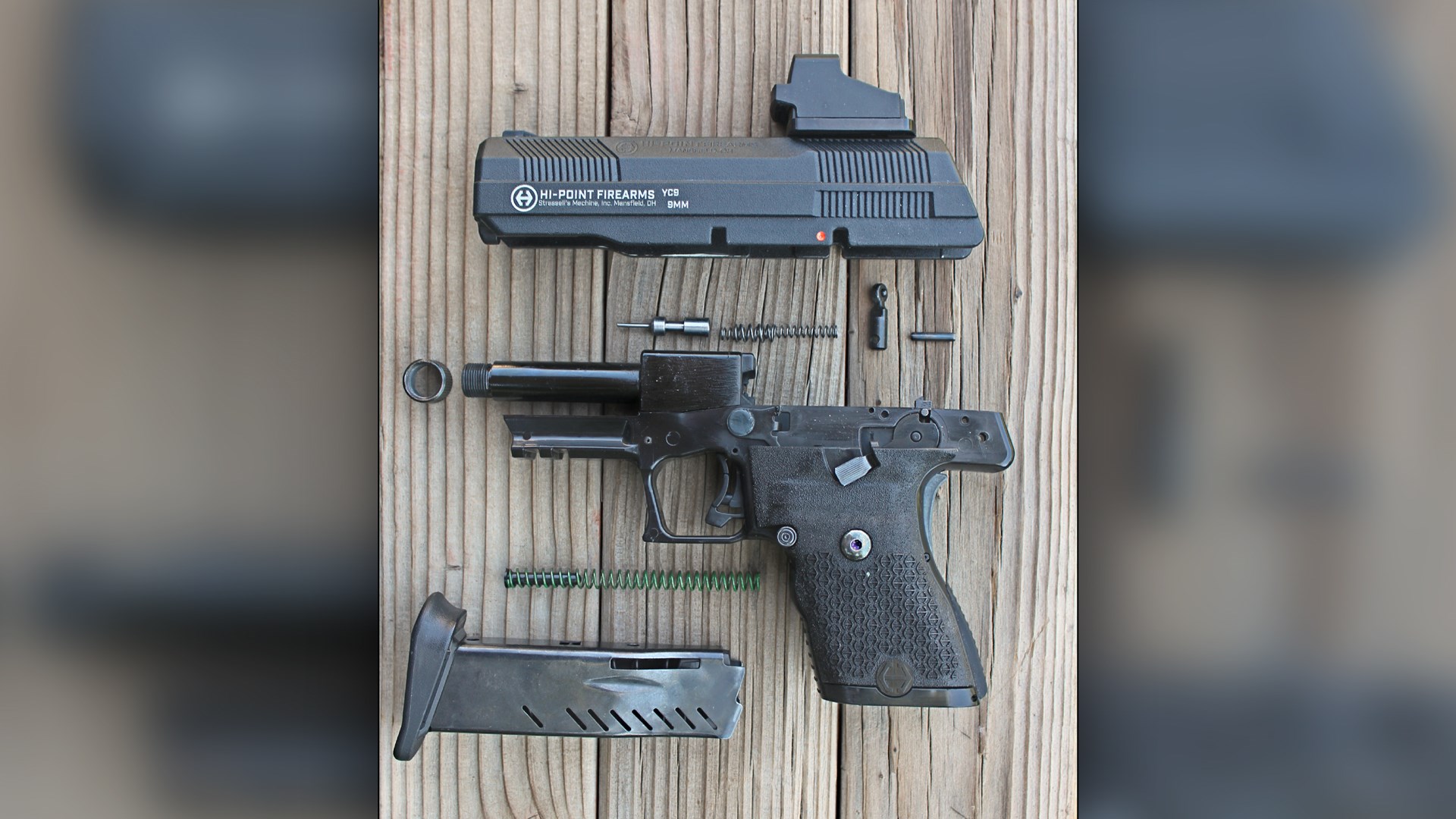 Disassembling the YC9 is a similar process to previous models that begins by tapping out a roll pin from the rear of the polymer frame.
One odd feature of the magazines is that the oversize base plates have two slots that leave the interior of the magazines exposed to dust and moisture. This is not the case with this company's single-stack magazines, which have solid bases. Apparently, our sample is among the first to leave the factory for evaluation. Is this open baseplate design purposeful, or did these magazines ship with a part missing? Time will tell.
At the shooting range, the YC9's slide proved to be fairly smooth but on the heavy side. You must pull it all the way back with authority for the action to cycle properly. The magazine-release button was on the stiff side, too, but it worked properly when fully depressed. The thumb safety locked into the upward 'SAFE' position properly and only required a typical amount of pressure to swing it downward into the 'FIRE' position. But when disengaged, the lever was loose and rattled around a bit.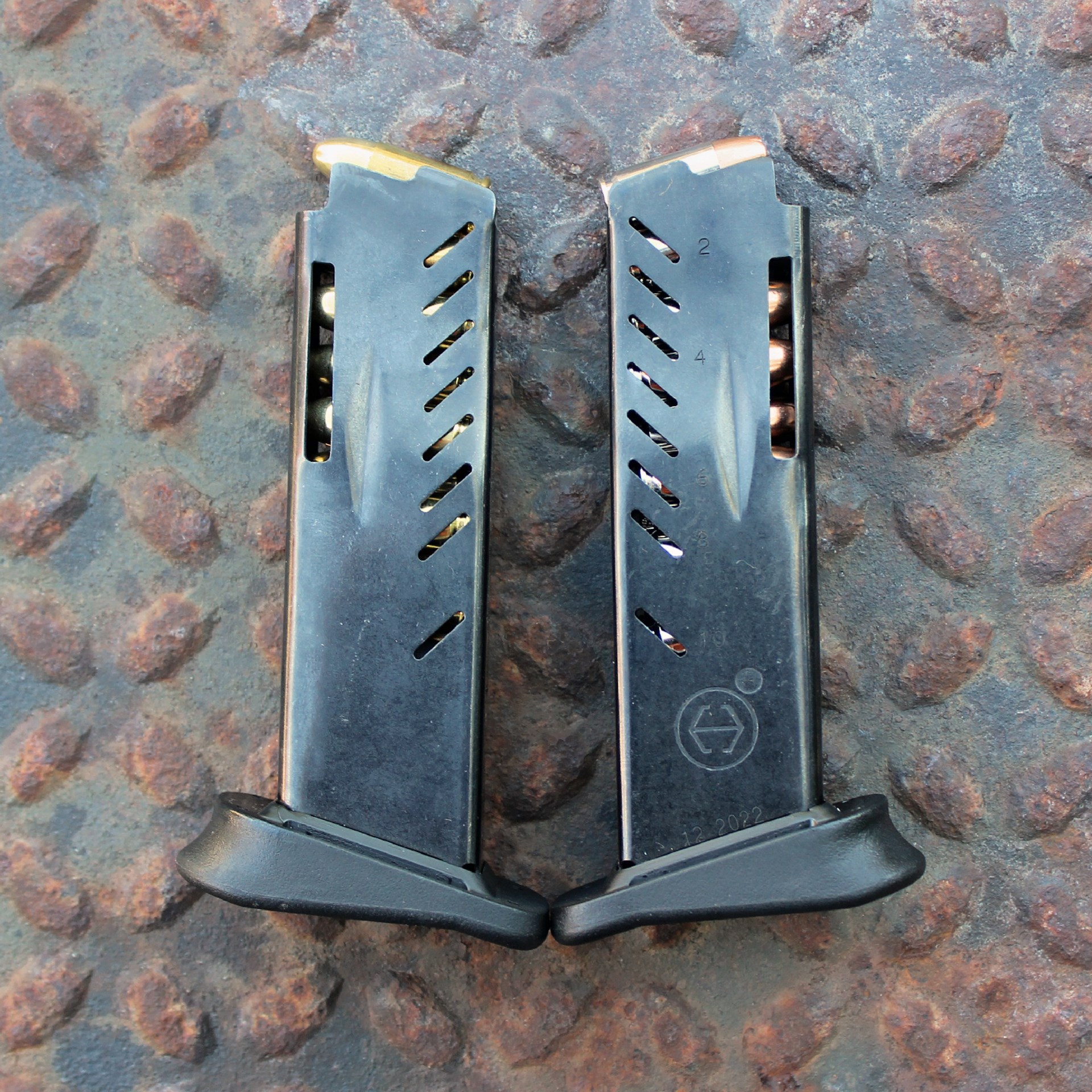 The new YC9 magazines are a single-stack/double-stack configuration that holds 10 rounds of ammunition.
This is a striker-fired pistol with a trigger pull that is unique to the platform. This particular pistol's trigger stroke started with just a hint of takeup followed by firm resistance before breaking with 6 lbs. 9 ozs. of pressure with a mushy, striker-style follow-through. The trigger has a relatively short stroke, but it needs to be fully released in order to reset. Overall, it's a good trigger to work with once you get the feel for its differences.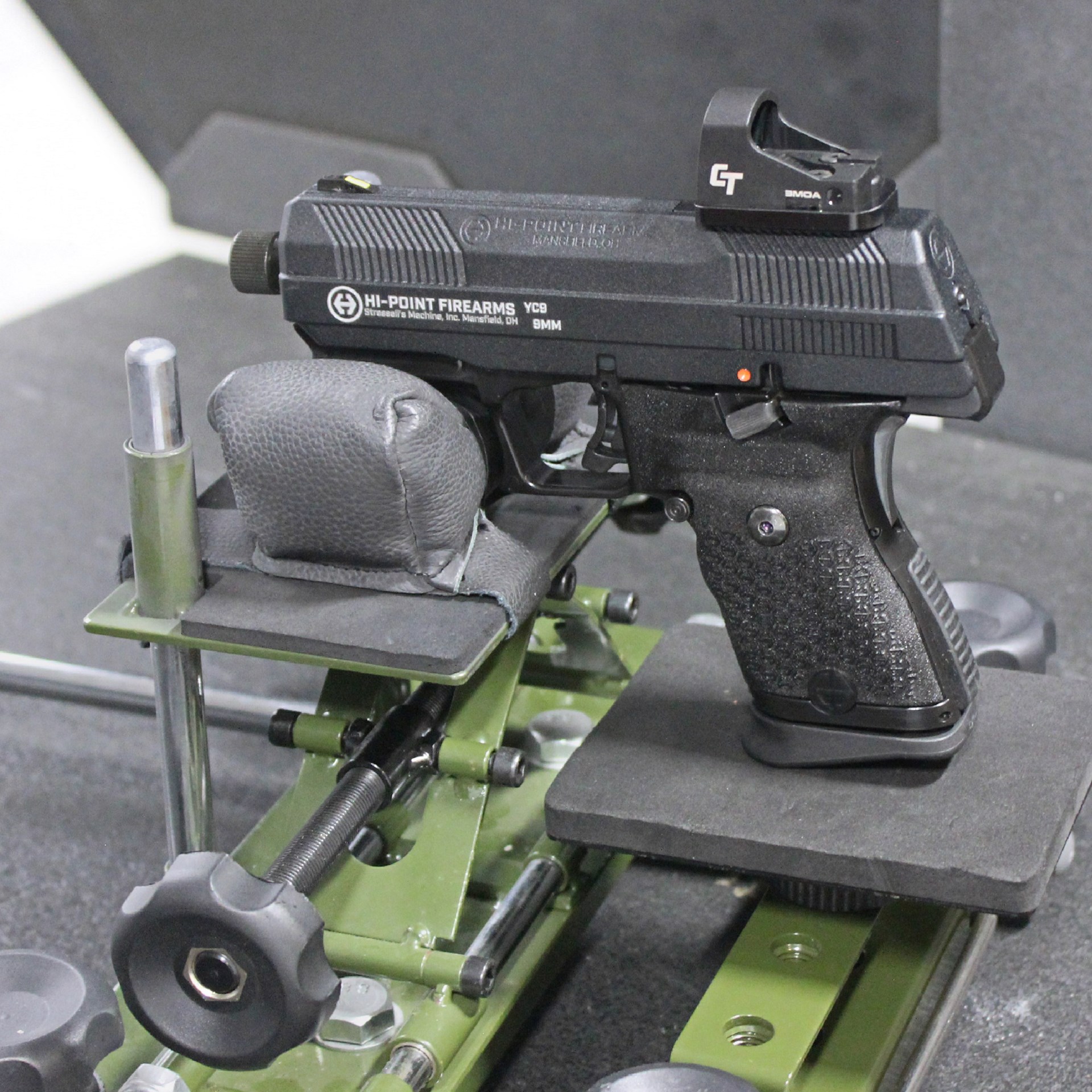 The YC9 proved to be reliable with a variety of practice and defense-grade 9 mm ammunition.
Over the course of testing, I had three failures to feed with a certain hollow-point load of ammunition when chambering the first of 10 rounds from one of the two magazines provided. No malfunctions occurred with any other magazine or ammunition combinations.
I would normally conduct formal benchrest accuracy testing for a 4.12″ barrel pistol at 15 yards. However, past experiences range testing Hi-Point firearms have shown that these guns are not going to print as tightly at some distances as more expensive models from other companies.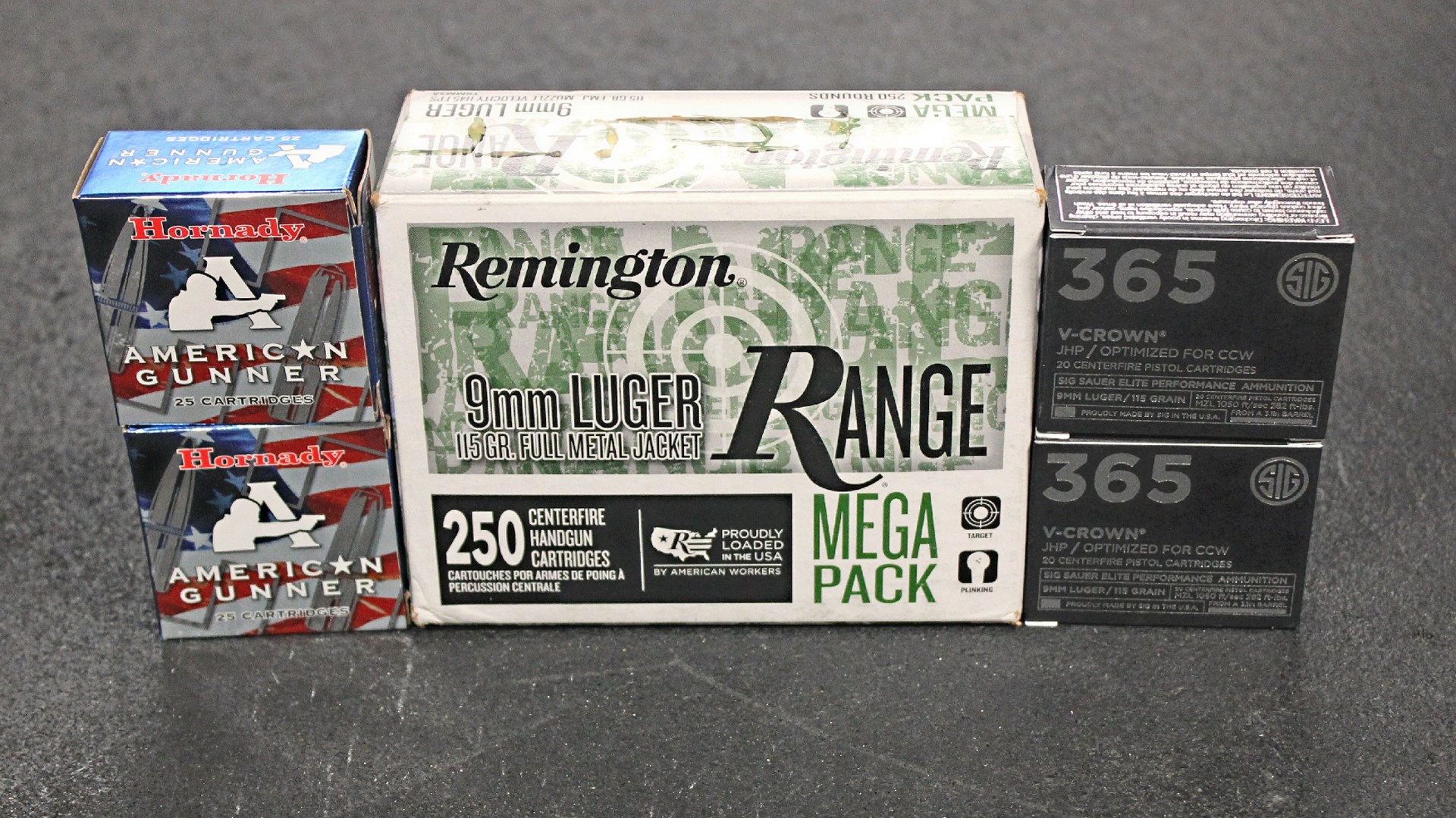 Ammunition used for formal accuracy testing included Hornady, Remington and SIG Sauer offerings.
My general rule of thumb is that a defensive handgun needs to be capable of printing five-shot groups of around 3″ to 3.5″ at a given distance to be practically accurate enough for personal protection. Groups smaller than 3″ are, of course, even better. If the groups open up much more than that, then that particular gun and ammunition combination is not an optimal combination at that distance.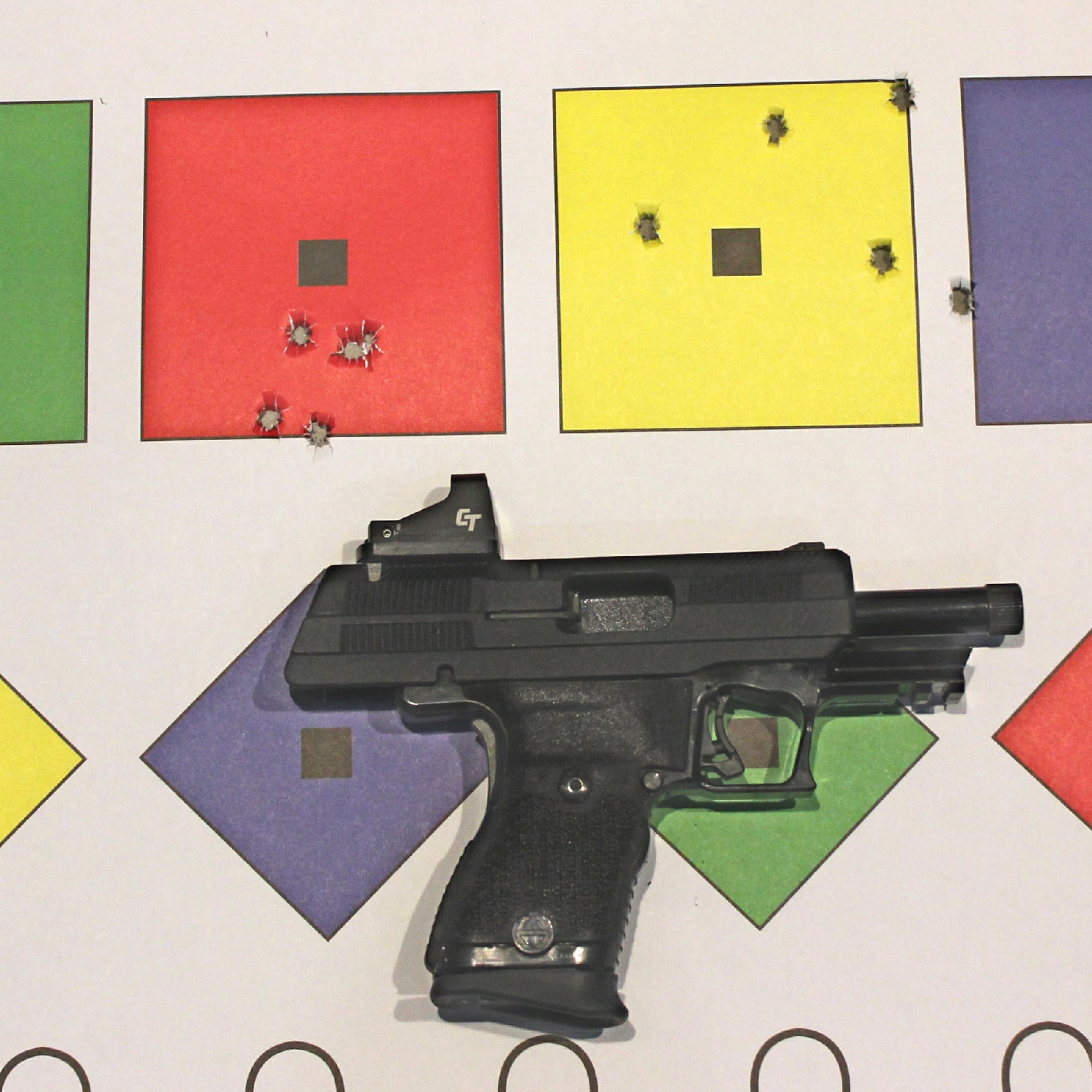 The red square to the left is a 7-yard pattern and the yellow square to the right is a 15-yard pattern shot with the Remington load.
With this in mind, accuracy testing started at 7 yards. With practice-grade loads, the YC9 kept groups to around 2″ in size. When the target was then wheeled out to 15 yards, the groups opened up to around 4.25″ in size. Remember, that's benchrest groups fired using a red-dot optic to aim. My guess is that 10 yards is about the optimal maximum defensive distance for this gun, but we usually test at 7 or 15 yards, so the target was wheeled back to 7 yards for formal testing. Here are the performance results from that distance using ammunition manufactured by Hornady, Remington and SIG Sauer: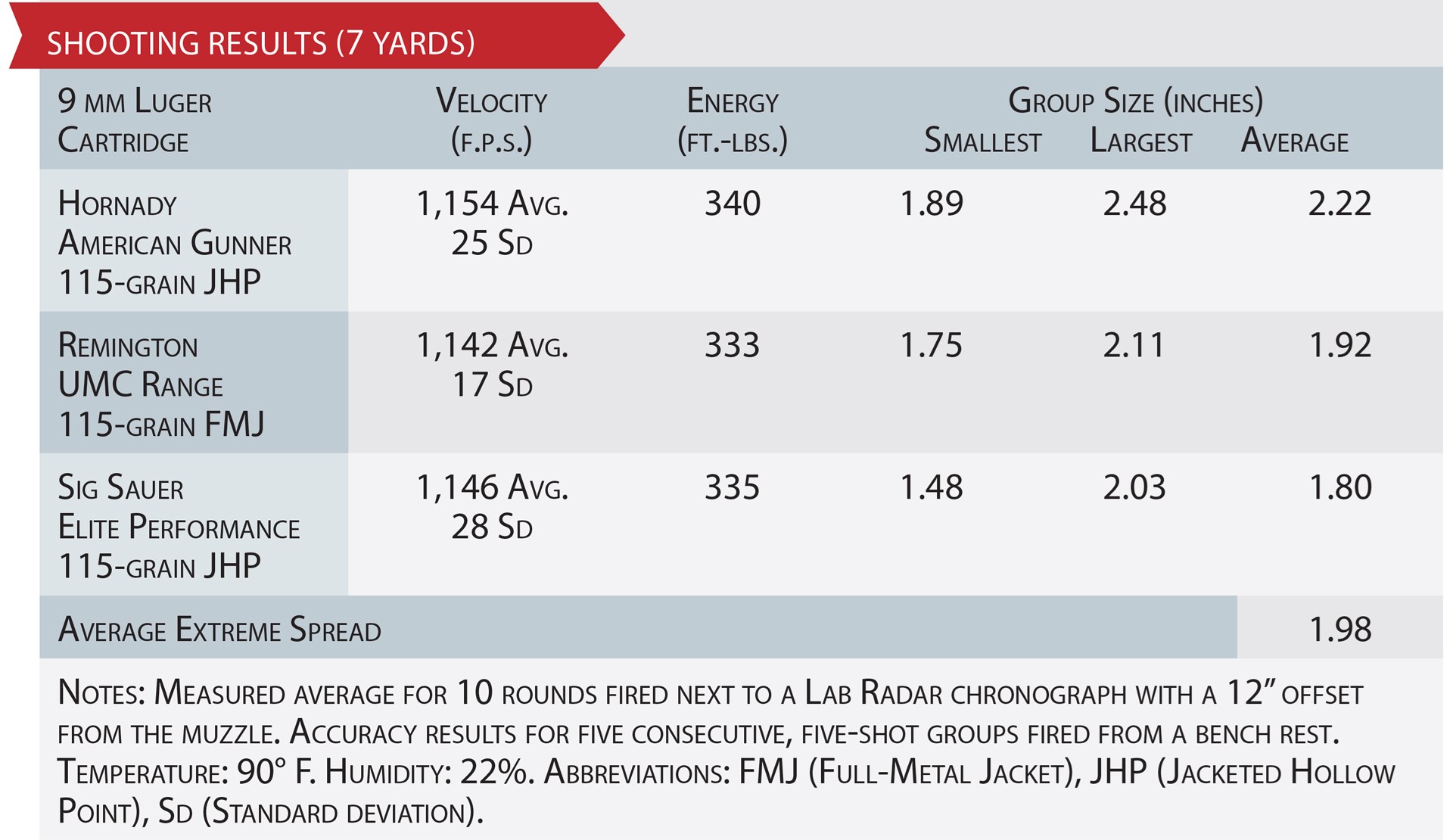 Hi-Point's new series of YC9 compact 9 mm pistols stick close to the company's budget-gun business model while providing a useful and desirable set of features. The fresh styling, optics-ready slide, accessory rail, revised grip ergonomics and increased ammunition capacity are all positive upgrades.
These changes give the YC9 a definite step up from previous models and bring the platform in line with options commonly offered by other manufacturers. The best news is that the company didn't throw the baby out with the bath water. They managed to implement these changes while maintaining the gun's reliability and keeping prices affordable. Is the new YC9 enough to convert detractors to the cause? Probably not. But for fans of Hi-Point products, and those on a tight budget, this series of pistols is a welcome addition to the catalog.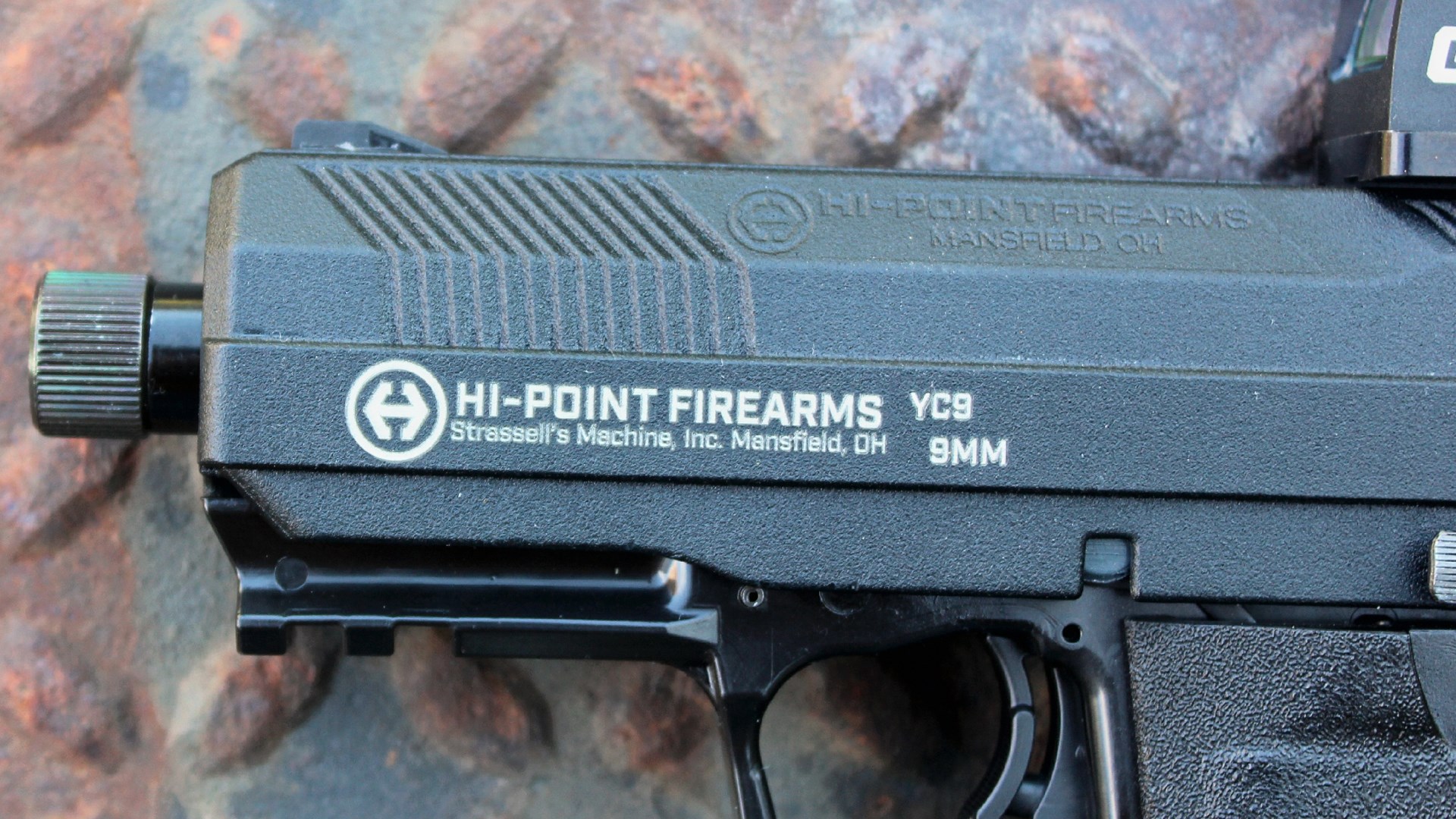 Hi-Point Firearms YC9 RDCT Specifications
Manufacturer: Hi-Point Firearms
Action Type: blowback-operated, semi-automatic, centerfire pistol
Chambering: 9 mm Luger
Frame: high-impact, black polymer
Slide: die-cast alloy, black powdercoat finish
Barrel: 4.12" steel; six-groove 1:10"-LH twist
Magazine: 10-round detachable box
Sights: adjustable square-notch rear, Glock-pattern yellow-dot front
Trigger: 6-lb., 9-oz. pull
Length: 7.6"
Height: 6.25"
Width: 1.4" (grip)
Weight: 35.7 ozs. (unloaded with optic)
Accessories: owner's manual, ghost-ring rear sight, lock
MSRP: $325 with factory-installed optic
Article by B. GIL HORMAN
Don't forget to like us on Facebook and follow us on Twitter.