Review: Mossberg 590S Shockwave
Mossberg's aptly named 590 Shockwave caused more than just a blip on the shooting market's seismograph when it launched in 2017. Non-NFA firearms, meaning scatter guns with barrels shorter than 16″, have been legally plausible for some time. A few smaller companies had already released their own factory produced versions. But the Shockwave exhibited that just-right balance of features and brand recognition to drive sales and inspire several similarly sized models from other manufacturers.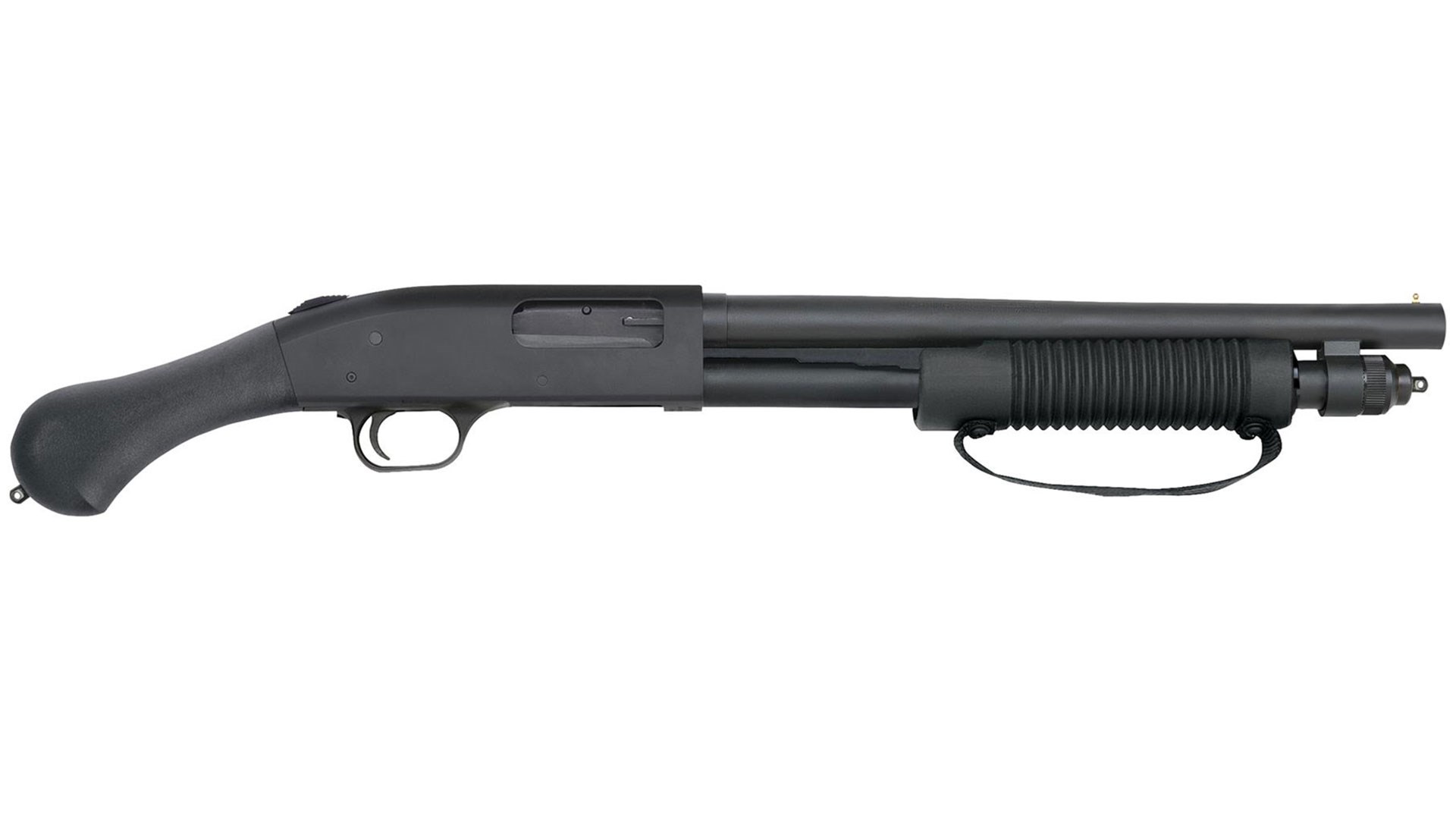 The first 590 Shockwave 12-ga. was launched in 2017.
Reducing the barrel and magazine tube lengths of a pump-action 12-ga., along with replacing the shoulder stock with a pistol grip at the factory,  makes these guns quite handy but the modifications come with some notable trade-offs. They include a reduced ammunition capacity and more challenging felt-recoil management. This is especially true for those willing brave the fury of firing 3″ cartridges from this platform.
Mossberg soon addressed felt recoil by offering 590 Shockwave models chambered for 20-ga. shot shells and slim .410 bore cartridges. In working with these models, I've found that they are definitely more manageable than the 12-ga. version with a trade off in performance. But defense-grade 20-ga. and .410 bore loads are less diverse and sometimes harder to find making these models less flexible than their 12-ga. compatriot. Like the 12-ga. version, these two models accept shells up to 3″ in length which means the on-board round counts are the same as the 12-ga. version.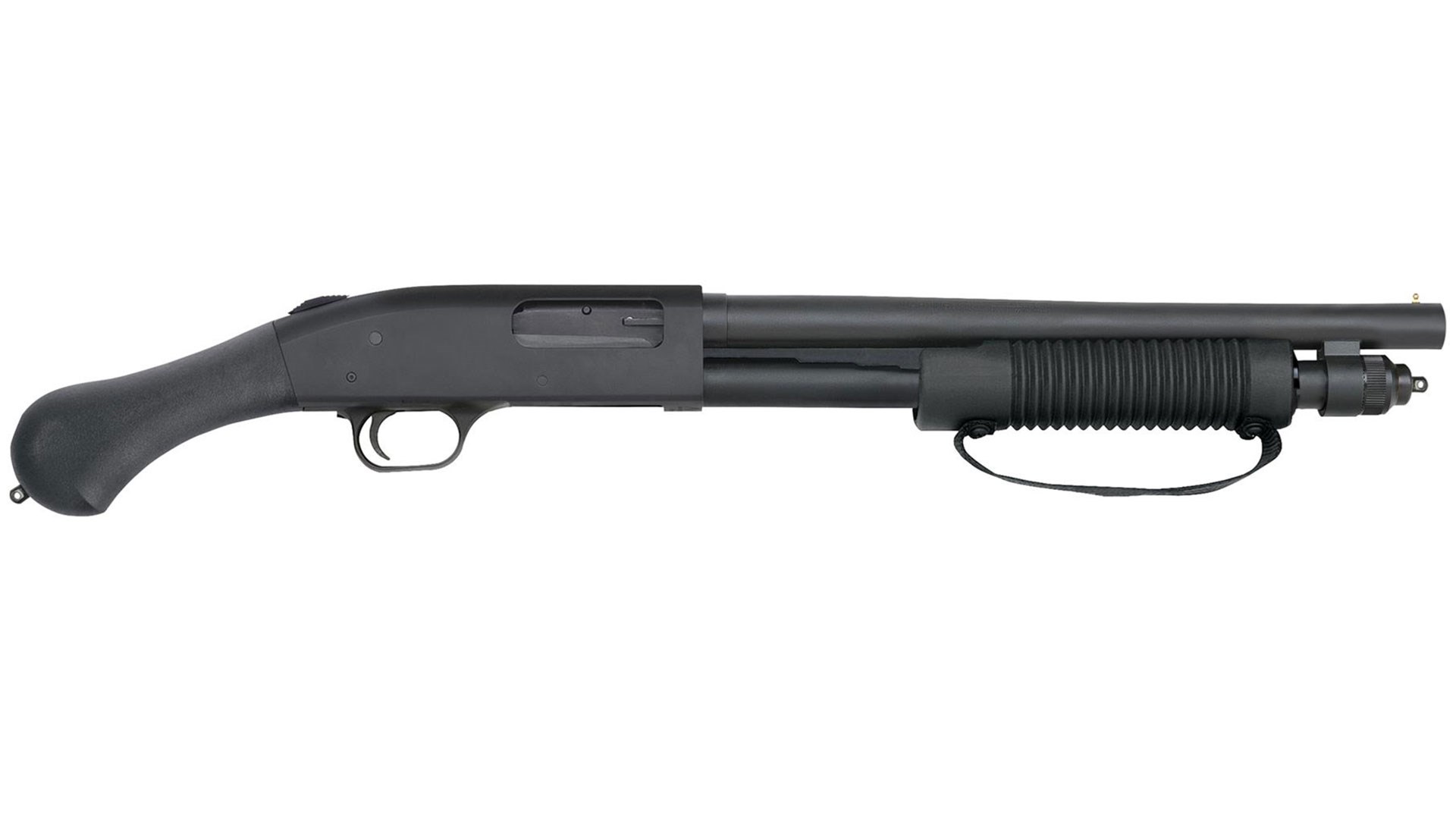 The 590 Shockwave chambered in .410 bore.
In 2018 Mossberg introduced a removable box magazine fed version of the Shockwave as part of the 590M line up. This version of the Shockwave accepts ruggedly built, double-stack magazines that hold 5-, 10-, 15- or 20-rounds. The system is reliable and those who like it, really like it. But the magazines are a bit weighty, fairly bulky and relatively expensive with prices ranging from $80 to $113. These boxy magazines are limited to 2¾" shells only and they infringe on the slim, sleek profile of the Shockwave.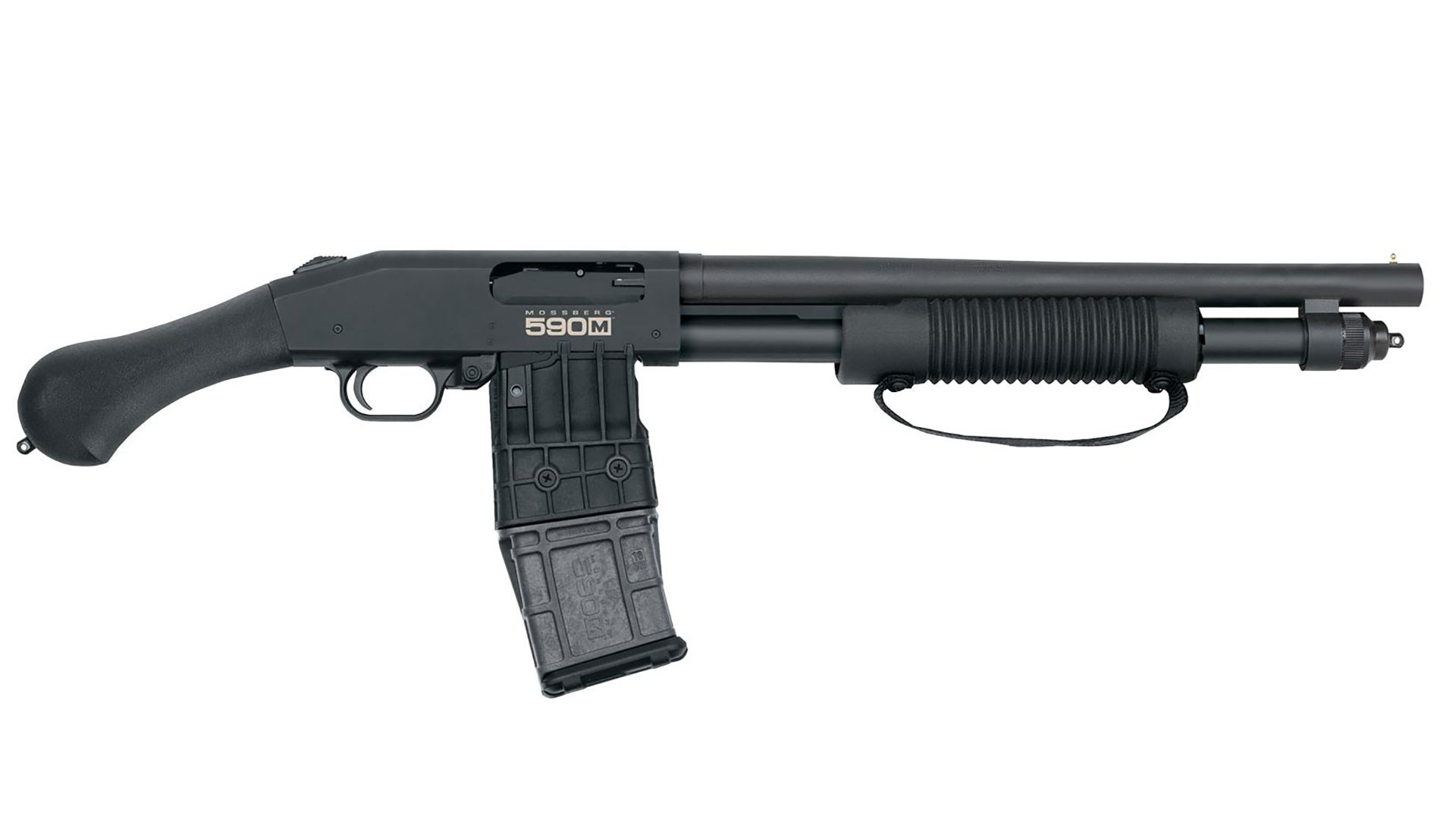 The 590M 12-ga. fitted with a 10-round removable box magazines.
That brings us back to one more ammunition option for the 12-ga. models, the 1¾" long mini 12-ga. shells. They can be reliably fired and ejected from pump actions with 2¾" or 3″ chambers and their reduced overall length allows additional rounds to fit into the magazine. The Shockwave's tubular magazine can hold 4+1 rounds of 3″ shells, 5+1 rounds of 2¾" shells or 8+1 of rounds 1¾" shells. They have slightly lighter payloads and reduced velocity powder charges resulting in noticeably reduced felt recoil.

The new 590S 20" barrel tactical shotgun (Top) and 590S Shockwave.
The range test of the original 590 Shockwave included Aguila Ammunition's Mini Shell buckshot load, which was more manageable than bigger shells and produced solid pattern results at close range. But the shells don't feed reliably in standard pump actions because abbreviated hulls tend to rattle around in the shell elevator port. This means they're not always in proper alignment with the chamber as the action is cycled which may cause the shell to jam during its transition up into the chamber.
OPSol Texas offers a fix for this feeding issue for Mossberg 500 and 590 series models called the Mini-Clip. It's a wedge-shaped rubber block that is pressed into the rear of the elevator port to act as a buffer. I've tested it and it works nicely, but only with mini shells. The wedge has to be removed from the receiver in order to fire 2¾" or 3″ shells. It's workable, but not terribly convenient for switching shell lengths on the fly. However, back in 2017, mini shells were not a mainstream option. There were only a few loads available at that time so there was not all that much urgency to resolve the feeding issues.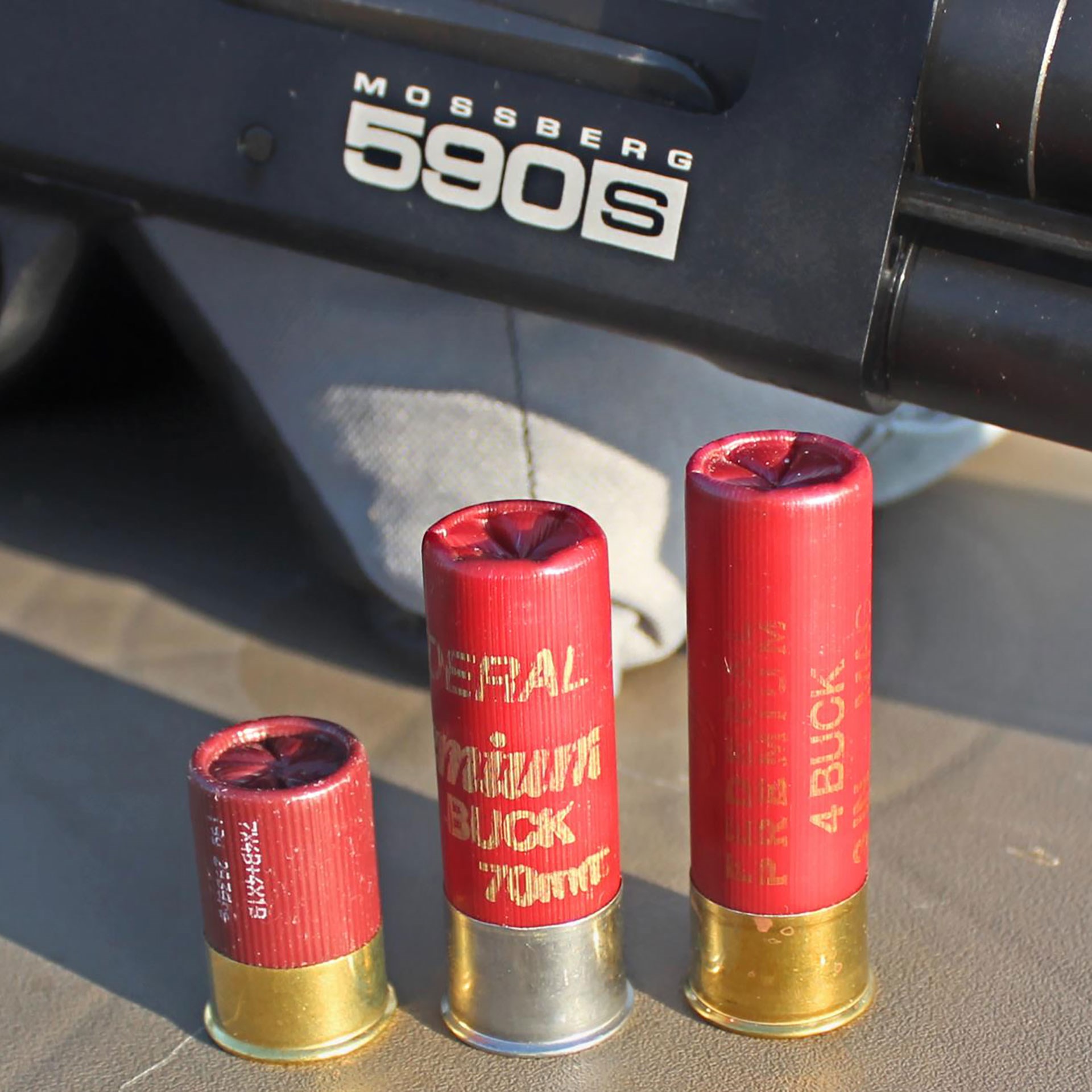 A 1 ¾" 12-ga. mini shell (Left) shown next to a 2 ¾" shell (Center) and a 3" shell.
But the status of mini 12-ga. shot shells changed significantly in 2019. One of the top shell producers in the United States, Federal Premium Ammunition, launched its Shorty series of 1¾" long 12-ga. shells, including birdshot, buckshot and slug loads. That same year, the Sporting Arms and Ammunition Manufacturers' Institute (SAAMI) officially standardized the mini shell. This opened the door for both ammunition manufacturers and gun makers to add this cartridge to their catalog. Things were just ramping up for mini shells in 2020 when the Covid-19 pandemic struck. A variety of new shooting sports products were put on hold while manufacturers wrestled with business closures, labor shortages and record demand all at the same time.
Despite these delays, Mossberg has just launched the new 590S series, including a Shockwave configuration. The 'S' is for 'Short', which means the action has been re-designed to accommodate 1¾" long mini shells along with 2¾" and 3″ shells. If you look at the 12-ga. Shockwave 590 and 590S models side-by-side, the external controls and features are identical until you take a closer look at the elevator port. At the rear of the port is a built-in shock absorbing rubber bumper that does not need to be removed or adjusted. The shell elevator is extended and sports a modified shell guide. Internal changes include a re-engineered trigger group and a bolt slide with a revised cam surface.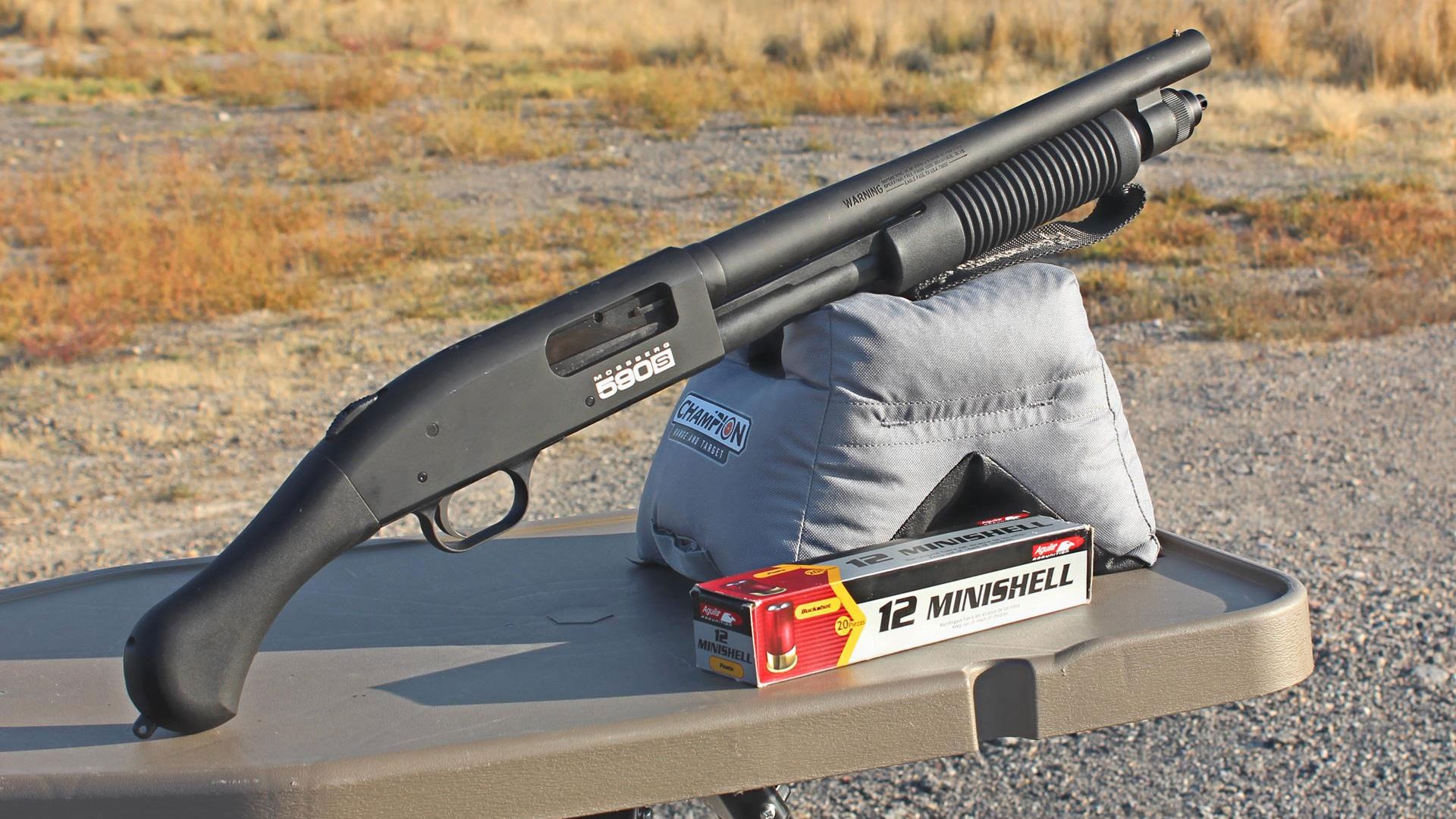 The 590S Shockwave ran reliably throughout the testing process.
These modifications to the 590S Shockwave not only allow for the use of three different shell lengths, they can be loaded into the magazine in any order or combination you prefer. There's no fuss, no muss, and no accessories to adjust. Just press in the shells you want and go to work. There's no change to the external operations of the gun.
I had the opportunity to visit Gunsite Academy a few months ago with other members of the media to test drive a few new Mossberg models. We ran cases of ammunition through the 590S in its various configurations. It ran like a champion at Gunsite and the action re-design continued to operate reliably with the two guns that were used for addtional testing after the event.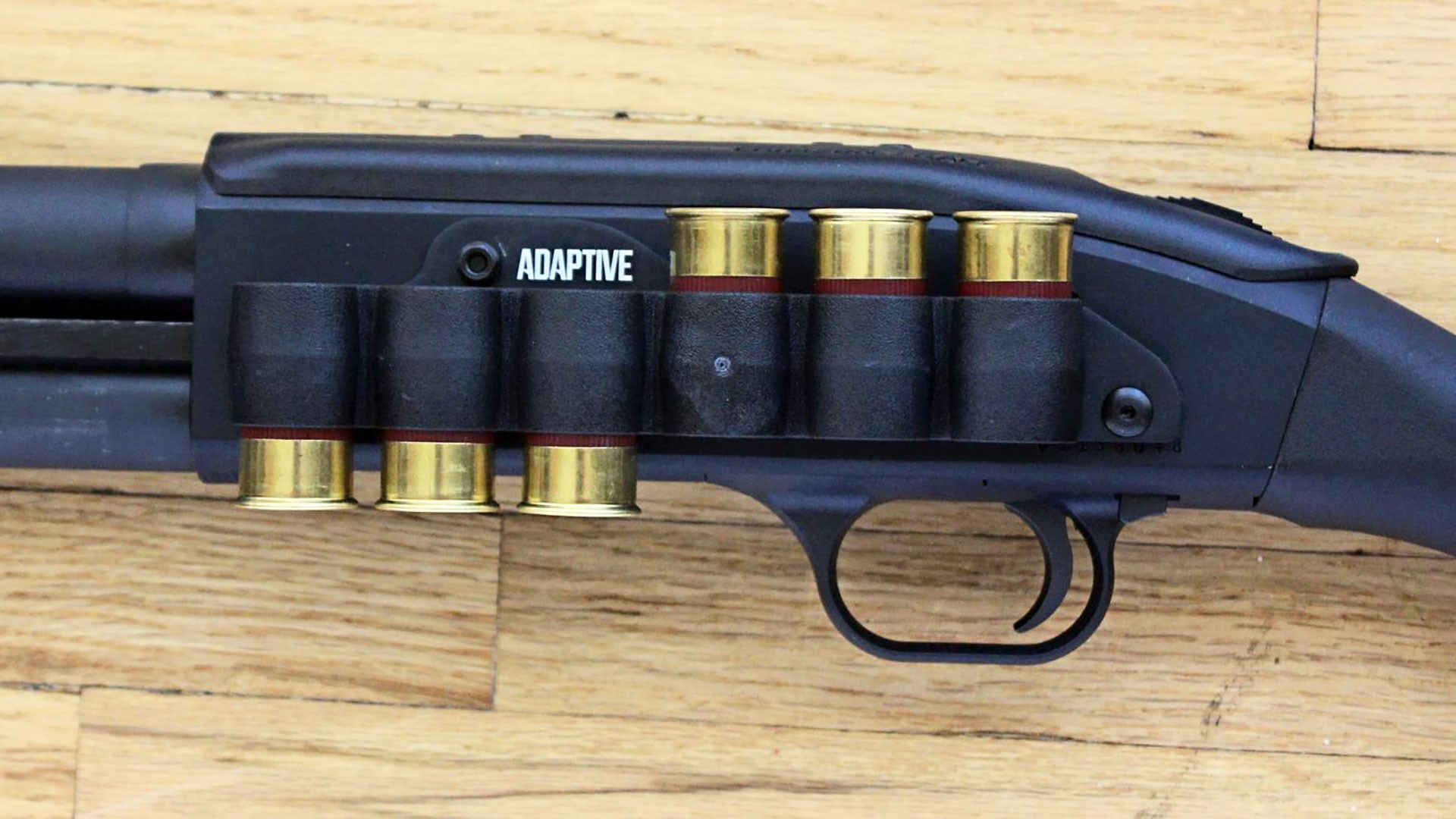 Adaptive Tactical's 6-round receiver mounted shell carrier.
I looked through a variety of elastic and polymer receiver-mounted shell carriers in search of an off-the-rack, ready-to-use product which is a good fit for this gun and the three shell lengths it can fire. I went with Adaptive Tactical's receiver-mounted polymer carrier (AT-06000-M) which holds up to 6-rounds of ammunition. The 1″ tall ammunition rings fully engage the polymer hulls of the mini shells without interrupting the sleek, compact profile of the Shockwave's receiver. The bolt assembly which ships with the Adaptive Tactical carrier is compatible with the Crimson Trace LS-250G Lasersaddle sighting system, like the green laser model shown here.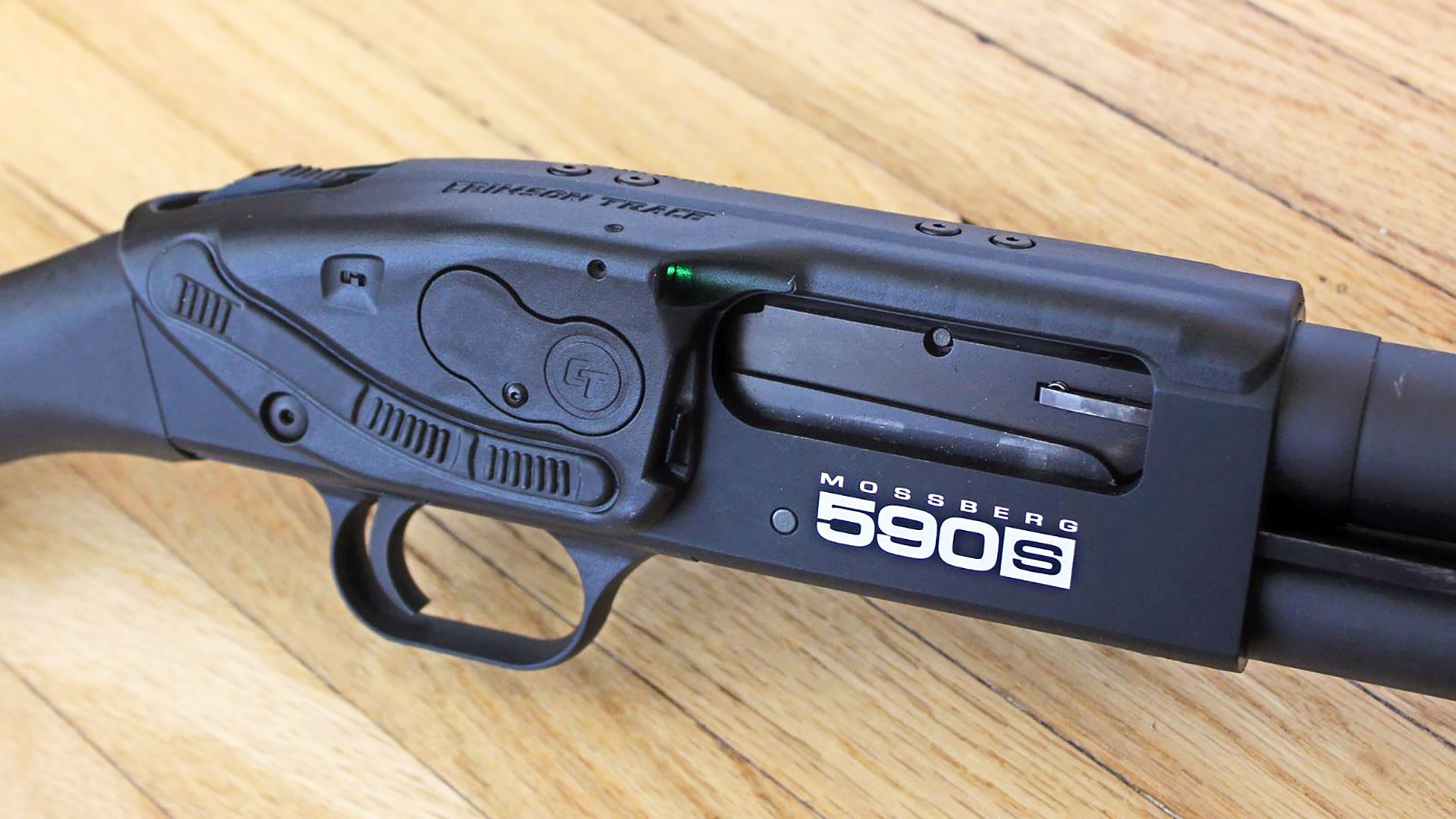 The Crimson Trace LS-250G Lasersaddle sight mounts to the right side of the receiver to leave the left side open for a shell carrier.
With its 14″ barrel, fixed Cylinder Bore choke and short grip, the 12-ga. 590S Shockwave is definitely intended for close-range endeavors. Caldwell Orange Peel 8″ targets, applied to large pieces of white butcher paper, were posted at a distance of 7-yards. The changes in pattern size and felt recoil are hard to miss with this particular platform.
Hornady's 2 ¾" Varmint Express 24-pellet #4 buckshot load (#86243) was the hottest round of the test. Launching at a listed velocity of 1350-fps., the recoil can best be described as punishing. But it also produced the tightest pattern of 1.75″.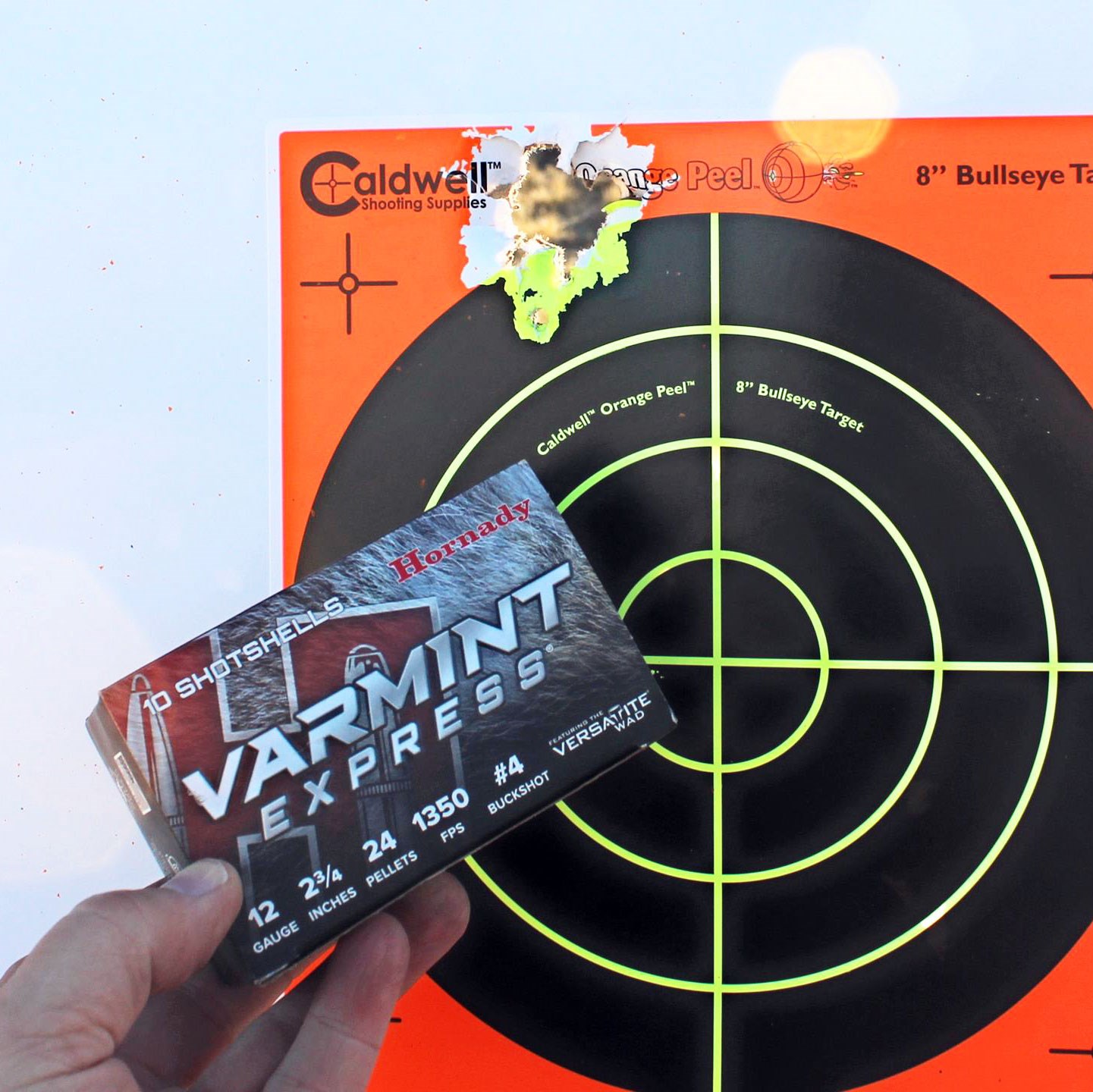 Federal Premium's 2 ¾" Maximum 9-Pellet 00 Buckshot (P154 00), loaded to 1325-fps., printed a 5.25″ pattern at this distance. It was also a handful in the recoil department. A reduced recoil load, like Federal's Power-Shok 00 Buckshot loaded down to 1140-fps., would be a better fit.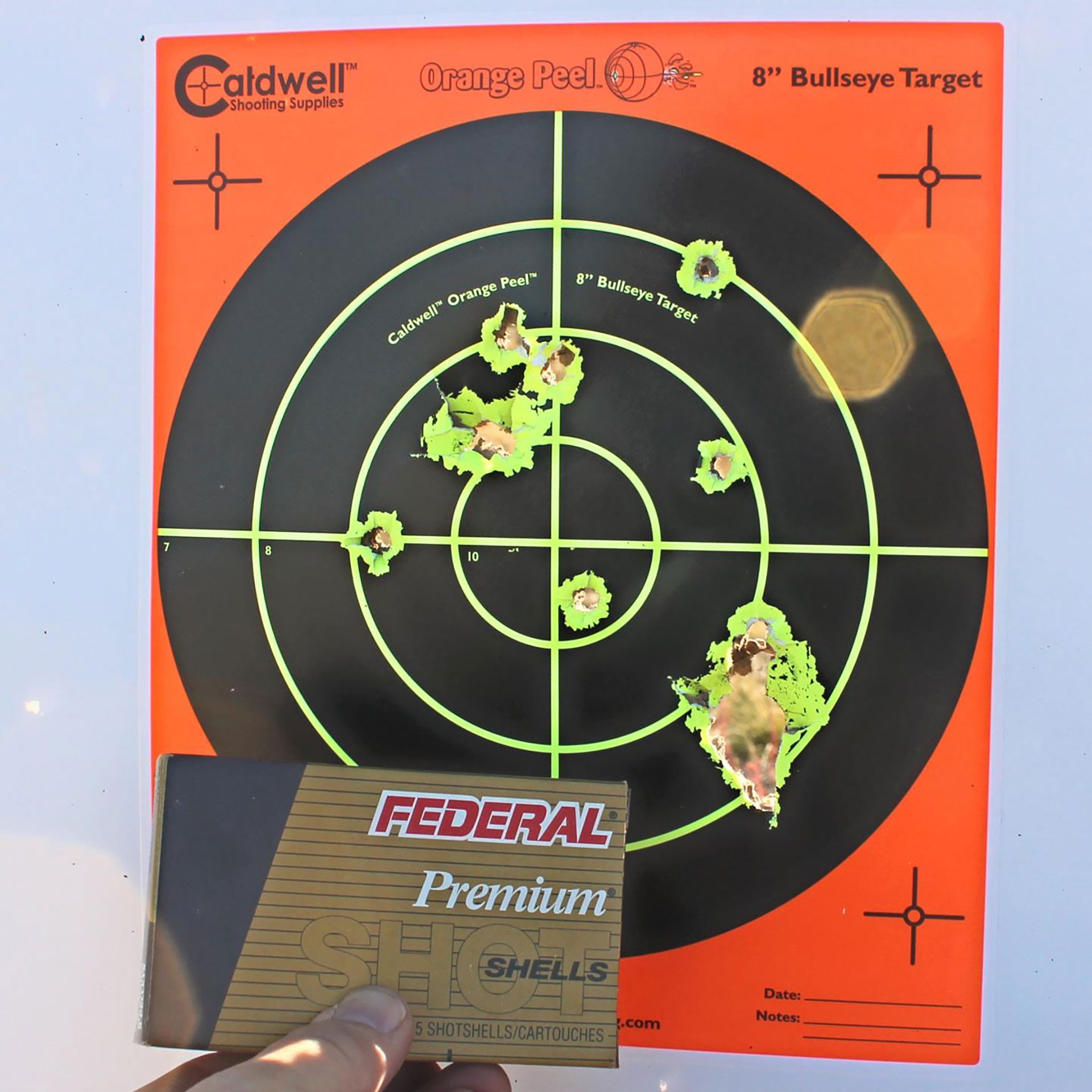 Aguila's 1 ¾" Mini Shell Buckshot round has a mixed 1-oz. payload consisting of four pellets of #1 lead buckshot and seven pellets of #4 buckshot with a listed velocity of 1200-fps. It yielded a 4.5″ pattern with felt recoil that's on par with a 20-ga. sporting birdshot load, which is to say, moderate when compared to the other loads tested.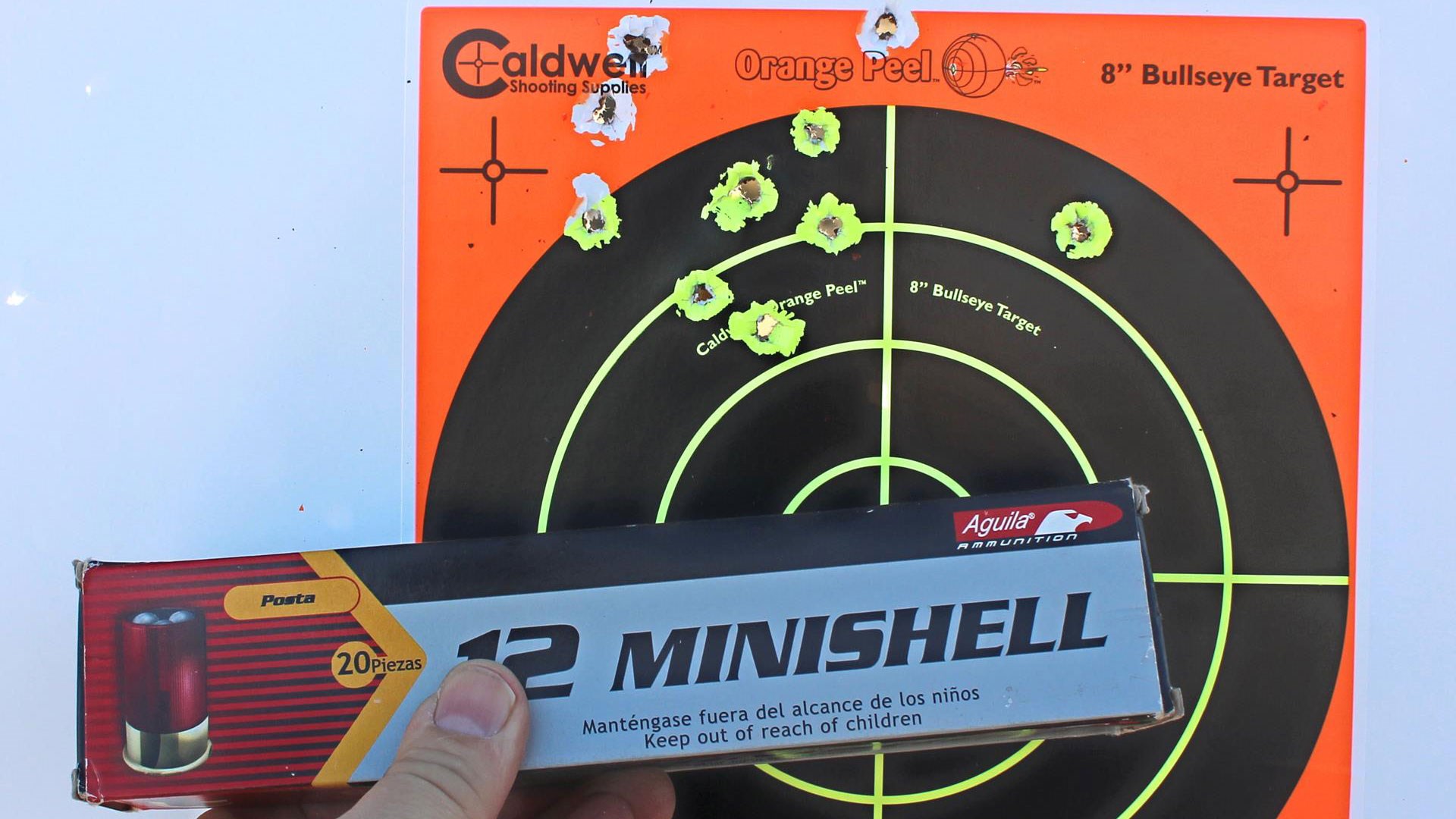 My initial review of the first 590 Shockwave led to the conclusion that it's both a nifty range toy for 12-ga. enthusiasts and a potent self defense option for those who want one of the most compact pump gun configurations available. The new 590S version offers the same benefits while being the most flexible 12-ga. version of this platform yet. It reliably cycles mini shells for reduced levels of felt recoil along with a notable increase in ammunition capacity. It does all this without having to sacrifice the performance potential of 2 ¾" and 3″ shells should you choose to use them.
If the 14″ barrel 590S Shockwave configuration is not quite what you have in mind, Mossberg offers three more versions as of this writing. They include a 18.5″ barrel Shockwave (51600) and two shoulder stocked models with the customer's choice of an 18.5″ barrel and brass bead sight (51603) or a 20″ barrel version with ghost ring sights (59602).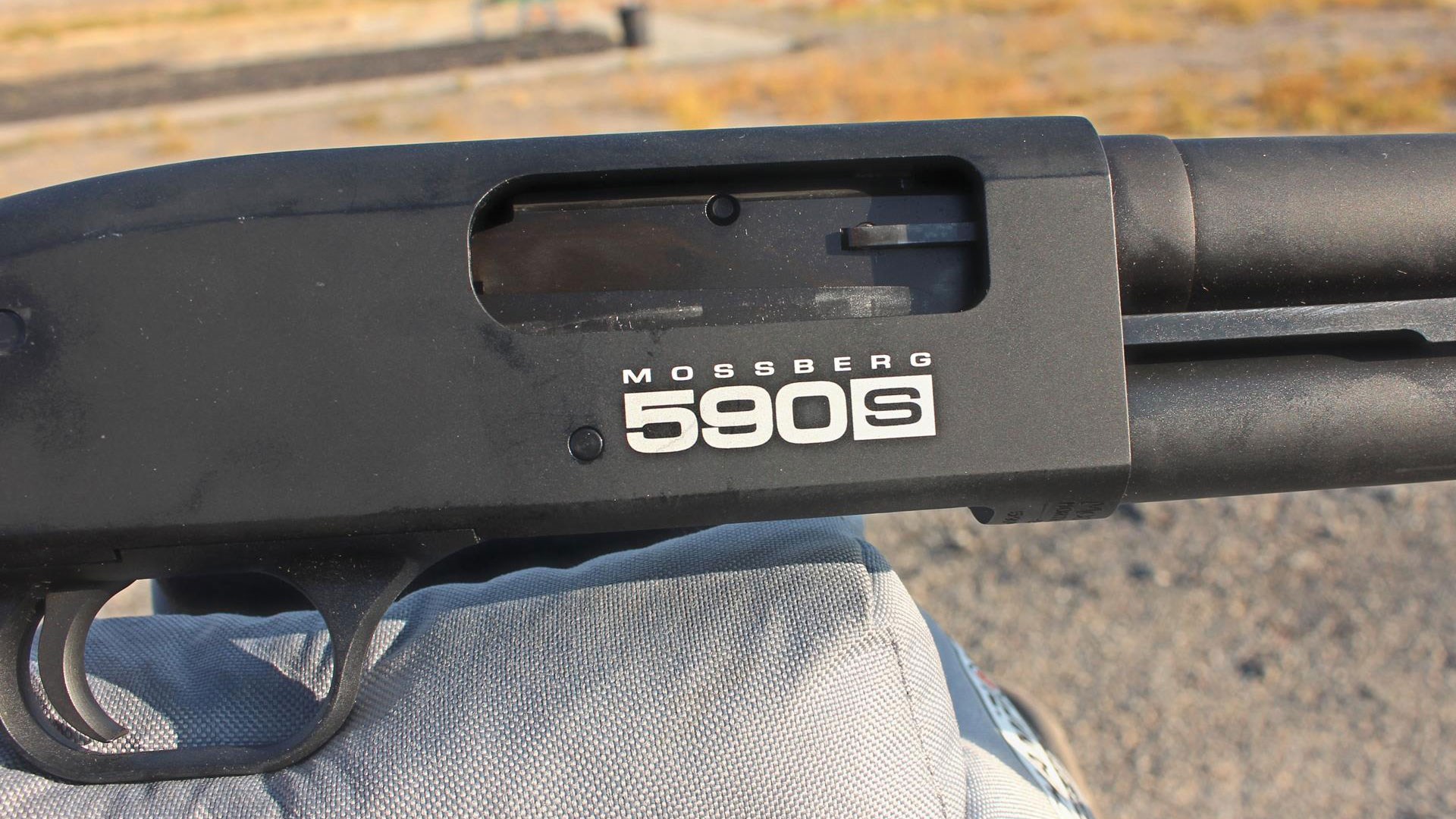 Specifications
Shotgun Manufacturer: O.F. Mossberg & Sons
Model: 590S Shockwave (51601)
Action: Pump Action
Caliber: 12-ga. 3", 2 ¾" and 1 ¾" Shells
Capacity: 3″ Shells = 4+1, 2 ¾" Shells = 5+1, 1 ¾" Shells 8+1
Barrel: 14″ Heavy-Walled Smooth Bore, Matte Blue Steel
Sight: Brass Bead Front
Choke: Fixed Cylinder Bore (0.729")
Magazine: Tubular, Blued Steel with Removable End Cap
Receiver: Hard Anodized Aluminum, Drilled & Tapped for Scope Mounts
Trigger Guard: Black Polymer
Trigger: Smooth Faced Steel Bow
Trigger Pull: 6 lbs. 15 ozs.
Forend: Shockwave Technologies Raptor Strap Kit, Ribbed Black Polymer
Grip: Shockwave Technologies Raptor Bird's Head, Smooth Black Polymer
Sling Swivel Mounts: Yes
Overall Length: 26.32″
Weight: 5 lbs. 5 ozs. Unloaded
Accessories: Lock, Owner's Manual
MSRP: $605
Article by B. GIL HORMAN
Don't forget to like us on Facebook and follow us on Twitter.