Review: Rock Island Armory BBR 3.10 Pistol
Just about every type of handgun ever invented has, at some time or another, been compressed for more comfortable concealed carry. The 1911 semi-automatic handgun chambered in the venerable .45 ACP is no exception. It's been nipped, tucked and weight reduced in various ways.
In 2004, the now defunct Para Ordnance, also known as Para USA, launched a series of a squat-bodied 1911 pattern subcompacts known as the Warthog and P10-45. The pistols were based on the company's fullsize frames that accepted double stack magazines. The slide assemblies were trimmed down to house a 3″ barrel and the frame was shortened to a two-finger grip length that accommodated a 10+1 ammunition capacity.
Although it was a bit thick in the grip, it had that oh-so-desirable 1911 trigger pull and held a good deal more ammunition than competing .45 ACP models, including the 5+1 shot AMT Backup pocket pistol or the 6+1 Glock G36 Slimline. But Para's subcompact offerings went out of production around 2015 when the company was absorbed by the Freedom Group under the Remington brand umbrella.
This year Rock Island Armory, a division of Armscor International, Inc., has taken up where the Warthog left off with the release of the new BBR 3.10 subcompact 1911, which is chambered in .45 ACP and manufactured in the Philippines. Although the BBR emulates the wider double-stack grip frame of the Warthog, it's not a clone. The Rock Island team has added its own touches and brought the price down from Para's $1,000+ to a more palatable suggested retail price of $699.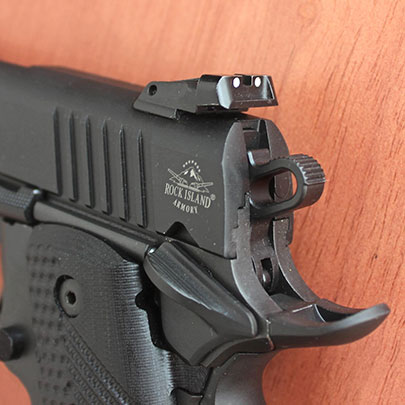 The BBR 3.10 is a single-action, .45 ACP semi-automatic pistol based on John Browning's 1911 design with some notable updates common to modern interpretations of this classic pistol. The 3.10 in its name is a nod to the short 3.10″ long linked barrel which has three round gas ports along the top to help mitigate felt recoil. The business end of the barrel is fitted to the slide without a removable bushing.
The slide and frame are both made from carbon steel with a matte-black, parkerized finish. The aluminum and steel appointments sport matte-black finishes as well. The round top slide has three ports to match those in the barrel, along with a set of canted cocking serrations under the rear sight. The metallic sight system is dovetailed into the slide with a serrated front sight and a fully adjustable white-dot rear sight.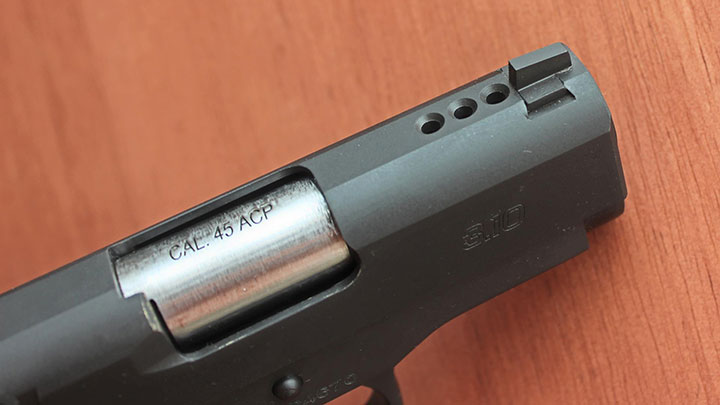 The pistol's controls, including the slide stop, external thumb safety and round-button magazine release are all located on the left side of the frame in typical 1911 fashion. The skeletonized hammer is couched in an extended beavertail safety with a short memory bump. The frame's dust cover is rounded as is the traditional trigger guard. The skeletonized aluminum trigger features a grooved face and an adjustable overtravel screw. The single-action trigger pull felt just like it should, exhibiting a short, clean break with 5-lbs. 9-oz. of trigger pull.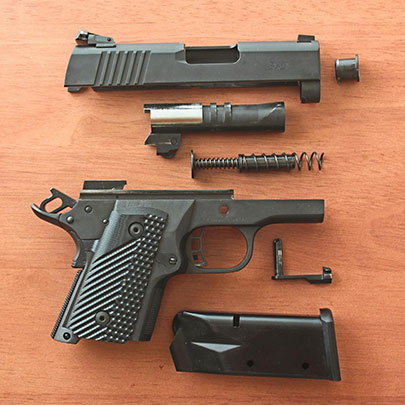 The grip frame is short and stout with a grip width of 1.48″ and a height of 1.80″ along the front grip strap from the bottom edge of the trigger guard to the flush-fit magazine base. The front of the grip frame is checkered, as is the straight mainspring housing. The black G10 grip panels are textured with dimples and canted grooves. The grip panels provide a reliable level of purchase without being abrasive to the skin of the shooting hand. The BBR ships with two blued-steel, 10-round magazines fitted with flat polymer baseplates.
I was eager to get the BBR to the range to see how it handled. In regards to felt recoil and muzzle rise, it's not unlike a big-bore, snubnose revolver. It's a wrist-bender with recoil that's stout but not painful. The wide grip works to spread the impact across the shooting hand, and the gun produces more of a shove than a slap to the shooting hand. But the two-finger grip allows the gun to twist up and back more than a three-finger grip, so the operator will have to work harder to manage muzzle flip.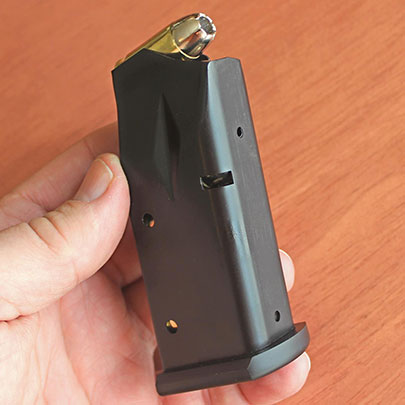 The barrel porting helps to reduce muzzle rise, but it also contributes to a louder report. I enjoy shooting big-bore snub guns, so I liked the BBR as well. It's an acquired taste that's better suited to more seasoned shooters. This pistol would not be my first choice for someone who is new to shooting 1911s or who is looking for their first concealed carry handgun.
The BBR proved to be utterly reliable with practice grade and premium hollow-point ammunition. There were no mechanical- or control-related problems either. Small parts can shake loose on any factory-fresh pistol during its first trip to the range, and 1911 grip screws are among the most likely culprits to jump out and get lost during an initial run. Although the BBR's grip screws did not fall out, they did need some tightening along the way.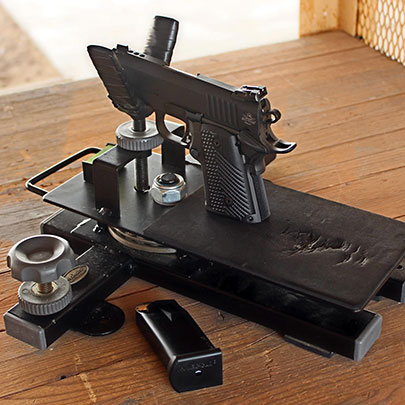 But what I was most interested to find out about this particular pistol was how the barrel configuration would affect bullet velocity. A typical Government Model 1911 has a 5″ barrel that provides roughly 4″ of un-ported rifled bore to stabilize the bullet and build bullet velocity. The BBR's barrel is 3.1″ long, which means it provides about 2.2″ of rifled bore to stabilize the bullet and only about half of the distance for the pressure to build.
The three ports along the top of the short barrel work to reduce muzzle rise by redirecting some of the cartridge's high-pressure gas upwards instead of outwards. But as the bullet passes these ports, the amount of pressure pushing it forward drops, which further reduces bullet velocity. It's not a question of whether or not there's going to be a drop in bullet velocity with a subcompact like this one, but how much? Here are the results with the ammunition manufacturer's listed bullet velocity and muzzle energy for comparison: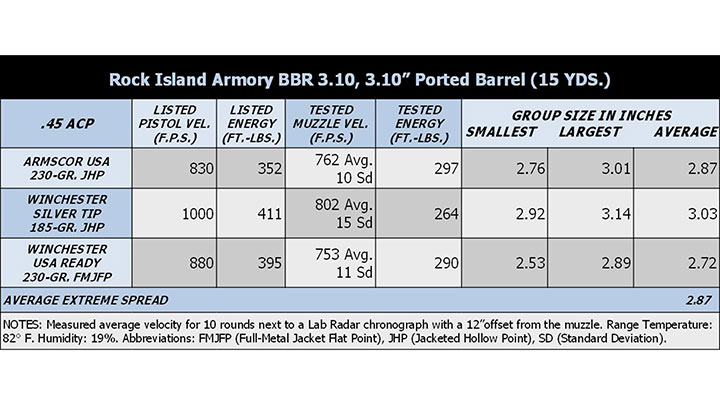 Listed ammunition performance data tends to be on the optimistic side, since it's usually produced in laboratory conditions. But .45 ACP performance is well-established, and the numbers listed for the Armscor USA and Winchester loads tested looked to be right on the money. Overall, the BBR saw bullet velocities drop between 68-fps. to 198-fps. with a corresponding muzzle energy drop of 55-ft./lbs. to 147-ft./lbs. The round that showed the least degradation was the slowest of the test set with the fastest, lightest bullet losing the most energy of the three.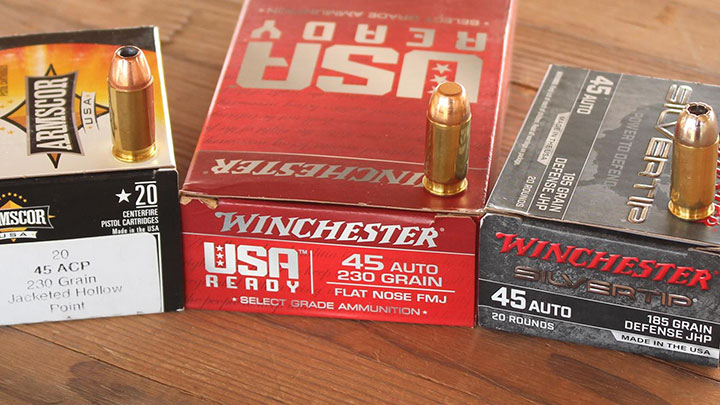 Rock Island Armory imports solid, reliable 1911 pistols at fair prices. I have worked with several products from this company and had good results so far. Like any other handgun that has been pushed to one size extreme or the other, the sub-compact BBR is not going to be a good fit for everyone. But if you're dedicated to packing a 1911 chambered in .45 ACP, then the BBR is about as close to a 'snub gun' as you can get these days with a respectable 10+1 ammunition capacity.
Specifications:
Importer: Rock Island Armory
Manufacturer: Armscor International, Inc.
Model: BBR 3.10
Action: Single-Action Semi-Automatic 1911
Caliber: .45 ACP
Slide: Carbon Steel, Parkerized Finish
Slide Features: Ported Round Top, Rear Canted Cocking Serrations
Frame: Carbon Steel, Parkerized Finish
Front Strap: Checkered
Mainspring Housing: Flat with Checkering
Grip Panels: Textured G10, Hex-Head Grip Screws
Front Sight: Dovetailed Serrated Target
Rear Sight: Fully Adjustable White Dot
Barrel: Linked and Ported, Muzzle Fitted to Slide
Barrel Bushing: Guide Rod Support Only
Guide Rod: Dual Rods, Steel, Full-Length
Recoil Spring: Dual, Round Wire
Hammer: Long Loop Skeletonized
Thumb Safety: Left Side Only
Grip Safety: Extended Beavertail with Short Memory Bump
Magazine Release: Grooved Round Button
Trigger: Skeletonized Aluminum
Trigger Pull: 5- to 7-lbs. Listed, 5-lbs. 9-oz. As Tested
Barrel Length: 3.10″
Overall Length: 6.75″
Height: 4.50″
Slide Width: 0.92″
Grip Width: 1.48″
Weight: 33.5 oz. with Empty Magazine
Capacity: 10+1 Rounds
Twist: 1:16" RH
Rifle Grooves: 6
Accessories: Hard Sided Carry Case, 2 Magazines, Cable Lock, Owner's manual.
MSRP: $699
Article by B. GIL HORMAN
Don't forget to like us on Facebook and follow us on Twitter.