Review: Savage Arms Model 110 Elite Precision
My supply of 6.5 Creedmoor ammunition has vanished. The evidence is circumstantial, but I have reason to believe the Savage Arms Model 110 Elite Precision sent for testing is to blame.
My 12-year-old grandson is an accomplice, although I've granted leniency after witnessing his groups at 100 yards. When a solid platform mixes with uncompromising comfort, even a moderately experienced shooter still timid about recoil can print sub-MOA—and stay behind the trigger long enough to put a serious dent in a cartridge inventory.

Make no mistake, though. This firearm's mission is not plinking or young shooter appeal. It's built from the ground up to deliver tiny groups at distance, tailored for competition and ideal for enthusiasts who prefer to hear that sweet steel "clang" long after a shot.
Savage Arms: A Tradition of Quality
Savage Model 110 rifles, which were introduced in 1958, have an enviable reputation for the kind of performance that defies their price point. Enthusiasts quickly grew to appreciate the value, and many collections today include several passed down through family members. The reliability has never changed, but this latest iteration is not your grandfather's 110.

The new Savage Model 110 Elite Precision does retain that trusted and rugged, stainless-steel M110 bolt-action receiver, although this one's been factory-blueprinted. It's attached to a free-floated 26″ barrel that measures .88″ in diameter—after the chamber-side taper ends—all the way to the threaded muzzle. There the muzzle brake is self-timed (on short-action cartridge models), and its efficiency was made obviously by the rate ammo disappeared. Rifling is 1:8″ RH twist in the tested model.
Those older Savages in collections didn't come with an AccuTrigger. The company introduced the crisp-breaking "go switch" in 2002. It was an overnight success and is now standard of most of the firm's firearms. Owners can set let-off weight anywhere between 1.5 and 4 lbs. quicky and easily without the intervention (and wait) of a gunsmith.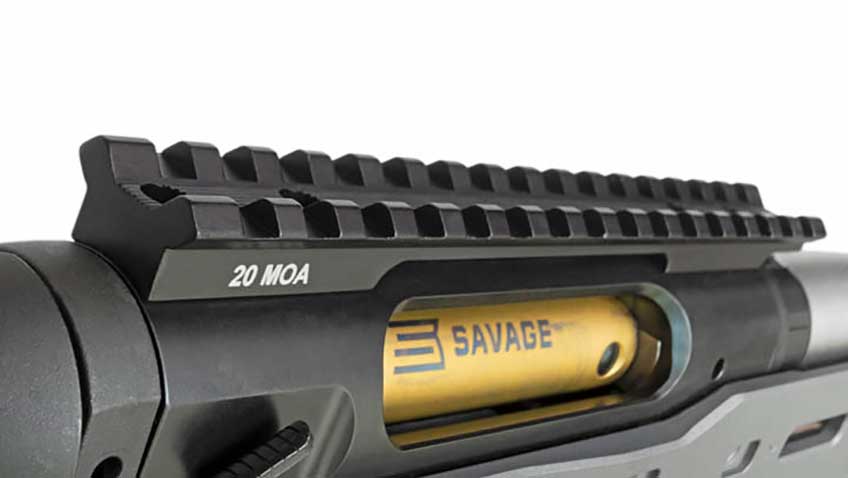 Savage rifles ship with the small tool required for adjustment. As it came from the factory and measured 10 times by a Lyman Electronic Digital Trigger Pull Gauge, the tested rifle's pull weights hovered at slightly above 1.5 lbs. They never strayed into the 2-lb. range, were always consistent and displayed no discernible creep, grime or grit. The trigger was the kind of crystal clean that made it a pleasure to work.
There are no sights on Savage Model 110 Elite Precision rifles. The company, instead, ships each with a firmly anchored 6 5/8″ stretch of 20-MOA Picatinny rail atop the receiver—ideal for mounting long-distance optics.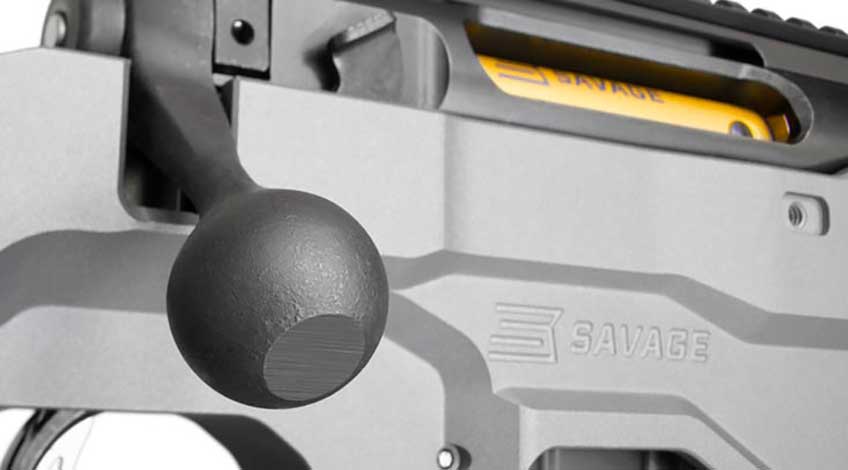 Your grandfather, however, would be familiar with majority of the gun's receiver and manual of arms. The push-feed bolt-action retains its cocking indicator and the three-position safety remains on the tang. The metal AIC box magazine has a 10-round capacity in the 6.5 Creedmoor version.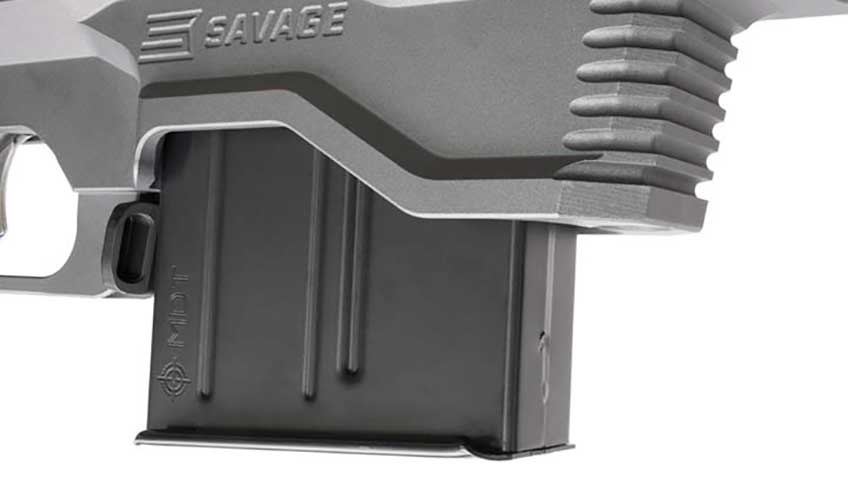 Cutting-Edge Foundation
The Modular Driven Technologies Adjustable Core Competition (ACC) chassis is a skeletonized, all-aluminum stock designed to squeeze every drop of accuracy potential out of a firearm. It also does the heavy lifting when it comes to maximizing shooter comfort on the Elite Precision.
Space-age looks aside, beneath that skin beats the heart of a long-distance solution built to survive generations of abuse. The AAC is constructed from aluminum and has a Cerakote finish that gives it a durable and businesslike look. It's not a lightweight, though. Total weight of the Savage Model 110 Elite Precision in 6.5 Creedmoor comes in at a recoil-taming 12.6 lbs. (without optic)—part of the reason a flyweight 12-year-old spent hours behind it.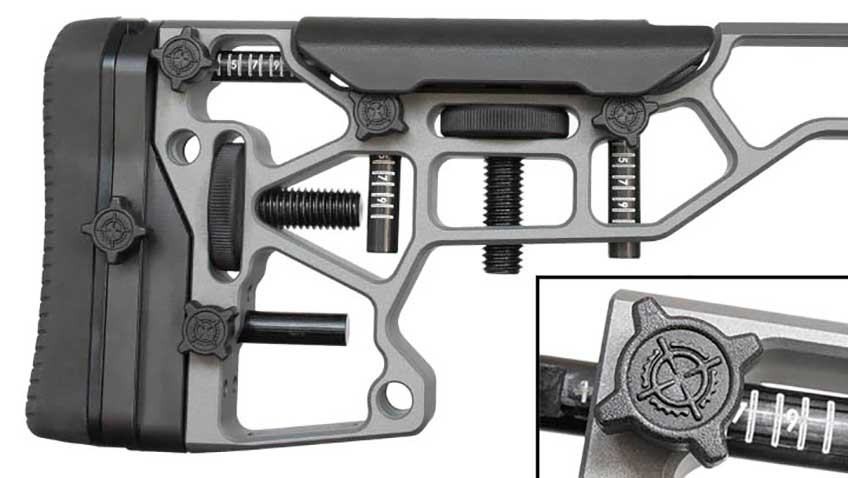 A generous rubber recoil pad helps, no doubt, but the gun also adjusts quickly to any shooter's physique. No tools are required to adjust length of pull. Simply loosen a pair of generously size locking knobs, rotate a wheel at the rear, move to the preferred setting and re-tighten. Not one, but two, guide rods slide during the process, locking things in a solid and recoil-defying manner. Numbered witness marks make going back to original settings effortless.
Height of the cheekpiece, which is polymer with a face-friendly texture, changes with an identically beefy system. As if that's not enough, the recoil pad can be elevated and locks firmly into place. In testing, adjustments were effortless, despite sweaty conditions on the range. All the knobs and dials are large enough for manipulation with gloved hands.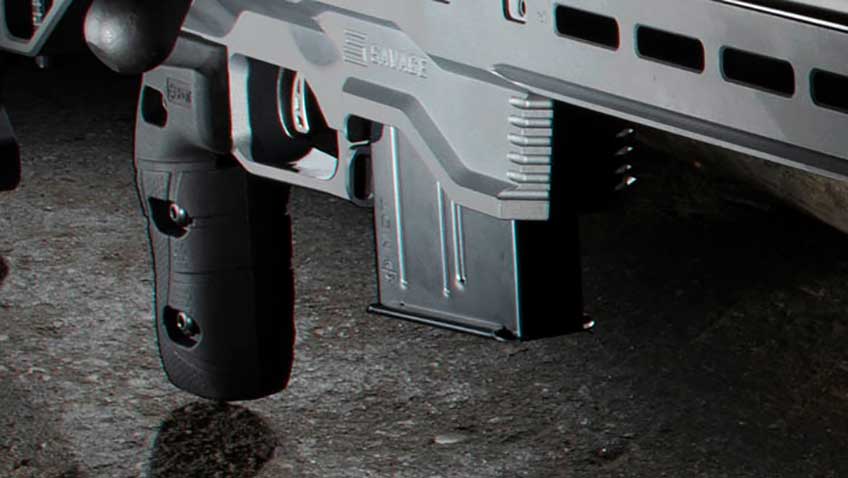 The chassis also comes with a pistol grip, but it's also designed for the ultimate in comfort. To adjust distance to the trigger, simply loosen three Allen-headed bolts and move as needed. Even the grip angle adjusts. The palm-filling unit is textured for positive purchase, but not tacky enough to grab onto clothing or shooting mats.
A pair of bars forward of the trigger guard push forward to release the magazine. On nearly all occasions, it dropped free immediately during testing. It failed to do so about 10 percent of the time, a common malady until a new rifle breaks in.

The fore-end features a full-length ARCA rail underneath, with M-LOK-compatible slots on both sides. The systems make mounting a bipod or accessories fast.
Begging for Time
While dialing the Leupold 4.5-14×40 mm CDS-ZL into the bullseye for accuracy tests, the rifle printed .81″ groups with Winchester's 125-gr. open tip loads at 100 yds. Two of the five-shot groups came in at .6″—impressive for a factory-fresh rifle begging to find a pet load. Remington's 140-gr. Core-Lokt measured slightly larger and things widened to .91″ with Hornady's 140-gr. boatail hollowpoints. All five, shot-shot groups averaged below MOA in all three loads.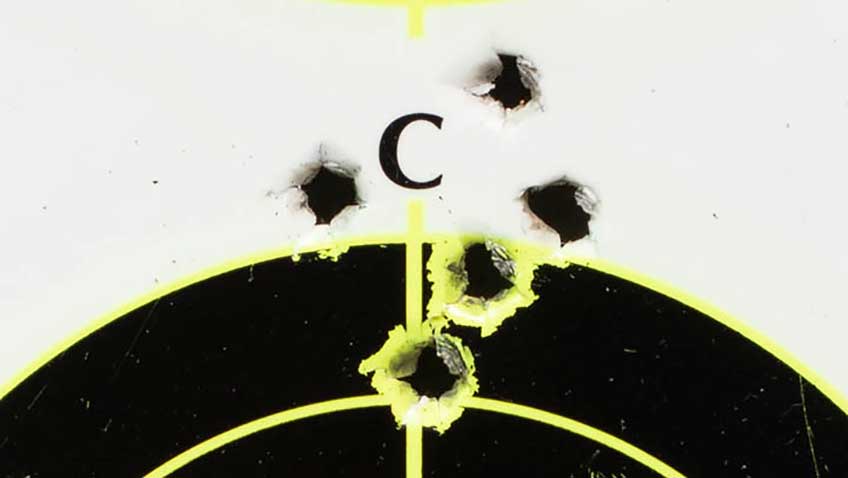 When my grandson got behind the trigger, his first group with the Winchester load promptly printed a .82″, 5-shot group. Then he adjusted everything for comfort and settled back onto the sandbagged position for the rest of the afternoon. I watched, although the muzzle brake's efficiently and resulting bark forced me to abandon by typical position close by his side.

The accuracy displayed by the Savage Model 110 Elite Precision, out of the box, makes it a solid choice for competitive shooters, or those who are considering taking up any of the long-distance disciplines. The lack of recoil makes practice a pleasure, and once you find the right load, there's no doubt half-inch groups are within reach of most shooters, including new enthusiasts who've never experienced the pleasure of steel sounding off long after the shot.
Savage Model 110 Elite Precision Specifications
Manufacturer: Savage Arms
Model: 110 Elite Precision (left-hand version also available)
Action: Bolt Action
Caliber: 6.5 Creedmoor (also available in .223 Rem., .300 PRC, .300 Win. Mag., .308 Win., .338 Lapua Mag., 6 mm Creedmoor)
Receiver Finish: Matte Black
Stock: Cerakote Grey Aluminum, Modular Driven Technologies ACC
Sights: None, 20 MOA Picatinny Rail
Muzzle: Removable Muzzle Brake
Trigger: AccuTrigger
Barrel Length: 26″
Overall Length: 43-44″
Length of Pull: 14-15.5″
Weight: 12.6 lbs.
Capacity: 10-Round Removable Box Magazine
Twist: 1:8″ RH
Accessories: Owner's Manual, Lock, AccuTrigger Tool, Set of Foamy Hearing Protection
MSRP: $1,999
Article by GUY J. SAGI
Don't forget to like us on Facebook and follow us on Twitter.