Review: Springfield Model 2020 Rimfire Classic
The Springfield Model 2020 Waypoint entered a market deeply saturated with bolt-action rifles. Nonetheless, it became an overnight success and, to this day, is hard to keep in stock. Those who have never shot one have a hard time wrapping their head around how or why this is, but if you ask those who have slung one across their backs for a hunt, their answer is simple: quality. For a high-dollar rifle to gain acceptance, it needs to live up to its price tag, and the Waypoint was no different from any other that Springfield Armory makes. That is why when the company announced its heirloom quality rimfire I wasn't skeptical, I was intrigued.

This new bolt-action .22 is aptly named the 2020 Rimfire, and it comes in both a reinforced polymer Target model and a wood-stocked Classic edition. The main difference between the two lies in the stock and barrel profile. While the Target model, with a vertical grip, flat fore-end and heavy, threaded barrel, is designed for supported engagements, the Classic sports a more traditional grip and stock lines, and a tapered, sporter barrel, suiting those who plan to shoot on their feet. As this is for American Hunter, I opted to evaluate the Classic because with its walnut stock it looked like one heck of a squirrel gun.
When putting in my request for a loaner firearm, I found out that I had the choice of wood grade. This is an option that is seldom lent to the U.S. market, as our hunting rifles often take a more utilitarian role. However, if you respect a firearm, you can keep it in good condition and enjoy it in the field. To that end, I chose the cream of the crop, designated AAA, and eagerly awaited its arrival. Using hand-selected Turkish walnut, Springfield Armory has crafted a cradle that is simply a work of art. Great attention is put into its overall fit and finish, making it look like it was plucked from the tree in this shape and condition. Laser-sharp checkering is cut into the fore-end and grip, and simple accouterments aren't left out. These include sling swivels both fore and aft, as well as a slimline recoil pad. At only ¼-inch thick, the pad's main function is not to reduce kick; it's designed to reduce slippage. Keeping it thin allowed the company to build these rifles with a reduced 13.45-inch length of pull, making them perfect for younger or smaller-statured shooters just entering the sport.
An altogether different kind of art, one that grabs my attention even better than lavish furniture, is found in the action. Engineering is beautiful, particularly when functionality is enhanced by what appears to be simple aesthetics. Case in point, the hard-chromed bolt. While some might assume the mirror-like shine's purpose is to seduce prospective buyers, I know it's one of the best ways to protect metal from the elements. Also, removing fouling from chromed parts is often as easy as using a dry rag to wipe them clean. Working inward, I found that the bolt operates with a 60-degree lift, which the lefty in me loves. This abbreviated motion is far easier to manage than a conventional 90-degree setup and, by the number, 33 percent faster. Dual cocking cams evenly distribute the user's initial force, counterbalancing and aligning with the action and eliminating most, if not all, of the skewing that makes a bolt bind during its stroke.
In addition to the action, all other controls are butter smooth and instinctual. The Model 2020 Rimfire uses an adjustable Remington 700-style trigger that most will be familiar with, and as such, is built with a safety that allows the bolt to be opened and closed when engaged. A receiver-mounted bolt release is tucked away on the left side of the rifle and has little chance of being actuated unintentionally. Lastly, the magazine release is almost completely flush-fit and located just forward of the trigger guard. When depressed, the Ruger 10/22-style rotary magazine rockets out of the well, ensuring that you can quickly reload if you are having the hunt of a lifetime.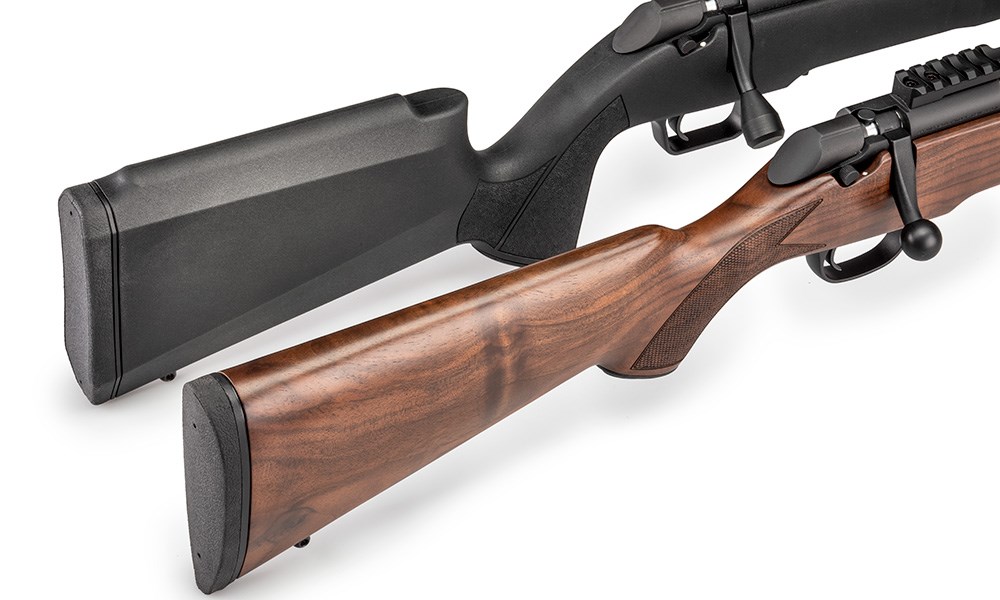 Springfield Armory includes what they call an "interrupted" Picatinny rail with each 2020 Rimfire. This is essentially a standard one-piece rail that is narrowed in the middle to provide more access to the action. I used it to affix a Burris Fullfield IV 2.5-10x42mm optic. This was an easy choice because it offers a larger field of view and makes the vitals of a bouncing tree rat far more obtainable. Whether you choose the Classic model or the Target, Springfield guarantees that each rifle is capable of printing 50-yard three-shot groups that will be 1-inch or smaller. Interested to see if that claim included hunting ammo, I grabbed two flavors of CCI Mini-Mag along with Remington's 22 Viper load and had everything I needed for a terrific range day.
Loading the 2020 is as familiar as you would expect, and I found that there was undoubted cross-compatibility with Ruger 10/22 magazines. The rifle's balance in the standing, kneeling, sitting and prone positions was particularly nimble, which is sometimes a trade-off for the weight that comes with building a quality rimfire. Running the bolt was lightning fast without even the whisper of a hiccup, and I enjoyed shooting it both left- and right-handed. After cleaning up my zero, I had no problem meeting the accuracy claim with all three types of ammunition, which was unexpected. Twenty-twos are typically finicky, and it's uncommon for any given rifle to like the first three ammo types you slide through it. This aspect becomes incredibly important during an ammo shortage, when our pet load has a tendency to dry up the fastest.
Just as with its centerfire bolt actions, Springfield Armory has built a gun that lives up to its price point and is an excellent addition to any gun cabinet, including one just starting to be filled. Shelling out $1,100 might be tough to swallow, but it pays to mention that much of that investment is in the rare wood. If you are more budget-minded, the Select Satin version MSRPs for less than half of that, and all you lose is a bit of pretty. Whichever model you decide on, know you'll be getting an absolute tack-driver that is sure to put rodents on notice.

Technical Specifications
• Type: bolt-action rimfire rifle
• Caliber: .22 LR
• Magazine: 10/22-style; detachable; 10-rnd. capacity
• Barrel: 20″; blued carbon steel; No. 1 sporter contour; free-floated; button rifled; 1:16″ RH twist, 6 grooves
• Trigger: single-stage, adjustable pull weight 3 lbs.,1oz. – 7 lbs., 3 ozs.
• Sights: none; drilled and tapped for optics bases; interrupted Picatinny rail included
• Safety: two-position, push-button, cross-bolt
• Stock: straight comb; AAA grade walnut (tested); satin finish; 13.45″ LOP; sling-swivel studs
• Metal Finish: matte blued
• Overall Length: 38.25″
• Weight: 6 lbs., 3 ozs.
• Accessories: soft case, cable lock, bore brush
• MSRP: $529-$1,099; springfield-armory.com
Article by FRANK MELLONI
Don't forget to like us on Facebook and follow us on Twitter.