Review: Taurus 1911 Officer
Taurus took the U.S. M1911 market by the horns, so to speak, when it introduced its PT1911 in 2005, with the company's products quickly setting the standard for affordable, imported M1911s with high-end features. For the first decade of production, Taurus stuck with full-size "Government Model" M1911s before expanding its lineup in 2018 to include more compact models as well.
While M1911s come in a variety of sizes, the three most common are based on a system used by Colt, the original M1911 manufacturer. The full-size M1911 features a 5″ barrel and a frame that houses a seven- or eight-round .45 ACP magazine. A "Commander" size mates a shortened slide and 4.25″ barrel to the full-size frame, while an "Officer's" model uses a 3.5″ barrel and a shortened frame that accommodates a six-round magazine.
Taurus decided to follow Colt's framework by adding its own Commander and Officer models. In this review, we tested the most compact of their offerings, the Officer. Its overall length is 1.3″ shorter than Taurus' full-size M1911 and 0.7″ shorter than the Commander. Its overall height also shaves 0.7″ off both of those models. All three models are currently offered with a forged steel frame, and the Officer is 3 ozs. lighter than the Commander and 8 ozs. lighter than the Government model.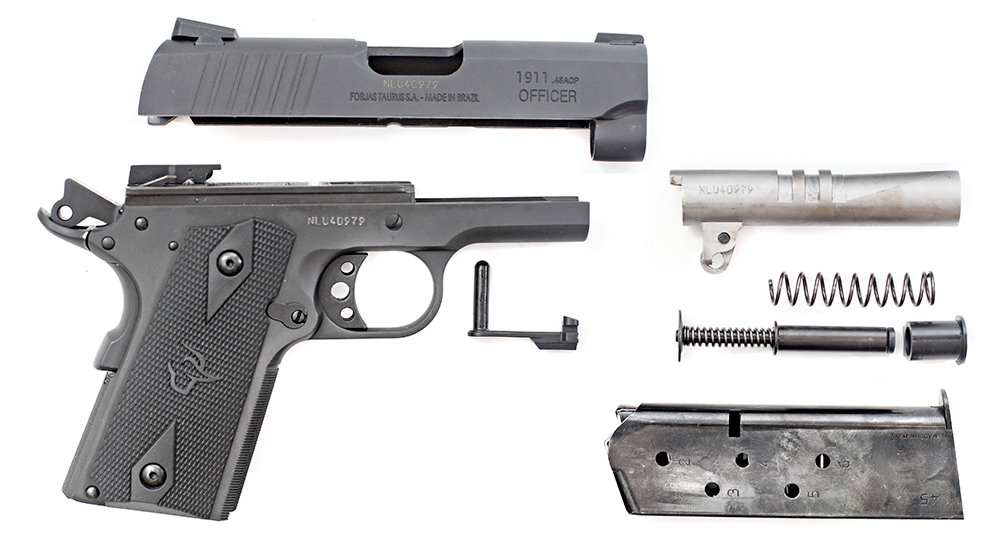 Like other Taurus M1911s, the Officer has "enhanced" features compared to a standard, G.I.-style M1911. These include 30-l.p.i. checkering on both the frame's frontstrap and its flat mainspring housing. A beavertail grip safety mates with a rounded, Commander-style hammer. The extended thumb safety is left-side-only for right-handed shooters. The dovetailed three-dot sights are Novak-branded; they are drift-adjustable for windage and secured with a set screw. The model we tested featured a matte-black Parkerized finish and black polymer stocks, but the Officer is also available with VZ Grips and a choice of three different Cerakote finishes. Taurus M1911s use a Series 80-style firing-pin safety.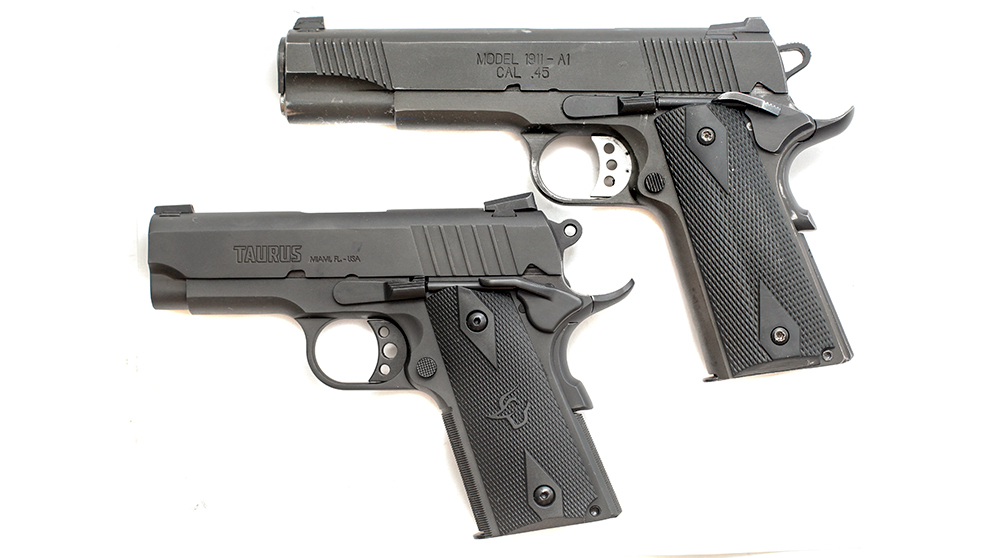 The Taurus Officer uses a bushingless bull barrel system, wherein the barrel flares at the muzzle to fit directly against the slide. This makes fieldstripping the Officer different than a standard M1911. A supplied disassembly tool clips over the internal recoil spring assembly guide rod and holds the spring under tension. This allows the slide to be removed from the frame with the recoil spring assembly in place, after which the spring assembly can then be removed.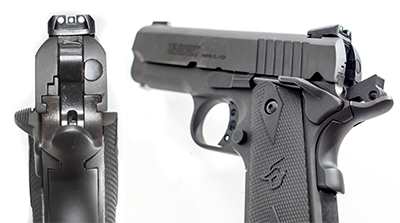 Our first Officer test sample developed a problem after firing two rounds, by refusing to extract the fired case, leading to a loaded round jamming in behind it. The problem persisted, despite trying several types of ammunition loaded with a wide variety of bullet types and weights, and allowing for the pistol to break-in. After returning that example to the factory, we were supplied with a second pistol. While much more reliable, the second pistol would exhibit the same malfunction every two or three magazines, until we reached about 100 rounds. As the M1911 design is known for needing a break-in period, those wanting to use the Officer for self-defense purposes should thoroughly test the pistol with their ammunition of choice first.
Accuracy from the bench was  hampered somewhat by the Officer's 8-lb., 7-oz., trigger pull, though the trigger broke crisply after a short take-up and had a short reset (overtravel is adjustable). At 15 yards, the pistol turned in five-shot groups that averaged just under 2.5″. The supplied Mec-Gar-produced, six-round magazine drops free when released; the pistol is only supplied with one magazine. While Officer-size M1911 magazines are not hard to find, they are not as run-of-the-mill as standard M1911 magazines, and it would be nice for the pistol to have been supplied with a spare from the factory.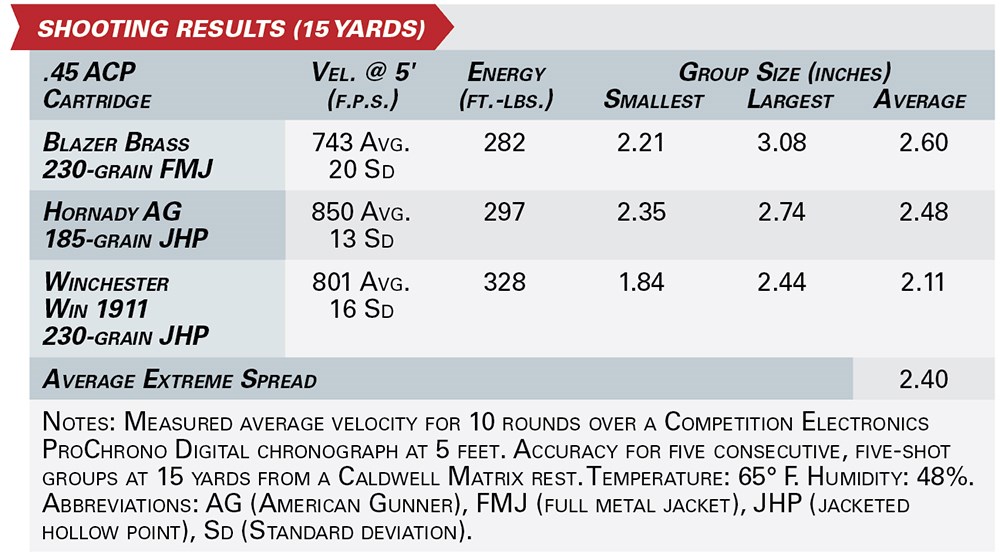 Though many find that even full-size M1911s conceal without much trouble, the short overall length and shortened grip of the Officer made it even easier to carry. During our evaluation, it spent most of its time in a CrossBreed inside-the-waistband holster. Unlike many compact M1911s, which utilize an alloy frame to save weight, the Taurus Officer's steel frame makes it heavy for its size at 34 ozs. (matching the weight of the original steel-frame Colt Officer's model). But the extra weight is not a problem with a properly designed carry system, and it helps control the pistol's recoil.
By adding a Commander and an Officer model to its lineup, Taurus completes the M1911 size trifecta. Like Taurus' other products, the Officer, the company's most concealable 1911, is a feature-heavy package at an affordable price.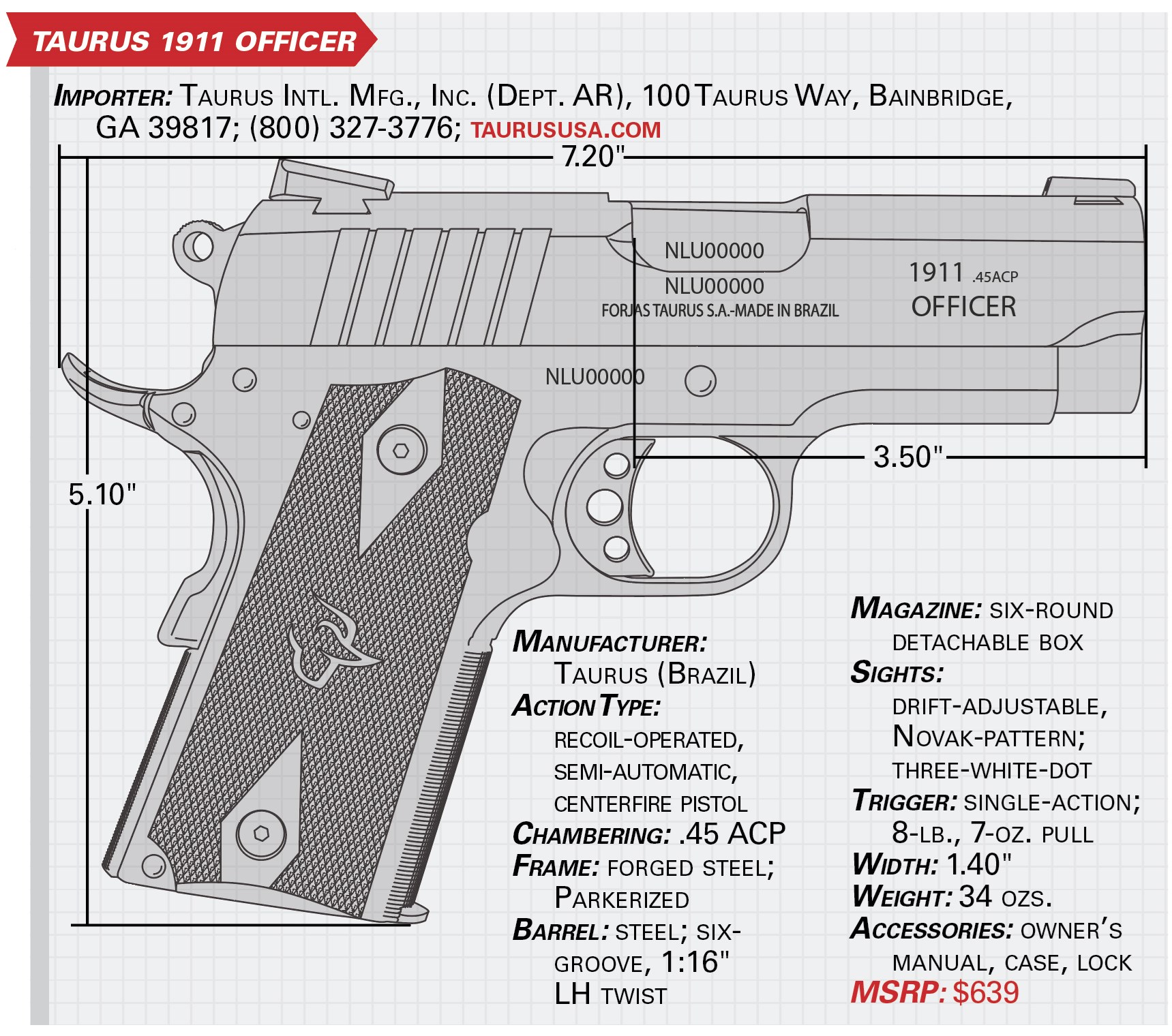 Article by AMERICAN RIFLEMAN STAFF
Don't forget to like us on Facebook and follow us on Twitter.