Review: Tippmann M4-22 Redline .22 LR Race Gun
I first learned about the Tippmann Arms' line-up of M4-22 AR-15 pattern rimfire rifles through the company's collaboration with Tandemkross (TK) on the Redline race gun version of this platform.  I've been a fan of TK's top-notch components for some time now. I've seen positive results with the upgrades the company provides for Ruger's Mark IV 22/45, the ever-popular 10/22 rimfire carbine and the PC 9 takedown rifle. Knowing that TK is a stickler for quality, I was curious to test drive the results of this team-up for myself.
The M4-22 is a blow-back operated, AR-15 pattern .22 LR rifle. The action employs a nickel-plated bolt assembly supported by a reduced mass buffer and a spring housed inside the buffer tube. Designed in the same vein as rifles like the Smith & Wesson M&P 15-22, the M4-22 replicates most of the handling and operational features of an AR-15 platform while incorporating design changes suitable for a dedicated .22 LR. In other words, the M4-22 is compatible with a variety of mil-spec AR-15 upgrades, but the M4-22's components are not intended for use with centerfire AR-15 rifles which operate at much higher ammunition pressure levels.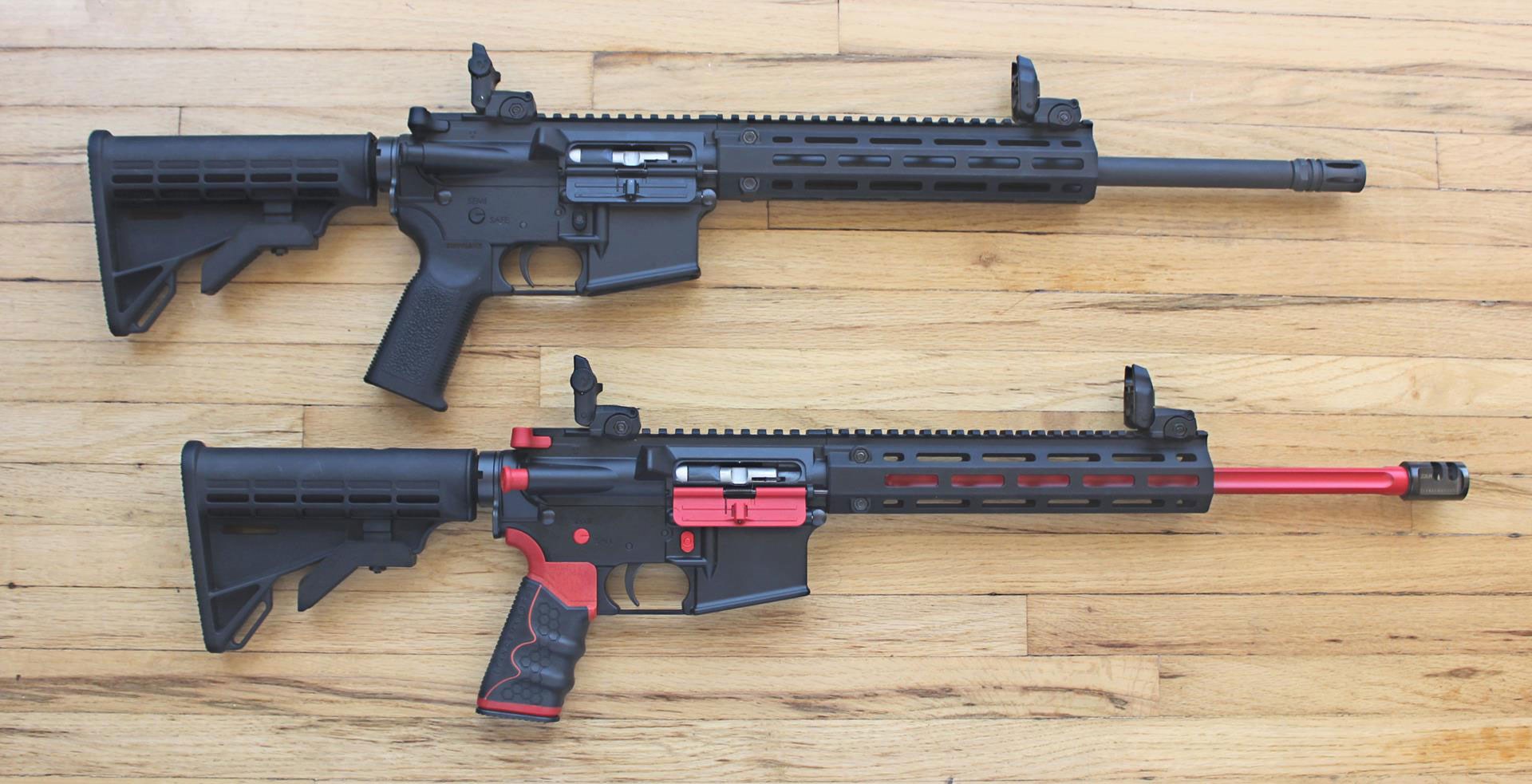 The standard M4-22 PRO (top) next to the tricked out Redline version (bottom).
The M4-22 Redline is based on Tippmann's Pro model with a set of race-gun-style upgrades. The flat-top upper and mil-spec style lower receivers are cast from aluminum alloy and treated with a matte black E-Coating finish. The upper features an integral Picatinny optics rail, a polymer dust cover, brass deflector and an operational polymer forward assist. The T-shaped charging handle is also made of polymer. The 16″ barrel is made from a solid piece of 4150 steel with the muzzle threaded at 1/2 x 28 TPI. The 9″ M-Lok free-float handguard is made from a light weight polymer composite. The upper is configured to accept aluminum AR-15 handguards but a barrel nut sized for the handguard is required to make the change.

This rifle is made to be as lightweight as possible for quick handling.
Tippmann includes a set of removable AR-pattern polymer flip-up sights with all models of the M4-22. The front sight post is height adjustable via a tool-less adjustment knob. The dual aperture rear sight is adjustable for windage. This sight set also provides a rudimentary close-quarters fixed sight picture when the front and rear sights are in the folded position.
The receivers are secured to each other via a takedown and pivot pin which allow the rifle to be hinged open or separated in typical AR fashion. The lower receiver's profile and control configuration are straight out of the classic AR-15 design handbook. The bolt catch and magazine release are metallic while the left side safety selector is polymer. The AR pattern pistol grip is removable and the receiver is compatible with most mil-spec grips.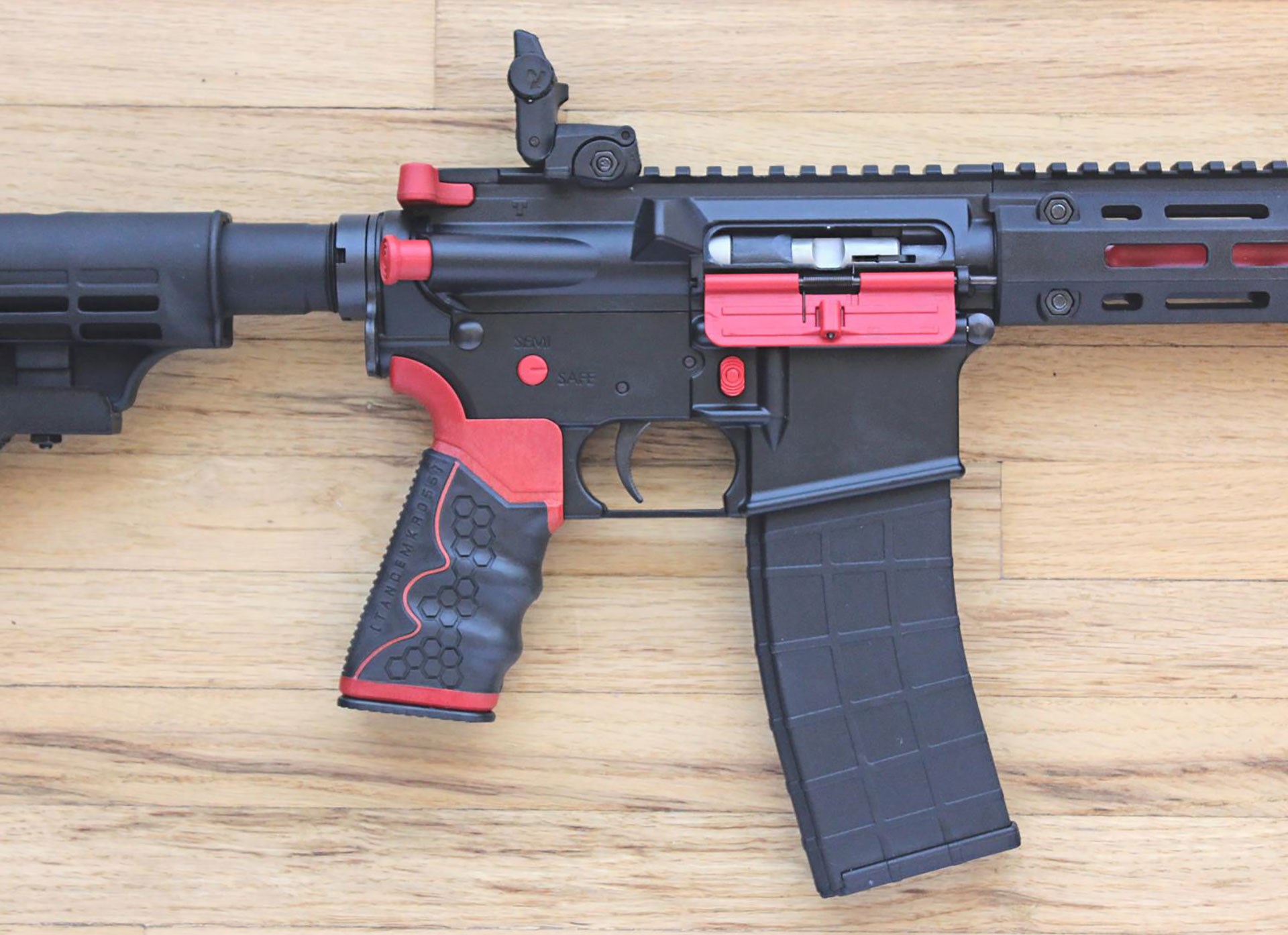 The red controls and grip match the finish of the fluted barrel.
The Pro series curved bow, single-stage trigger is listed as having a 4 lb. 8 oz. trigger pull. The trigger I worked with was smooth, grit-free and exhibited no take-up before breaking cleanly with 4 lbs. 2 ozs. of pressure. The six-position buffer tube is fitted with a basic adjustable shoulder stock and an ambidextrous dual sling mount end plate.
Now let's take a look at the upgrades which have been incorporated into the Redline model. The Pro model's Parkerized, round-profile barrel is traded out for a fluted 4150 steel barrel treated with a red Duracoat finish. The metallic and polymer controls are the same shade of red as the barrel.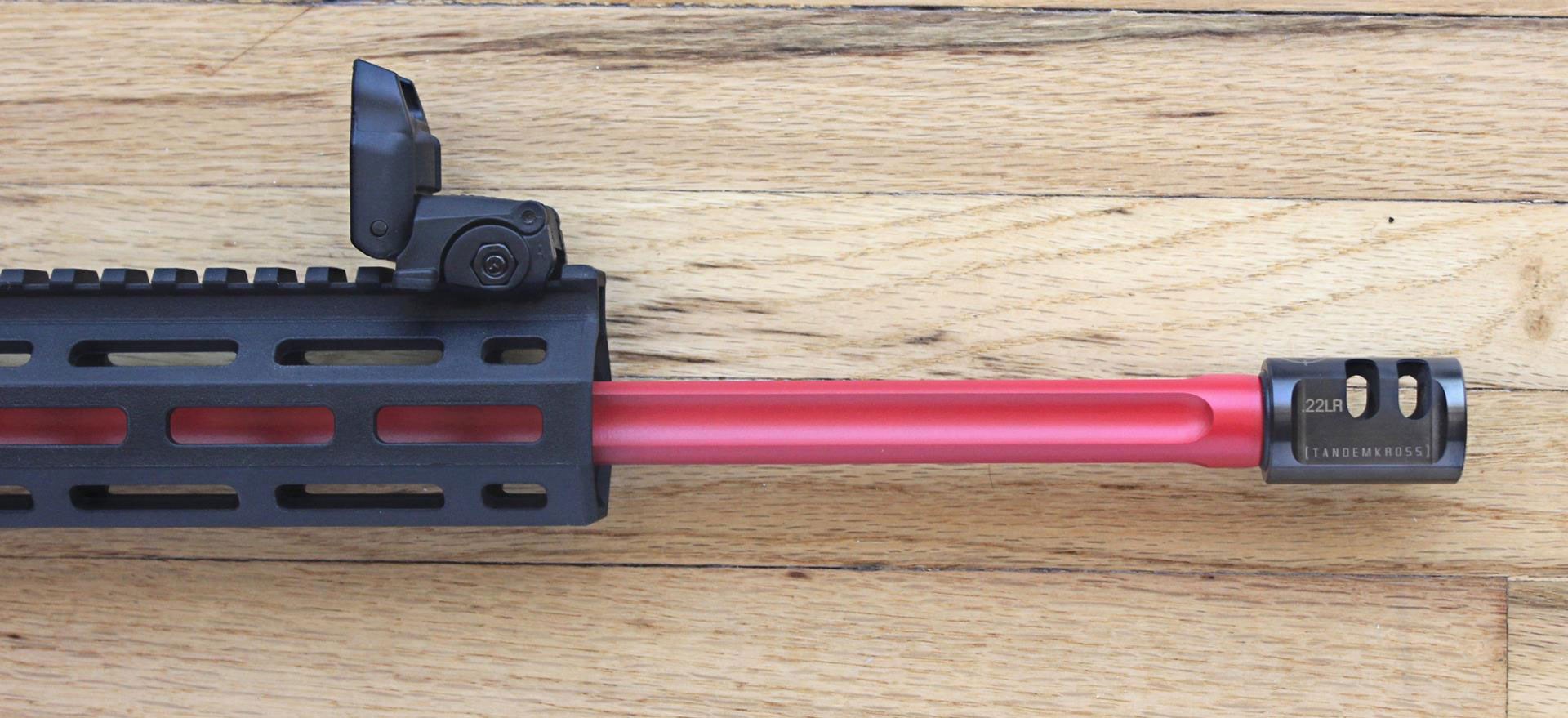 This rifle ships with pop-up sights at the TK Game Changer PRO compensator.
The A2 style flash hider is set aside in favor of a TK Game Changer PRO compensator. This 2.83-oz., 1.5″ long steel device provides added weight at the muzzle with four 45-degree ports to provide increased stability and control. The compensator's proprietary black finish aids in easy cleaning. TK's red and black finger groove AR-15 hiveGrip features a textured, wrap-around rubber grip surface for improved purchase. The removable base plate provides a water resistant seal for the grip's storage compartment.
The Redline rifle ships with the PRO model trigger, which I enjoyed working with. For those who do want an even lighter trigger pull, Tippmann currently offers two drop-in Elftmann Tactical competition trigger groups.  Third party trigger upgrades can be tricky with rimfire ARs since some drop-in centerfire groups do not provide reliable primer ignition. The Elftmann offerings have been tuned to work reliably in the M4-22 platform.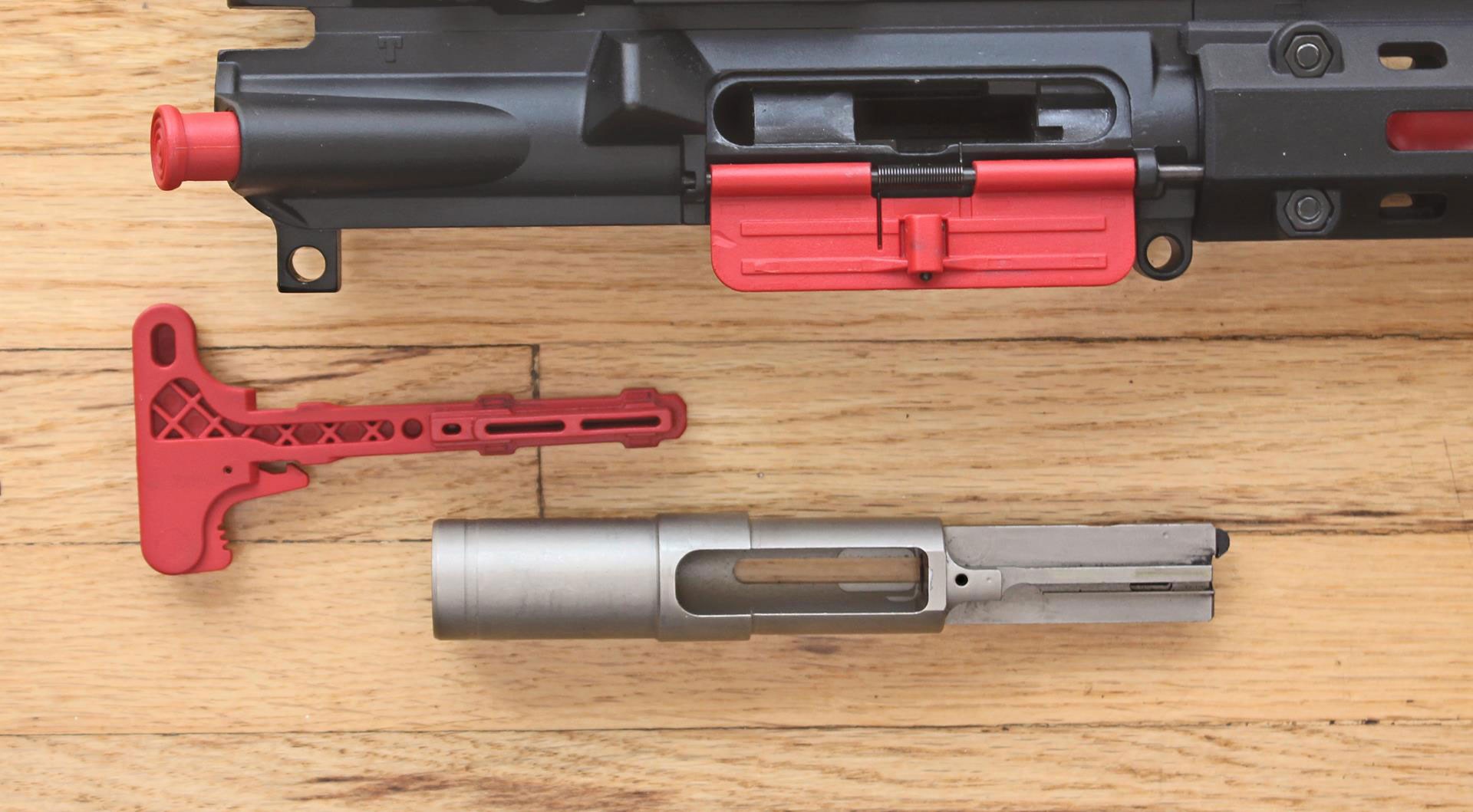 The polymer charging handle shown with the nickel plated bolt assembly.
Last, but certainly not least, the M4-22 Redline is available with (or without) a red dot optic package. The first 500 scoped rifles shipped with a Tippmann Solar Sight, made for the company by Novel Arms Corp. But as of this writing, the company has switched to the Hawke Sport Optics' wide-field three m.o.a. Reflex red dot sight (12144), which includes a rail mount.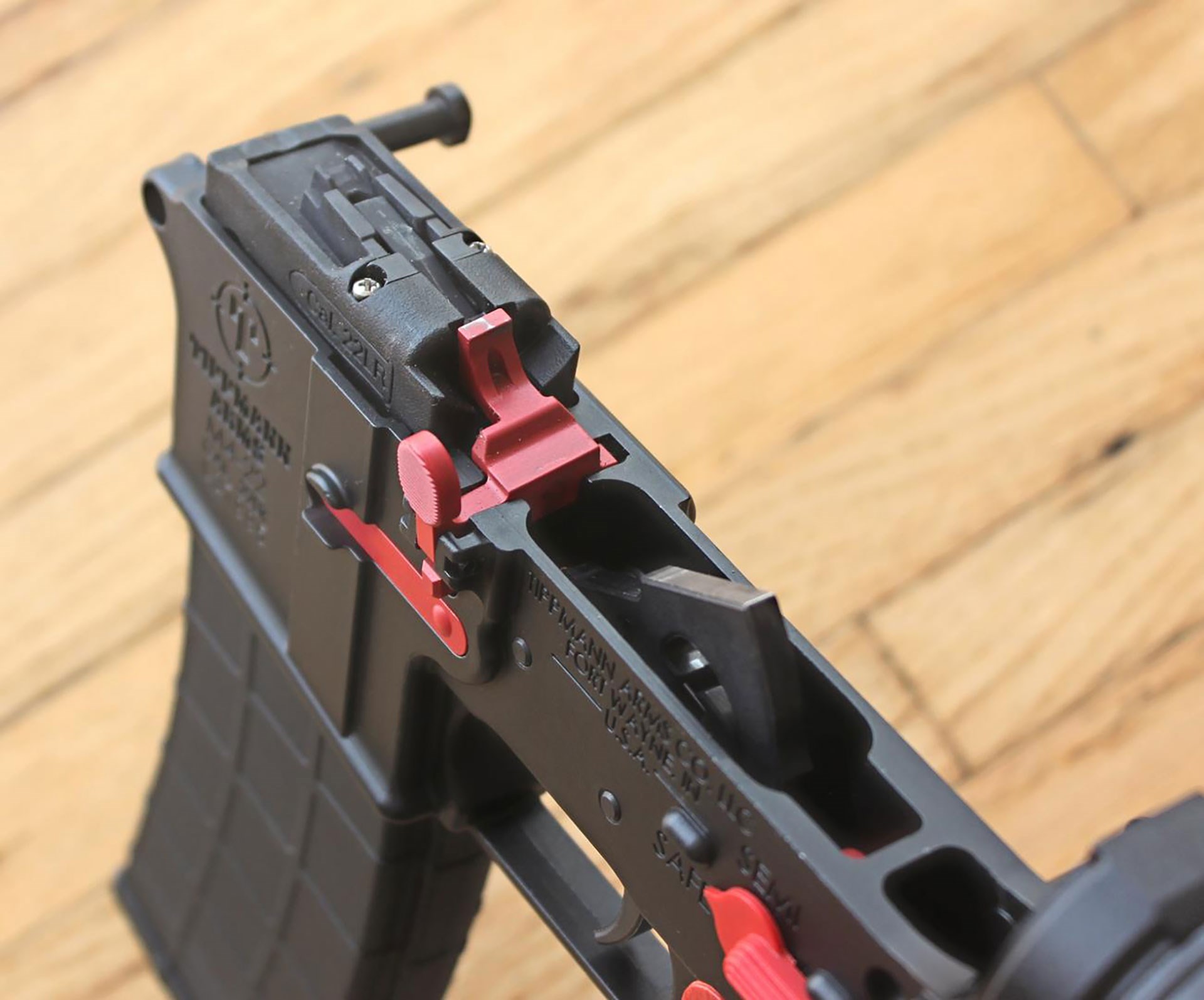 A modified bolt catch locks the bolt open when the last shot is fired.
One of my favorite features of the M4-22 series is the company's proprietary 10-, 15- and 25-round magazines. It's a best-of-both-worlds design that provides the dimensions and handling of typical AR-15 magazines with the easy loading features of many .22 LR rimfire pistol magazines. The magazine's outer shell is a sleeve which can be opened by pressing a textured release on the right side near the top. The sleeve slides down to expose a central channel. The follower's textured pull-down extension makes the magazine easy to load and contributes to a more enjoyable shooting experience.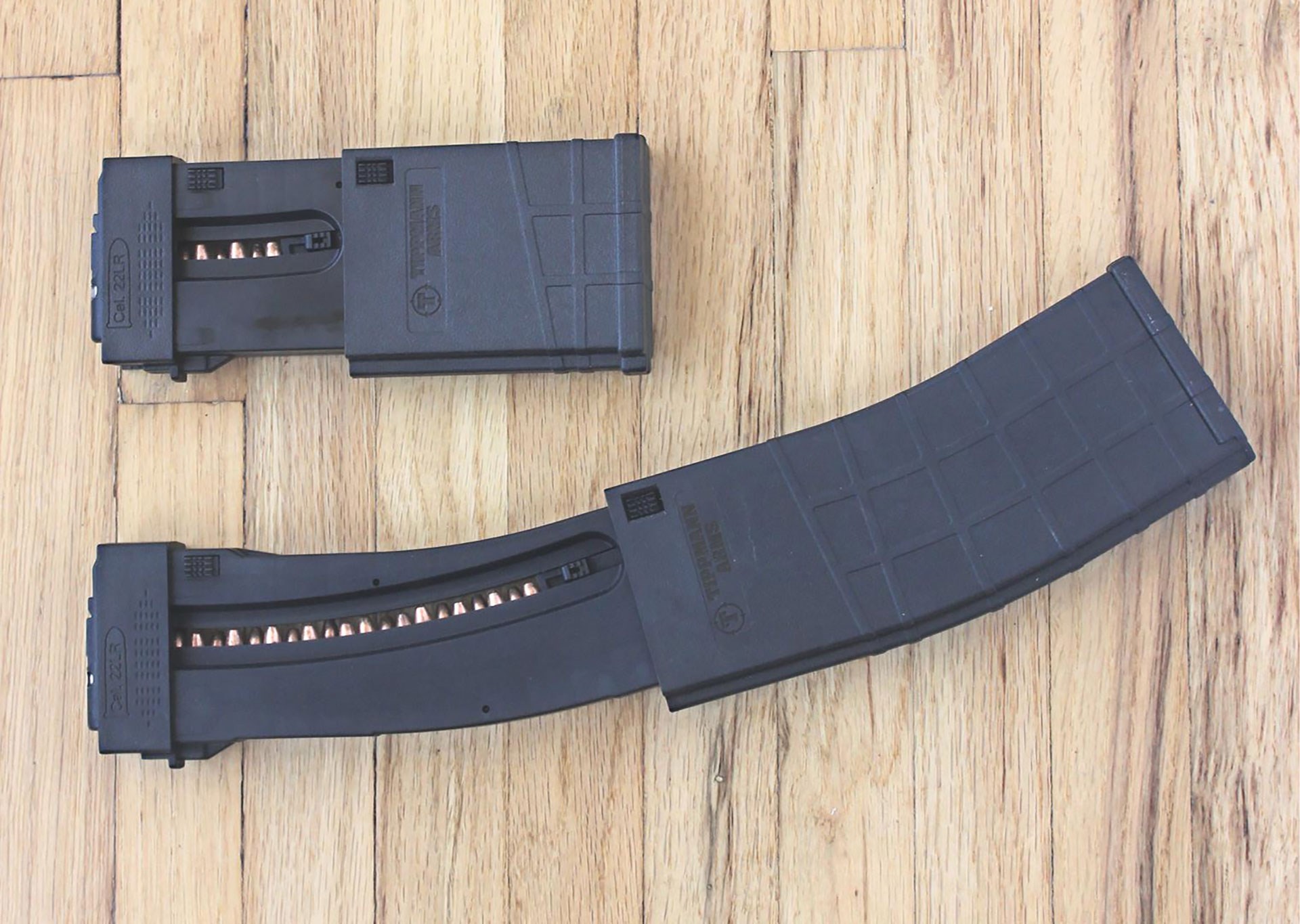 The slide-open magazine sleeves make them easy to load and clean.
At the range, the M4-22 was tested with the factory provided optic using a total of four 25-round magazines and one 10-round magazine. The rifle proved to be utterly reliable with all ammunition tested, including bulk box, target-grade and hunting loads. After my informal and formal testing, the rifle was used for two more new-shooter range sessions without being cleaned. By the end of these various events the gun had successfully fed, fired and ejected nearly 900 rounds without any mechanical issues or malfunctions. Four of the hundreds of bulk box loads failed to fire due to faulty primers, which is not the fault of the gun or magazines used.
The company offers two Tippmann-branded .22 LR loads available in 50-round boxes or 500-round bricks. They include a 40-grain Standard Velocity lead round nose and a 40-grain High Velocity copper plated round nose, both of which are made for Tippmann by Cascade Ammo (CI) of Mexico. These two loads were used for formal accuracy testing. Since the M4-22 can easily double as a small game hunting gun, Winchester's Wildcat Super Speed copper plated Dynapoints, optimized for semi-automatics, rounded out the test set. The performance results are shown in the following table.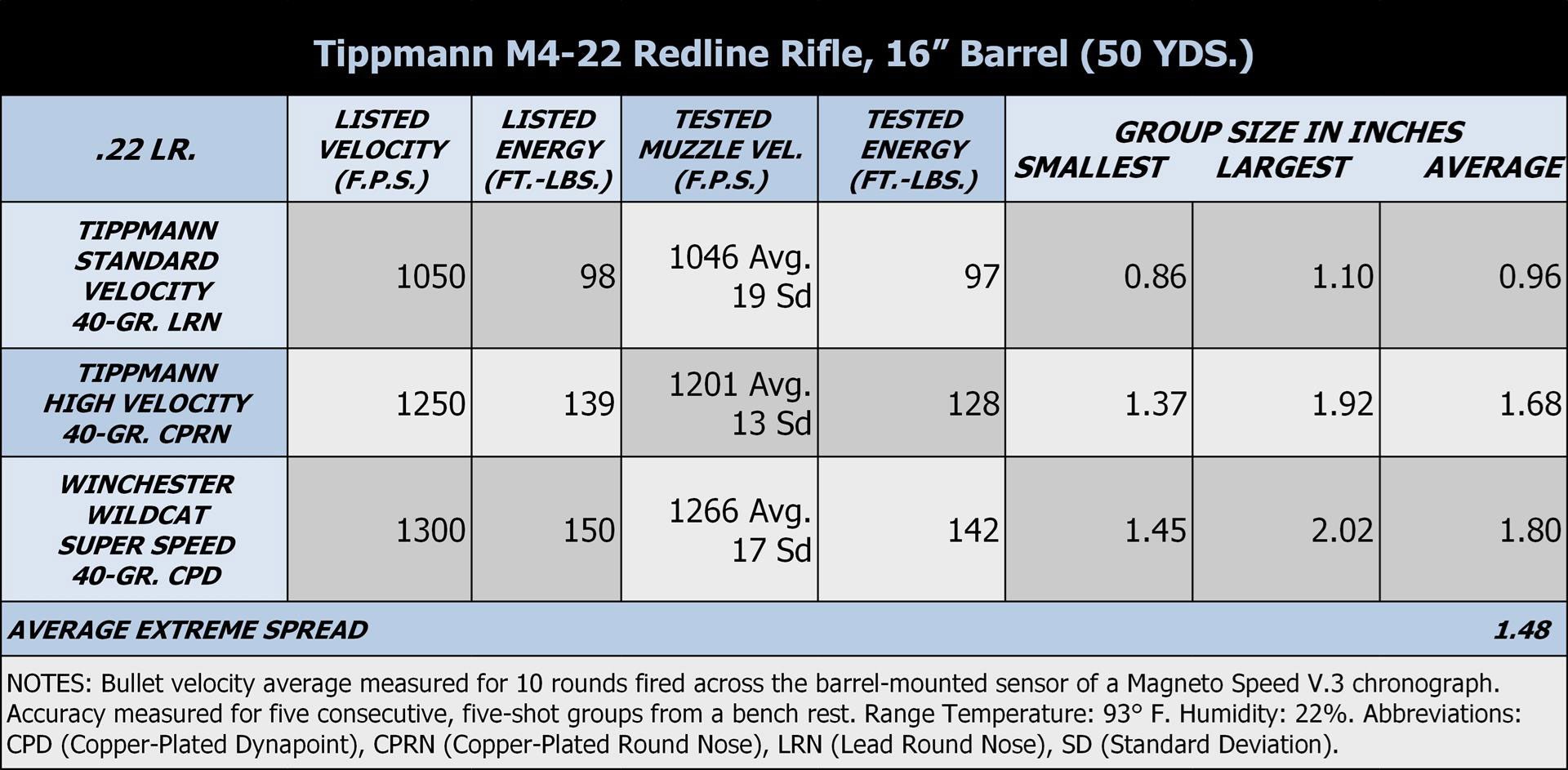 Evaluating the Tippmann Arms M4-22 Redline .22 LR semi-automatic rifle calls for three sets of criteria instead of the one or two sets usually applied in a review. They include the following questions: Is the M4-22 similar enough to a centerfire AR-15 pattern rifle that it can be used as an understudy? How well does it fit the race gun niche? And is this a useful and enjoyable rimfire rifle in its own right?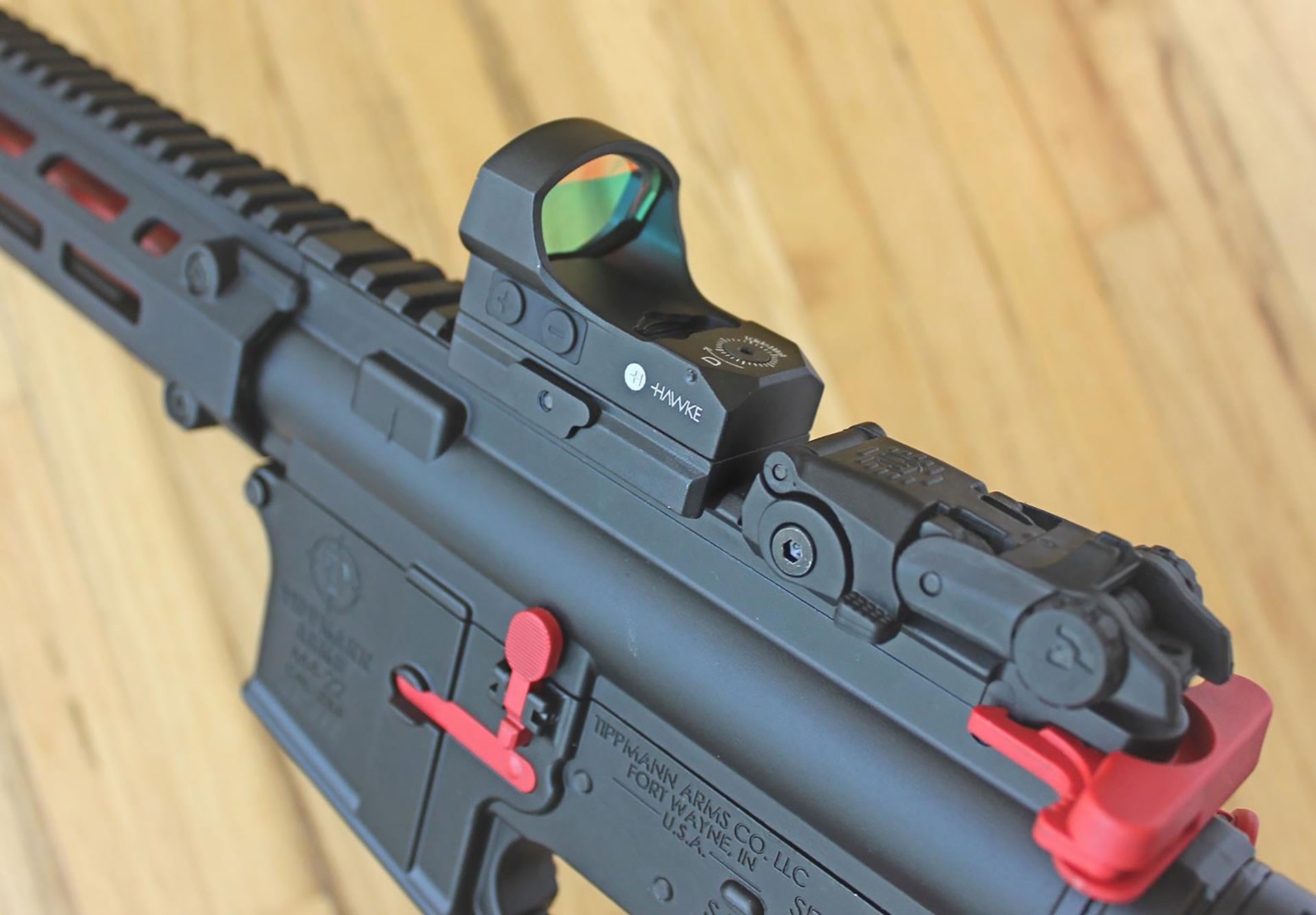 The Hawke optic's wide, clear lens and bright aiming point make it a great fit for target shooting out to 50 yards.
The M4-22 comes closer to replicating the handling and controls of an AR-15 than any other dedicated rimfire AR pattern rifle I've worked with so far. If I were to nitpick, I would point out that the charging handle stroke is shorter than that of a typical centerfire AR-15, and the full-size magazines hold 25 rounds instead of 30 rounds. Other than that, it looks and operates like an AR-15. The two other shooters I passed this rifle to had not fired an AR-15 before. The M4-22 allowed them to get the feel for the eccentricities of the platform without the muzzle blast, recoil and ammunition costs of beginning with a centerfire gun.

The proprietary magazines and test ammunition ran reliably. 
Thanks to Tippmann's fluted barrel, the Tandemkross upgrades and red accents, the M4-22 Redline fits neatly into the race gun category. But more importantly, it runs well with a variety of loads and it yields sub-m.o.a. accuracy with the right ammunition. Weighing in at 4 lbs. 15 ozs., before adding an optic and magazine, this rimfire is light and handy for two-handed standing shots with an adjustable stock and textured grip that make it a great fit for bench rested target shooting.
Finally, the M4-22 exceeded my expectations as an enjoyable rimfire rifle. It's handy, reliable, accurate and easy to disassemble for cleaning. It's useful as an understudy but also just plain fun to shoot. After talking it over with the two folks who conducted the extended testing, we all came to the same conclusion. What we would like from this rifle is more trigger time with it at the range!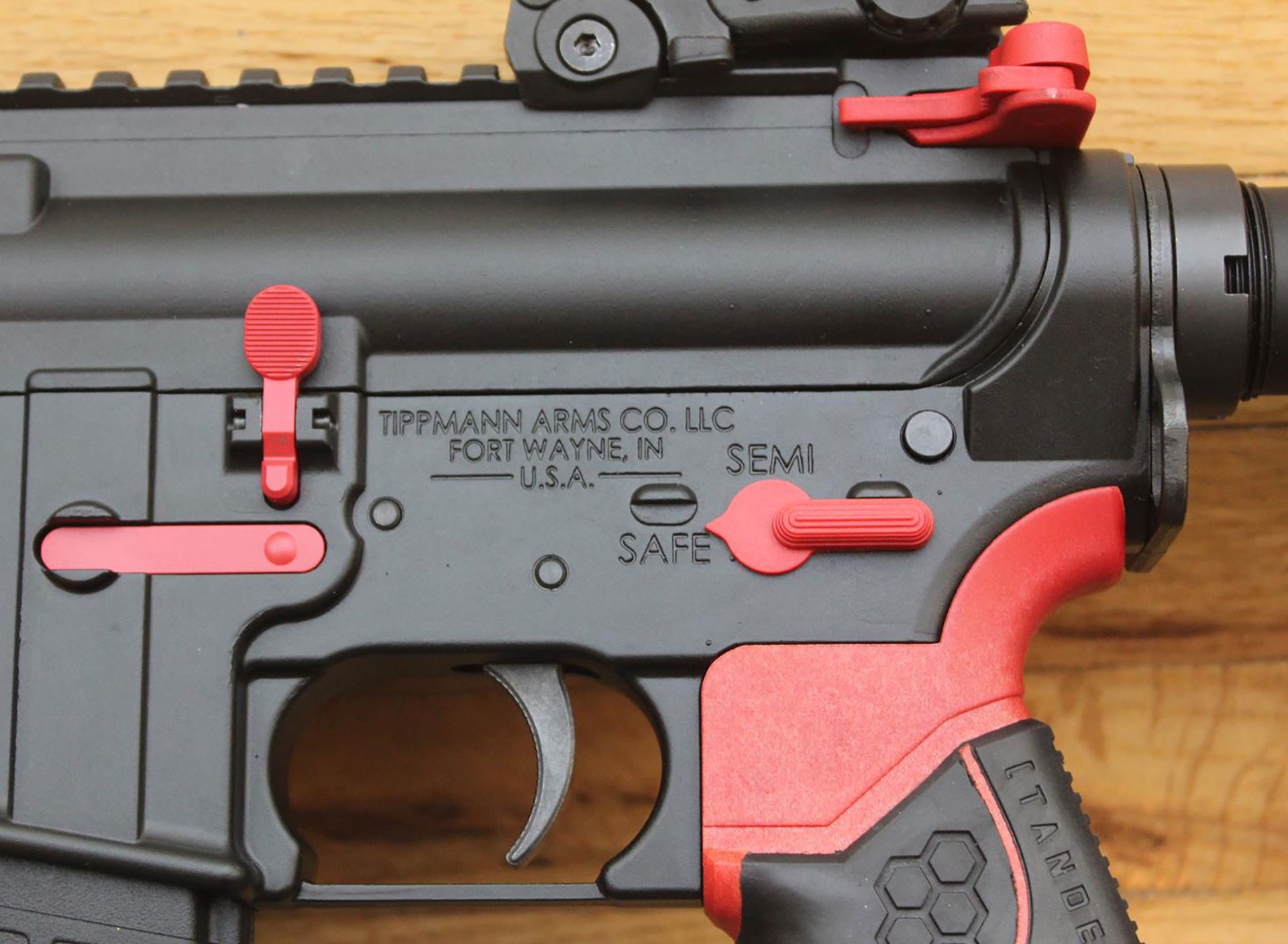 Specifications:
Manufacturer: Tippmann Arms
Model: M4-22 Redline with Hawke Optic (101112)
Action: Blowback Operated Semi-automatic
Chambering: .22 LR
Upper Receiver: Flat Top, Cast Aluminum, E-Coating Matte Black Finish
Barrel: 16" Fluted, Solid 4150 Steel, 1:16" RH, 6-Groove, Red Duracoat Finish
Muzzle Threading: 1/2×28 TPI
Handguard: 9″ Composite Polymer Free Float, Integral Picatinny Optics Rail
Handguard Slots: M-lok
Lower Receiver: Cast Aluminum, E-Coating Matte Black Finish
Trigger: AR-15 Compatible, Single Stage, 4-lbs. 2-oz. (As Tested)
Length of Pull: (LOP):  10.5″ to 13.75″
Sights: Tippmann Flip-Up Polymer, Height & Windage Adjustable
Optic: Hawke Sport Optics Wide-View 3MOA Reflex Sight with Riser
Magazine: Tippmann Proprietary Rimfire
Capacity: 10, 15 or 25 Rounds
Overall Length: 34.25″ (Stock Fully Extended)
Weight: 5-lbs. 10-oz. with Optic and Empty 25-Round Magazine
Accessories: One Magazine, Trigger Lock, Owner's Manual
MSRP: $889.95 (With Optic), $719.95 (No Optic)
Article by B. GIL HORMAN
Don't forget to like us on Facebook and follow us on Twitter.