Review: Walther PDP-F Series
Close your eyes and imagine the feeling of a full-size handgun that you can grasp in your hand and slide from your holster which feels like it was made just for you. Envision reaching the magazine release and the slide stop with minimal effort. How about a gun shaped and angled to your hand with you in mind? I know that for ladies, a gun like that can be hard to find.
Having helped many women purchase firearms throughout the years, I understand what women look for when buying a handgun. The firearm industry has worked to bring "female friendly" firearms to the market, but it has been a struggle. In the last 15 or so years, firearm manufacturers started to understand that women were serious about shooting. Kudos to them in their efforts, but they often merely shrunk their firearms, even painting them pink to make them "lady-like."  However, they fell short in actually fitting a firearm to a woman's hand. Until now.
Walther might have charged to the top position in the "handguns made with women in mind" category with the PDP-F Series; available with either a 3.5 inch or 4.0 inch barrel and chambered in 9mm. This firearm won the coveted 2023 NRA Women, Golden Bullseye Award "Handgun of the Year."
For this review I used the 3.5-inch model as sent from the factory with no modifications. Many people believe women only need micro-compact pistols for concealed carry because of their smaller hands. I admit they may be handy in some situations for some ladies, but I prefer carrying a larger handgun. However, I have struggled to grasp the grip comfortably with my short fingers. I have looked for that pistol grip solution that offers both fit and function.
The first thing I noticed when I took the Walther PDP-F 3.5 out of the box was how the grip felt in my hand with the "Performance Duty Texture."  It is aggressive, yet not abrasive. The curved, and gently molded backstrap is engineered and contoured to fit a women's hand and allows me to grip the gun quickly, properly, and securely.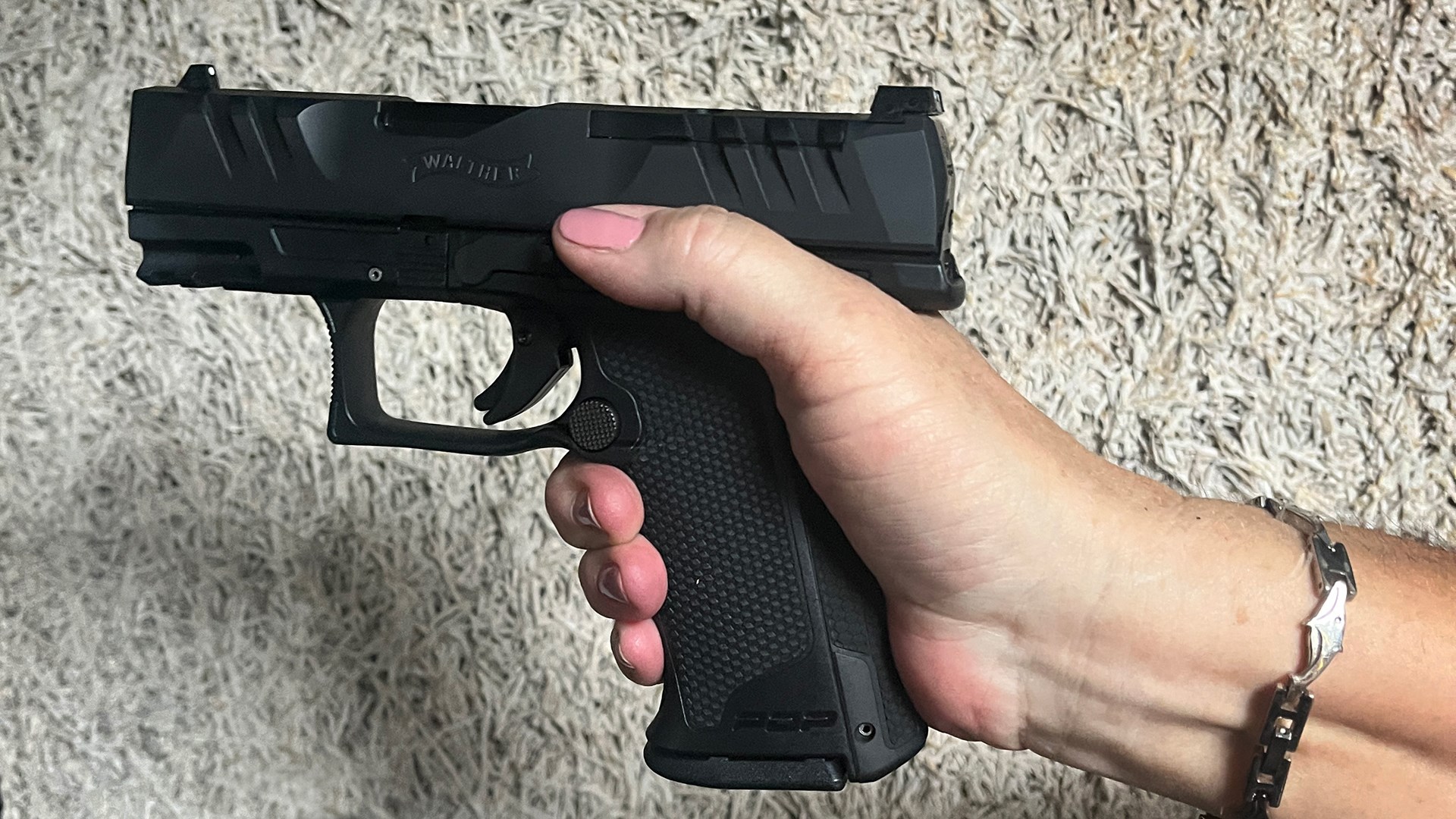 Next, I was pleasantly surprised how I was able to reach the slide release and the magazine release quickly and efficiently. What is more impressive is the 'Reduced Reach' trigger. There wasn't any canting or twisting necessary for me to fully reach everything I needed. I can see this being helpful both in an emergency or in a competition where seconds matter. Another useful feature for the slide, is the "Super Terrain Slide Serrations" giving your hand easy purchase for firearms manipulations with no slipping.
Another plus to the PDP-F is how well balanced it is when loaded. By design it has enough weight to absorb recoil even after target practicing through many rounds. It is indeed light enough to carry comfortably and knowing I have a solid piece to work with.
The PDP-F Series also features a new patented operating system that results in a 20-percent reduction in slide-rack force. This makes it one of the easier guns for women to rack rounds into the chamber. Women with smaller, weaker hands and even those struggling with injury or arthritis will benefit greatly from this feature.
Taking the PDP-F 3.5 to the range made me fall completely head over heels with it. I put 100 rounds through it at 25 yards, with warm-up shots and four, five-shot groups, using both Winchester 9mm JHP 147 grain and Blazer 9mm FMJ 147 grain. Both round types were very smooth through the pistol and my group sizes were similar, roughly 4 to 5 inches. The test showed me that the gun was great, but I admit I need a little work. More so, I never had to worry about sore hands as the recoil was minimal. Having adjustable rear sights will help as well, to personalize the PDP-F to me.
There were no misfires or issues with the gun, and I didn't feel like I had been hammering rocks all day. I was able to have a consistent and comfortable aim. While I am satisfied with the 5.6-pound trigger pull, I might just elect to lighten it a little in the future. I will take it again to the range assured I am going to enjoy my experience. The Walther PDP-F makes me want to practice more now with all these comfort features.
The PDP-F Series handguns are red dot ready and have a rail accessory to attach a light. This makes it both versatile and easy to personalize for a duty, competition, personal safety, or target practice gun. The PDP-F Series is shipped with the firearm, two 15 round magazines, (you can request 10 rounds for states with those regulations), a speed loader, safety lock and tools. You will also be able to order a free optic plate if needed. Made in the USA at Fort Smith, Arkansas, the Walther PDP-F Series is an excellent multi-purpose firearm and comes with a 30-day money back guarantee. My take-away for the Walther PDP-F Series is there is finally a pistol made for the woman in mind and perhaps envied by your male counterparts.
Walther PDP-F 3.5 Specifications
Manufacturer Walther
Model Name: PDP-F Series
Action: Striker fired, semi-automatic
Caliber: 9mm
Height: 4 inches
Width: 1.34 inches
Length overall 5 inches
Barrel Length 3.5 inches
Grip Circumference: 5 inches medium backstrap
Weight unloaded: 23.3 ounces
Frame Material: Black polymer
Slide Material: Steel
Optic Plate: Free upon request
Magazines Included: Two 15-round magazines, 10 rounds upon request.
Trigger Pull: 6 pounds
Trigger Travel: .24 inch
MSRP: $699
Article by ANNE CONRAD
Don't forget to like us on Facebook and follow us on Twitter.