The Original Ruger Hawkeye: A Handgun That Didn't Fly
Every gunmaker faces the same problem. After all the work of developing a new gun, they have to come up with a name for it. The flashy new whatever-it-is has to have a designation that both identifies the arm as well as develops a certain commercial appeal for it. Ruger always liked the identification with the raptors know as hawks.
Ruger's Blackhawk, a frontier-styled single-action, was the company's first centerfire firearm and has been made in an enormous array of styles and calibers. When the company introduced a more modern DA/SA revolver, they dubbed this brute-strong magnum as the Redhawk. This was another multiple-variation revolver that earned a fine reputation and sold well.
Yet there was—all too briefly—another handgun with a "hawk" identification that was made in limited numbers. The gun was called the Hawkeye, and it was only cataloged circa 1963-64. That's some 56 years ago, and the company has since used the Hawkeye moniker for an updated bolt action centerfire rifle.
The name was used originally for a pistol, but one that defies easy classification. It is a single shot because there is a single firing chamber and no mechanism for feeding subsequent rounds. But it has a simple single-action trigger system where trigger pressure performs the single function of firing the gun.
Regardless of the semantics involved, the old Hawkeye was a fine handgun. It came along at a point in history when special purpose handguns were being seriously considered. Most of the interest focused on hot centerfire cartridges capable of taking small-to-medium game animals and pests. Sometimes, this was done at several hundred yards. This style of shooting does not require shooting at great speed, so a slow-to-reload single shot makes a lot of sense. It also demands superior sighting equipment (scopes), which were not widely available in the mid-1960s.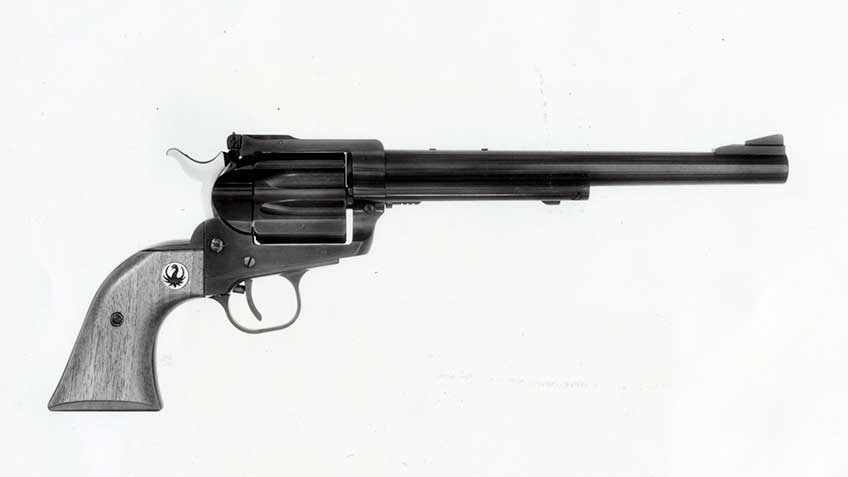 To make the Hawkeye, Ruger took the Blackhawk revolver frame and grip, then screwed in a .25-caliber barrel. This left a large window where the cylinder would fit on a conventional revolver. Instead of the cylinder, Ruger designers worked out a breech-block system. The block was hinged at the bottom and tilted out to the left. This gave the shooter access to the rear end of the barrel, into which he inserted a cartridge. Close the breech, cock the hammer and fire. Repeat if necessary.
The system worked quite well and had a high potential for accuracy. Without the additional parts that would make it a repeater, the shooter manually inserted a cartridge into the firing chamber. There is no barrel-cylinder gap like a revolver, nor magazine-feed ramp as in a semi-automatic pistol.
Obviously, there is also an advantage in the economic sense. Many of the parts in the Hawkeye pistol were already in full production as parts for the Blackhawk revolver. Indeed, the introductory price tag was under a hundred bucks (early '60s dollars). Despite a host of features that would seem to make the gun a winner, it was not. About 3,000 were produced, and the model dropped from the Ruger lineup. I remember seeing several of them in stores in the late '60s.
Why did it flop? Part of the reason may be the cartridge for which the Hawkeye was chambered. Introduced in 1960, the .256 Winchester Magnum was an attempt to update the black powder-era .25-20 Winchester. This was a small-game round, primarily chambered in Winchester's 1892 rifle and carbine.
At the time of its introduction, there was no commercial firearm in production to fire the new .256-caliber round. That goofy situation was rectified when Marlin offered a .256-caliber lever gun. It turned out to be a favorite with all who fired it, but roundly scorned for its non-traditional appearance. About 8,000 of those were produced. There were also a few Contender barrels.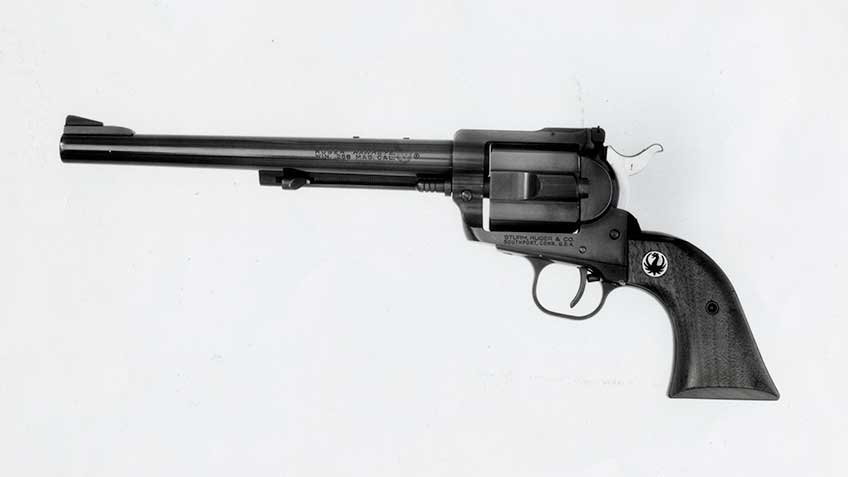 In another sense, the Hawkeye was simply ahead of its time. A handgun that will deliver truly exceptional accuracy at two hundred yards almost demands a high-quality optical sight—and they simply did not exist in 1962. If the GunBroker and Guns International prices of the old Hawkeyes had not gone through the roof, I might be tempted to buy one, slap a modern Leupold on the gun and see what I can do with handloads.
I once had a great day of .256 Winchester Magnum shooting. On a quiet day at our club range in Brea, California back in the late '70s, I was asked to fire a .256-caliber Hawkeye with fresh Winchester ammo. Brass was unavailable then and my friend needed some for a loading project.
My task was to "make brass" out of factory ammo with a gun. I'll do that job anytime. The gun had been fitted with an early long-eye-relief scope of dubious Asian origins. On that range, the hundred-yard berm was speckled with clay pigeons from the prior Thursday evening's shotgun shoot.
A full two hundred rounds of brass were made that day, and I formed a pretty good impression of the .256 Hawkeye. I was able to break more than a few grounded clay pigeons and started shooting at the larger fragments thereof. Accuracy of the gun was first-rate, recoil was mild and a very nice trigger made it seem easy.
So why did Ruger discontinue the Hawkeye? Because folks weren't buying them. Why didn't people buy them? Beats me.
The Ruger Hawkeye .256 is a fine long-range handgun. I would like to see the gun chambered for other cartridges—possibly the .357 Maximum?
Article by WILEY CLAPP
Don't forget to like us on Facebook and follow us on Twitter.