Review: Springfield Prodigy 1911 DS AOS
When selecting a semi-automatic handgun for self-defense, for many the only choice is the M1911—and for good reason. Few firearms are as proven in life-and-death confrontations. Also, the M1911 has excellent ergonomics, fire-control placement and, in most examples, a quality single-action trigger to boot. Moreover, the M1911 is available in myriad configurations and has the ability to be easily customized, which facilitates a perfect fit for nigh all shooters. Despite its many attributes, though, the M1911 doesn't appeal to everyone. Beyond its dimensions (and weight), the key detraction is its capacity, which is typically limited by a single-stack magazine.
But what if you could meld the best of the M1911's attributes with those found in today's crop of polymer pistols—such as a molded grip frame, increased capacity and optic capability? Several companies have done just that, and Springfield Armory has accomplished the feat as well with its U.S.-made Prodigy 1911 DS AOS—and at a fairly attractive price point, too. 
The Prodigy's departure from M1911 normalcy is obvious from first glance. The forged steel frame is mated to a high-impact polymer grip module configured to use detachable, double-stack 9 mm Luger magazines—hence the "DS" designation—and a forged steel slide cut for the Agency Optic System (AOS) red-dot-sight mounting plate.
Despite holding a staggered-column magazine, the grip isn't unduly thick; rather, measuring 1.29″ wide and 2.145″ long, along with integral stippling, it results in a solid, comfortable purchase. As it currently stands, there is no expectation that modules of differing dimensions will be sold. The squared-off trigger guard is molded integrally to the module, but the checkered mainspring housing is a separate component made of steel.
Above the mainspring housing is an extended beavertail grip safety, which serves to protect the shooter's hand from the lightweight, skeletonized hammer.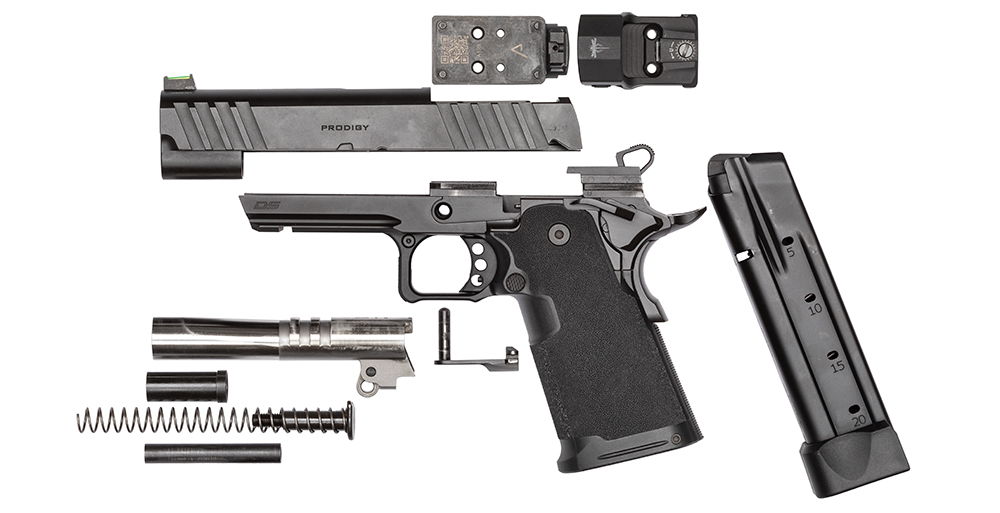 The Prodigy's easily manipulated, frame-mounted thumb safety is its only bilateral fire control; the slide stop and magazine-release button are traditionally positioned for right-handed shooters. The skeletonized, single-action trigger on the test gun exhibited virtually no creep or overtravel with an exceptionally short reset. According to a Lyman Digital trigger pull gauge, the average pull weight was 5 lbs., 6 ozs.
A one-slot Picatinny rail is incorporated into the dustcover for the mounting of lights and/or lasers. As with the slide, the frame's metal components feature a corrosion-resistant black Cerakote finish that complements the black grip module. The pistol's slide has a no-nonsense appearance and features a series of wide and deep cocking serrations at the front and the rear of each side.
The Prodigy's multiple sighting options include a ramp front sight with a green fiber-optic pipe that works in conjunction with a U-notch rear, both of which are secured in dovetail cuts in the slide. Both sights have serrations on the face to reduce glare, while the rear also has its edges removed to prevent snagging. Secondly, the slide is optics-ready with a cut that accommodates an optic-specific AOS baseplate with a rear sight, to which a red-dot can be directly attached. Springfield currently offers six adapter plates that accommodate more than 20 different optics. The pistol ships with a Hex Dragonfly-compatible (Docter footprint) plate, and a round-top cover plate with a dovetailed, tactical-rack rear sight is provided for when an optic isn't used. The pistol is available with either a 4.25″ or 5″ forged, stainless-steel, match-grade bull barrel measuring 0.695″ wide at the muzzle; its feed ramp is integral. Beneath the barrel is a two-piece, full-length guide rod and bushing. Extraction is by way of an internal steel extractor, while ejection is provided by a fixed ejector.
As for magazines, the two detachable, double-stack units from Duramag include a flush-fitting 17-round box and an extended 20-rounder. There is also a lengthier, 26-round version being offered separately. The steel-bodied magazines have polymer followers and baseplates, as well as witness holes.
The sample Prodigy provided for evaluation was a 4.25″-barreled AOS model pre-fitted with a Trijicon RMR, however, this is not a configuration currently being offered by Springfield—optic-included Prodigies are instead outfitted with a Hex Dragonfly. We accuracy-tested the gun at 25 yards from a sandbag rest using three premium defensive loads: Hornady's 115-grain Critical Defense; Speer's 124-grain Gold Dot; and NovX's Pentagon 115-grain monolithic copper hollow points.
Given our experience with Springfield M1911s, as well as the pistol's accuracy-enhancing features, we had little doubt that it would prove to be accurate, and we were not disappointed. NovX Pentagon created the smallest five-shot group and average for five consecutive, five-shot groups; they measured 0.92″ and 1.33″, respectively. As illustrated in the nearby table, the other loads provided good accuracy, too.
During testing, we encountered difficulties with the Speer Gold Dot load. On several occasions, the round attempting to chamber would abruptly stop on the feed ramp. The Prodigy was returned to the company, where, according to the invoice, it was inspected, the feed ramp polished and the disconnector tuned before it was returned to us for further testing, which eliminated the cycling issue.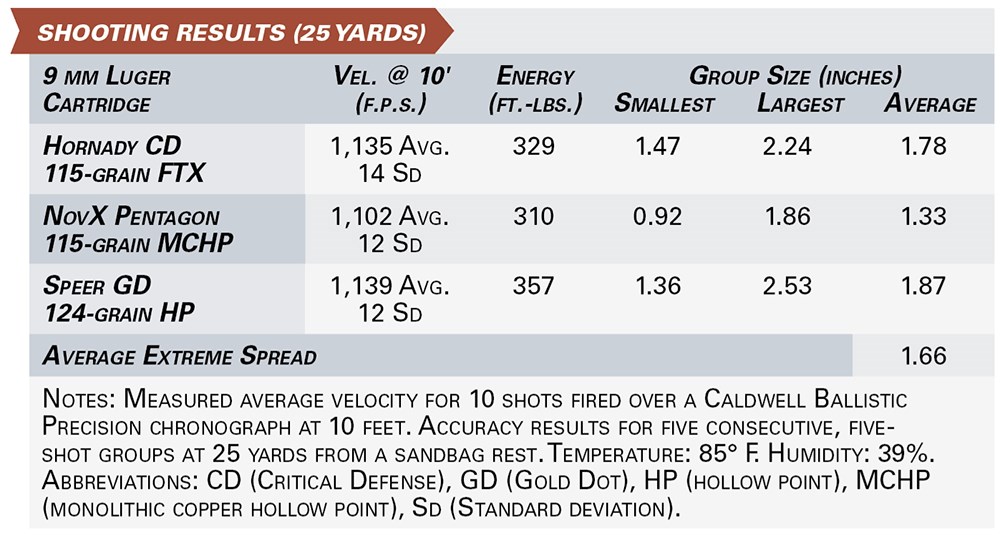 Throughout extensive firing, we found that the Prodigy's solid, hand-filling grip, weight and superb balance made one- and two-hand shooting simple and comfortable. In addition, the pistol pointed almost instinctively, allowing us to deliver accurate shots quickly.
With up to 27 rounds on tap, the Prodigy is more than ready for competition or self-defense. Though currently available only in 9 mm Luger, it could be chambered for other cartridges, although there are no official plans to do so at this point.
Before the introduction of the Prodigy 1911 DS AOS, Springfield Armory had an extensive selection of quality M1911s from which to choose, but the line of single-stacks was incomplete. That's no longer the case—for those who have hoped for a Springfield M1911 with above-standard capacity and modern materials, the wait is over.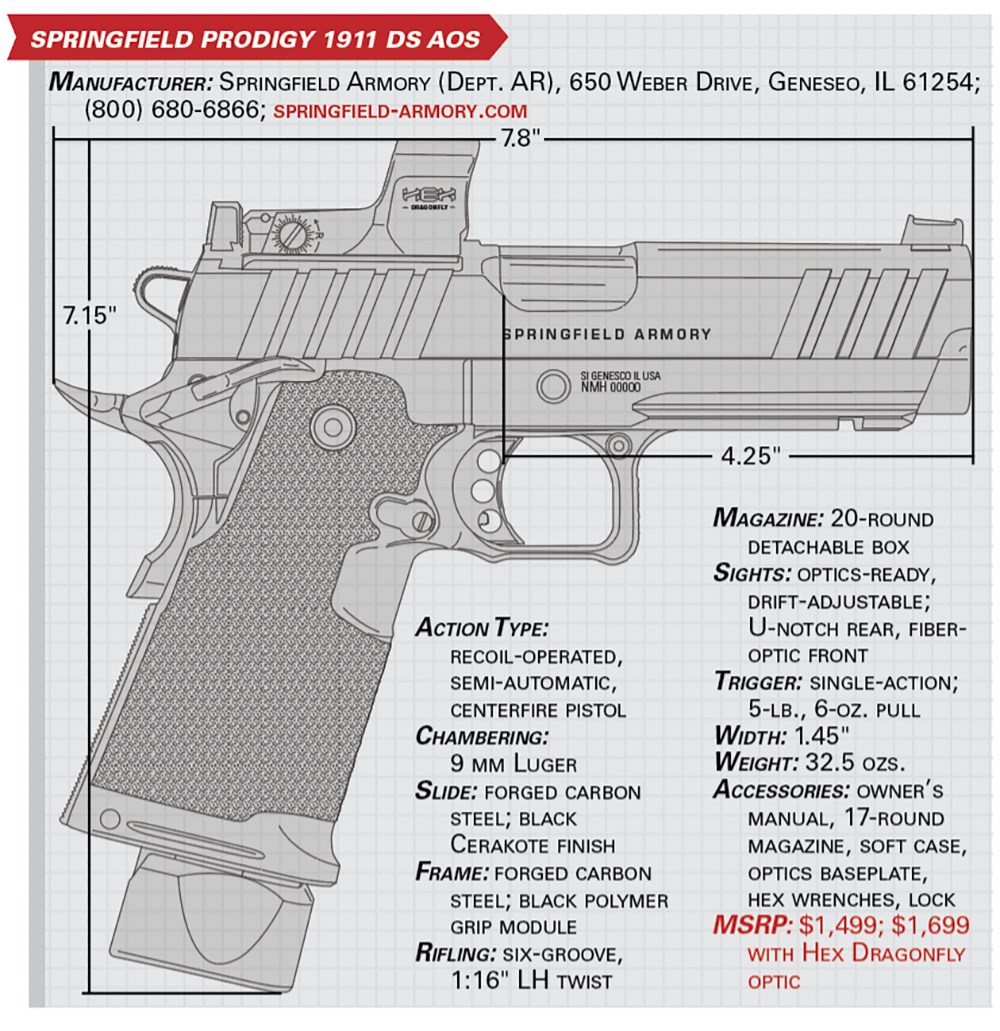 Article by AMERICAN RIFLEMAN STAFF
Don't forget to like us on Facebook and follow us on Twitter.