Review: Tisas Stingray Carry
Not too long ago, I was enjoying an evening meal with some fellow shooting sports media members. As you may have guessed, we spent the lion's share of our time together discussing the state of the industry and firearms that had piqued our interests. At one point in the conversation, a fellow NRA publications contributor, who has been in the game longer than I have, shared his experience of working with Tisas 1911 pistols.
Manufactured in Turkey by Trabzon Silah Sanayi AŞ (Tisas), these handguns are imported into the United States by SDS Imports of Knoxville, TN. The Tisas semi-automatic pistols in this importer's catalog currently include a clone of the Beretta 84 called the Faith .380 ACP, the PX-9 series of striker-fired, polymer-frame 9 mm pistols and more than three-dozen configurations of the venerable 1911.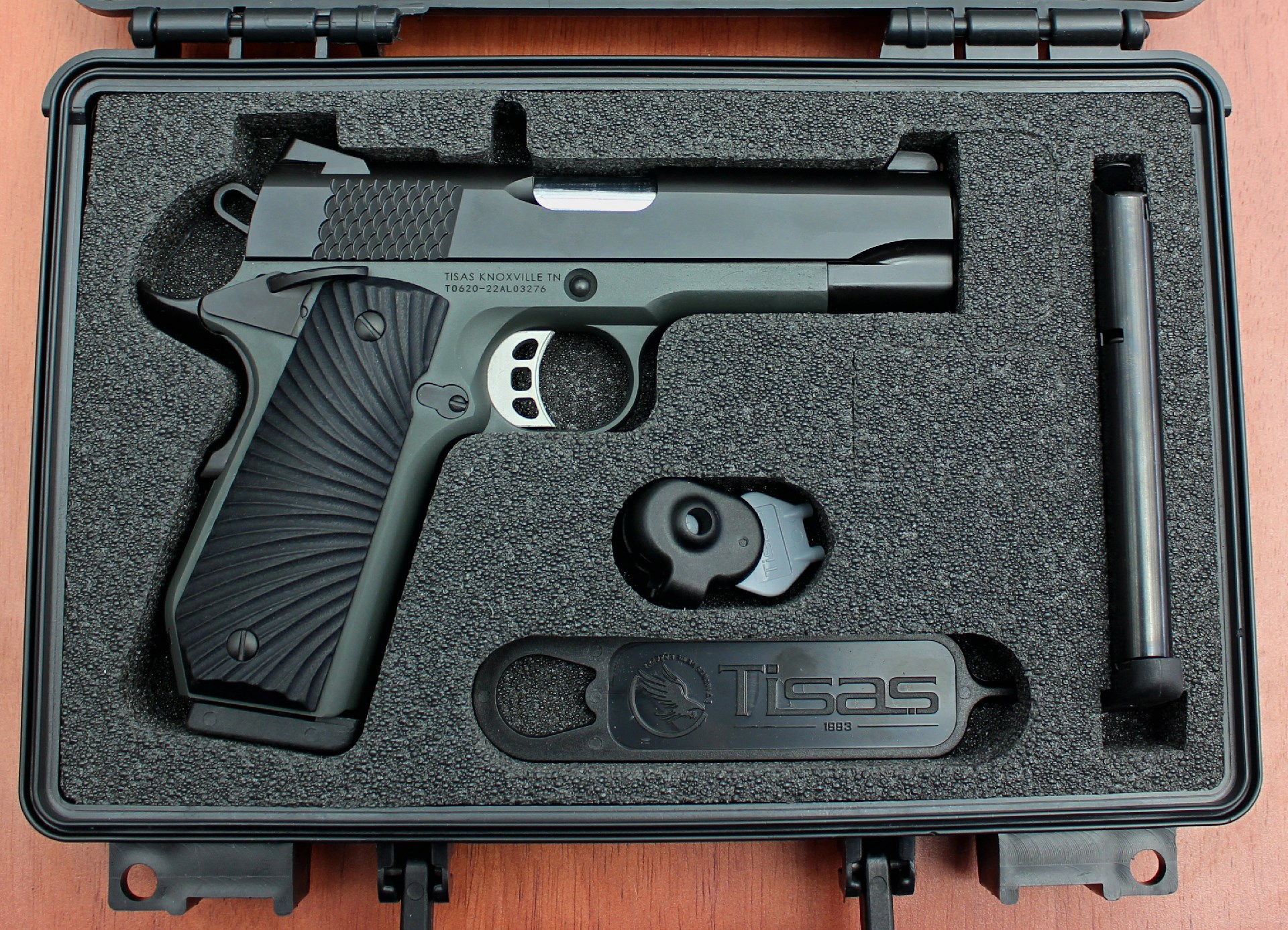 The Stingray arrives with a useful set of accessories.
Tisas 1911s are organized into seven different series of Government (5″ barrel) and Commander (4.25″ barrel) models broken out by features and specializations. Available with stainless steel, carbon steel alloy and aluminum frames, gun finishes include matte stainless steel, monotone and two-tone Cerakote treatments in various shades of black, tan and gray. Customers can choose models chambered in 9 mm Luger, .38 Super, 10 mm Auto and .45 ACP. Suggested retail prices start at $429.99. The most expensive option I could find, being an engraved special edition, listed at $949.99.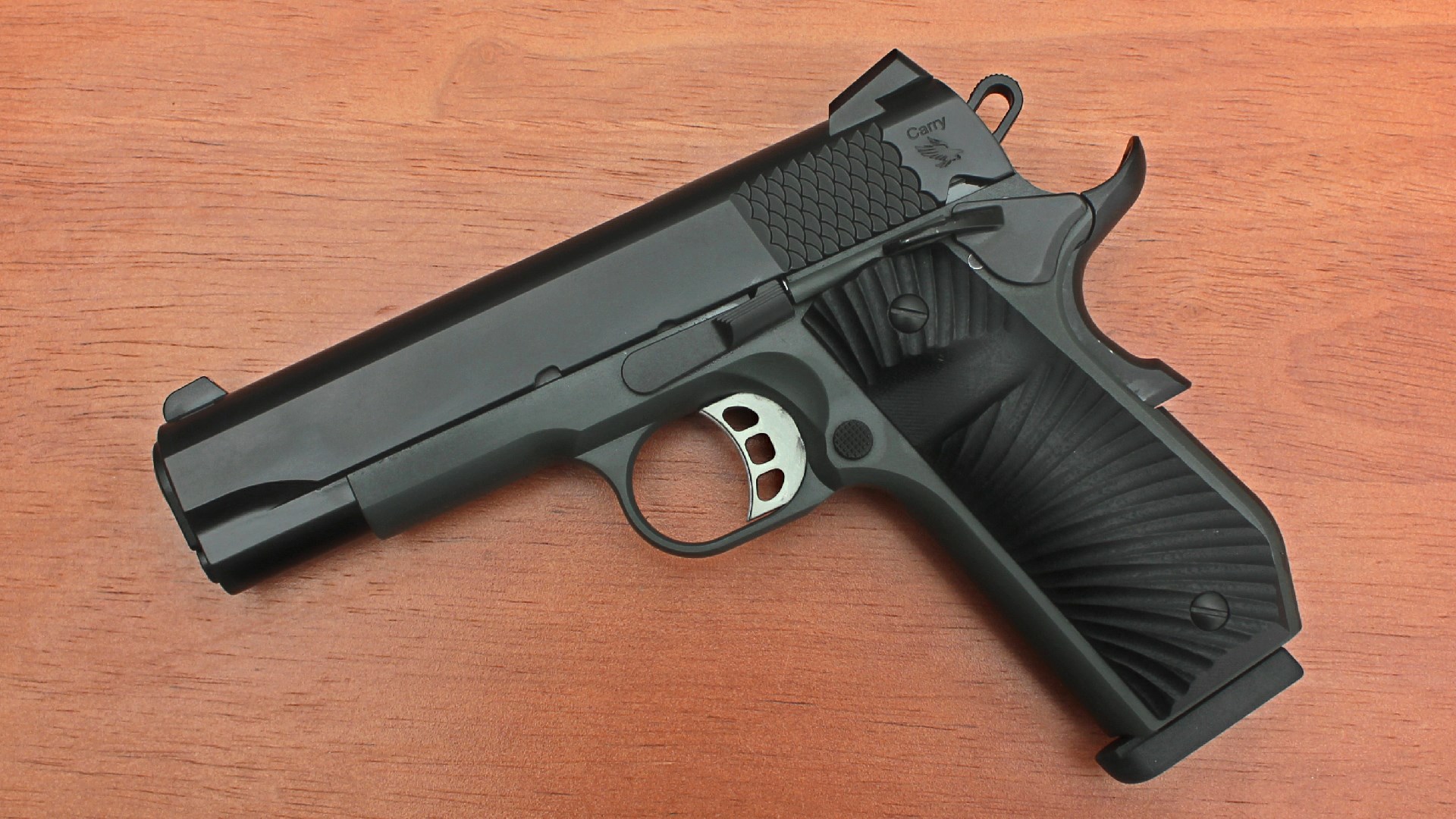 This Commander-size 1911 is designed for concealed carry.

The 1911 pistol in question over dinner that night was the least expensive Tisas 1911 in the SDS Imports catalog, the 1911 A1 Service 45. This is a basic, forged carbon steel GI model with a real-world price under $400. My associate was struck by this low price and decided to take it for a test drive. In short, he was impressed with the quality and reliability of the gun he received. I in turn was impressed by his positive recommendations. This inspired me to seek out the company to line up a test gun to try for myself.
The Tisas model that caught my eye is a member of the company's Concealment series dubbed the 1911 Stingray Carry (B9BA) chambered in 9 mm (hereafter referred to as the Stingray for brevity). Its feature set is reminiscent of the discontinued Springfield Armory EMP4 Concealed Carry Contour I had the opportunity to work with a few years ago (and still regret sending it back to the factory). That version of the EMP sold at retail for $1,220 at that time. The Tisas Stingray lists for $619.99, but again, a real-world price will be about $50 less. This made me curious to see the Stingray would compare to a concealed-carry 1911 that costs twice as much.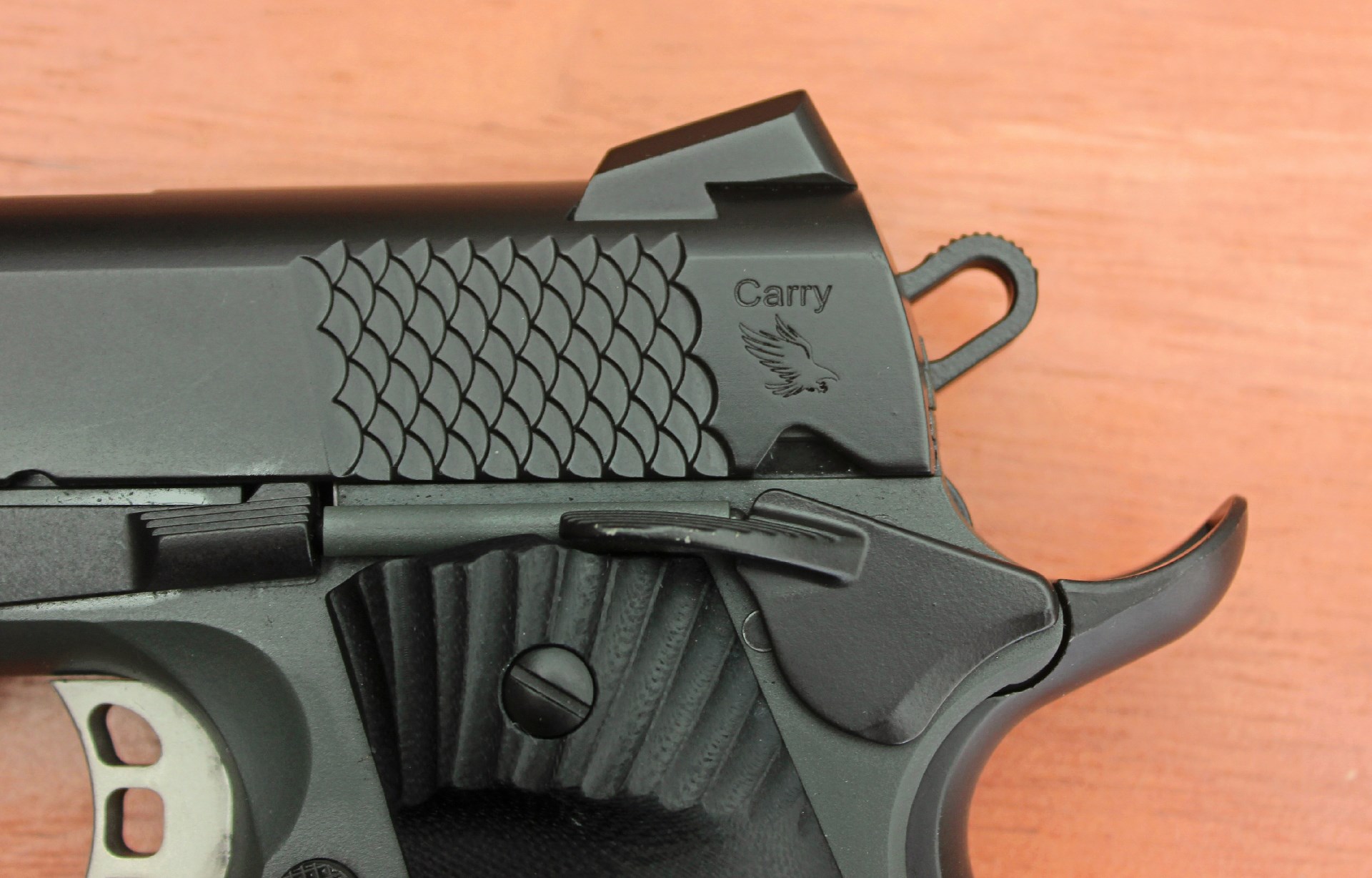 The fish scale cocking serrations are practical and good looking.
The Stingray is a short-recoil operated 9 mm semi-automatic pistol with a Commander-length slide and a full-size frame. The internal mechanism is lifted from Colt's Series 70 configuration, which means it omits the firing pin block safety found in Series 80 models. This gives the Stingray a more crisp, clean trigger feel.
The round-top slide is forged from carbon steel and finished with a matte-black Cerakote finish. It's outfitted with a set of dovetailed sights. The Novak-style, 3-dot arrangement provided a useful sight picture. The drift-adjustable rear sight is fitted with a tension screw. The rear slide serrations are of the fish-scale variety, which provides plenty of purchase when manually operating the slide. The ejection port has been lowered and flared to enhance ejection; an upgrade that in the past would bump up a 1911's price tag.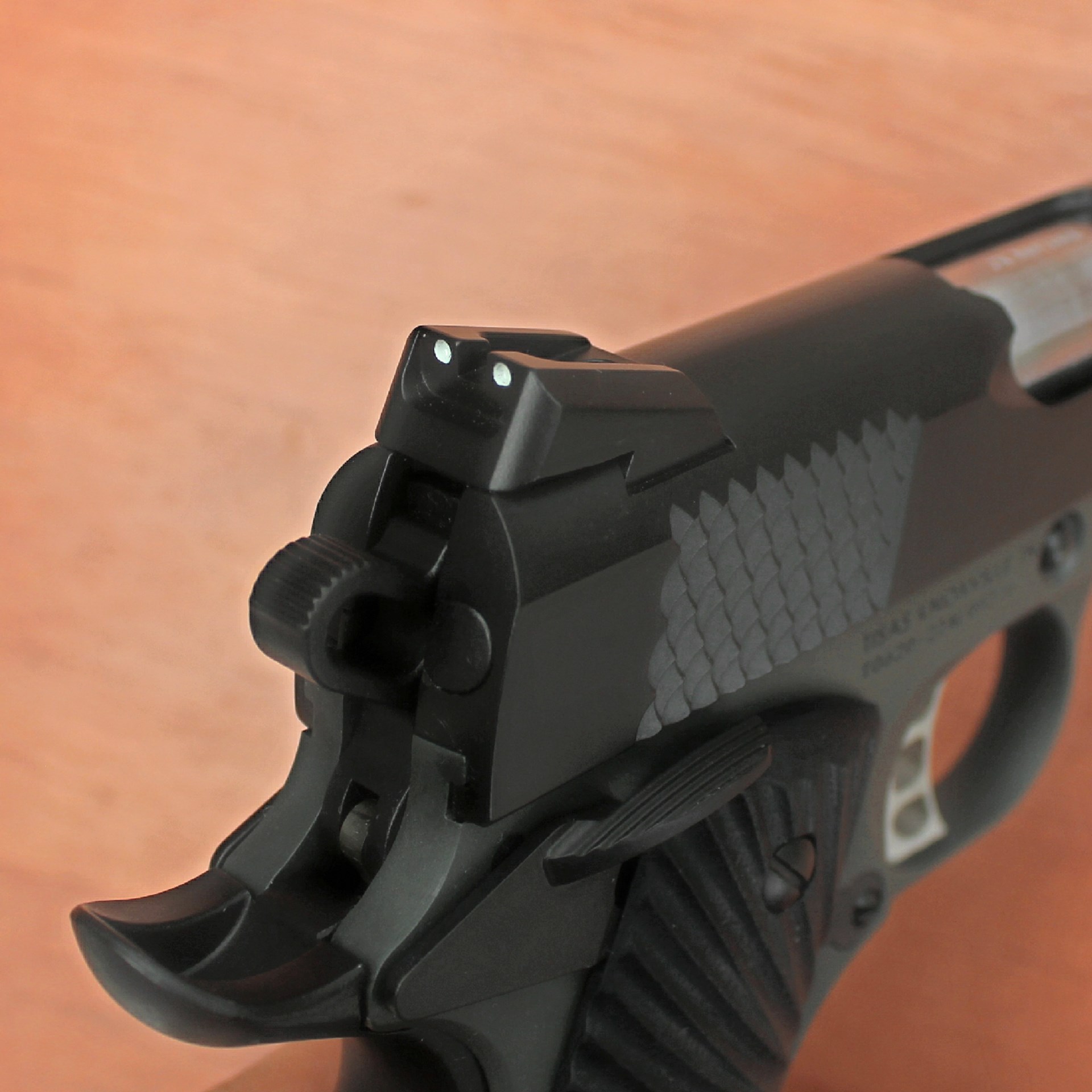 The Novak-style rear sight is drift adjustable for windage.
The cold-hammer-forged 4.25″ barrel is linked and has a ramp that has been properly polished for reliable feeding with modern round-nose and hollow-point 9 mm ammunition. The barrel's bushing exhibited a clean and tight fit. The standard recoil assembly consists of a sturdy single, round-wire spring paired with a 1911 plug. The slide to frame fit exhibited just a hint of 'G.I. wiggle' but it cycled smoothly right out of the box.
The full-size aluminum-alloy frame features a traditional rounded dustcover, trigger guard and a matte Stingray Gray Cerakote finish. The underside of the dustcover is engraved with 'ZIG M9 TURKIYE' in fine print. The right side of frame, between the top of the grip and the slide stop port, is engraved with 'TISAS KNOXVILLE TN' along with a hyphenated serial number below it.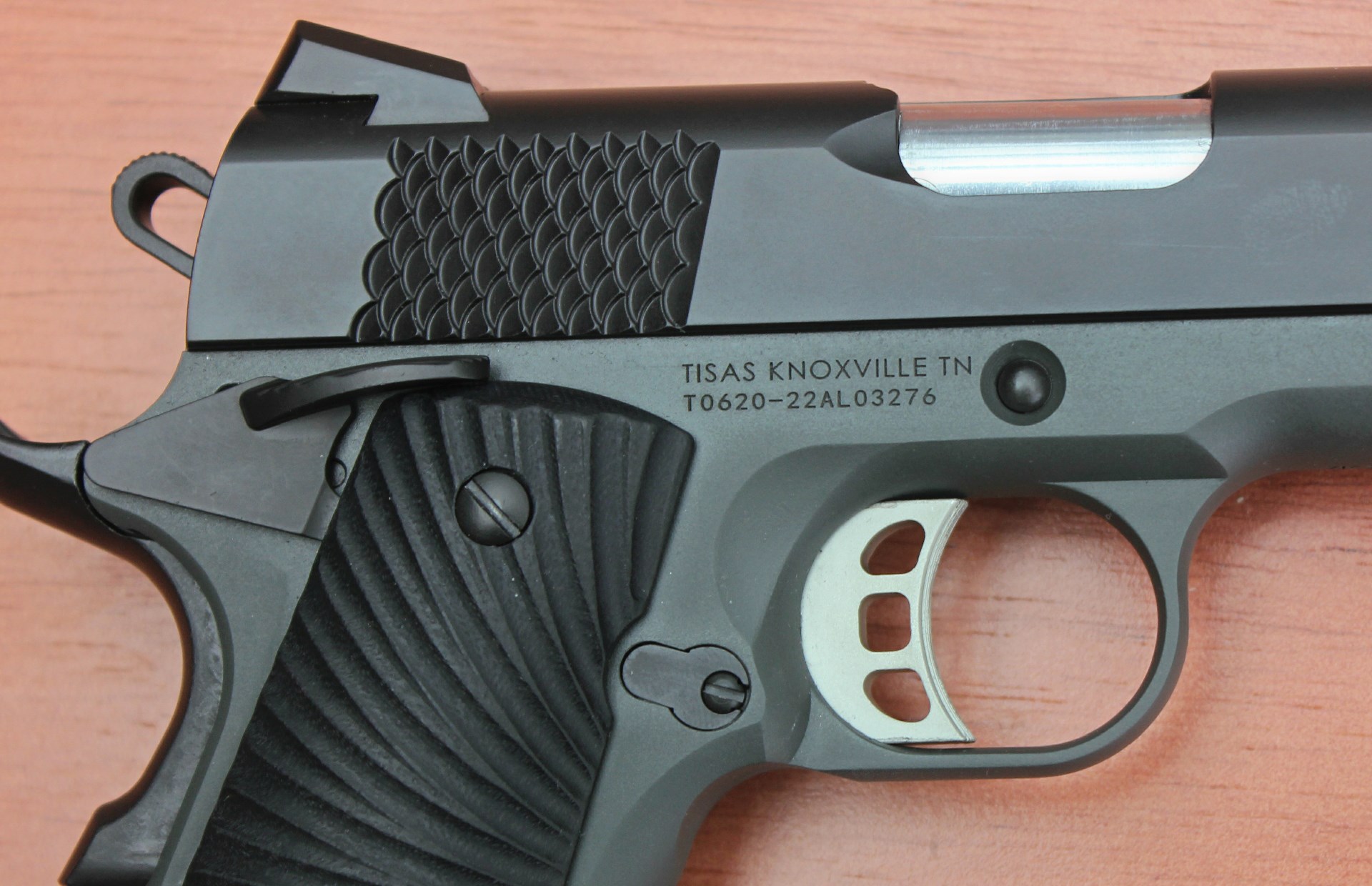 The aluminum trigger is skeletonized with a curved, grooved face.
The external controls, excluding the trigger, are finished with matte-black Cerkote to match the slide. The slide stop and checkered, round-button magazine release are both standard 1911 and found on the left side of the frame. The thumb safety is ambidextrous with short, rounded and grooved extensions suitable for concealed carry. The commander-style hammer is couched in an extended beaver tail grip safety with a memory bump for improved function.
The frame to either side of the trigger is beveled while the trigger guard is undercut, all of which makes the pistol more comfortable to work with. The skeletonized aluminum trigger has a grooved, curved face. An issue that seems to crop up with budget-priced 1911 pistols is a trigger pull which is mushy, rough, overly heavy or some combination of these less-than-optimal characteristics. This was not the case with the Stingray. The trigger exhibited just a small amount of take-up before breaking cleanly with 3-lbs. 2-oz. trigger pull. Overall, I would have expected a trigger that felt like this one to be attached to a more pricy handgun.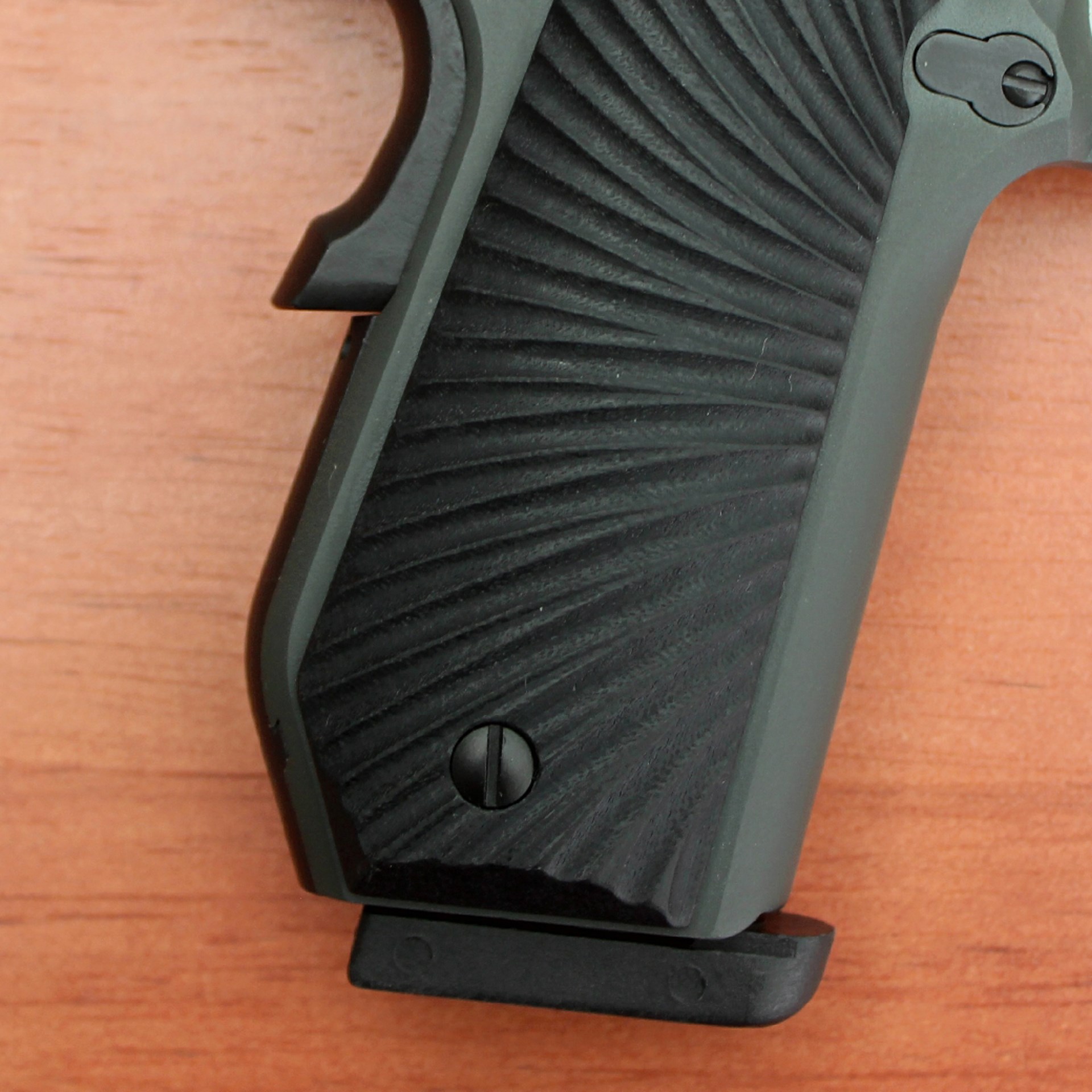 The Ed Brown Bobtail treatment of the frame aids in reduced printing when the pistol is carried under a cover garment.
One of the most notable features of the Stingray's frame is the Ed Brown Bobtail. The base of the grip and mainspring housing has been rounded off to help reduce grip printing when carried under a cover garment. This is another feature that used to require the time and expense of sending a 1911 off to a gunsmith for the alteration. The black G10 grip panels are grooved in what the company calls a Sunburst pattern and secured by black standard screws.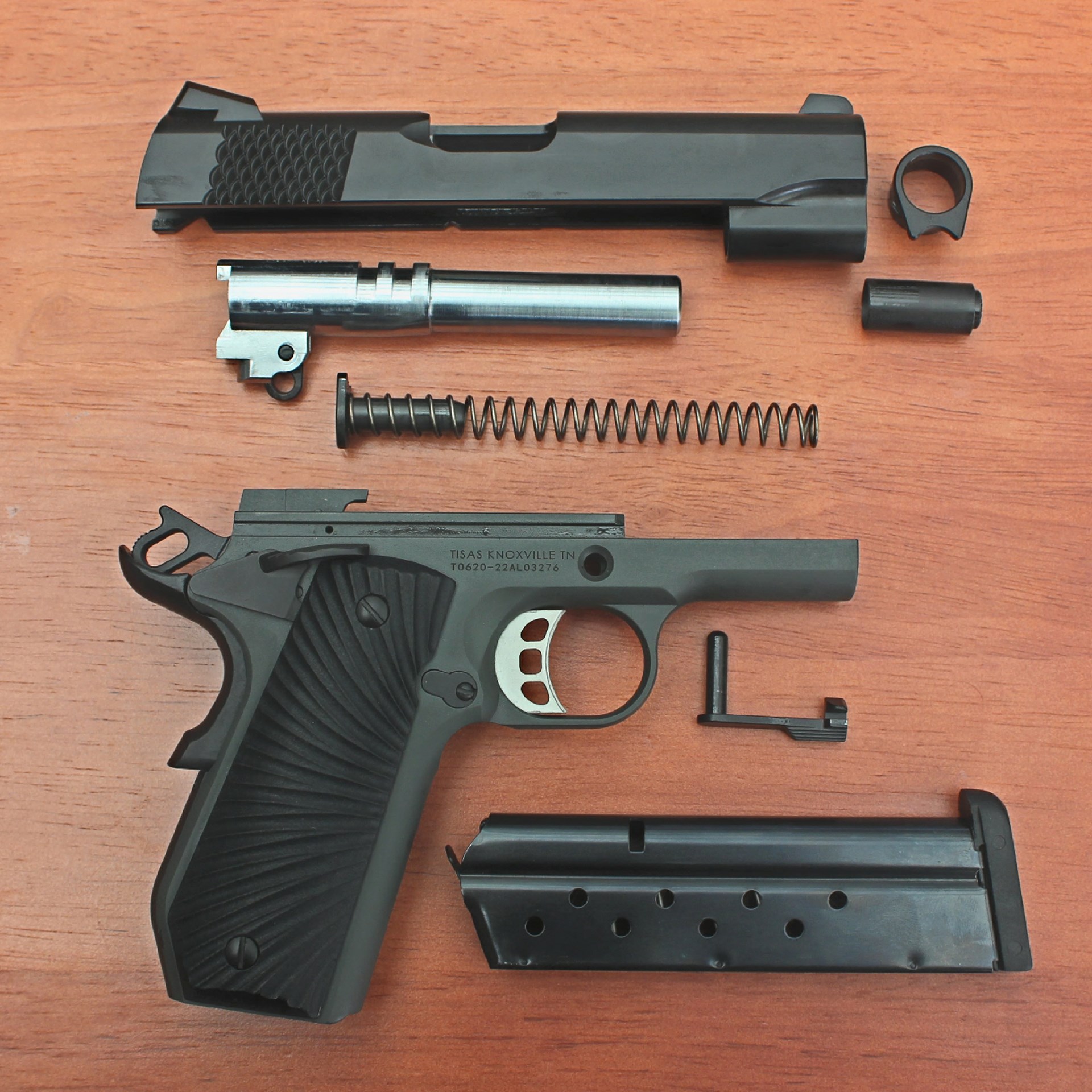 The Stingray is disassembled in typical 1911 fashion for routine cleaning.
As with other Turkish pistols I've worked with, the Stingray arrived with a useful accessory set. The foam-lined, lockable polymer storage case has a hinged carry handle and a moisture-resistant rubber seal in the lid. This pistol arrives with two single-stack, blued-steel magazines that holds 10-rounds of 9 mm, though it is a tight fit. Accessories include a polymer bushing wrench, a bore brush and a cleaning patch handle, in addition to the usual trigger lock and owner's manual.
What I enjoy most about shooting 1911 pistols chambered in 9 mm with full-size frames is the sense of control that they provide. This pistol is 30.7 ozs., unloaded, which contributes to levels of felt recoil that are moderate, almost to the point of being tame. Throw in the famously comfortable 1911 grip profile, the useful sights and the light trigger pull and the Stingray is a 9 mm semi-automatic pistol folks can enjoy practicing with regularity.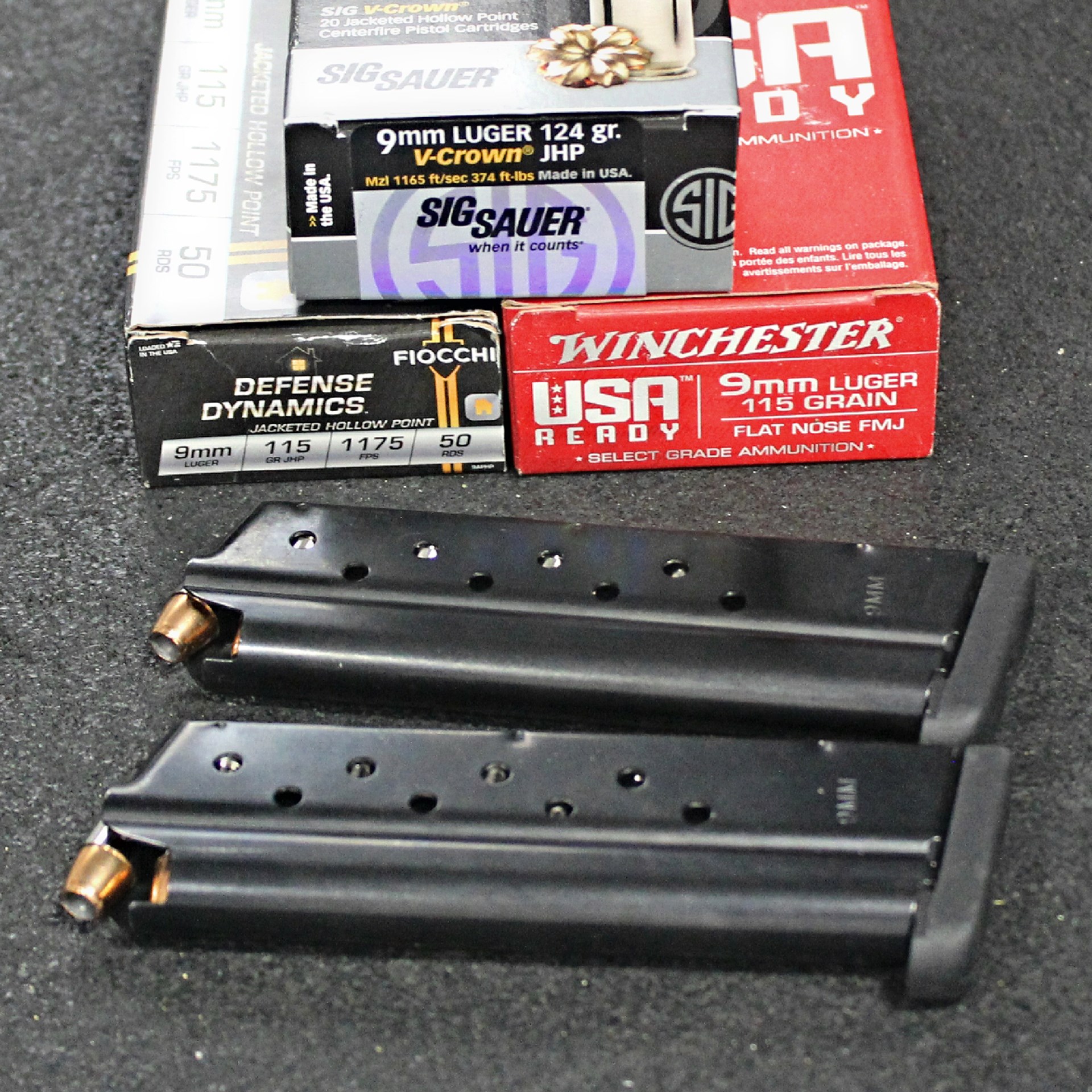 This pistol ticked along line a metronome with a variety of 9 mm ammunition.
This pistol proved to be reliable with the ammunition tested, which included practice-grade and premium defensive hollow point loads. It did not exhibit any issues. The magazine release button was firm and workable. The thumb safety clicked distinctively into its Safe and Fire positions. Formal bench-rest accuracy testing was conducted at 25 yards using loads manufactured by Fiocchi, Sig Sauer and Winchester. Groups ranged from 3.04″ to 3.75″ in size with an average extreme spread of 3.39″.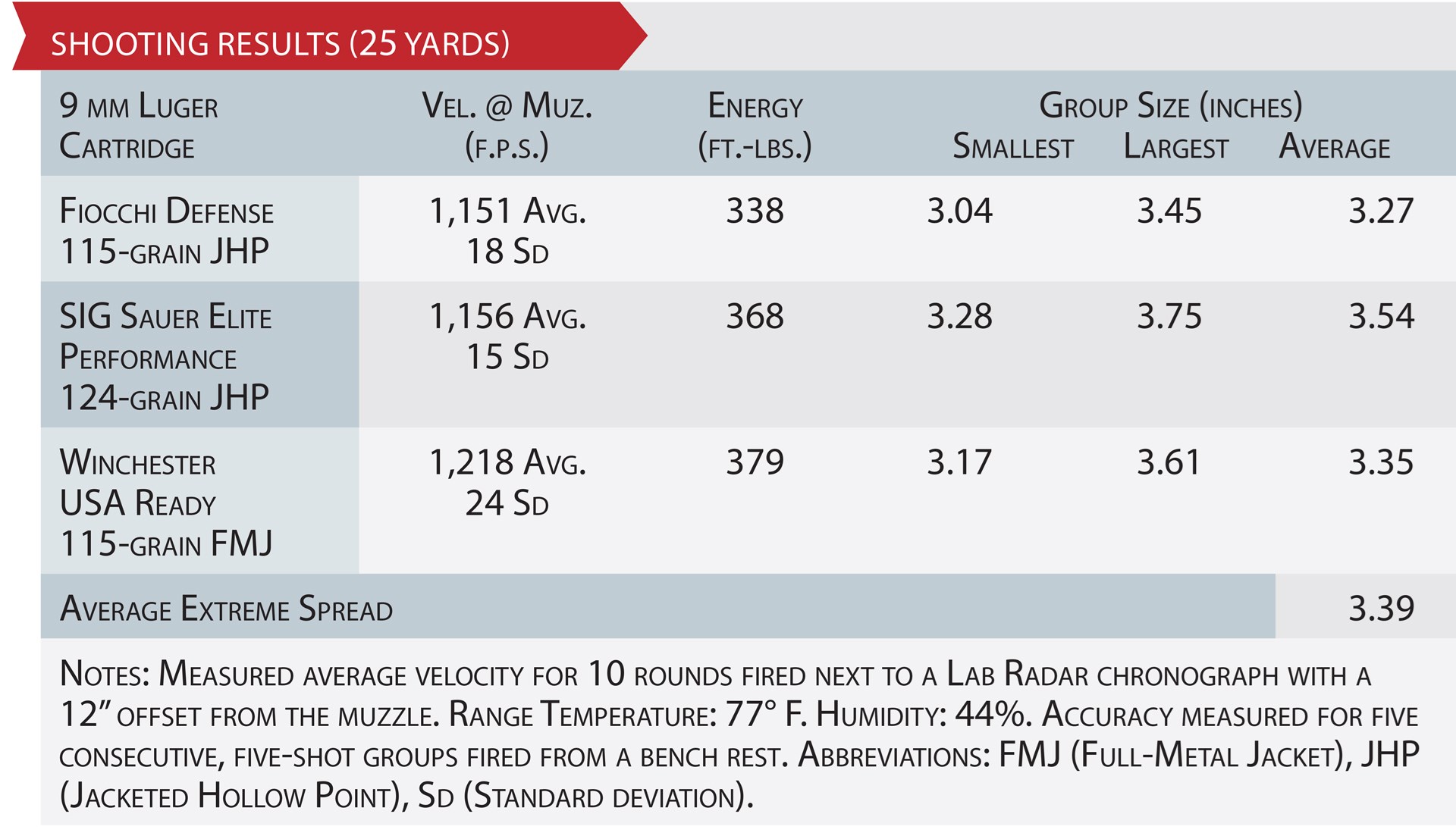 With the completion of this evaluation of the Tisas Stingray Carry 1911 pistol, I have to say that I understand why my fellow gun reviewer recommended the guns this company has to offer. To be clear, this $600 pistol does not provide the same levels of refinement as one gets with $1,200 to $1,500 factory custom 1911s. However, what customers receive for their money is impressive.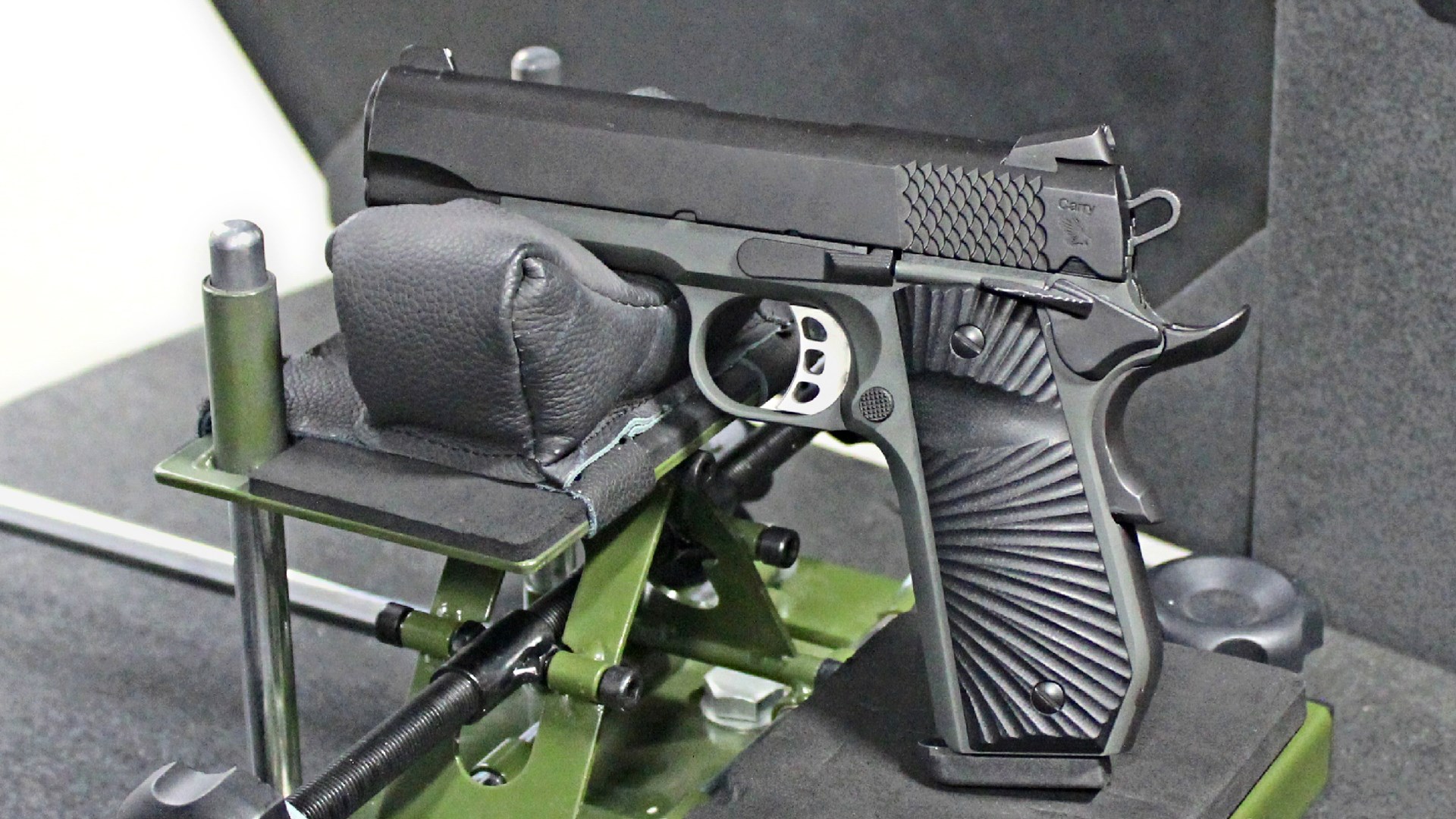 Full-size 1911 pistols chambered for 9 mm, like this one, provide moderate to tame levels of felt recoil.
The Stingray exhibits proper fit and finish throughout with smooth controls and a rich feature set. The custom features alone, including the fish scale slide serrations and bobbed grip frame, have this gun punching above its price point. This pistol proved to be utterly reliable and I enjoyed working with it. In short, this first-time Tisas product evaluation was a positive experience that I hope won't be my last.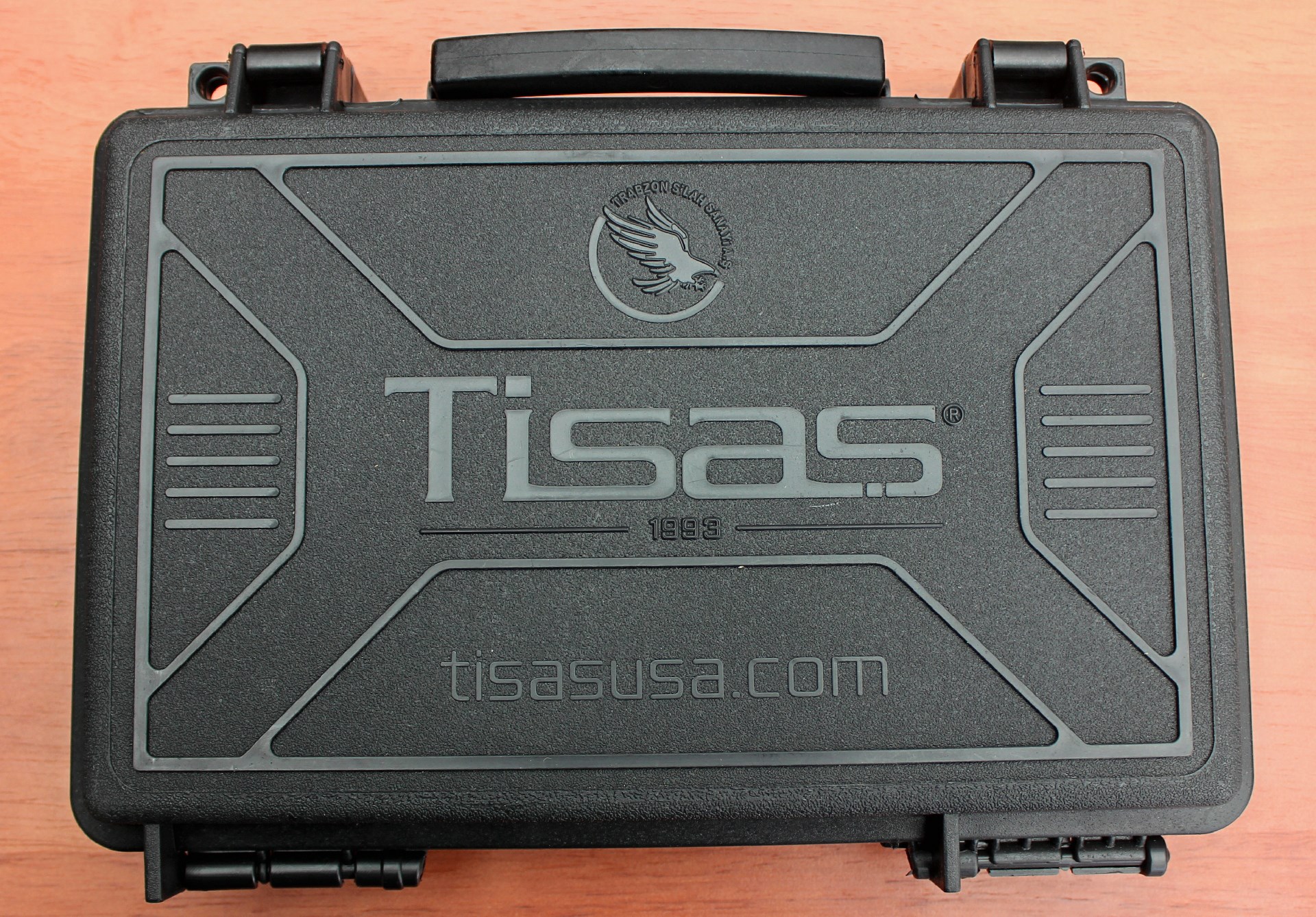 Tisas Stingray Carry 1911 Specifications
Manufacturer: Trabzon Silah Sanayi AŞ (Tisas), Turkey
Importer: SDS Imports
Action Type: recoil-operated, semi-automatic, centerfire pistol
Chambering: 9 mm Luger
Barrel: 4.25" cold-hammer-forged steel
Frame: machined aluminum, Stingray Gray Cerakote finish
Slide: forged carbon steel, matte-black Cerakote finish
Sights: dovetailed; Novak three-dot
Trigger: 3-lb., 2-oz. pull
Magazine: 10-round detachable box
Overall Length: 7.88"
Height: 5.5"
Width: 0.91" (slide)
Weight: 30.7 ozs. (with empty magazine)
MSRP: $619.99
Article by B. GIL HORMAN
Don't forget to like us on Facebook and follow us on Twitter.