Review: Accufire Incendis
While thermal imaging is a handy feature to have on your everyday rifle, it often comes at the cost of abandoning your daytime optic. As conventional daytime optics offer better clarity and usually have a greater magnification range, most shooters aren't willing to make that sacrifice and opt to leave this game-changing technology on the shelf. The best solution to this problem has always been the employment of a "clip-on" thermal that mounts in front of your optic of choice, but alas, this can be a costly path to travel down. Texas-based Accufire is in tune with this issue and, through enormous research and development, has come up with the Incendis, a thermal device that can be used as either a clip-on or as a standalone optic, at a price that is pretty reasonable within the world of heat-detection technology.

Like other optics of this type, the Incendis collects heat information through its forward lens and then sends it through a series of computations that create an image on a small viewfinder located inside its aluminum housing. The user views this image in the same fashion he or she would peer through a conventional scope. Once powered up using the included rechargeable batteries, the unit can function as a handheld spotter, a standalone riflescope or it can be mounted in front of just about any conventional scope.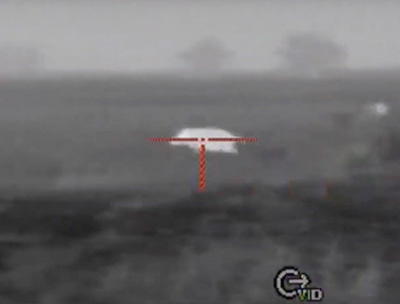 Using the included QD mount, we clipped the Incendis to a Primary Weapons System .223 Rem. upper receiver for use as a standalone unit. With Federal's 69-grain Gold Medal Match ammunition, we were able to zero off of a one-hole, three-shot group by holding the reticle over the original point of aim and moving a cursor to the point of impact. This process "teaches" the Incendis the difference between the POA and POI, and the optic then corrects for it. Zeroing is performed this way because the Incendis does not have conventional turrets, instead handling all adjustments via three buttons located atop the unit. We checked to ensure that the rifle retained its zero after removing the batteries, which often plagues devices of this nature, and it did. We then moved on to using it in tandem with a 6-24X Riton X1 Conquer scope.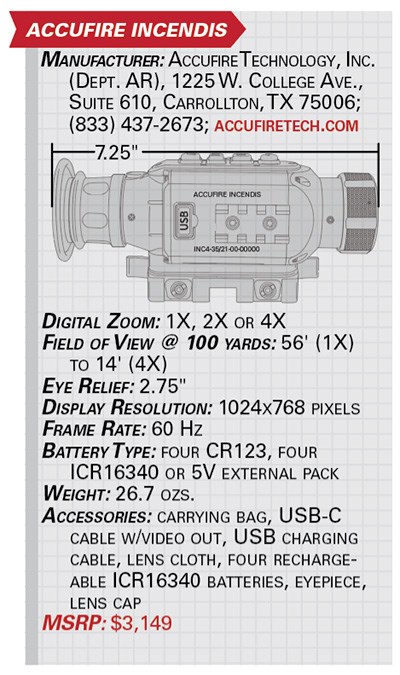 Using the instructions from the downloadable manual, we aligned the reticle before turning it off to declutter our field of view. We checked our zero using the Conquer's reticle and found just a slight shift, measuring 1 m.o.a. up and 1 m.o.a. left. The scope's mounting style and even hardware tension could very well influence this relationship, however, as the difference was well within the product's intended use, we felt no need to experiment further. We next engaged targets out to 200 yards and were impressed that we were able to see the warm bullets impact both steel and dirt at that distance.
After our live-fire exercise, we unmounted the Incendis and used it as a handheld viewer. All testers found the 60-Hz refresh rate to be more than adequate for rapid scanning of a large environment and only experienced minimal lag. Using it in this fashion, we found that we could detect a human being from distances of 500 yards and could begin to see bare flesh register on the red hot-tracking system at distances inside 260 yards.
Accufire markets the Incendis as, "The only thermal you need," and after spending a night on the range with it, we can see that point. Whether used as a handheld spotter, mounted atop your rifle alone or in tandem with a traditional scope, the system offers a versatile thermal-observation device at a relatively reasonable price.
Article by AMERICAN RIFLEMAN STAFF
Don't forget to like us on Facebook and follow us on Twitter.