Rifleman Q&A: Puzzled By S&W Revolver Markings
Q: I recently inherited a Smith & Wesson Model 10-7 revolver chambered in .38 Spl. The markings shown on the gun leave me puzzled. The backstrap is stamped "RHKP 1759." Stamped on the butt of the grip is "AAM7024," and there is lanyard ring. The cylinder's crane reveals the model and another number "42917," which, if I had to guess, is the serial number. I've been going in circles trying to find information about this revolver. What have I been given here?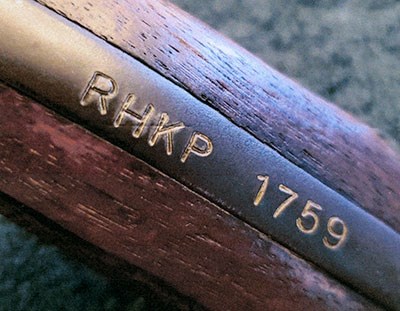 A: Your reference to the revolver's model number is correct. It is a Model 10, which, prior to 1957, was known as the .38 Military & Police. The general design dates to 1899 and represents the longest-running model produced by S&W, and not surprisingly, it has also been produced in the greatest numbers. The frame size is denoted as "K" and corresponds to medium size. In this case, it can also be referred to as the K-frame service version, meaning it features fixed sights rather than the adjustable type as on the target models.
The "-7" in the model number represents the seventh engineering change to be incorporated into the design since 1957. I am not sure of the current "dash number," but believe it to be in excess of "-14." The "42917" is not the serial number, but is more likely an "assembly number" used to keep critical components matched during production. The serial number is actually found on the butt. In 1982, the pin securing the barrel to the frame was eliminated, and a three-character alpha prefix was added to serial numbers. These two features will date your revolver to 1982 or later.
Because of the popularity of the Model 10 with law enforcement entities around the globe, there is a subset within the collector groups of guns that can be identified with specific agencies. In this case, "RHKP" stands for Royal Hong Kong Police. The "1759" on your revolver is a "rack number" or some means to maintain accountability. Other features include the standard-weight barrel and lanyard ring. This version was produced around 1983, apparently in large numbers. According to Standard Catalog of Smith & Wesson, 4th Edition, by Jim Supica and Rick Nahas, some 13,000 of these models were offered as trade-ins for new firearms, and were acquired by the Accusport company for sale in the United States.
In addition to the above information, I also notice that a prior user altered the factory stocks by cutting away the upper "horns" that extended to the hump behind the hammer.
—John W. Treakle, Contributing Editor
Article by AMERICAN RIFLEMAN STAFF
Don't forget to like us on Facebook and follow us on Twitter.