The Revolver Renaissance
A couple of months ago, when I was renewing my California CCW permit, I heard an interesting comment made by one of the folks present. It was something like, "I'd never trust the defense of my life to a revolver." Wow. Talk about a strong opinion. I didn't know if he was one of the instructors or a citizen going through the qualification tests for license renewal. I didn't pursue it for several reasons, but I have spent some time thinking about it in the ensuing weeks.
I have three handguns listed on my CCW permit—the same three that have been listed for more than a decade—and I have to requalify with all three guns every two years to renew my license in compliance with California's onerous infringements on our Second Amendment-guaranteed rights. They include a Wilson Combat CQB 1911 chambered in .45 ACP, a Glock G19 in 9 mm and a Smith & Wesson J-frame in .357 Mag./.38 Spl. Which one I choose to carry on any given day isn't based on a personal preference for a particular gun or caliber, but rather on an evaluation of circumstances relative to my travel and what gun would prove most useful for the situations in which I might find myself. Without going into the details of my daily life, the vast majority of the time it's the small revolver in a pocket holster that gets selected.
Over the last several years writing for Shooting Illustrated, I have reviewed quite a few revolvers. These were not just "passion pieces" with nostalgic overtones covering historic, classic wheelguns. All of these reviews maintained the publication's focus on self-defense. On different occasions, both Smith & Wesson and Taurus provided new models of small-frame revolvers for review. The last Smith was a titanium J-frame chambered in .357 Mag., while the Taurus was rated for .38 Spl. +P loads. On both guns, I had a chance to work with a local police officer on active duty who still carries a 2-inch-barreled revolver on and off duty. Even when working with his SWAT team and fully equipped with the latest hardware, he carries his small revolver as a backup gun. He commented that when you reach for that compact wheelgun, you are down to your last option, which means you better believe in it.
Colt has upgraded its entire line of "Snake" guns in the last few years. While the 6- and 8-inch Anacondas and Pythons might be regarded more as recreational firearms, all of Colt's new small- and large-frame revolvers (except the Anaconda) are being offered with barrels between 2 and 4 inches. These are serious self-defense handguns, several of which are of interest to those wishing to carry discreetly because they are both simple to operate and can be concealed. The decision to produce these guns in the 21st century is not just a kindly gesture for those who have been loyal customers of Colt over the years. These guns are all being manufactured because Colt knows how immensely effective revolvers can be (and have been) in keeping people safe, but more importantly, the company knows consumers still want such handguns.
Ruger's LCR is a purpose-built firearm based on market research. Ruger thought it would sell, even in this new millennium dominated by semi-automatic handguns. To me, and apparently to a lot of shooters, the LCR has two outstanding features. First, it has the most user-friendly "out of the box" double-action trigger I've encountered. Second, it's available in calibers ranging from .22 LR up through .327 Fed. Mag. and all the way to the proven .357 Mag., and every model feels the same to the user through its trigger pull. Obviously, when a live round is fired, he or she will know what round it is. Pick the most powerful chambering you can control well.
Kimber, long known for its 1911s, entered the revolver market with its K6 line, which now contains multiple models of outstanding, concealable pistols. Its decision to make a type of firearm with which it had no prior experience speaks to the continued and growing popularity of revolvers. The fact the company makes some pretty nice wheelguns is merely a bonus.
Then, there's Nighthawk Custom's decision to import the ultra-high-end Korth line from Germany, and Beretta's similar recent move to bring in the outstanding Manurhin revolvers from France. Given that all of these guns retail for more than $3,000, one must assume the companies importing them did their research and discovered a market large enough to support offering such revolvers for sale. That being the case, we can see an overall revolver market that runs the gamut from affordable EDC models through products that cost as much as multiple mortgage payments, which is a sign of healthy demand for wheelguns.

To further demonstrate that we are in the midst of a revolver renaissance, I've attended a number of events at Gunsite and Thunder Ranch where revolvers have been allowed at basic defensive-pistol classes, even when the majority of shooters are using semi-automatics. On multiple occasions during the year, Gunsite offers a class specifically for revolver shooters, and there's no shortage of attendees. It was more than 10 years ago when I attended my first all-revolver shoot at Thunder Ranch, which suggests the resurgent interest in wheelguns isn't just a recent or passing fad. You could perhaps make an argument that my revolver interest is just an old love affair finding a new outlet, but that's not the case with other event attendees; they were all paying customers looking to enhance their survival skills. I freely admit that I'm motivated by the great beauty of old revolvers, but when I'm attending an event at either Gunsite or Thunder Ranch, we run through training drills that are all focused on building survival skills for use in self-defense scenarios. By the end of the course, no one has ever said they felt in any way unable to protect themselves and their family with a revolver.
Perhaps the most recent confirmation that a revolver renaissance is underway occurred last November, when I attended the Pat Rogers Memorial Revolver Shoot at Gunsite. Rogers was a former Marine who spent a career with the New York City Police Department. He was a well-known and immensely respected firearm trainer—Rogers was arguably the most colorful instructor in the business, and the training business is known for its colorful characters. Shortly after his passing in 2016, a few other instructors and ex-cops who had worked with him and experienced the wheelgun era as police officers created the annual revolver event in Rogers' honor.

At first, it was a "road show" with the organizers and guest instructors using rented/borrowed indoor ranges for their venue. As attendance immediately outgrew available facilities, it was obvious that not everyone thought revolvers were obsolete tools. People paid to attend and share memories and lessons learned from these respected veterans who had carried revolvers for 30 years.
Given its diversity of ranges and overall size, Gunsite Academy is a perfect location for the Pat Rogers event. And the rewards were instantaneous; with very little advance notice of the new location, 71 paid attendees showed up for the three-day shoot. Unlike the normal Gunsite class where the student follows the same instructors through a prescribed series of training events, the Memorial has a cadre of guest instructors, each of whom covers a specific session which might be a classroom lecture or "hands-on" range time. I began last year's gathering with Darryl Bolke's classroom presentation entitled "The Revolver Option." His format was to use the "Five W's" approach to better enable each student to evaluate the merits of using a revolver for self-defense. The "W's" are:
Who should consider the Revolver?
What types of revolvers are a good fit for various users?
When is the revolver a great choice?
What are the environments in which a revolver excels?
Why is the revolver superior to other choices for specific missions or tasks?
It wasn't all theoretical, though. A class on Revolver Manipulation dealt with revolver-handling techniques including the use of accessories. Loading and reloading was done using inert dummy rounds and empty (fired) cases rather than live ammo. It is the slow loading and reloading of revolvers that generates much of the disdain for wheelguns exhibited by many of today's semi-automatic aficionados, and this class demonstrated that while the semi-auto has an undeniable advantage on this score, it is not quite as decisive as one might imagine.
There was ample trigger time, including a segment on the critical fundamentals of revolver marksmanship and another on retention. As you might have guessed from the word "retention," we're talking about close-quarters fighting, which means you should first master the basic fundamental skills of revolver manipulation and shooting.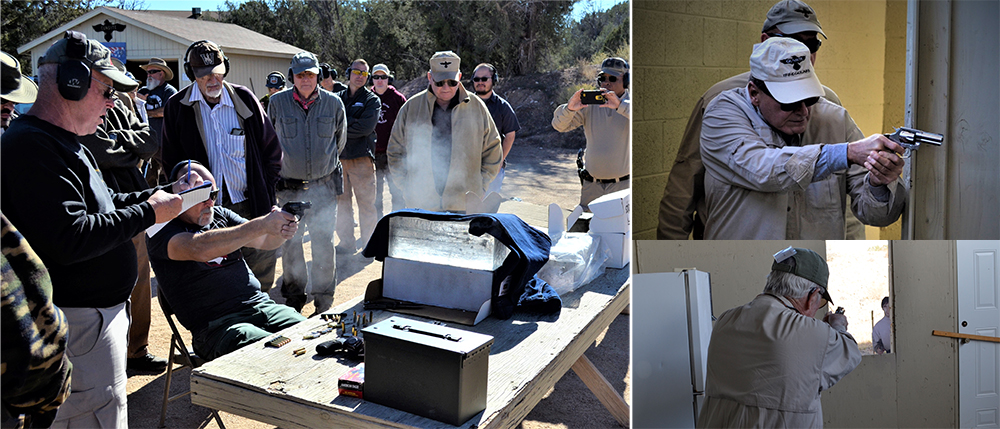 The segment called "Pocket Rockets" got my special attention since I frequently carry my J-frame Smith & Wesson. This stage included defining the roles of a pocket gun, such as whether it should be your primary or backup. It dealt with the pros and cons of pocket carry, clothing selection, types of pocket holsters and tactics. Drills here included shooting with the support hand from something less than an otherwise optimum stance.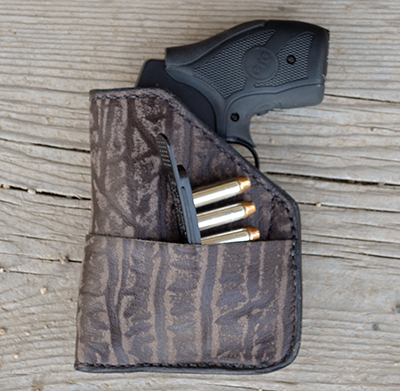 Perhaps the final reality check was the Ballistic Gel Shoot. Various loads were fired into ballistic gelatin covered with denim to see how various defensive-revolver rounds performed. If you've not seen this done, it's both vivid and informative. To increase the value of the event, students were encouraged to bring one of their standard self-defense rounds to test in the gelatin.
The Memorial Event was a serious look at the no-nonsense applications of revolvers in self-defense situations by a no-nonsense group of veterans who spent their careers trusting their lives to revolvers. The event in no way condemned semi-automatic pistols for self-defense, nor recommended that you should choose revolvers as the better option, but it did show the latter's efficacy for self-defense and concealed carry, while dispelling the myth that revolvers are inadequate for self-defense.
Admittedly, my passion for revolvers is not totally objective. While I own and carry semi-automatics, I've admired and lived with wheelguns for quite a while. Regardless of what we would like to think, everybody has biases, sometimes without knowing why. But, what I witnessed at the Pat Rogers Memorial event was an objective evaluation by proven experts of what revolvers can do and can do well. My relationship with wheelguns has been based upon recreational interests, but these guys have spent an entire career "walking the walk;" they didn't just read a book or watch a video. Even at this point in my long shooting career, I learned quite a bit, and as a result I believe wholeheartedly that we are experiencing a revolver renaissance.
Article by DICK WILLIAMS
Don't forget to like us on Facebook and follow us on Twitter.